As of yesterday, Spotify has 40 million paid subscribers, a gain of ten million users since March. That's more than twice as many as Apple Music's 17 million, only four million of whom signed up since April. While Spotify's service has been around longer, it's also growing at a far faster clip.
That said, Apple has a way to reverse the trend: nudging you to pay for Apple Music, now that your trial subscription to hear Chance the Rapper's Coloring Book is over.
Yesterday, America's most courageous technology company released its newest mobile operating system, iOS 10. Its biggest selling point is expanded multimedia message options: Where you could previously only send photos, GIFs, and videos, you can now finger-draw, play chess, paste in "stickers," and troll your pals with My Little Pony porn. There's also something called "Send a song," a feature within Messages that pulls up your current or most recently played tracks, and allows you to forward them along. An example, as seen in the new iOS 10: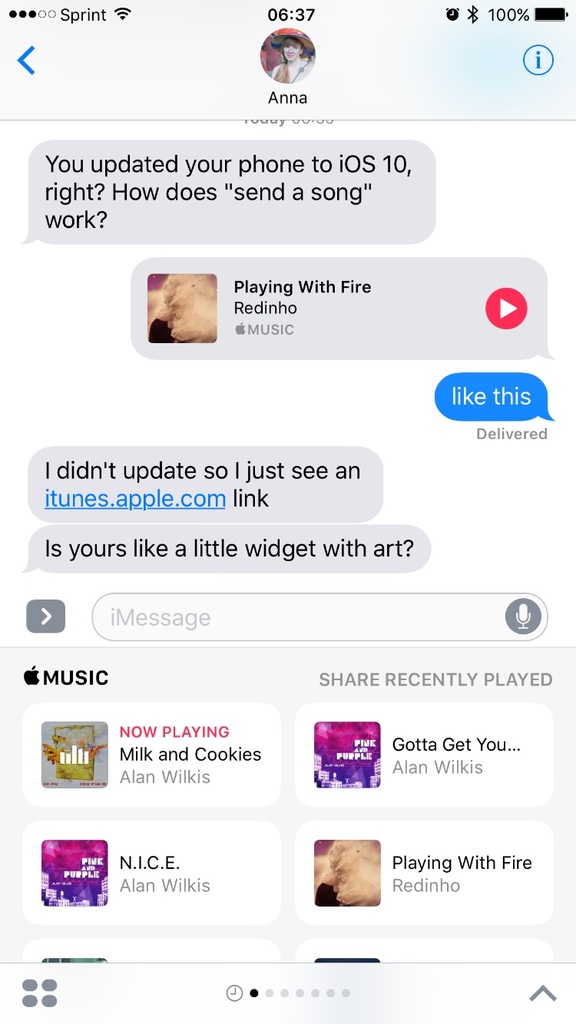 Tapping the red arrow plays a preview of the song without leaving Messages; tapping the song itself takes you through to Apple Music, where the song will play if you're a paying subscriber. You are a paid Apple Music subscriber, aren't you? Don't you want to have fun with your friends, and allow them to say that they're thinking of you, as well as listening to Drake?
"Send a song" is a convenient way to send songs, but it's also a subtle attempt by Apple to leverage the massive advantage it does have over Spotify: total control of default software on devices already in millions of potential subscribers' hands. Encouraging people who've casually acquired an iPhone to upgrade to the complete superfan experience is Apple's business as usual: Witness the lurking Watch app, preinstalled on all iPhones but of no use to anyone who hasn't shelled out for Apple's top-of-the-line smartwatch. They're hoping that eventually, iPhone users will ditch their Spotify accounts and just make everything a uniform Apple experience.
It's another shot fired in the war between the two companies. Earlier this summer, Spotify cried foul after Apple rejected an update to its iPhone app that would have created a workaround to prevent Apple's App Store from taking its standard cut of all in-app sales. (Yes, Apple makes money every time someone uses an iPhone app to sign up for its competitor's service.) Maybe Spotify will try to develop a similar workaround to get its songs in Messages, but for now, if you want to hear more than a snippet of that text from your Apple Music-subscribing friend, prepare to pay up.