Bleached, a.k.a. Los Angeles garage-pop trio Jennifer Clavin, Jessica Clavin, and Micayla Grace, have announced plans to release the follow-up to 2013's Ride Your Heart.
Titled Welcome the Worms, the record includes lead single "Keep On Keepin' On," a snarling, guitar-heavy track that comes with a brand-new video. Directed by Lana Kim, the clip has the three women slow-motion running side-by-side in the dead of night. "You never see who or what we're running from or being stalked by," Jennifer told the FADER. "I personally feel like I was doing a lot of running in the last few years and it wasn't until I started facing my fears that I felt like I was finally living."
Welcome The Worms is out April 1 on Dead Oceans. See a full track listing, album art, and the band's upcoming tour dates below, and read SPIN's In the Studio conversation with Bleached.
https://deadoceans.com/embed/bleached_keeponvid.php
Welcome The Worms track list:
1. "Keep On Keepin' On"
2. "Trying To Lose Myself Again"
4. "Wednesday Night Melody"
3. "Sleepwalking"
5. "Wasted On You"
6. "Chemical Air"
7. "Sour Candy"
8. "Desolate Town"
9. "I'm All Over The Place (Mystic Mama)"
10. "Hollywood, We Did It All Wrong"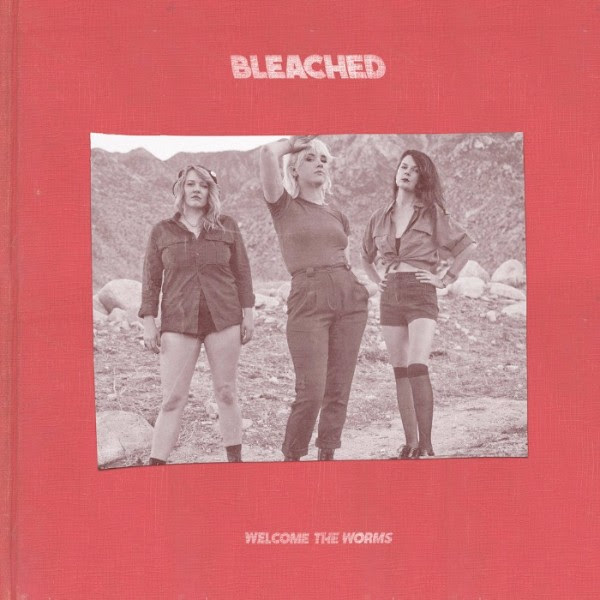 Bleached tour dates:
March 15 – March 19 – Austin, TX @ SXSW
March 29 – Santa Barbara, CA @ Velvet Jones
March 30 – San Diego, CA @ Casbah
April 2 – Phoenix, AZ @ Valley Bar
April 4 – Austin, TX @ Sidewinder
April 5 – Houston, TX @ Walter's
April 6 – Dallas, TX @ Three Links
April 8 – Nashville, TN @ The High Watt
April 9 – Atlanta, GA @ Drunken Unicorn
April 11 – Brooklyn, NY @ Music Hall of Williamsburg
April 13 – Washington, DC @ DC9
April 15 – Boston, MA @ Great Scott
April 16 – Montreal, QC @ Bar Le Ritz POB
April 17 – Toronto, ON @ Garrison
April 20 – Columbus, OH @ Double Happiness
April 21 – Ferndale, MI @ Loving Touch
April 22 – Chicago, IL @ Empty Bottle
April 23 – Minneapolis, MN @ 7th Street Entry
April 25 – Denver, CO @ Larimer Lounge
April 26 – Salt Lake City, UT @ Kilby Court
April 28 – Vancouver, BC @ Biltmore Cabaret
April 29 – Seattle, WA @ Barboza
April 30 – Portland, OR @ Doug Fir
May 2 – San Francisco, CA @ Bottom of the Hill
May 4 – Santa Ana, CA @ Constellation Room
May 5 – Los Angeles, CA @ Teragram Ballroom
May 17 – Manchester, UK @ Gulivers
May 18 – London, UK @ Moth Club
May 19 – Brighton, UK @ The Great Escape Festival @ Horatios
May 20 – Amsterdam, NL @ Bitterzoet
May 21 – Eindhoven, NL @ Stroomhuis