Update 2: To be clear, the song does not — per Macklemore's reps — actually use a sample of "Safety Dance." It just sounds incredibly similar to that song.
Update: Macklemore and Ryan Lewis have dropped the official video for the track. Watch the sidecar, moped, and mustache-filled clip here.
After dropping a buzz track called "Growing Up," Macklemore and Ryan Lewis have returned with the proper lead single off their follow-up to The Heist. Titled "Downtown," the track's a jazzy, rapidly spat scorcher that interpolates the tiptoeing synth-line from the Men Without Hats hit, "Safety Dance." Macklemore and Ryan Lewis certainly know their way around a funk-driven rap song. Keep listening as "Downtown" blossoms into this big, arms-wide-open anthem with a weird middle-16 that's totally dissimilar to the song's first half. Feature credits also go to Eric Nally (lead singer of Foxy Shazam), Melle Mel, Kool Moe Dee and Grandmaster Caz.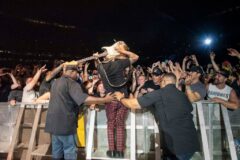 Macklemore and Ryan Lewis will debut the song live at this Sunday's MTV VMAs. Hear "Downtown" below.