At midnight on a seasonably cool evening in September 2013, four musicians gathered in the cavernous main room of Basilica Hudson, a 19th-century factory-turned-performance-space in Hudson, New York. For an hour, grindcore veterans Pig Destroyer and experimental noise act Pharmakon jammed on guitars and drums and pieces of sheet metal, respectively, while ethereal-voiced singer Julianna Barwick floated above and Evian Christ moved the building's bowels with his rattle-trap bass. At that singular moment, the apex of the Basilica Soundscape Festival, event mastermind Melissa Auf der Maur realized she had created her perfect festival.
"When I was at ATP," the former Smashing Pumpkins bassist tells SPIN, referencing My Bloody Valentine's 2008 edition of All Tomorrow's Parties, an artist-curated festival held at a dilapidated Kosher resort in upstate New York, "it struck a cord as in, 'You can have a festival that reflects the same enjoyment as when I go see my favorite bands at Bowery Ballroom or Irving Plaza.' When it stays under a couple thousand, it feels better — more like an exchange between the audience and the performer, which makes for an intimate experience."
That year, Billboard announced, "Basilica Soundscape Arrives as the Anti-Festival"; a year later, Auf der Maur's vision sold out its ticket capacity of 1,500 a night and several additional so-called micro-festivals, including Mecca, California's Desert Daze, and Mexican Summer's Marfa Myths festival in Texas this spring (which became the antithesis to the much larger, corporatized South By Southwest in nearby Austin).
Though most of the micro-festival organizers SPIN spoke to for this article distanced themselves from the "anti-festival" stance against major festivals like Coachella, Lollapalooza, and Bonnaroo — emphasizing that each served its core constituency — the publication had a point. The short years since and even before have seen a rise in festivals that serve 3,000 or fewer people, taking place in the middle of a desert, at a futuristic 1970s commune, or in a town whose population doubles when the artists, audience, and crew arrive.
White Lung's Mish Way, the high priestess of punk who performed alongside Deafheaven and Swans last year, says Soundscape is "her favorite festival" she ever did, despite sympathizing with the logistical difficulties of tiny festivals' micro-budget. "Smaller festivals are better in the sense that the security and rules are not as uptight and insane," she writes to SPIN in an email. "I would never run my own mini-festival. I am impressed by anyone that does because it seems like a total nightmare and I am too high-strung already."
DJ and producer Claude VonStroke tells SPIN the difficulties he's experienced in organizing his house music-minded label Dirtybird's traveling get-together, the Dirtybird BBQ, every summer, and launching its inaugural Campout this October, include "finding venues, navigating radius clauses, and trying to get all of our DJ friends in one place for one event." But, he adds, "I feel like someone has to do try and do it before everything becomes fully corporate. I cannot pretend that we have the same budget as some of the mega-festivals, but we know how to throw an amazing party."  
Indeed, a budget like $300,000 — including talent and operations, with revenue coming from ticket sales and sponsorships, accounting for money gained some years and lost others — for Desert Daze seems paltry compared to festivals like Coachella; though the brand bonanza's budget isn't readily available online, with a reported 2013 revenue of $47.3 million, it's not hard to imagine a much, much higher expense ceiling. Auf der Maur, who supplements the cost of running a festival and other events at the Basilica by applying for artist grants, has resisted sponsorships. She cites an aversion to logos plastered all over Soundscape and a preference for brand funding that fosters creative artistic unions or other unique content (like Red Bull Music Academy, for example). That's where backer organizations like Daze's Moon Block Events or Family Artists, which funded Hundred Waters' FORM Arcosanti this past Memorial Day weekend at its namesake architectural structure in Arizona, come in.
With the help of venture capitalists' investments and judicious partnerships, Family founder Mike Feinberg provides a centralized hub for record and publishing deals, tour management, and more to rising bands like Los Angeles punk-rap duo Ho99o9 (pronounced "horror") and Florida producer Kodak to Graph. He also funds lodging, travel expenses, and food to the artists who have been performing at FORM this year and its predecessor last year. "We give resources to help creators realize their dreams and goals while eliminating a lot of red tape in the process," he tells SPIN. "FORM's core principle is what we're all about: We've spent enough time on the road and backstage at festivals to realize there aren't a lot of opportunities for artists to spend time together and share ideas and meaningful experiences."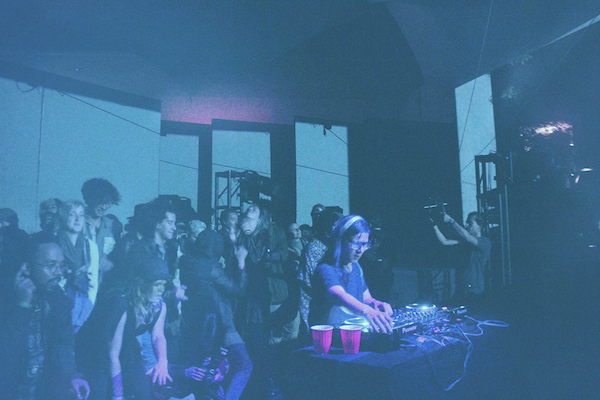 That, continues Hundred Waters' Zach Tetrault, is one of the central tenets of FORM, which exists as much as a sanctuary for the performers as for their audiences. "Most of these artists could easily be playing another show that weekend but chose to do this," he tells SPIN. (But not their label OWSLA boss Skrillex; who did, in fact, perform at Movement Festival in Detroit the day after he blew the speakers out at the Arcosanti.) "I think it says a lot about the beauty of the thing, and why it's different. It's treated more as a retreat for artists, a place for them to go recharge. We're going on hikes together, hanging out after hours together and under the stars…" he trails off. "The stars are unbelievable."
Though these "experiments" in large gatherings of people surrounding music-related events have been around for decades — Moontribe's psychedelic and techno parties have been touching down in the middle of Californian deserts since 1993 — the way people attend them as they've become more popular has, by necessity, changed somewhat. FORM is unique in its ticketing system: Prospective festival attendees must complete an application to fill one of the 750 slots. Another neighboring event hosted by the team affiliated with Burning Man's notorious Robot Heart side-parties, Further Future, is invitation-only and capped at 3,000 ("It's basically a smaller-scale Burning Man in a dust field near Vegas," says Tetrault).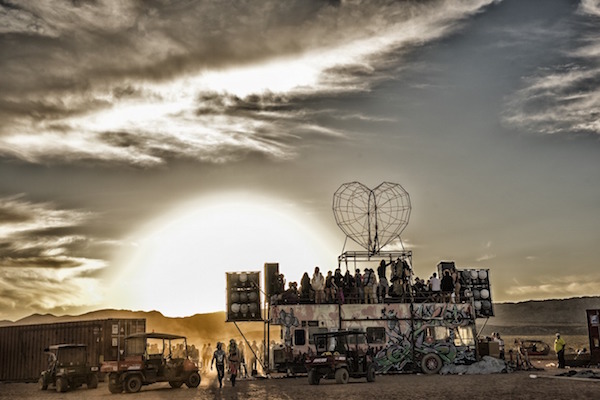 Though the miniature, stunningly picturesque festival doesn't take place at a pre-existing structure like the Arcosanti, it involves a similarly holistic approach to the festival experience and philosophical ramifications beyond, with dinners and spa treatments to which participants can RSVP, and talks they can attend. "Our pop culture and science-fiction are riddled with relentless dystopian and post-apocalyptic themes that embrace hopelessness and fatalism, just when there is such a need for vision, leadership and new ideas," Robert Scott, Further Future co-founder, tells SPIN in an email. "We want to have people come together in an amazing place surrounded by music and art in a culture of open thought and inquiry sharing ideas and aspirations with leading minds in the fields of art, business, science, technology and thought."
Micro-festival founders do make an effort to avoid comparisons to larger events, and always speak respectfully of their peers, but for some of them it's sometimes hard not to disagree with how others have chosen to expand their vision. Mikey Lion, one of the founders of the traveling desert and city party Desert Hearts, remembers going to Robot Heart in 2011, when the crowd was no bigger than 50 or 60 of your closest friends; now, he says, "They rolled it out in a way that almost feels elitist a little bit, because they did the whole invite-only thing. That came off as you're only allowed to go if you're the best of the best, and to me, that doesn't create community, and doesn't bring people together."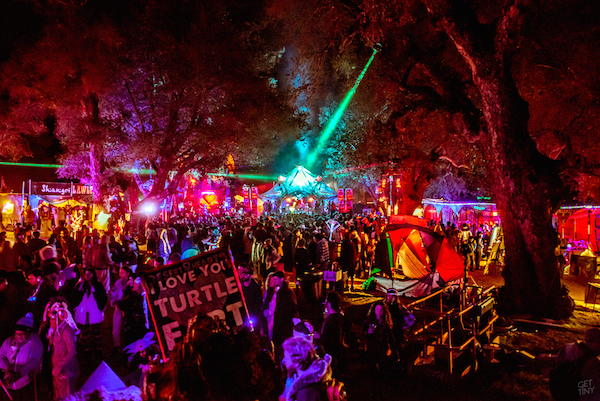 The premise of Desert Hearts, by contrast, goes a little further towards explaining why the vast majority of micro-festivals (at least, so far) focus on electronic-music: The rave mantra PLUR (peace, love, unity, respect) specifically applies to Lion's concept, in addition to occupying the subtext behind these events' ethos. "The entire thing is based on love," he says. "The entire point of the festival is to spread love through music, to build community and family. It's become its own beast and culture totally grown from those house, techno, and love principles." Lion recalled one year when someone "hit the decks," from 72-hour, non-stop dancing-induced exhaustion or dehydration or a combination of the two, and within five seconds was surrounded by 10 people asking if he was okay.
On a less life-or-death level, micro-festivals are so intimately sized it can often feel like summer camp — at least, for this journalist and her compatriots at Basilica the same year Julianna PharmaChrist Destroyer took the stage. Standing there with people you may have just seen eating a hot dog from a local food vendor, or even perusing an antique furniture store in downtown Hudson earlier that day, it seemed like everyone was in this together, and it wouldn't be that strange to lock eyes wide from the sheer spectacle with your neighbor. As many who have attended a several hundred thousand-packed festival will probably attest, the most enervating part is the masses of strange people around you all the time, accidentally stepping on toes or slopping beer or leering at exposed flesh. When there's a one-hundredth of that, everyone's held accountable for their actions — and might even be able to share their enjoyment with those around them.
"The big festivals are still an incredible entry point for new fans and offer a spectacle that smaller events can't ever hope to compete with," says VonStroke, "but that isn't really the point of the [Dirtybird Campout]. The campout is for bonding with your friends, relaxing and grooving instead of racing around and spazzing out. I like to think it's the perfect little bed and breakfast on the river, as opposed to room 3308 at the airport Hilton."