There's a rumor that Detroit's Hart Plaza, which annually hosts hundreds of thousands of beats and bodies for the city's long-running Movement Electronic Music Festival, aligns with the Giza pyramids and the Sphinx; and that its iconic "Transcendence" arch becomes a gateway to another dimension. "You can literally feel the energy 'pulsing' through Hart (heart) Plaza!" writes author Chad Stuemke, one of the foremost proponents of the so-called Stargate Detroit theory. He clarifies this type of otherworldly entrance with Ancient Aliens correspondent William Henry's definition of these kinds of gateways: "A place on Earth that is a shamanic trance portal to other worlds where energy pulsing (ringing) from our star, from other stars or star systems is easily received."
On Saturday (May 24), it appeared as if something extraterrestrial was being transmitted through German techno DJ Loco Dice. As he spun for a concrete amphitheater full of people moving in time together to the rhythm that make Motor City run, a few selfie sticks poked out of the crowd, but other than that no one was recording anything on their phone, or doing anything other than just letting the bass rinse out their chest cavities. Everyone was completely immersed in his piston-pumping workouts, looking at the ground or to the sky or at each other as his red searchlights swept, sparkling, over the crowd.
Since its inception in 2000, Movement has gone through a few different names — DEMF, Focus Electronic Music Festival, and Fuse-In — but the message has stayed the same. "Put your hands up for Detroit!" echoed throughout the concrete plaza, and at least one "Detroit Hustles Harder" T-shirt always lingered in peripheral vision. Though it's hard to ignore the city's economic woes, as evidenced by the swaths of deserted, overgrown buildings, it's impossible to forget it's the birthplace of techno.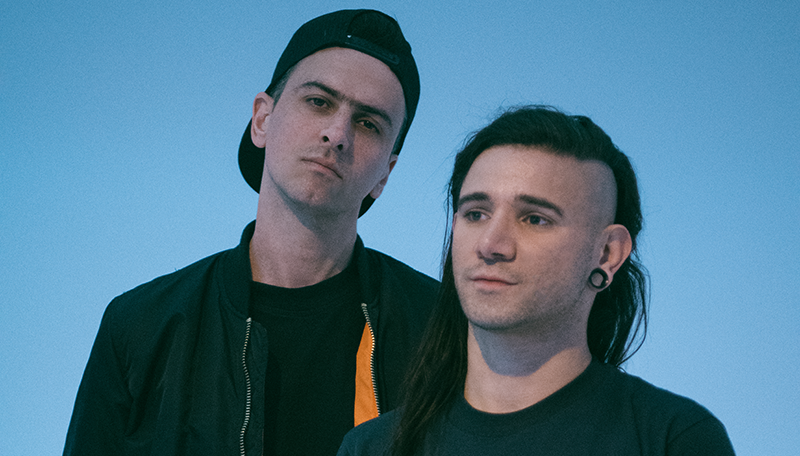 "Techno religion" graced the marquee of a church a block away from where I was staying; Terrence Parker played gospel house for the brunch crowd at the Museum of Contemporary Art Detroit across the street; and even at noon on Monday, vague strains of oontz oontz oontz filtered throughout the semi-deserted streets. Ever since the Belleville Three — Juan Atkins, Derrick May, and Kevin Saunderson — first started fiddling with drum machines in the early '80s, the sounds of techno have been one of the city's most continually vital wellsprings of creativity and identity.
Though Movement as a whole is a continuous experience, a pilgrimage anyone who's interested in electronic music should make at some point in their lives, we picked out the ten best moments of the festival.
Best Religious Moment: Floorplan
Everyone who saw Floorplan — the more melodic and soulful alias of minimal techno pioneer Robert Hood — on Saturday at Thump's Made In Detroit Stage said they felt as if they saw (or rather heard) God in his deep, rich vocal samples linked to a pulsing beat that's very, very hard not to move to. "My aim was to bring the church to the club," Hood once said, "to bring the Holy Spirit into the setting of Berghain and Fabric." Indeed, the producer's hour-long set weaved in joyous deep house and gospel samples with cuts that catered to the newcomers to the fold, like DJ Dodger Stadium's "One Who Lost" and, in a nod to Disclosure spinning a DJ set across the plaza, "When a Fire Stars to Burn."
Best Mascot: Grandma Techno
Like Newport Folk Festival's 89-year-old founder George Wein, who rides around his festival in a golf cart, Grandma Techno is a a staple of Movement. For the past 11 years, the 72-year-old woman known outside the festival grounds as Patricia Lay-Dorsey motors between stages wearing a tie-dyed muumuu, gaining even more notoriety when she was featured in the documentary They Call Me Grandma Techno. The only downside of her newfound fame, she says, is all the fans swarming her have made it harder for her to dance in public.
Best Victory Lap: Art Department
Last month, Toronto house duo Art Department announced that they would be going their separate ways, with producer Jonny White continuing under the moniker and his partner Kenny Glasgow pursuing solo material. But their impending split didn't get in the way of a seamless interplay between the two onstage — or at the very least a contractual obligation to play their summer shows — with blipping, careening space age-y synths and beach-ready hand drums throughout, much like their set for 2013's Movement. (Although they may have lost some good will by posting to their Facebook "NYC < Detroit" after the weekend.)
Best Energy: Dog Blood
After teasing the return of their Dog Blood DJ duo moniker late last year, Skrillex and Boys Noize (a.k.a. Alex Ridha) made an epic return to headline Sunday night of the festival with a set that hewed more towards the latter's punishing techno rather than the former's bass bludgeoning. They tirelessly flipped through tempos and bass frequencies and tracks like Rae Sremmurd's "No Flex Zone," Spank Rock's "Everything Is Boring and Everyone Is a Fucking Liar," and Breach's classic "Jack." It was impossible not to get completely sucked into their onstage energy and raise your hands with Skrillex when he hopped up on the decks, only to drop it low when he bounced down a new kind of low-end.
Best Tease: Ten Walls
For many electronic music fans, Lithuanian producer Ten Walls is probably the guy you've heard but never heard of. His horn-blasted beat odyssey "Walking With Elephants" crops up in countless DJ sets, and opened his Movement performance — but just barely. Ten Walls teased the string section before segueing into his other perhaps best-known song, the ominous "Requiem," only to return to "Elephants" about 20 minutes later. It was an epic build and release that gave the audience what they wanted; they just didn't know it yet.
Best Bass: Dirtybird 10 feat. Claude VonStroke
Sunday was the tenth anniversary of both Boys Noize's BNR (the label has been playing celebratory shows at venues across the country), which took over the basement of the Detroit's Masonic Temple, and Los Angeles-based producer Claude VonStroke's Dirtybird label. While most of the festival's acts went hard on the downbeat, Von Stroke massages it with a continual undercurrent of bass that rings through you like an electrical field on tracks like "Who's Afraid of Detroit?", making it seem like you could keep moving forever.
Best Accidental Party: No Way Back
My crew and I accidentally stumbled into an afterparty at a warehouse that happened to be blasting a bass radius of sound that could be heard near their Airbnb. We followed the sound into a dark, low-ceilinged, (once again) red-lit space with what looked like burlap sacks hanging from the ceiling. Featuring a lineup of Detroit locals like Carlos Souffront and Derek Plaslaiko, the room was dark, dank, bare, and reverberating with the relentless thumping needed to stay awake until 9 a.m., when it was supposed to end… and 1 p.m., when it actually did.
Best After-Hours Club: City Club and TV Bar and Lounge
No electronic music festival event worth attending truly shuts down at midnight, which is when Hart Plaza closes and why the afterparties are such an essential part of Movement. Suitable for all seasons, the TV Bar and Lounge is split into a backyard with two fireplaces and a tiki-esque booth (where, fittingly, tropical house, soul, and disco outfit Soul Clap spun on Friday), a bar and dance floor, and an alley stage. City Club, located in the chandelier-hung basement of the Leland Hotel, seemed like it could fall apart any minute: considering the sound system was so powerful the shockwaves gave me a migraine, it wasn't surprising to see dislodged chunks of plaster littering the floor. But it was worth it to feel like I had been transported to some underground club in Berlin just after the Wall fell.
Best Out-of-Body Experience: Maceo Plex
Miami native Maceo Plex headlined the Main Stage and performed after-hours at City Club, and in both (very different) venues his low-end poomp poomp poomp was simple but terrifically visceral. Though he suffuses his recorded output with bossa nova-indebted grooves, funky bass lines, and the occasional string arrangement, his live renditions are all about how loudly sounds on the lowest end of the register can burst continually out of the speakers. An exemplary line is probably "On bass, come on!" on 2011's "Sleazy E"; indeed, it emitted such a powerful draw that it interfered with producer Brodinski's excellent rap-heavy set across the grounds just enough to pull me back.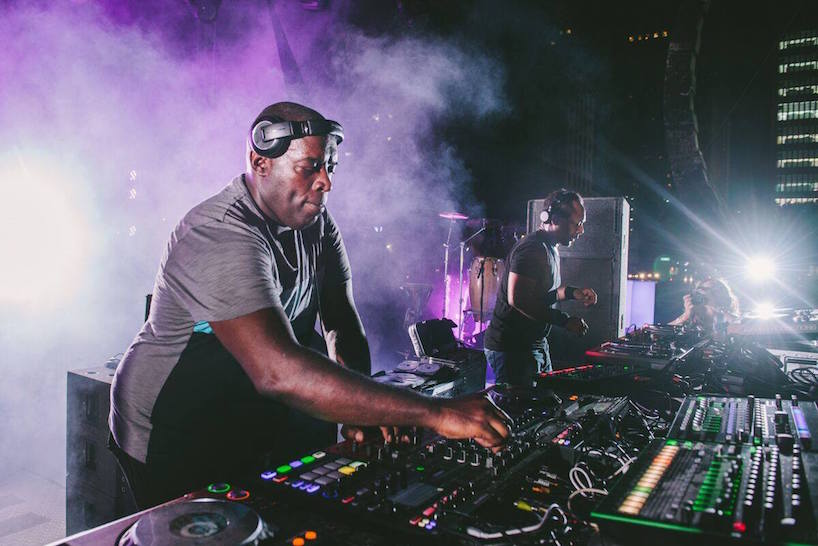 Best Tag Team: Kevin Saunderson and Derrick May
There couldn't be a more fitting duo to close out Movement than two of the founding fathers of techno. Though everyone's energy was palpably flagging and the speakers appeared to cut out in the beginning of their set, Saunderson and May's "Hi Tech Soul" concept set clicked fluidly through icy melodies and clean metallic beats, the echoing "Ha!" samples a defiant stand against DJ Snoopadelic's nearby, phoned-in Top 40 set. Some advice for Snoop: Joan Jett is not an appropriate artist to play at a techno festival.