Despite an impressive one-two punch during its first two days, 2015's South By Southwest reached even higher heights on Thursday. Think about it like this: On the third full day of music, Miley Cyrus got onstage with Mike WiLL Made-It, Future, Rae Sremmurd, and more, and the PC Music gang dilated pupils with its demented computer glitch-pop. Below, SPIN throws a spotlight on Thursday's six best acts.
PC Music
This British record label is sometimes confounding but always glorious with an acid-drenched cherry on top. Early in the day, QT — was she a model? An actress? A real DJ? Hey, 48 Hours, get on this. — opened Fader Fort with a 30-minute DJ set that consisted of "her" own material (including "Hey QT," of course) alongside coked-up reworks of Katy Perry's "California Girls" and more. Whoever the statuesque red-headed beauty was, she committed with glee, rolling her eyes, winking at the crowd, and often acting shocked at the music that eminated from her speakers. In the wee hours of the morning, PC Music threw their own showcase at Empire Garage, bringing out the such big guns as founder A. G. Cook, SOPHIE, Hannah Diamond, and GFOTY. The latter brought the most interesting stage show along with her: Fully choreographed and sandwiched between two shirtless male dancers, the bubblegrumbler kept things snappy and hyper. — BRENNAN CARLEY
.@DRINKQT has taken the stage here at the Fader Fort. Ear numbing bass. Performance art? Maybe. pic.twitter.com/xpiGKiKxTg

— SPIN (@SPINmagazine) March 19, 2015
Prince Rama
Taking their blindingly flamboyant dance-psych to the Doc Martens showcase stage, Prince Rama — a Brooklyn duo consisting of sisters Taraka and Nimai Larson — came clad in neon bodysuits and battle-ready facepaint as they tore through a powerhouse set of electronic-drum-and-guitar tracks. Roaring into the mic, Taraka freak-danced with audience members, looking like a futuristic Prince — if he did aerobics in a galaxy far, far away. — RACHEL BRODSKY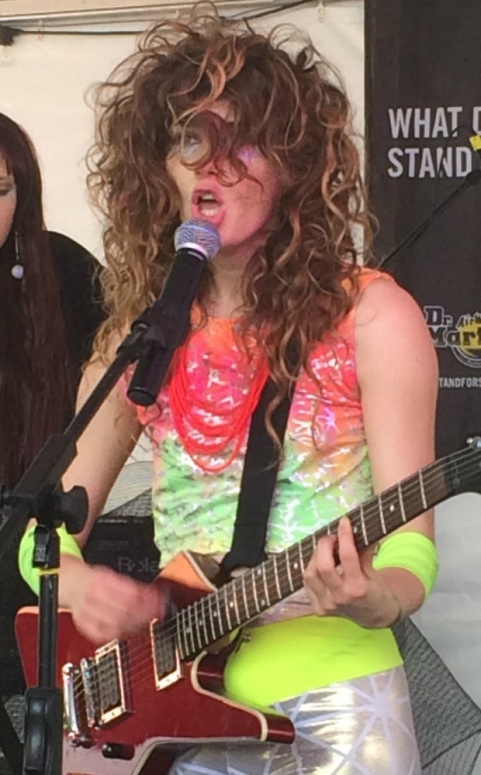 Shamir
Though this Las Vegas native and altogether sparkling soul made his big South By splash at the NPR party on Wednesday night, SPIN much preferred seeing him in the light of day, where his gurgling, gorgeously pitched tracks were able to fully blossom. "On the Regular" showed that Shamir can shimmy with the best of them, whereas other tracks from Ratchet, his upcoming debut LP, showed range and wit, depth and soul, and above all else, the keenest ear for earwormy goodness someone his age possesses today. — B.C.
We're backstage for Las Vegas wunderkind @ShamirBailey. Massively infectious stage presence. #SXSW pic.twitter.com/KQ9g4D4xp9

— SPIN (@SPINmagazine) March 19, 2015
Yonatan Gat
The musical reference points for Yonatan Gat come fast and furious when watching the Israeli guitarist play — everything from Santana to Lightning Bolt to Rush to the Boredoms — but really, you've never seen anything like it before. Along with bassist Sergio Seyg and drummer Gal Lazer (both of whom really desrve co-billing) Gat eschewed the stage to set up in the middle of the floor, allowing the audience to circle around as his power trio played with just their instruments a couple lamps for lighting. They needed nothing more — their chemistry was electric and their playing was jaw-dropping, both in techncial proficiency and melodic heft. Even without Gat's occasional Hebrew chants, it felt like a potentially religious experience. — ANDREW UNTERBERGER
Mike WiLL Made-It
Around 5 p.m., rumors started rumbling through Austin that Miley Cyrus planned to make a special appearance during her Bangerz producer's headlining set at Fader Fort, and anyone who showed up because of that information was surely thrilled it proved true. Yes, the "We Can't Stop" superstar graced SXSW with her presence — performing the aforementioned song, along with Made-It's "23," and Nicki Minaj's chorus on Rae Sremmurd's "Throw Sum Mo" — but we also got other marquee cameos. Future glided onstage in a ridiculously comfortable looking poncho to play "Bugatti," "Sh!t," "Move That Dope," and a few more of his smashes. Rae Sremmurd got their feet wet with SremmLife standout "No Type," and hey, even the newly jacked-up RiFF RAFF stopped by for a song. Mike Will: Invite us to your next house party. We'll bring the beer if you bring the guests. — B.C.
Here's @MileyCyrus rapping "23" with @RaeSremmurd at #SXSW. She also sang @NICKIMINAJ's verse on "Throw Sum Mo." pic.twitter.com/18t7LBXKU0

— SPIN (@SPINmagazine) March 20, 2015
The Districts
Every so often in rock music, you need to see a band that reminds you that there's nothing cooler than being in a band. Lititz, Pennsylvania's finest four-piece, the Districts, make you wish you were 20 years old and spending your days touring the country in a crappy van with three of your best buds. Or, if you're already doing that, they make you wish you were doing so with songs as good as "Young Blood," their multi-section set closer, which went for ten-plus minutes and could've probably ran another ten just on the band's excess energy as they thrashed about the stage in perfect concert with one another. Ah, to be young and in rock. — A.U.