SPIN Rating:
Release Date:
December 09, 2014
Label:
Tommy Boy
About halfway through 36 Seasons, Ghostface Killah gets his face burned off in a crack lab explosion ("Threw him twenty feet in the air," associate Shawn Wigs swears) and enlists an "exquisite doctor," Dr. X, to build him a new one. This is just about as far into comic-book fantasy as Wu-Tang's most alert realist has gone in 18 years of calling himself Tony Starks; on 2007's The Big Doe Rehab, a similarly sudden moment of violence only made him throw up in a friend's car.
But the 40-minute world inhabited by this unusually literal superhero (or supervillain: Ghost's always been an Iron Man guy, but here his bubbling skin recalls the Harvey Dent that Billy Dee Williams was never allowed to reprise) isn't fantastic at all. Mundane details — the spoken "ding-dong" of an estranged girlfriend's doorbell; a fretting, lawyerly dissection of the concept of loyalty; the simple, specific happiness of "Bout to see my boo / It's about six o'clock" — surround superheroic Tony with flashes of the real. And though the plot turns on a lover's betrayal, listeners uninterested in another hip-hop story of disloyal bitches should note that at 44, Ghostface is old enough both to have moved past the male notion that women do stuff for no reason and to tell it as simply as it actually is: "Don't think you can keep treating your woman bad / And she won't ever get mad."
//www.youtube.com/embed/eaCNG8lpZso
Telling details have always been Ghost's forte, and the longtime fan will have a collection of past totems unlikely to be replaced. (Mine: the roaches in "All I Got Is You"'s cereal box, the weak OxyClean that won't scrub out the damn spots from "the chest area, right-hand side" of Ghost's T-shirt in "Walk Around".) Alone, maybe nothing on 36 Seasons quite enters the pantheon — but this isn't the work of the hungry impressionist of Ironman and Supreme Clientele, or the storyteller at peak fertility who filled Fishscale and the unnoticed More Fish with two hours of spectacular vignettes. It's a small, controlled, uncommonly focused album, by an artist well into the kind of middle age that prizes refinement and brevity. ("Odd," fellow detailer Anton Chekhov wrote during his own middle period, "everything I read… now seems to me not short enough.")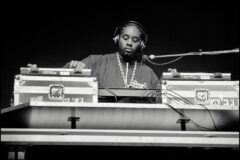 Everything on this album reinforces a single feeling: the strange unreality of the character referred to on Ironman as "America's most dramatic Avenger." On 36 Seasons, the fantasy persona with which Dennis Coles fixes all of the problems in his old neighborhood (predatory crack dealers, crooked cops, his own physical vulnerability) strides indestructibly through a world whose grimly unfantastic details are so close to terrible events as recent as last week they cut off breath: on "Double Cross," a list of dangers faced by the citizens of Staten Island includes "illegal chokeholds."
//www.youtube.com/embed/NmzW_Z06tTs
Wu-Tang Clan's dorky, voluminous cascades of pseudonyms, numeric symbols, kung-fu and Blaxploitation flick borrowings were always more than just Marvel for hip-hop kids: they were a way to kindle and shield an inviolable dignity that America's real world strove to destroy. When something that wouldn't happen in real life occurs on 36 Seasons, it's something that rescues or dignifies or preserves the life of a black man.
The cumulative impression produced by real and unreal details is that, for many actual black men, external rescue and dignity and preservation are as realistic as having your face reconstructed by Dr. X (a name you can dismiss as comic-book generic if you don't remember the letter that the Nation of Islam's members use to indicate identities unrecoverable from slavery.) "Fuck 911 / Call the doctor on speed-dial," Ghostface urges from melting lips. Shear away the giddy fantasy and you're left with an old Public Enemy truth: Fuck 911. This couplet is followed by a spurt of sour James-Bond guitar that briefly invokes a far more unrealistic hero. Then it disappears.