In 1994, Coolio climbed out of the trunk of a Chevy Impala and forever into our lives. The Compton MC born Artis Leon Ivey, Jr. moved amongst gangstas, but packed levity and love into his most well-remembered songs. That was the year of "Fantastic Voyage" — a G-funk classic which kindly purported to take our asses on another kind of trip. Today, the man with wildest braids in the West is 51 and still on a delightfully odd excursion. He has made a bunch of albums (2009's From the Bottom 2 the Top most recently), appeared on very unexpected screens (from Sabrina the Teenage Witch to Futurama to Celebrity Wife Swap), published a cookbook (Cooking With Coolio), become a genuine Juggalo (here he is at the Gathering), and recorded a theme song for online smut outpost PornHub.
But we wanted to take Coolio back through time, to, yes, 1994. As part of SPIN's series celebrating that watershed year — revisit our old loves, the best songs, and memory lane itself — we invited the It Takes a Thief star to come to our office and do a blind Jukebox Jury where we play him the songs his peers made in '94, and he not only names that tune, but shares a memory to go with. Though we're sorry to report he didn't have anything to say about Counting Crows, Coolio didn't disappoint. Read on for 2Pac stories, Boyz II Men beef, a live demo of an esoteric dance, kind words about Queen Latifah, and a couple of choice collaborations that (dammit) never moved past the fantasy phase.
1) 69 Boyz, "Tootsee Roll"

SPIN: Do you recognize this?
Coolio: The "Tootsee Roll," man. That's easy.
[Stands up and demos the dance for the duration of three knee-pumps, then sits.]
I've got knee-monia! I move my leg a certain way, and I'm gonna start moaning up in this motherfucker. I'd sit down anyway and watch that ass — that was what the song was good for at the time. Twenty years later, I don't think it'd be in my time capsule though.
How about something a little more lasting then?
2) 2Pac, "Keep Ya Head Up"

[Gets it immediately.] The first line is classic. You'd think that Rakim would've started a song off like that. That's the level of Pac's consciousness. But has anyone been on Facebook today? I saw a very — I don't want to say "disturbing" — a very informative post that implies he may have really pulled a Machiavelli and faked his death. Because if you go by the evidence on the Internet, there's no way 2Pac died that night in Vegas.
What did you think of the 2Pac hologram at Coachella?
I thought that was amazing. Leave it up to Dre. He's got enough money to shock yo' ass every time. He'll come up with something nobody else is thinking of. I would've had him flying around like Anakin though. Eazy-E too.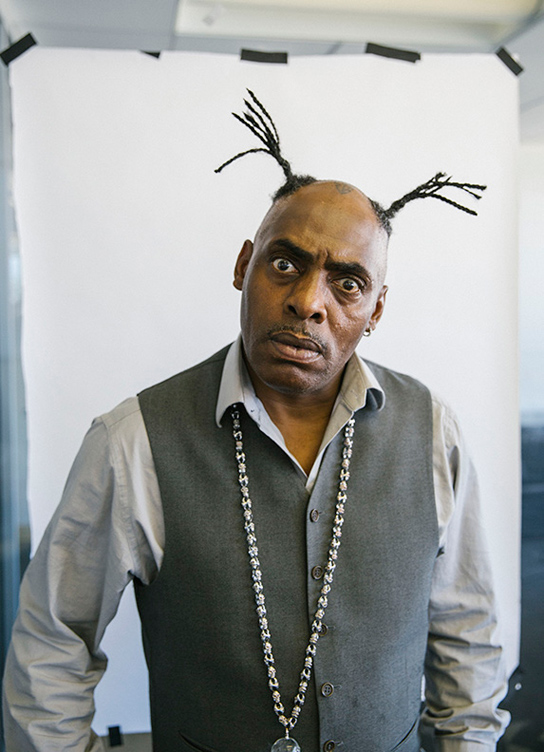 Were you close with Pac? Do you have any stories?
What? I tried to mentor Pac. We were peers, but he was a lot younger than me. One night we were at Prince's club Glam Slam. [Compton MC] King Tee, he had a drinking problem, was there and he sees Pac wearing a burgundy bandana. Tee tells him to take it off, and Pac refuses. Then Tee tries to snatch it off of Pac's head, so — bam! — he gets socked in the face. The fight spills out of the club, and now they're separated. Pac crosses the street to where his crew is, but Tee follows him over there to talk more shit.
All these guys start whooping his ass, like…
[Stands and kicks the couch furiously with both legs; our recorder falls off the arm.]
So I run across the street and get over him. [On all fours.] And I yell, "Pac, make them stop!" He's like, "Cool, you saw him! He started it!" And I'm like, "You know he's a drunk!" So Pac calls them off and helps me up, like, "He's lucky you were here." And he was, too. I picked up Tee and pretty much carried him back.
Speaking of dead — or maybe not dead — legends…
3) Nirvana, "Heart Shaped Box"

Is that Red Hot? Wait. No. [Voice comes in.] That's Kurt Cobain. Man, he was soulful. He was unique. He was insightful. And his music was very detailed. When he wrote, if he was trying to make you see something, it was very easy for you to see it.
Kurt died that year. Do you remember that?
I happened to be watching MTV and it came over the wire. And I was like, "Well, damn." I was mad at Kurt, like, "Why you gotta do that before I do a song with you?" I was mad at his people. They didn't see that shit coming? C'mon! Put the motherfucker on Thorazine; dose him up so he can stay alive. You know, people who do drugs get so pressured by people who don't that they get depressed. Society and their families make them feel like shit about their habits. A lot of times they're not hurting nobody. They don't go out and cause trouble. They don't miss work. Fuck, man. Let that shit roll. I've had my ups and downs with that. I'm not on drugs right now, but I'm not gonna sit here and say I won't ever do drugs. I'll never do cocaine again… but I haven't tried everything.
4) Elton John, "Can You Feel the Love Tonight"

What do you think about this?
[Takes him until the chorus.] I like the house version. There's also a dubstep version. [Editor: we could not (want to) confirm this.] I couldn't even have sex to this. It'd throw my stroke off. It's easy listening. They'd play the instrumental of that while you're walking through Kohl's or Dillard's. Who is this?
It's Elton John.
Oh, I love Elton John. But I like that B-B-B-Bennie! Elton John.
So you can't make love to that. What about this?
5) Boyz II Men, "I'll Make Love to You"

Oh hell to the yeah. I'd start deep-stroking that mother! I might have made a baby to that.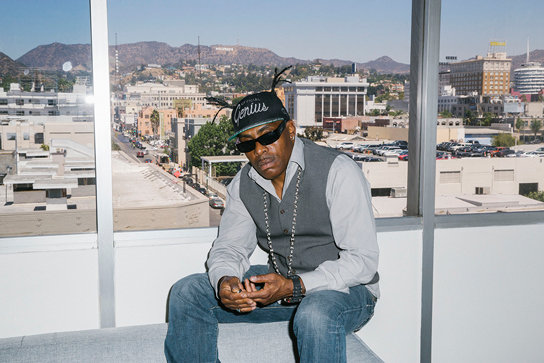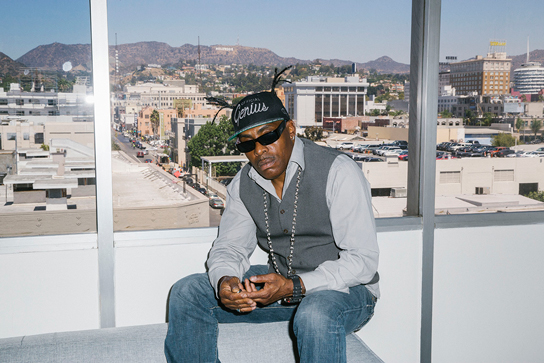 Have you actually played this song while in the act?
Yeah, I've put that on, poured a glass of wine. Wanyá [Morris, of BIIM] helped a brother get it off. Me and him had beef once. It wasn't public. We were in a hotel. He was trying to hit on some chicks, and the chicks were trying to hit on me. And he started hatin': "Coolio, old spider head." He gave me a look, but I gave him a gangster look. We went our separate ways, ended it very eloquently without any bloodshed.
6) R. Kelly, "Bump n' Grind"

"Bump n' Grind," man. You already know. Back in the day you'd go to the club and they'd play, like, four songs during the night where you get your slow dance on. That's how we used to figure out whether we had a chance to get some. If the girl pressed herself up against you and you lock up on her — you know, getting hard — if she didn't like you, she'd slide to the other side. But if she put her monkey right on it, you knew: "She might not give me any tonight, but I'll be in this mother by next week."
I'll throw on some "Bump n' Grind" any time, bro, to set the mood. R. Kelly's an asshole, but classic shit. Well, I'd guess he's been humbled since then, seeing as he got away with rape and pedophilia. He's lucky it wasn't my daughter — or my neighbor's daughter, even — because that would've been R. Kelly's motherfucking funeral.
7) Insane Clown Posse, "Chicken Huntin'"

[Instantly, with a knowing smile.] Insane Clown Posse. I've always been a supporter. I didn't understand why Eminem didn't wanna do a song with them. He didn't like the clown thing. I thought it was fucking brilliant. I wish I had thought of it. My backing group would've been Coolio & the Fucking Killer Clowns.
Do you consider yourself a Juggalo?
Fuck yeah.
What does that mean?
Family. Let's say I'm in Philly and I need a place to sleep and something to eat. If I find some Juggs, that night I'm gonna eat good, I'm gonna sleep good, and I'm gonna get high. They take care of each other. It's more than I can say about most Crips and Bloods.
How does the Gathering of the Juggalos compare to a radio rap festival?
Dude, the Gathering is an animal of its own. It's like an old-school hippie festival on steroids. Or crack, depending on the day. It's off the chain. Good times with good people. Turn the tape off if you wanna hear the rest of the story.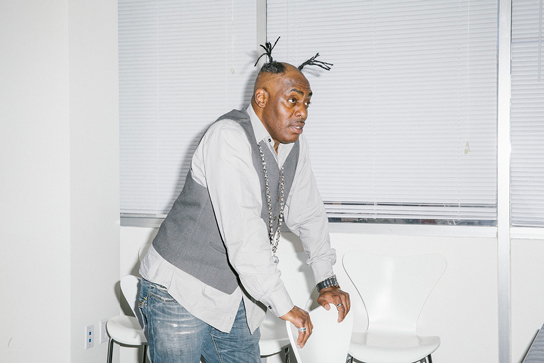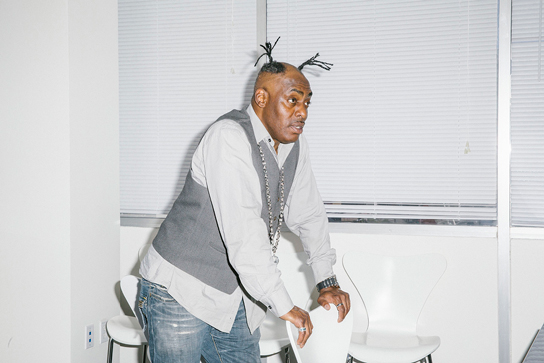 [We do; it's a great story; ask us in person some time.]
8) Queen Latifah, "U.N.I.T.Y."

[Grooves to the saxophone, sings along right away.]
Queen and I hung out, man. We did everything except fuck bitches in the same room. I can't talk about that though. That's my homie. And you will respect her. She'll shut your shit down, fuck around and send your ass to the hospital. She was on some hood shit sometimes. She's the queen, bro, and she could spit. She had lyrics.
Last but not least…
9) Björk, "Human Behaviour"

I don't know who this is.
You don't remember Björk?
Oh, Björk. She's crazy sexy. I never got into her music, but I remember meeting her manager. I thought because me and her were so different, it'd be interesting to do a song together. He probably didn't even tell her. Nah, he probably did and she was like, "No."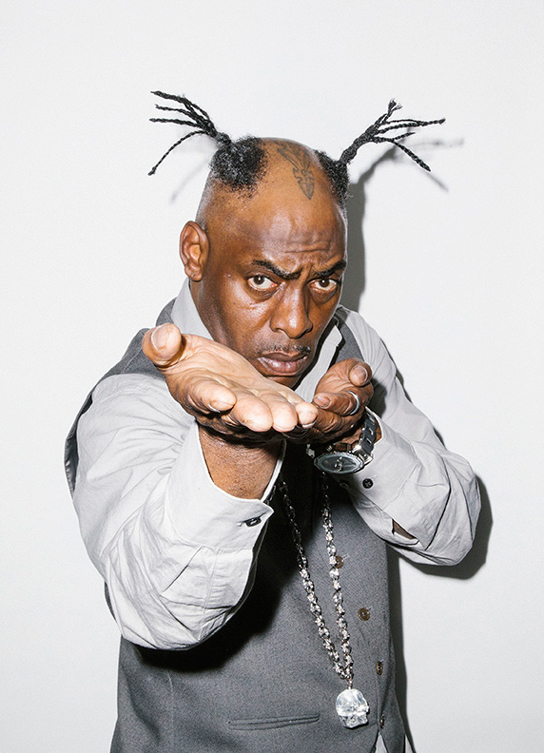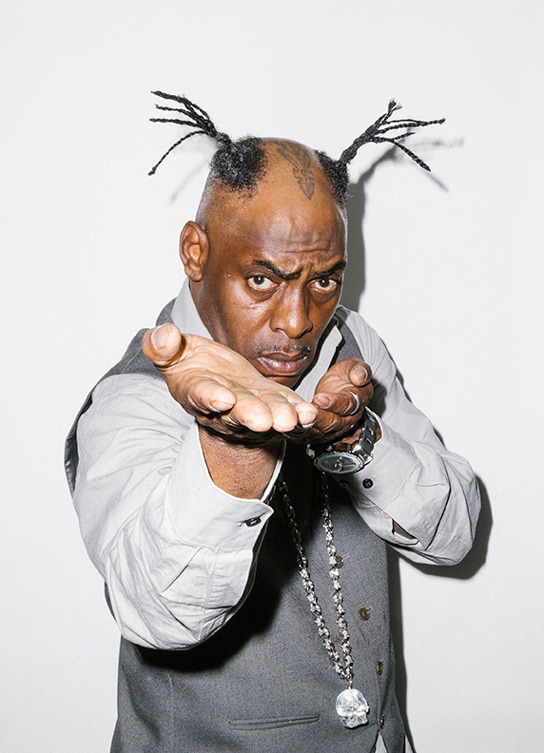 [All Coolio photos by Nathaniel Wood for SPIN.]