OutKast
We were greeted by the cry of the hootie-hoo — a lone voice echoing through the machine fog, calling for a response that came in force. "HOOTIE HOOOOOOOOO" said the Coachella crowd, and though OutKast were running late, they immediately made amends with a heavily stacked eight-song run. Appearing within a strange screen-cube overlaid with Old Glory were the ATLiens themselves: Big Boi sporting a gleaming medallion and some weird militant streetwear, and André 3000 in stripy overalls and a Mexican ball-cap. With a sizable band backing, they dove in.
"B.O.B." offered immediate gratification of the sing-along sort. Its trippy Stankonia bedfellow "Gasoline Dreams" followed, then the undeniable otherworldly excellence of "ATLiens." Next came four gifts from Aquemeni: "Skew It on the Bar-B," "Rosa Parks," "Da Art of Storytellin', Part 1," and the titular buddy anthem (BB + A3K 4-eva, eva). Oddly though, the song whose chorus goes, "Until they close the curtain, it's him and I," heralded the portion of the gig where the long-separate Atlanta duo, united here for the first time in seven years, separated again.
The headlining set's slightly distended mid-section was split into two parts: the Daddy Fat Sax section, which featured a show-stealing Janelle Monáe performance and also the irrepressible solo single "Shutterbug"; and the other half going to deep cuts from Dre's generally underwhelming The Love Below. And when the pair re-reunited, they came with an unusual escort: Future, who did his thing well, but felt out-of-place performing three songs at this momentous event. Sleepy Brown was the evening's only other guest, though 300 noted that Prince was watching from the sidelines.
And then came the sputtering finish. It wasn't enough to spoil OutKast's inaugural set in what's likely to be a very long year of comeback festival stops, but it was far from graceful. The sound cut out during "Ms. Jackson." André puled a Jim Morrison for "Hey Ya!," seemingly uncomfortable while performing with his back to the crowd. And Killer Mike arrived onstage just in time to witness firsthand the 1 a.m. Coachella noise curfew — he didn't rap a word. But still, they played "Elevators," so it's safe to assume a few thousand bucket lists had one fewer item on 'em come Saturday morn.
Watch the entire performance here.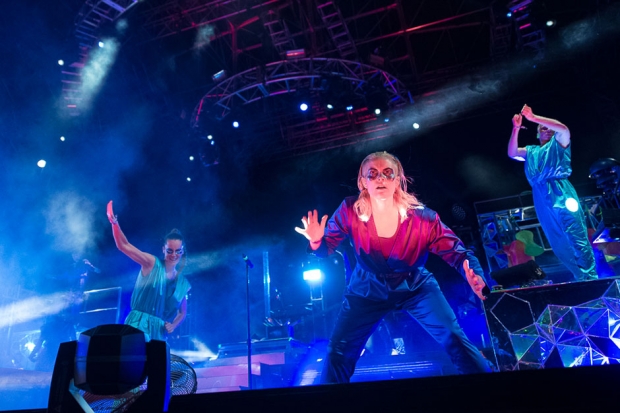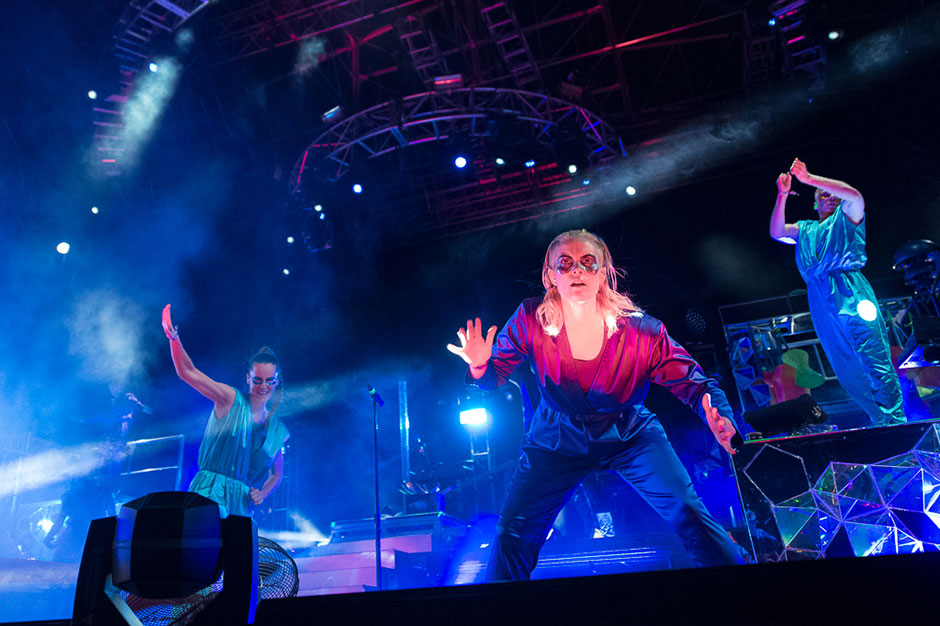 The Knife
In his review of these synth-strange Swedes' 2013 LP Shaking the Habitual, Philip Sherburne wrote that "the run-up to the Knife's new album has been treated like some vast, baffling performance-art piece." Funny, because that's exactly what the live show was. The Replacements had only just vacated the Outdoor Theatre when stagehands set to work building a multi-tiered set of sharp angles, futuristic instruments, iridescent hues, and assorted oddities. When Karin Dreijer Andersson and Olof Dreijer walked out at 10:30 p.m., they were hardly alone — nine others followed and assumed their galactic battle-stations, dressed in monochromatic cult-y jumpers. They opened with the tonally warped 10-minute "Raging Lung," one taking a ripping solo on an electronic clarinet, and another on what appeared to be an upright bass laid down and grafted to the nose of an X-wing. At one point a few of them beat on a large, miked plastic column with smaller hand-held plastic columns, while the others executed weird moves on loop — some combination of modern dance and IRL GIF-ing. "Welcome to Shaking the Habitual, the show," one cackled at the crowd. "We are excited to dance for you because without you my life would be boring!" From there it was all hyper-voguing and gymnastix and wild, weird techno that pushed against dance music's outer edges with gleeful aplomb.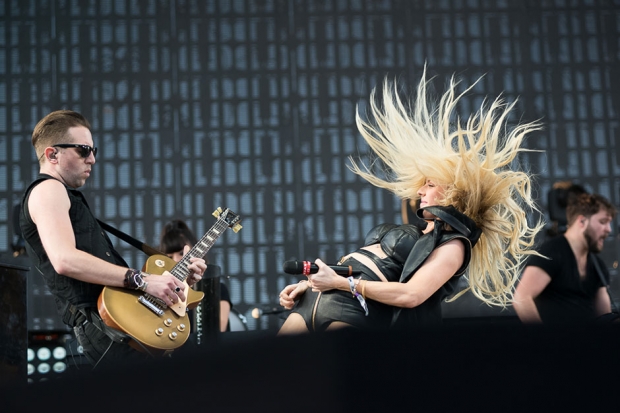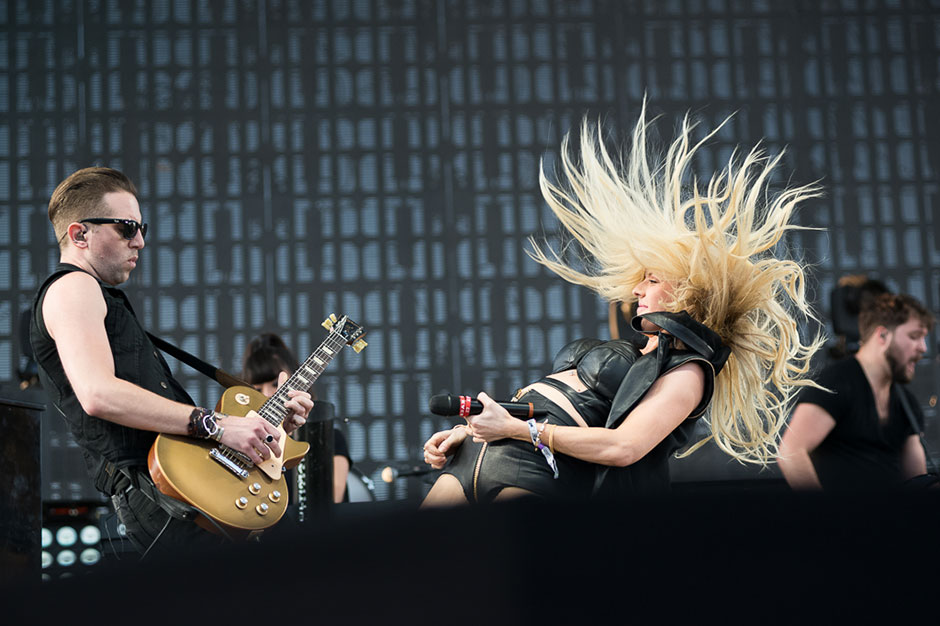 Ellie Goulding
Balk if you think you must, but pop came to Coachella and Coachella came to pop. Traditionally, the place to be around 7 p.m. is the Outdoor Theatre — it's the best spot to take in the sunset and catch that long-delayed breeze that sweeps the field while someone like Broken Bells eases us into the evening. But the main stage was massively attended by chirping Ellie Goulding fans prone to popping intermittently into the air, like happy guinea pigs, while their heroine projected her "Beating Heart" in streaking neon. Wearing a Mad Maxine getup, backed by a seven-piece band, and watched by a sidestage Skrillex, the British singer and songwriter owned her art, from the power-EDM of her Calvin Harris collabo "I Need Your Love," to the jaunty shampoo-commercial hair-flippery of "Anything Could Happen," to her back-to-back post-dubsteppy, melisma-happy covers of Alt-J's "Tesselate" and James Blake's "Life Round Here" (which featured mad hand-waving and full-throated "na-na-whoo"s). Yeah, we got the fire, fire, fiiiii-yah!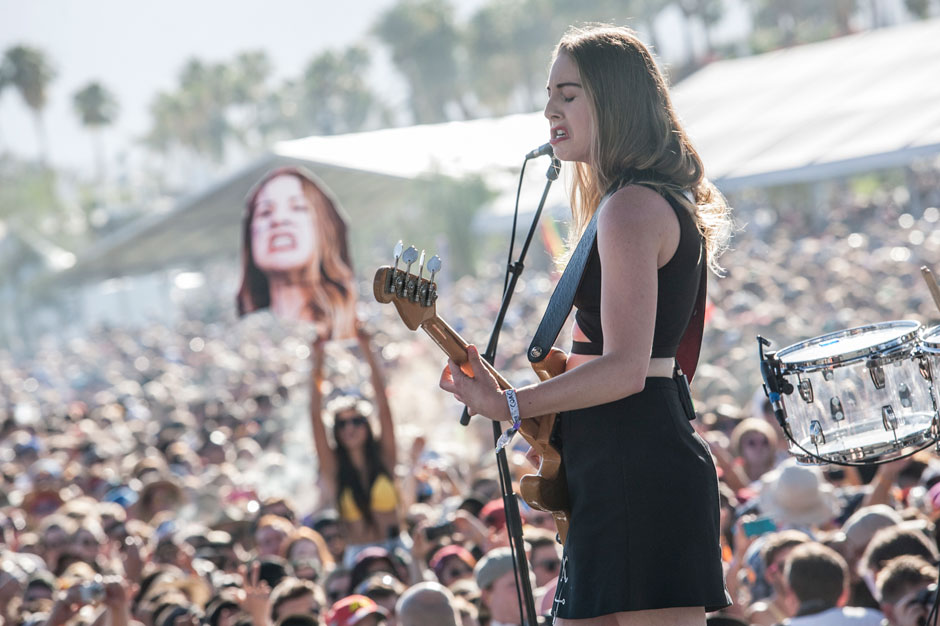 Haim
There's a lot about Haim that makes these sisters of the San Fernando Valley seem destined for arenas, and not all of those factors make sense side by side on paper. There's the perfectly produced staccato pop of a song like "Falling," which live sounds just as polished and twice as acrobatic as it does on Days Are Gone — Michael Jackson parsed three ways. Then there's their propensity for shreddy Zepplinesque blues jamming, exemplified by an extended cover of Fleetwood Mac's "Oh Well." There's that innate siren-like charm, juxtaposed against bassist Este Haim's incredible scowling O-face (the theatrical tragedy mask made funky), and that freaky sibling mind-meld thing that happens when they wind up harmonizing on an adlibbed, "Come on, Coachella!" Pretty like pop and ugly like rock, but the reason it meshes so well feels familial. "Imagine we're all in my living room," said Danielle Haim from the unshaded Outdoor Theatre stage at the 5 p.m. heat of the day. "We're all sitting Indian style and there's some weird Persian rug on the floor. My mom's making snacks and dad's playing basketball in the backyard…" What she described is miles away from any stadium scene, but that relatability is what'll close the distance.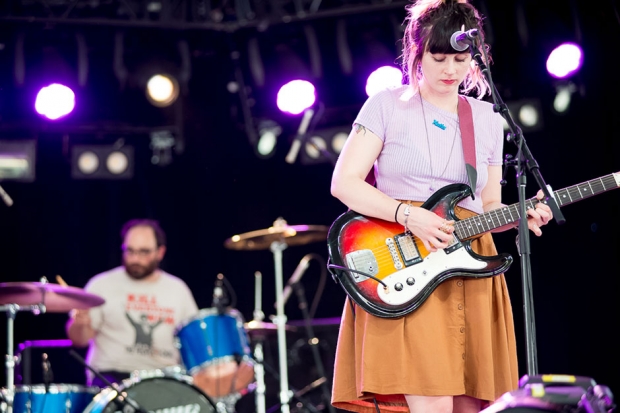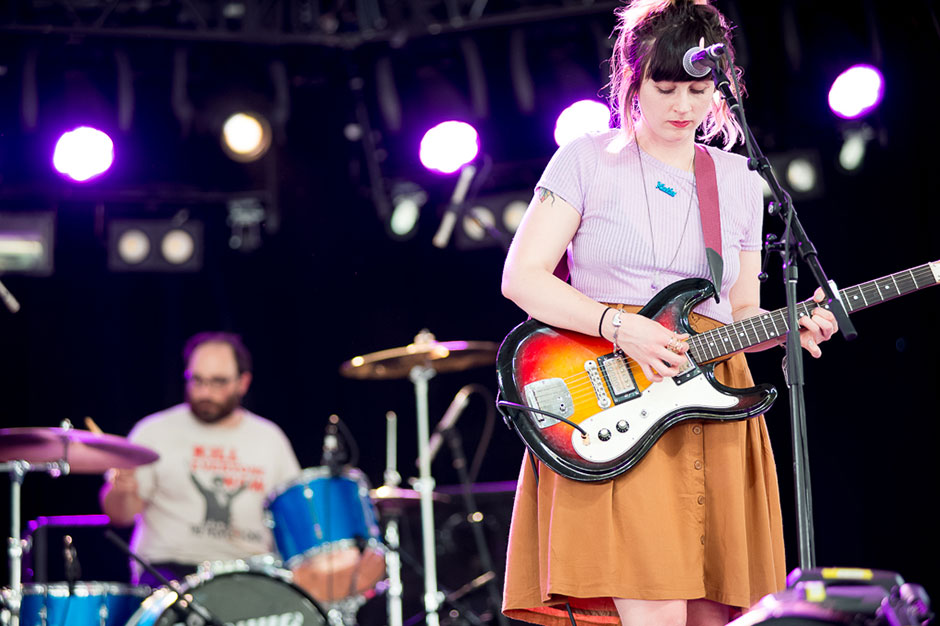 Waxahatchee
"I'm gonna play something by myself," said Katie Crutchfield a few songs into her band's 1 p.m. Mojave tent set. Moments ago, earplugs were a must — and they will be again — but for "Blue Pt. II," her voice is a soothing, dulcet thing with angst cracking its corners, and the '50s-flavored guitar shimmers as cooly as an xx riff. "We'll wake up sober two weeks later," she sings with a hint of Conor Oberst's old emo, but in a pleated skirt with a bruise on one knee and plastic gems stuck to the corner of her eye. The next song — another Cerulean Salt highlight, "Swan Dive" — started similarly, though with assistance. Pattering drums and little more distortion pushed the song out into the stagnant, hundred-degree air, and then something remarkable happened. Waxahatchee broke from the album arrangement so that the moment Crutchfield pronounces that final hard consonant of "a swan dive to the hard asphalt," the band hit back with a mighty skull-busting wall of fuzz. Later, on "American Weekend," her voice droning and bending like Kurt's, the Alabama-raised confessionalist sang, "I left and I didn't say goodbye." She didn't have to; the impression was handily made.
Honorable mention: Girl Talk hasn't updated his act much since his last Coachella appearance in 2012, but for his main stage set this year he did more than work a few new samples into the mix. He had a more impressive array of guest MCs than OutKast, folding live appearances from E-40, Too $hort, Juicy J, and Busta Rhymes into his frenetic, ever-evolving mix.