Falling for Haim
The charming, self-deprecating sisters from L.A. are beloved by fans, biz titans, Jay Z, Phoenix, One Direction, and more. Are they ready for prime time? We peek into the Life of Haim amid a whirlwind tour setting up their stellar debut, 'Days Are Gone.'
Alana Haim is freaking out. "That is 2 Chainz," she says. It's late on the Saturday afternoon of Labor Day weekend, and the 21-year-old is sitting at a picnic table backstage at Jay Z's second Made in America Festival, trying not to ogle the towering Atlanta rapper too hard. He strolls from behind a parked tour bus into an air-conditioned tent of makeshift dressing rooms and a private open-bar lounge, towing a coterie of managers and hype men. "Oh my God, the entourage," she whispers. "He's a giant!" His pants, shoes, and hat are all pristinely white; the golden wreath of vintage Chanel chains around his neck is thick enough to choke a pit bull. "That is amazing! I'm obsessed with 2 Chainz."
What's even more amazing is that while Alana is an unabashed fan girl, she just finished dominating the same Philadelphia stage the former Tity Boi is about to ascend. As the youngest member of Haim (rhymes with "lime"), the pop-rock band she co-founded with her two older sisters, the Los Angeles native has a dressing room directly across from the one 2 Chainz will use, which essentially makes them peers.
Haim are three twentysomething siblings (with no relation to late Canadian child star Corey) who all keep long, straight hair and were born in the San Fernando Valley. They sing, play guitars, harmonize, and pummel drums, but also have a full-time male drummer, Dash Hutton, who doesn't appear in press photos. They have made music together since childhood and draw upon that unshakable connection to construct songs that — unusually for millennials writing rock music in 2013 — are highly accessible alt-contemporary singles with a tinge of R&B. Their lush melodies aren't a difficult taste to acquire; Haim have deliberately built highly polished modern-rock songs that directly reference female-fronted pop icons like Fleetwood Mac, Heart, Shania Twain. On the last day of September, Columbia Records will release their much-ballyhooed full-length debut, Days Are Gone, a shiny power-pop record that's truly been 21 years in the making.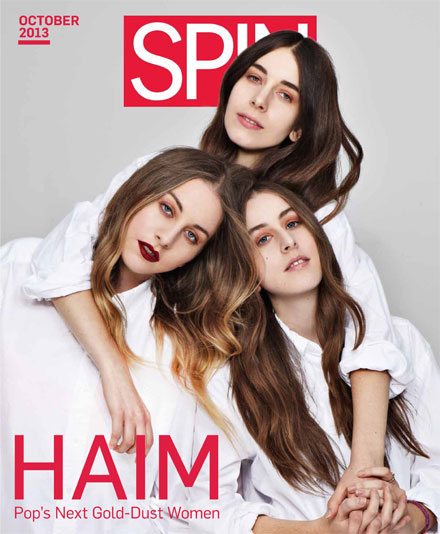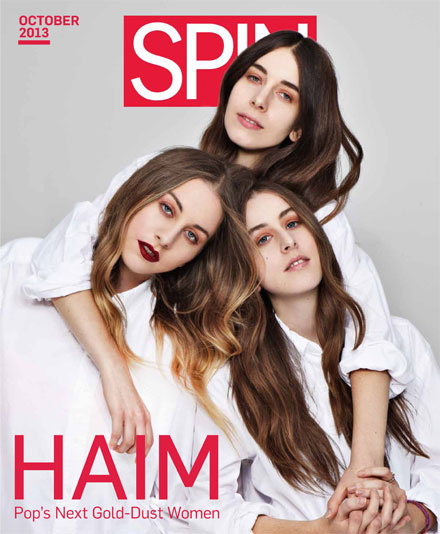 From the look of things, Haim are about to be a Very Big Deal. In the last 18 months, they have toured with or opened for Phoenix, Vampire Weekend, Mumford & Sons, Florence + the Machine, and the xx. They began this calendar year posed on the cover of NME with young British pub-punks Palma Violets, then gleefully found themselves under Jay Z's corporate umbrella when their manager, Jon Lieberberg, signed with Roc Nation. In June, they turned up on The Late Show With David Letterman with only a year-old EP, Forever, to promote, and played the main stage at Glastonbury, the same physical platform the Rolling Stones would grace the following night. Throughout festival season, Haim stole the show at Governors Ball, Bonnaroo, Lollapalooza, Firefly, Reading, and Leeds.
One of Haim's curious strengths is that they travel in cosmically disparate circles. Ke$ha is an old friend: On YouTube, there's footage of the glitter-pop star covering the Stones with eldest Haim sister Este on acoustic guitar. In the last year, one or more of their voices helped layer tracks from A$AP Rocky, Kid Cudi, Childish Gambino, and Major Lazer. British soul singer Jessie Ware co-wrote Days Are Gone's title tune. Scottish electro-pop trio Chvrches covered "Falling" on the BBC. At Glastonbury, the trio shook tambourines and sang backup for Primal Scream. The recent video for twangy kiss-off single "The Wire" stars Lonely Island's Jorma Taccone. Last fall, Katy Perry Tweeted a link to another Haim video; last December, One Direction romeo Harry Styles, who shares a mutual friend with Alana, came to see them perform in Los Angeles. ("They are ridiculous," he alerted his 15-million-odd Twitter followers. "They're gonna have a big year next year.. So sick.") They even ended up performing, inadvertently, for British Prime Minister David Cameron yesterday when they both appeared on the BBC's Andrew Marr Show. ("Great to meet @HAIMtheband on Marr," he Tweeted. "Looking forward to listening to the album they gave me.")
They've met Pharrell. And Stevie Nicks. And Beyoncé. ("I did pee my pants a little when I met her," Alana later confessed online.) And Jay Z, who is now technically their boss. "We met him the first time at some random party or something, basically with our heads down because we're like, 'We're so fucking not worthy,'" recalls Alana, who's wearing heart-shaped Mrs. Carter decals on her neon-peach fingernails at Made in America, cosmetic art chosen in honor of Queen B's headlining performance later tonight. "He was like, 'Oh my God, High-im, I love you guys!' We were like, 'What? He was like, 'I'm so excited that you guys are in the company, we're so excited for you guys, we love you guys.' It was like a moment when I'm like, 'I'm totally dreaming.'"
"They're literally the most popular girls in the music industry," attests Derek Davies, co-founder of Neon Gold Records, the boutique New York City label that released Haim's Forever EP. "Everyone loves these girls. It's fucking insane."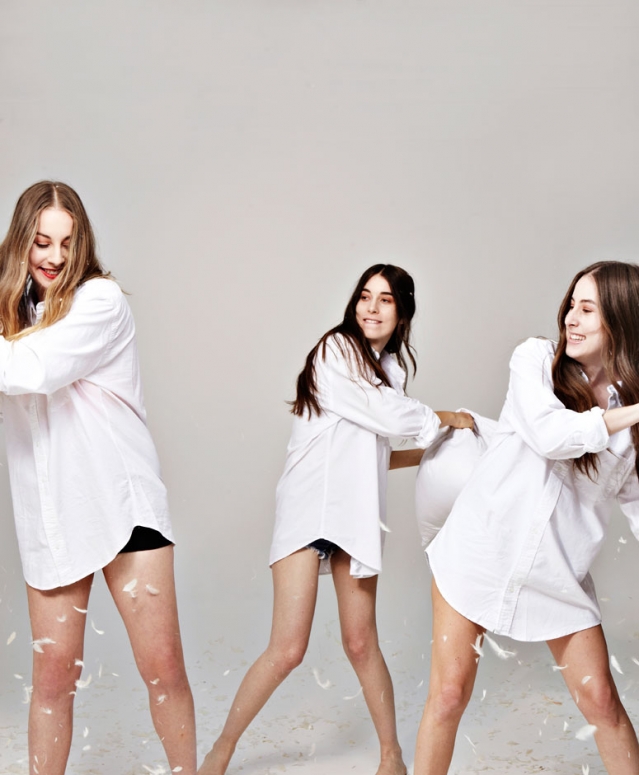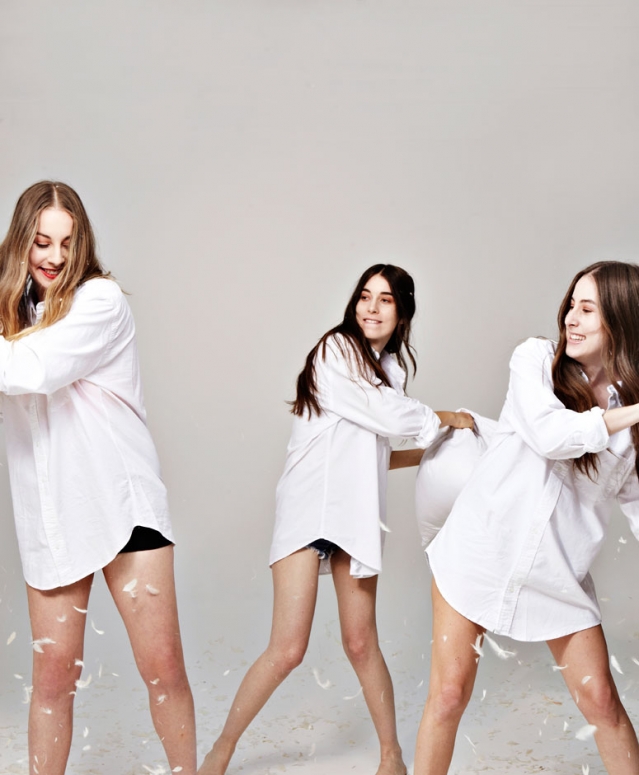 Why is this charming, self-deprecating, very real-person group so dearly beloved? Maybe, in part, it's because, collectively and individually, they're so familiar; you recognize them. You've definitely hung out with these girls at parties, gone to school with them, lived down the street from them. They also happen to be really fucking talented, playing '80s-influenced mainstream pop that's conducive to arenas or new-media office Sonos devices, appealing to a broad demographic range, from Kanye confreres like Kid Cudi to your Bath & Body Works-shopping aunt. The sisters are distinct enough on and offstage that most fans will pick a favorite.
Este is the blonde one. At 27, she's the oldest; at six feet, she is also the tallest. In Haim, she sings, pounds on drums, and wilds out on the bass. Onstage, her outfit is a black dress accented by deeply red lips. Growing up as a theater kid, she wanted to be Molly Shannon. She has no filter, as her sisters like to say; her Twitter handle, for example, is @JizzieMcGuire. Last fall at an iTunes Festival show, a London showcase that streamed online globally, she made a crack about her tampon string, then targeted an audience "cutie" and gave him her real phone number from the stage. ("I was screaming at the screen when I saw that," her mother Donna told me. "You are kidding me?") Not surprisingly, to this day, she still receives weird calls and texts.
Danielle, 24, is the middle daughter. Her long, brown hair is parted severely down the middle and frames her face like untied curtains, sometimes conjuring the soft ease of a late-'60s folk sylph, other times evoking the air-dried fuzz of a teenage hesher. As Haim's onstage anchor, she favors leather vests and skinny black jeans onstage, but she's secretly an agile chameleon, having shown up in Julian Casablancas's 2010 video "11th Dimension" as a Parker Posey dead ringer in black Spandex, and in Cee Lo's all-female backing band on The Tonight Show With Jay Leno as a demure-hippie six-stringer. Offstage, she's reserved, an introvert, and according to Este, the "Yoda of the group." New Zealand magazine Coup De Main once asked the girls, "What's the wisest thing Danielle has ever said?" and Alana responded, "Dot dot dot, because Danielle doesn't talk."
Alana, 21, is the youngest. It's a role she seems to relish: Her Twitter handle is @BabyHaim; she signs autographs that way (minus the "@") and wears a BABY baseball hat. If the three Haim sisters were a Venn Diagram, Alana is the overlapping circles, her nature a traceable balance of the intersection. She Tweets emojis and uses the word "fucking" for frequent emphasis. She's equally vocal about loving puppies and Kendrick Lamar. She wears basic cut-off jean shorts onstage, to perform for thousands. She cannot refuse a rap song and will break out into a goofy faux-grind whenever hip-hop begins playing, anywhere. She is the type of girl who forgets her shoes. At Lollapalooza, a fan threw a bra up onstage. "It's a B [cup]," declared Alana. "Like me! We match! Itty Bitty Titty Committee, girl — I feel you."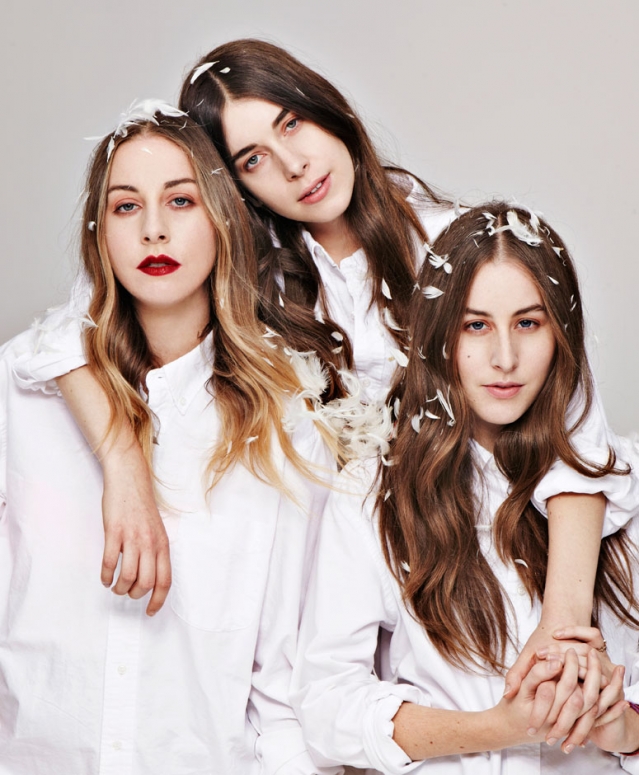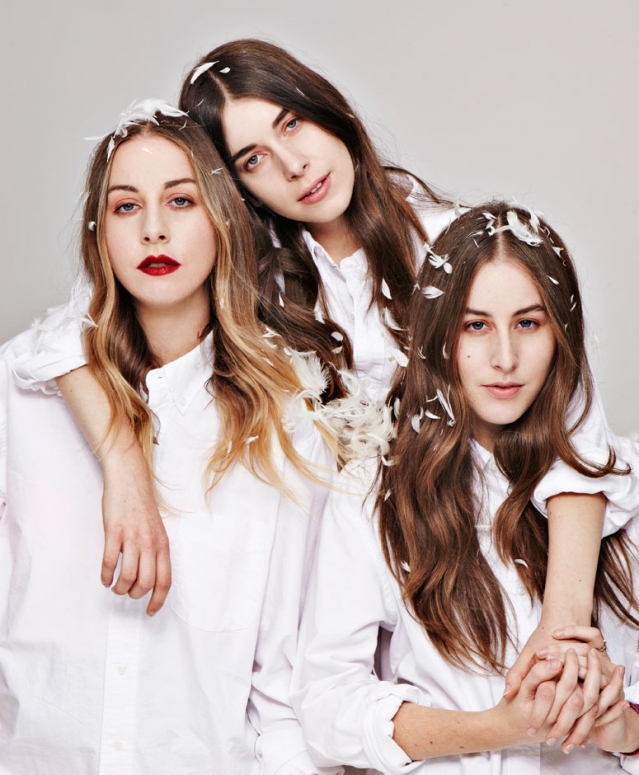 They're all both personally and creatively accessible, but not in an engineered way that's subconsciously aspirational. As feminine archetypes, they aren't your friends in the fantasy version of your life — they're your friends in real life. After all, Este wore BBQ hangout clothes on Letterman.
"I think that's all part of the equation," says their mother, Donna. "They want the fans to know that they're committed to making the best music they can for them, and that they feel like you're friend. It sets them apart from a lot of artists, who want to feel the way they dress is so different [from the fans] or that they're putting on a show. The girls do that, but with a different spin: It's not the dress, it's more about the music."
"I've always wanted to be a cool band," Alana says. "But I've tried to be a cool, aloof person, and it's just not me. I couldn't do it. I giggle at fart jokes. I trip all the time. I'm just not that person."
"This is just who we are," adds Este. "There's never any element of, 'We need to be more of this.' I'm still the same."
In the context of the family-band narrative, Haim's origin is suspiciously organic. Unlike the Shaggs — three daughters imprisoned by a deluded parent and forced to chase a genetic prophecy — the kids weren't victims. Unlike the Partridge Family — showbiz-enthralled garage practitioners who finagled adult bystanders into active participants — the children weren't the instigators. Unlike the more modern British dance-music duo Disclosure — two brothers who casually posted laptop tracks online and then abruptly blew up — they weren't beneficiaries of chance. The Haim family were hobbyists; music was recreation, a bonding and community-building experience they engaged in for decades, until they finally found a direction that paid the rent.
The sisters' father, Mordechai "Moti" Haim, was an Israeli soccer player and remains an energetic drummer. Donna played guitar and idolized Joni Mitchell. They were silently matchmade through a friend, and as the story goes, Donna wasn't interested until Moti started drumming on the table and piqued her curiosity. At their wedding, they sang a duet. A $2,000 winning appearance on Let's Make a Deal funded their honeymoon to Hawaii. Nine months later, Este Arielle Haim was born on March 14, 1986.
"I've tried to be a cool, aloof person and it's just not me. I giggle at fart jokes. I trip all the time. I'm just not that person.
Donna and Moti put aside their musical ambitions to insure a stable home life. But as Danielle Sari and Alana Mykhail came along, when other fathers' played catch, Moti would teach his daughters the drums. At birthday parties, instruments came out; sing-a-longs ensued. The girls sang in choir, took whatever lessons they wanted. And as a hobby, Donna and Moti performed in a cover band with another couple, first as the Mommies and the Daddies (a riff on the Mamas & the Papas), then as Boomerang (a cutesy reference to the oldies' return), eventually landing a regular gig entertaining at Club Meds, which became the family's means to vacation.
RockinHaim, a family fivesome who performed classic covers, was Moti's idea. "All the sudden it was like, 'Why don't we do it with our own kids?'" remembers Donna. "It was such a crazy dream that came to reality."
Now that their musical projects included elementary-schoolers, the couple expanded their repertoire from Elvis, Santana, the Beatles, and the Eagles to include more recent nostalgia from the Eurythmics and the Cars. RockinHaim, they all insist, was not a bid for fame, but strictly recreational. They performed at churches, hospitals, schools, fairs. The family never made money from shows; supplying all-ages entertainment was their form of community service. "We never got paid, not one gig," insists Donna. "That was their ability to give back to the community."
"Being onstage wasn't really a problem for us–it's really how we grew up," says Alana now. "We weren't show kids. We grew up in the Valley, where every other kid has a headshot and goes to auditions. We were never like that. Doing RockinHaim was more of a fun family activity. People thought we were cute. It was never like a really serious thing, but it did help make us comfortable enough onstage that Este can say weird shit."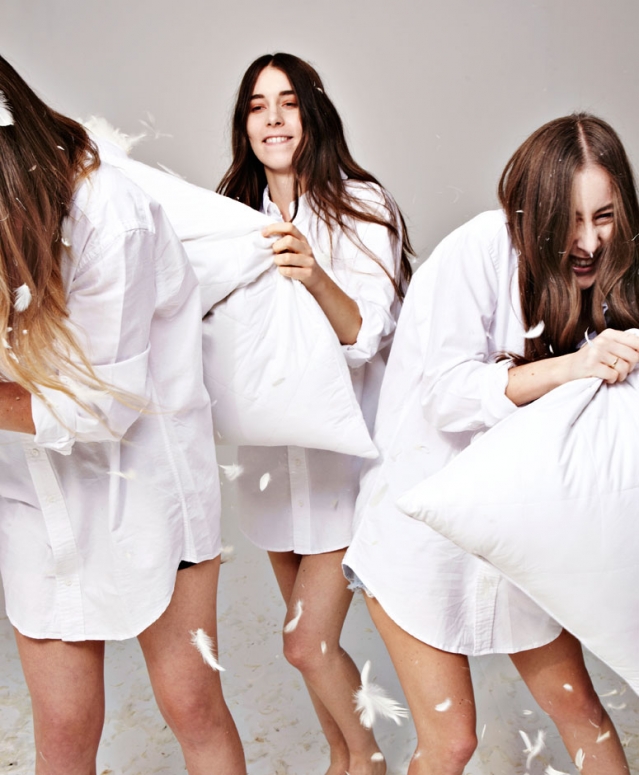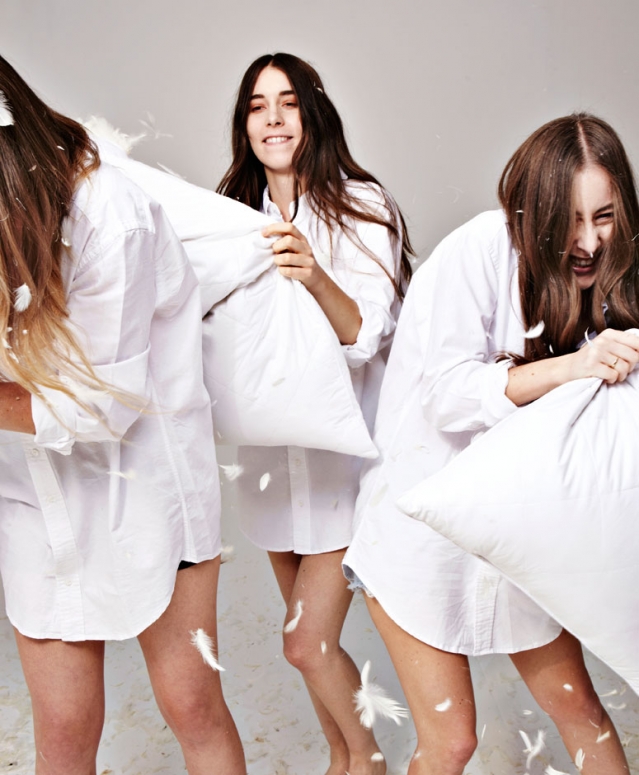 At Made in America, even though Haim are the second of 11 acts scheduled to play the two main stages, there is already a substantial crowd gathered for their 2:30 p.m. set time, and they are met with a rolling wave of cheers. A sound guy defaults to "Big Pimpin'" while they settle into their instruments—Alana can't resist briefly breaking into a grind, even with her guitar strapped on—and then after a lengthy drum roll, the quartet blasts into "Better Off," a stomping ode to break-up ambivalence from Forever EP.
It's immediately obvious why they've drawn so many admirers from this atmosphere. They are three female vocalists who not only alternate parts, harmonize, and sing through their hair with startling confidence, but they're also a firing squad of percussion. Dash thunders from behind, but there's also one cocktail drum set deconstructed among the three girls—Alana has a floor tom, Danielle stands beside a barreling kick, and Este overlooks the rack toms—and when they're not playing strings or the keyboard, they're pounding the shit out of those skins with dramatic effect. Their live energy is massive and seems to expand proportionally to the platform size.
They also happen to say things from the stage that are both self-effacing and genuinely relatable. "There's so many babes in the audience!" Alana declares, midway through the set. She accidentally left her favorite boots back home, Este points, out, so she's wearing Nikes.
One of the many audience babes wants to give Alana his footwear. Este doesn't allow false promises. "Take off your fucking shoes, bro," she goads. Two pairs of sneakers come hurtling up separately, one shoe nearly hits Este in the head. She collects matching black Asics, ties their laces into a knot, and hangs them around her neck. "They smell really nice," she sniffs. "Good job, champ."
"[Jay Z] was like, 'Oh my God, High-im, I love you guys!' We were like, 'What?'
There are a number of reasons why Este Haim is a viable candidate to leave a lasting impression on the modern-rock era, but the most likely is Este's bass face, which is on full display here in Philly. Este's bass face is so distinct that it's become a character unto itself, a kindred spirit with Thom Yorke's lazy eye, with two devoted Twitter accounts and a Facebook fan page. In the course of one song, her facial expression shifts pliantly from a contorted wincing to a violent pucker to a sudden grimace—it appears as if she's just stepped barefoot on a rusty nail, gulped air like a fish, and bestowed an invisible kiss, all in 30 seconds. "She always bobs her head," Alana told Canadian celebrity interviewer Nardwuar. "It's like she smells something, but it's awesome."
"I remember playing with them at the Great Escape [music festival] last summer," Dash says later. "We were downstairs in a sweaty, sweaty room somewhere in Brighton and I looked over at Este and she was just like a wild woman," he recalls. "I had this moment and was like, 'Holy shit, this is the band I want to play with, this is the bass player, she is more ferocious than any of the dudes I've ever played with.' I was so happy."
"They're gonna play on the Grammys someday and that's gonna become a meme for weeks," predicts Neon Gold co-founder Derek Davies. "It's gonna be serious."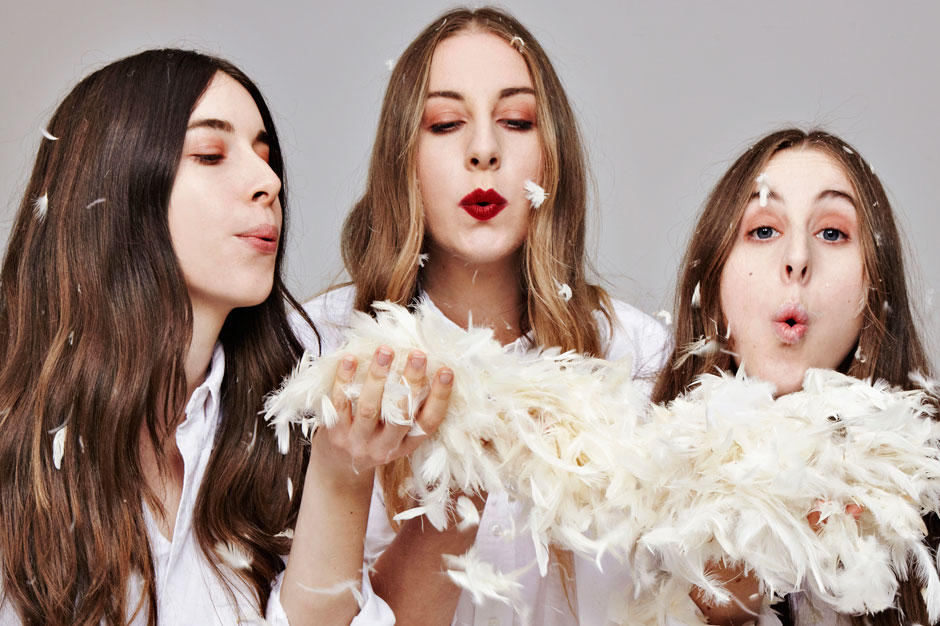 Michael Flores for SPIN
Three days after Philly, Haim meet me at the Smith, an East Village brasserie around the corner from Webster Hall, where they are headlining a sold-out show tonight. Even though the band played a headlining New York City gig just a few weeks ago — at Brooklyn Bowl in June — the crescendoing enthusiasm has grown to a fever pitch. Consequently, every pathway to the band has been clogged with last-minute ticket requests; a Columbia Records representative meeting them here reports that just this morning, she's fielded more than 20 last-minute pleas she couldn't accommodate.
Haim's arrival is a procession of welcoming hugs. They've been fighting touring's inevitable sicknesses and aren't wearing any makeup. The Columbia rep and tour manager retreat to their own table, while the three decide on three baby-arugula salads and an egg-white omelet Danielle wants someone to share. We start by remembering Haim's debut as an all-sibling trio, which took place at the California Institute of Abnormal Arts — yes, its actual name — a North Hollywood venue steeped in circus camp and carny hokum. "You know where Cher in Clueless gets held up, in that parking lot?" asks Alana, who was then 15. "It's right across the street." Friends packed out the place. This milestone was July 7, 2007, the same lucky date as Al Gore's inaugural Live Earth benefit-concert series. In goofy tribute, the sisters dubbed their set Haim-Aid.
Their second show, held at Venice's naughty-nurse-staffed Good Hurt Nightclub, was much less encouraging. The total attendance was one.
But Haim steadily became a Los Angeles live-music fixture, opening for anyone who'd let them, performing anywhere that would book them. They played the Smell, the Troubadour, and the Kerckhoff Grand Salon at UCLA, where Este was studying ethnomusicology. One time at the Hotel Cafe, a cozy singer-songwriter Hollywood spot, they were chastised for being too loud. Alana was still in high school, so Haim couldn't schedule shows on school nights, and sometimes her underage status interfered logistically: At Spaceland in Silver Lake, bouncers wouldn't let her inside before their set to use the bathroom because she was too young. (She had a fake ID, but couldn't very well claim membership in an eponymous band of sisters and then pull out a driver's license identifying her as Sophia Boomhauer.)
Meanwhile, Danielle had become a kind of multi-instrumentalist hired gun. One day, a friend invited her to jam at Jenny Lewis's house; the Rilo Kiley singer was impressed enough to offer Danielle a touring role in her solo band. ("Danielle Haim steals some of that short shorts spotlight off Jenny… wow," creeped one Brooklyn Vegan commenter. "I didn't think I would pay so much attention to a girl that wasn't Jenny Lewis at a Jenny Lewis show," swooned another.) Backing up Lewis was where Strokes frontman Julian Casablancas noticed Danielle and asked her to join his live solo backing band, the Sick Six. She was thrilled — the Strokes were one of her all-time favorites.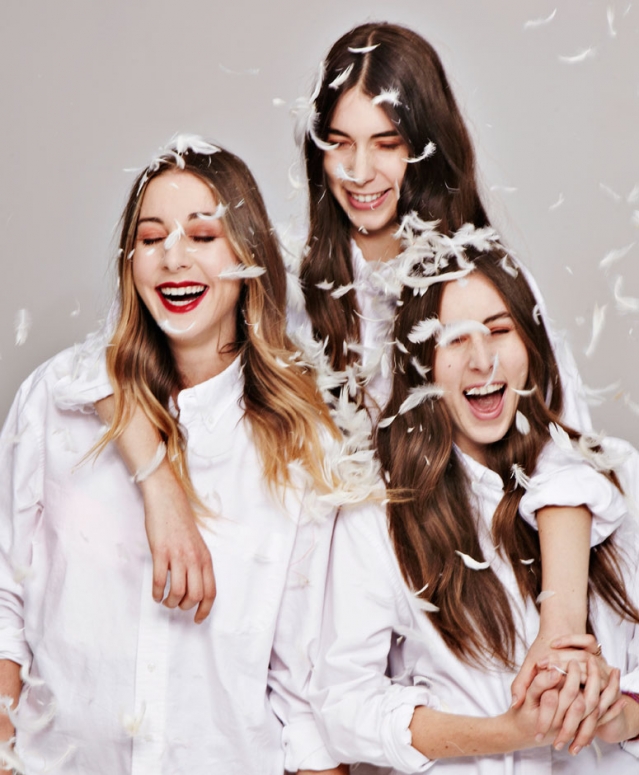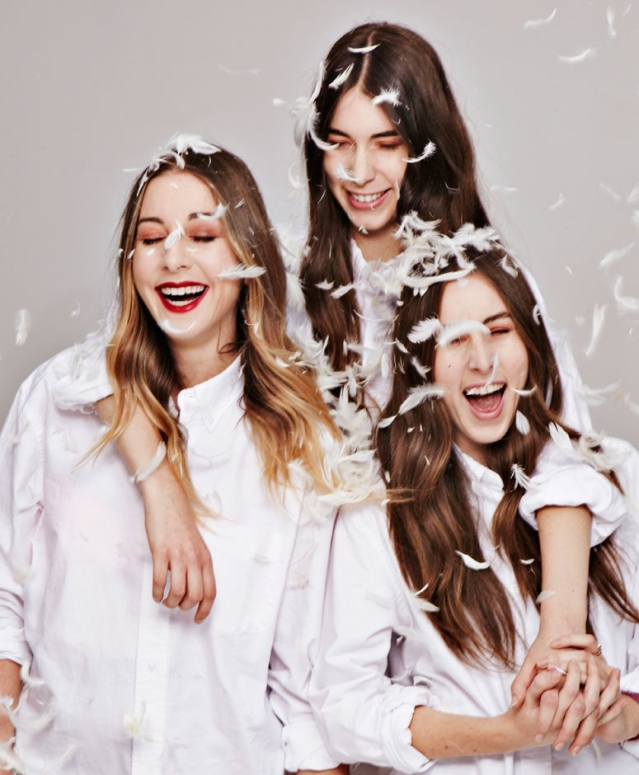 Before a U.K. tour with Casablancas, Danielle learned Cee Lo Green wanted a prefabricated all-girl backing band, Scarlet Fever, and went on an open audition for the parts. ("Alana would've come, but she was still in high school," recalls Este. "Story of my life," Alana says with sigh.) They weren't chosen initially, but when the selected guitarist reneged, Danielle got the call.
"I fucking love Cee Lo," gushes Danielle. "It was amazing!" But it was a job. "I was so happy to be making somewhat of a living making music — because that always seemed like that was the dream — but I couldn't help but feeling pretty sad," she admits now. The road experience was valuable, but none of it was her creative accomplishment. "When I'd come offstage, I was kind of like, 'I want to play my own songs and I want to play with my sisters.'"
But nothing was happening with Haim. They'd posted a few songs on MySpace, but the recordings didn't garner much interest. "No one cared," Danielle says bluntly. As a team, their strategy was unflagging endurance and wishful serendipity, a shared hope that if they kept playing shows four times a month, the right person would invariably encounter them. To be fair, that's how Donna once ended up on The Gong Show — a scout noticed her in a Los Angeles coffee shop. (She lost to a father-and-son pop-and-lock dance crew, but then returned to sing a Bonnie Raitt B-side and won. A gong still sits in the Haim family house.) But as Este puts it now, "We didn't know what the fuck to do."
Haim hadn't even performed outside of Los Angeles until the spring of 2010, when Casablancas invited them to open a six-date stretch of his solo tour that started in Denver, stopped in St. Louis, and concluded in Nashville. Mom, Dad, and the three girls packed up the family van and trucked along, with Moti acting as de facto tour manager and Donna selling T-shirts. "People had no idea who we were — none," remembers Donna. "People kept coming up and asking, 'Wow, what did I just hear?' 'Who are you?' 'Where did you come from?' Like we were aliens." (An archived Blogspot entry from one such observer confirms this: "We were floored by the opening act," wrote Roya, who found them in Tennessee. "Everyone's starts asking…who is that?")
Working alongside Casablancas was a formative experience for Danielle. "He was very helpful in the sense that he was just like, 'You need to keep writing.' I kind of look at him as my unofficial mentor. If he heard that he would be like—" she rolls her eyes. "But I spent almost two years working with him and learning from him. And if anyone helped us, it was probably him and his advice. He never wanted to stick his nose into too much because I don't think he thought it was his place, even though I was like, 'Tell me, help me. The Strokes are my favorite band.'" (Staying true to character, Casablancas declined to comment for this article.)
Haim's biggest disadvantage was that after three years as a band, they still didn't have a representative recording, and they had lost their new-band luster. They'd worked on what was supposed to be the Forever EP with Mike Chapman — the Australian producer who'd sonically sculpted Blondie's career-defining Parallel Lines and the Knack's debut smash Get the Knack, and co-wrote Toni Basil's 1982 bleacher-stomp, "Mickey" — but were unhappy with the result and ultimately scrapped the whole thing.
So they went back to work, reconstructing their songs and teaching themselves GarageBand. "You can take anyone to a Haim show and they're blown away, but at the beginning, the tracks didn't necessarily capture that," acknowledges Neon Gold's Derek Davies, who caught wind of them in 2011 and ended up putting out the revised Forever EP. "Everyone was kind of aware of these girls who'd been kicking around for a while, and in an industry that's all about the Hot New Thing, that wasn't terribly exciting for a lot of people."
When the long-awaited Forever was finally ready, they reached out to Dash Hutton, a gifted drummer who'd been in the Buddyhead-signed SoCal scene-punk band Wires on Fire and floated in Este's social orbit. "She'd come to my shows, and I'd go to the Haim shows," Hutton says. "I always got chills when they played a couple of songs. I remember looking at the drummer, and having that feeling where I wanted to go and jump on the drum set."
Dash officially became the mister to Haim's three sisters at the EP release party, held at L.A.'s 250-odd-capacity Bootleg Theater. "I don't think anybody, including us, the band, expected there to be a line two blocks down and completely sold out," remembers Hutton. "We played for the first time together — it was wild. From that point, I knew this was really special." That was February 4, 2012. It had taken a total of four years, six months, and 28 days, but things were finally happening for Haim.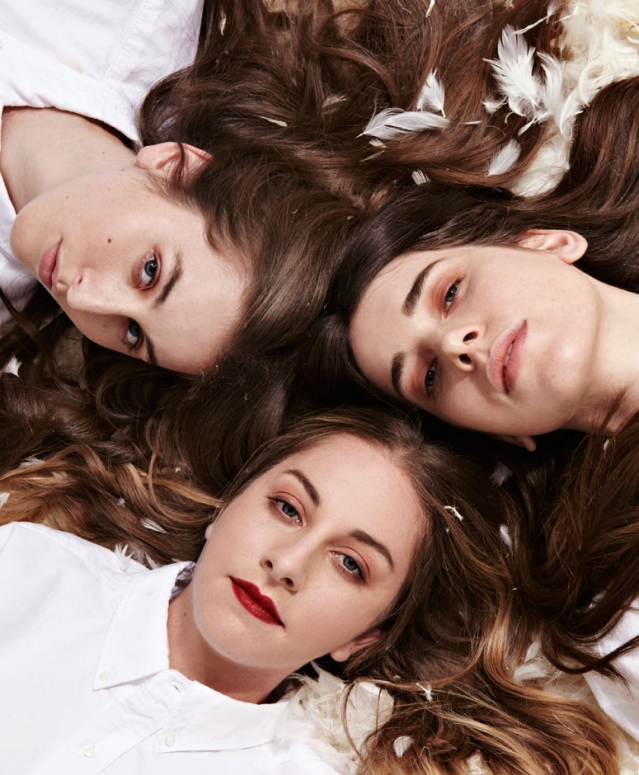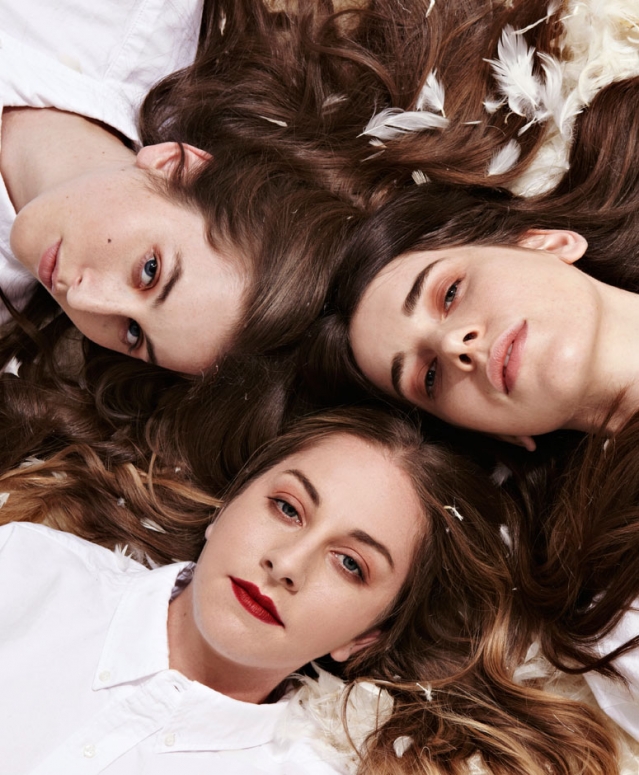 Eighteen months and 29 days later, the V.I.P. balcony at Webster Hall is so overrun that Girls actress Zosia Mamet, who happens to be in a twee-folk duo with her sister, is standing on a table to see. Haim road buddy Ezra Koenig of Vampire Weekend is also nearby watching. Columbia Records chairman Rob Stringer (whom they call "Bobby" fondly) and many other execs are here, as are Donna and Moti, who've flown across the country for the occasion.
The sold-out audience isn't a collection of mildly curious Brooklyn skeptics, as can be the case in these incidents of fomented hype, but rather a supremely fawning gaggle of college-age screamers. And they are uninhibitedly loud. They lose their collective shit at the simplest gestures, like when a sweltering Este reports that she's "shvitzing balls" and Alana helps her remove her leather coat: "AAHHHHHHHHHHHHHHHH!"
The girls seem genuinely overcome by the reception. "This is the craziest day I think we've ever had," Este informs the room, her voice wavering as the roar of the crowd washes over her. Later, an emotional Danielle qualified the moment's transcendence as wish fulfillment: Five years ago, she was visiting a friend in New York and walked by Webster Hall, "And I thought, 'One day, maybe I'll be here with you guys.'" The rest of her words are lost in a brief bout with tears.
From the outside, the timing all might look shrewdly calculated: a drawn-out build-up of live dates and festival shows catering to their strengths and converting strangers, followed by a feverishly anticipated full-length product. But it wasn't. "We were supposed to release the record way before now, but it kind of wasn't ready," says Danielle. "It was scary, because everyone around us was saying, 'You're missing your time. You're missing the boat.' But it wasn't right."
"You know a band is going to be huge when you got to the show and the entire crowd shows up dressed like them," says Derek Davies, a Webster witness. "Towards the second half of festival season, you started noticing these girls who look like they're in Haim. Now you go to the Webster Hall show, and half the audience looks like they could be in the band."
Then again, the band also looks like they could be half the audience.
The night after Webster, Haim are running late for their SPIN cover shoot. They were due at a Midtown studio by 6:45 p.m.; it's after 7:30 when the sisters finally pour through the fourth-floor door, fresh from an interview at MTV News, with their tour manager, a makeup artist, a hairstylist and, later, manager Lieberberg in tow. Greeting hugs ensue.
It's probably a combination of the post-Webster glow and the constant application of fine-toothed combs and powder brushes, but they look almost nothing like they did yesterday at the Smith: Now they're perfectly coifed and preened with a layer of base.
At MTV News, they discussed recording Forever with Swedish composer/producer Ludwig Goransson, whom they say taught them how to have balls in the studio. "Now we're super ballsy," Este deadpans. "Nothing but balls."
"I think the girls make great music and send a positive message. I hope. Except Este, when she drops the F-bombs.
They explain that they have to be out the door by eight o'clock. It's the first sunset of Rosh Hashanah, someone explains; their parents stuck around to celebrate the holiday with their girls, and are now waiting to take them to dinner. This information is presented as an unmovable fact, and at no point does one of the sisters say, even in jest, anything remotely dismissive or self-possessed like Who cares, they can wait. It's a clear demonstration of everything they've claimed about the Haim household: Specifically, that what's truly important (family, tradition) trumps what's ultimately not (vanity, pretty pictures).
That's something Donna and Moti deliberately worked to instill. "That's probably what I'm most proud of, what most people marvel at: 'How do you guys not fight?' I raised them with that sense: 'From the cradle to the grave, you've got each other and you take care of each other,'" Donna says. "And I think the girls make great music and send a positive message. I hope. Except Este, when she drops the F-bombs."
At the photographer's suggestion, they've been asked to wear white button-down dress shirts, so they disappear into corners to change. Soon, they're posing comfortably, and there's a pillow fight and a blowing fan and a feather shower while Kendrick Lamar's good kid, m.A.A.d. city spills from the studio speakers.
At one point, the make-up woman observes their loveliness and coos from behind the camera, "So pretty."
Alana, who's seated flat on a pile of feathers, hears her and smiles. But then she's back on her grind, wiggling her arms like a broken-winged bird and singing volubly along to Kendrick Lamar: "Goddamn I got bitches / Damn I got bitches …"
lead photo by Michael Flores for SPIN