Drake is nipping at Kanye West's heels, locking down a partnership with Nike just days after Yeezy bailed on the company to link up with Adidas. As Billboard reports, Drizzy announced during a December 3 performance that he's teaming with Nike's Air Jordan brand.
"Today also happens to be one of the best days of my life," the Would You Like a Tour? star told a crowd in Portland, the city Nike calls home. "Growing up, I'm sure we all idolized this guy, he goes by the name of Michael Jordan. So today, I came to Portland and officially became inducted into the Team Jordan family."
After the show, the Toronto MC offered a sneak peek of the collaboration, posting photos of the upcoming sneakers — the Air Jordan 10's and OVO Stingray 12's — on his Instagram. Jordan then confirmed their union with the "Hold On, We're Going Home" singer-rapper, tweeting on December 4, "He's home. Welcome the newest member of #TeamJordan: @Drake."
Drake and Kanye's friendly rivalry extends beyond the world of sponsorship deals. In September, Drizzy said during an interview at New York University's Skirball Center that he considers 'Ye more of a competitor than, say, Kendrick Lamar. "When it comes to competition, I'm more worried about consistency, about bodies of work. I'm talking about hit records … that's Kanye West," the 27-year-old ex-child actor said. "He's always going to be the guy who's trying to outthink and out-do. That's my guy that I aspire to surpass."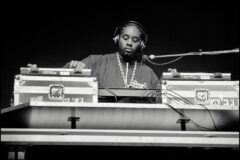 Those remarks came several weeks after Drake and Kanye shared the stage and prasied each other at the fourth annual OVO Fest.
Watch Drake reveal his Nike partnership via the fan-shot footage above and head over to Instagram to see photos of the new footwear. And be sure to check out SPIN's 50 Best Albums of 2013 list to see how Drake's Nothing Was the Same stacked against Kanye's Yeezus.