Kanye West has reportedly closed a $10 million deal with Adidas after severing his creative partnership with Nike. Last week in an interview with Hot 97, the man behind SPIN's Album of the Year explained that Nike had failed to offer him decent royalties on his Air Yeezy shoe, while in his recent Barclays rant he said the iconic brand had also delayed the release of his new Red Octobers in order to convince stores to order additional less-desirable stock.
During West's heated Shade 45 interview with Sway, he had words for Nike's CEO:
"Mark Parker … I will still accept an investment in DONDA. I've got some more ideas that don't involve shoes [so] if you guys are investing in the arts … I am standing up and I'm telling you. I. Am. Warhol. I am the number one most impactful artist of our generation, in the flesh. I am Shakespeare, Walt Disney. Nike. Google. Now who's gonna be the Medici Familiy and stand up and let me create more?"
"Adidas" is the answer for the time being, it seems. New York Post reported the rumored $10 million price tag, which we can assume will be supplemented with decent royalties (previously West said Michael Jordan commands 5 percent of al Air Jordan sales, but that the he can't because he's not a professional athlete). For their part, Kanye's new collaborators seem more than happy to forge an alliance with the Yeezus MC.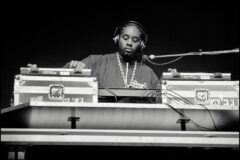 "For 2014, we welcome to the adidas family one of the most influential cultural icons of this generation, Kanye West," Adidas said via statement, lowercasing their own name in the presence of his mighty genius. "Well known for breaking boundaries across music, film and design and partnering with our history in street wear culture and leading innovations in sport, we look forward to creating a new chapter. Details to follow."