These days, there is no shortage of Kanye West audio finding the Yeezus MC making wildly passionate claims about his creative genius, or loudly lamenting his inability to get a foothold in the world of high fashion. There's a new clip or two every day, and since Rick Rubin isn't here to edit the output, we've been picking and choosing as we go, looking for, say, moments when the dude starts screaming at a radio host and calling himself William Shakespeare.
Yes, West's brand new talk with Sway on Eminem's Shade 45 SirusXM is one for the books. In the beginning, the MTV personality and apparent friend of West gives a sincere and rapturous introduction, while his guest chuckles with self-satisfied confidence. They then discuss their mutual admiration for hip-hop beat-makers of yore, but before long, the clothing business comes up, and things get heated. In the snippet above, you hear the worst of it, but the ramp-up (heard below) is worthy.
Just shy of the halfway mark, West picks up steam in a mini-rant directed at Nike's CEO: "Mark Parker … I will still accept an investment in DONDA. I've got some more ideas that don't involve shoes [so] if you guys are investing in the arts … I am standing up and I'm telling you. I. Am. Warhol. I am the number one most impactful artist of our generation, in the flesh. I am Shakespeare, Walt Disney. Nike. Google. Now who's gonna be the Medici Familiy and stand up and let me create more?"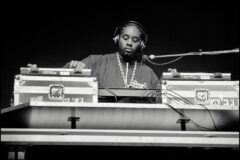 Then Sway interrupts to ask why West, with all of his wealth and influence, can't get it on his own, which is when 'Ye starts screaming at him: "HOW SWAY? YOU AIN'T GOT THE ANSWERS SWAY! I'VE BEEN DOING THIS LONGER THAN YOU! YOU AIN'T SPENT 13 MILLION DOLLARS OF YOUR OWN MONEY TRYING TO EMPOWER YOURSELF!" When Sway tries to relate, West ridicules him: "What's the name of your clothing line? We don't know."
Things get back on track, and West later laughs at himself, adding — "I love you as my brother. We got history" — but it gets tense for a few minutes, with Sway insisting upon respect while injecting a barrage of forcefully calming "bros" into the mix. Yeesh-us. At least Kim Kardashian let the world know that West's sense of humor is a real thing, writing to Seth Rogen on Twitter to let him know they both enjoyed the "Bound 2" video parody.