Conrad Murray was released from a Los Angeles jail on October 28 after serving nearly two years of a four-year sentence for the involuntary manslaughter of Michael Jackson. As CNN reports, Murray was given a sheriff's escort out of the facility early Monday morning for the "safety and security" of the jail, according to a sheriff's spokesman. A group of Jackson fans gathered outside of the prison were reportedly upset that authorities let Murray slip away through a back door, and settled for heckling the disgraced doctor's lawyer, Valerie Wass. TMZ caught video footage of Wass getting into a shouting match with some of MJ's followers — find the clip below.
The gossip site also reports that Murray is also planning to release a book about his life and relationship with Jackson. Sources connected to the cardiologist tell TMZ that Murray penned a large portion of the book — which apparently tries to shift the blame for the King of Pop's 2009 death on others — while serving out his jail time. The Associated Press reports that Wass said she knew her client had done some writing in prison, but claimed not to know if he's intending to line up a book deal. Wass did confirm that Murray would try to get his medical license reinstated in Texas (where it's been revoked), as well as California and Nevada (where it's been suspended), so he could resume practicing medicine.
But in case folks are a little wary about seeing a doctor who was convicted for the death of an icon, Murray may have a back-up gig in mind: a reality television show. Yes, TMZ claims that Murray is open to the idea of starring in a TV series about his life after prison, but it's not yet clear if any producers have expressed formal interest. In the meantime, Murray is appealing his conviction, in the hopes that his name can be cleared and his reputation repaired. He's also reportedly in the market for a much-needed publicist.
Jackson's name, meanwhile, is linked to yet another high-profile legal dispute. The Hollywood Reporter points out that Quincy Jones has brought a $10 million breach-of-contract lawsuit against Sony Music Entertainment and MJJ Productions, a song company controlled by the late pop star's estate. Jones filed a complaint in L.A. Superior Court on October 25, arguing that master recordings he worked on were wrongfully edited, remixed, and altered to cheat him out of back-end profits.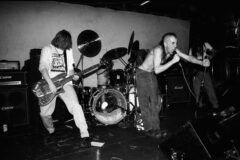 The iconic producer — who collaborated with Jackson on several of his best-selling albums, including 1979's Off the Wall, 1982's Thriller, and 1987's Bad — also alleges that he's been denied credit for work on posthumous MJ releases, and claims that Sony and MJJ have entered into shady agreements to collect profits that should have also been partially his by right of royalties. Some of the Jackson-related projects involved: the This Is It film and soundtrack, the 25th anniversary edition of Bad, and the Cirque du Soleil productions built around the late legend's songs.
"Quincy has been frustrated with these matters for a number of years, felt he was not making any progress, and needed to take more formal action," Jones' attorney, Henry Gradstein, told THR.
Deals that Jones made with Jackson in 1978 and 1985 supposedly give Jones first crack at remixing or re-editing any of the master recordings for albums he worked on. Said contracts also reportedly stipulate that coupling the masters with any other recordings requires Jones' written permission, and that he be given a producer's credit, in addition to compensation.
Read the entire complaint (via the Hollywood Reporter), which is requesting $10 million in damages, as well as unpaid royalties, remixing fees owed, and compensation for the credit he would have received.