Cirque du Soleil won't stop till it gets enough Michael Jackson. According to the Associated Press, the Canadian entertainment troupe is planning a new Las Vegas show based on the King of Pop's life and music.
The program, titled "Michael Jackson ONE," will begin its residency at the Mandalay Bay Resort and Casino on the Vegas Strip this summer. Cirque du Soleil CEO Daniel Lamarre confirmed Thursday (February 21) that the upcoming showcase will start previews on May 23, and will officially premiere on June 29.
"This is our second project with the Estate of Michael Jackson, which confirms how stimulating this creative partnership was meant to be," Lamarre said in a statement, referring to the company's previous collaboration with the Gloved One's estate, "Michael Jackson: THE IMMORTAL World Tour," which launced in 2011. "Michael Jackson is an all-time phenomenal artist, both timeless and contemporary… Through the use of cutting edge technology, we will produce a new Cirque du Soleil theatrical experience not only respectful of Michael's legacy but also very distinctive from 'Michael Jackson THE IMMORTAL World Tour.'"
As SPIN previously reported, "THE IMMORTAL World Tour" ranked as the fourth highest-grossing tour of 2012, behind live spectacles from Madonna, Bruce Springsteen and the E Street Band, and Roger Waters. Currently, "THE IMMORTAL" has dates booked around the world through June 28.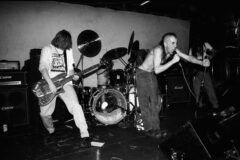 CBS notes that the upcoming 90-minute production will feature more than 60 dancers and aerialists. The official website for "Michael Jackson ONE" describes the production as "a theatrical evocation of Michael's creative genius. Guided and inspired by his music, four misfits set out on a transformative adventure. By journey's end, they will personify Michael's agility, courage, playfulness and love."
Jamie King, the writer/director of "ONE," said in a statement, "Everything [Jackson] does is with a childlike heart." King, who also directed "THE IMMORTAL" show and reportedly started his career as a dancer on Jackson's "Dangerous World Tour" in the 1990s, added, "For Michael, every day was fresh, every day was new, every day had to be bigger and better than the last one."
Tickets for "Michael Jackson ONE" go on sale on March 7.