Michael Jackson, the undisputed King of Pop with more than 13 number one hits during his career, died today of cardiac arrest. He was 50.
Jackson was rushed to the hospital this afternoon after a 911 call was made from his home in Los Angeles' Holmby Hills area at 12:21 P.M. When paramedics arrived, the pop star wasn't breathing; he received CPR en route to UCLA Medical Center.
Jackson arrived at the hospital in a coma and was pronounced dead at 2:26 P.M., the Los Angeles Times reports. TMZ first reported the story.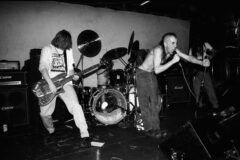 Jackson's longtime producer Quincy Jones released this statement: "I am absolutely devastated at this tragic and unexpected news. For Michael to be taken away from us so suddenly at such a young age, I just don't have the words…. The music we created together on Off The Wall, Thriller and Bad is played in every corner of the world and the reason for that is because he had it all…talent, grace, professionalism and dedication…. I've lost my little brother today, and part of my soul has gone with him."
Jackson was scheduled for a 50-date comeback run at London's O2 Arena, set to kick off this July. The initial demand for tickets was so high that fan traffic crashed Jackson's website. He had reportedly been rehearsing for the shows in Los Angeles for the past two months.
In recent years, Jackson — who began his music career 40 years ago as part of the Jackson 5 — was forced to give up his Neverland Ranch due to continuing financial difficulties. He had moved between Bahrain, London, and Los Angeles with his family, and had spent time developing a Broadway musical based off his 1982 hit "Thriller."
The singer has also been plagued by a series of health issues in recent years, including rumors that he suffers from Alpha-1 antitrypsin, a potentially fatal genetic illness. In 1993, after allegations of child molestation led Jackson to abuse prescription painkillers, the singer was admitted to a rehabilitation center.
Jackson is survived by his three children: Michael Joseph Jackson, Jr., Paris Michael Katherine Jackson and Prince "Blanket" Michael Jackson II.