"It's like literature, isn't it?" says Alex Turner, sitting in the back garden of a downtown Manhattan hotel, still bleary-eyed from a late night. "It's like fucking Crime and Punishment." The "it" in question is Breaking Bad, the television series for which Turner recently attended a final-season viewing party in his adopted hometown of Los Angeles, suited and pomaded alongside his model-actress girlfriend Arielle Vandenberg. "It's boss," he says. "It's really fast."
From the mouth of Turner, the 27–year-old frontman for Arctic Monkeys, the Raskolnikov-Walter White comparison feels particularly appropriate. Since the chart-upending 2006 arrival of their debut, Whatever People Say I Am, That's What I'm Not, Turner has displayed a singularly persuasive gift for storytelling and jackknife turns-of-phrase, his ongoing journey to rock's mountaintop — with the Monkeys' tightly-coiled outbursts, side project Last Shadow Puppets' string-embossed theatrics, and even his quiet, torch-lit solo contributions to the soundtrack of 2011's Submarine —  defined less by its riffs and more by his dizzying wit.
But just as sharply as he might in song, Turner's changed direction yet again with the Monkeys' new AM. In September, he and drummer Matt Helders, bassist Nick O'Malley, and fellow guitarist Jamie Cook returned with an R&B-inspired record of sumptuous melody and Dionysian grooves, feathery falsetto, and a gorgeous closing statement ("I Wanna Be Yours") set to the lyrical gymnastics of another English wordsmith, legendary punk poet John Cooper Clarke. Call it literature, call it the band's best work yet, call it a fascinating development sure to be followed by many, many more — all ring true.
I respect your commitment to the '50s and pomade and leather, especially right now, as most of us seem to be staring back at the '90s.
I was thinking something about that. There's something about this [tugs on tips of his 'do] that feels futuristic as well. The way it fucking protrudes forward. That's my angle on it anyways. I don't want it to be like a battle reenactment or whatever.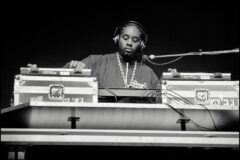 How far away does 2005 feel to you right now?
About that [pinches a few inches of denim at his calf] much material around this area on your jeans. Even then, jeans were just a little bit baggier. It never seemed like people were "fashion" or whatever, or that the way they dressed was that unusual until a little bit of time passed. I think about it when we watch football, especially over here where they replay the shit from the '90s, and shirts are billowing out. Now everyone's got "indie" kits.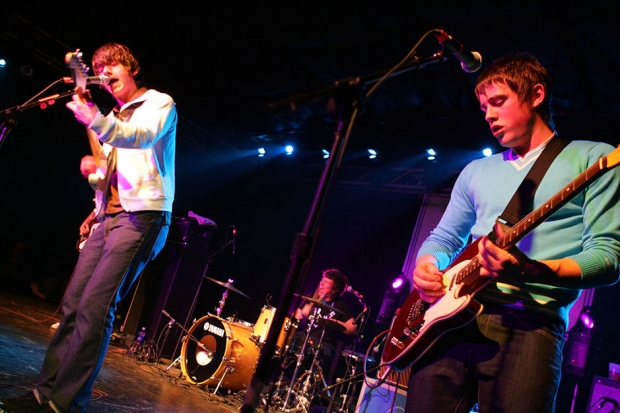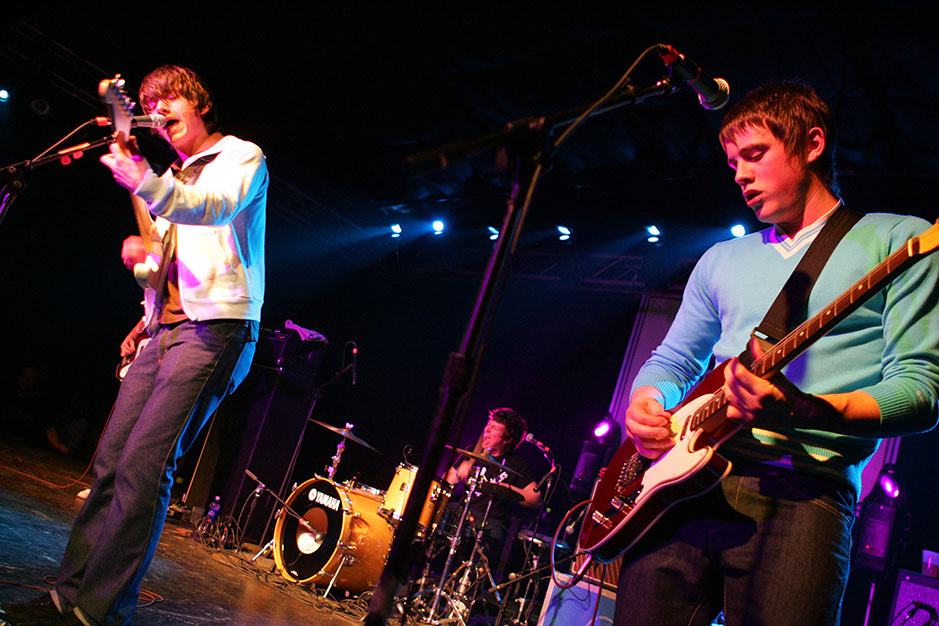 But when I ask about 2005, I mean Arctic Monkeys. The last time I saw you we were at Madison Square Garden, and I asked you about that song, [2005's] "Bigger Boys and Stolen Sweethearts," and if you ever played it live. You cringed.
Definitely. I don't think that really goes away. There's probably moments on the last record, Humbug, where I'm a bit like, "Oh….." But maybe not. Maybe even between the last time I saw you and now, I wouldn't do such a cringe if you mentioned that song or one of them old ones. Even since then, this summer, we've been playing some tunes from that bracket, that "Fake Tales of San Francisco." You can sort of see the funny side I suppose. It's almost like you're doing a cover version of it.
What changed?
I don't know. Maybe it was just a bit of time passing. I was so excited about [AM] that I said, "Oh, let's spend this summer doing hits." And we built it around this Glastonbury show, because there's the perfect place to do a greatest-hits set. What else are you going to do? If you don't have that, you're not rocking it, really. But we probably hadn't played ["Fake Tales of San Francisco"] in five years. We thought everyone was going to be like, "Oh wow, they're playing that one." But it was kind of flat. The new songs we're playing are the biggest moments in the set, which is encouraging. "R U Mine" is sort of the biggest tune we've got now.
How do you feel about the fact that it's been seven years, and you can already perform a "greatest hits" set?
It makes you think of a golden beveled edge, don't it? Maybe you just drop "greatest" and call it "hits," lose the gold trim. I'm just glad we've got enough of them songs to play the Pyramid stage at Glastonbury on a Friday night.
But looking back, can you understand the response to the band and that first record, the excitement at the time?
Some of those songs we've played so many times that they've almost morphed into something else. Like when you're out of it, or drunk, and some words start sounding funny, and you repeat them over and over until it doesn't sound like anything anymore. So when I go back and listen to [Whatever People Say I Am, That's What I'm Not], which I rarely do, it sounds totally different after you've repeated it 10,000 times.
Was playing Glastonbury, which you also did in 2007, a goal in the beginning?
Until the moment that we first did play a show, our goal was just to be able to stand up in a room and do one show. I'd never been on a stage in my life. I wasn't that kid. As soon as we did it, though, it was like, "Alright." And I guess that ambition started to blossom from there on. These last two summers we've done massive shows. The Olympics Opening Ceremony was kind of like playing on a lunar surface, and as a result, Glastonbury this year wasn't a massive deal. It was totally different to last time, where we were trying to make it some moment or whatever. For the Opening Ceremony, we put together this playlist. There was "Come Together" and a George Harrison song and an Oasis song. Just big festival songs. We listened to that before we came on, and the last one was "Imagine," because we knew the crowd would sing along. We were waiting behind the curtain, and we wanted it to play in its entirety. It came on, and everyone, a field of 100,000 people, was singing along, including us. So we had this moment with the crowd, even though they didn't know we were there. But after that, we settled down, and it was business as usual. Then you think, "Oh, where do you go after that?" Last time around, in 2007, the day after Glastonbury was such a comedown. I remember being somewhere in Europe, at a show, thinking, "Where do you go from that now? It's all downhill from here."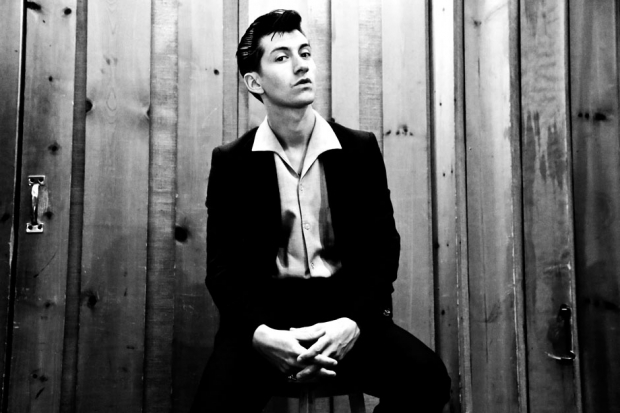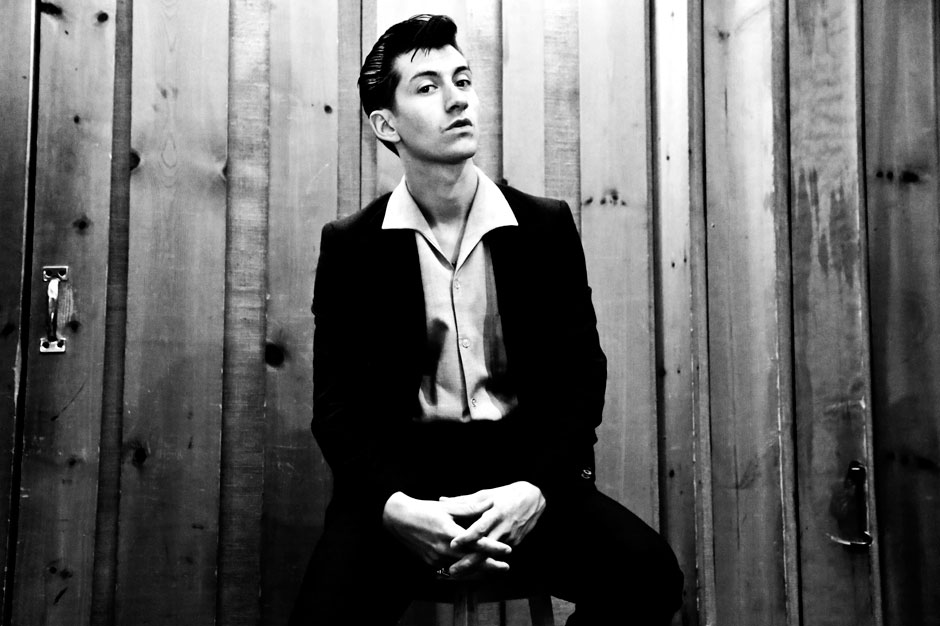 All of those Oasis and Beatles songs, though, are part of a continuum that seems to rest now with you guys. And the more I think about it, the more strained I am to think of massive, forward-moving English rock bands right now.
You spend your time thinking about that and you get lost in reflection.
Is that something you've experienced?
No, to be honest. Of course you have those moments where you're like, "Oh, we've arrived, guys!" But you have to see the funny side of it. It's only in this situation that I find myself analyzing it.
In an interview, you mean?
There's no other place for it really. But we never did, to pat myself on the back. Right after that first record, we were so uncooperative in every way. We had to get out of there and move, but we didn't have anywhere to go. So that second record is the same as the first one. There's a bit of getting out and trying to move in different directions, but we didn't know where to go yet. I'm glad we just did it anyway. We just went back into the studio that same year.
Put your heads down, worked.
Yeah, and it pays dividends now. Now you've got the opportunity to really do something with records. It was also the big decision to get out of our comfort zone and come to America and work, to go out to Joshua Tree [to Josh Homme's Rancho De La Luna studio] and work with other people. That was part of the expansion as well, opening the mind.
What do you think you learned from Josh Homme? When he started working with you guys, things seemed to loosen up and sound a bit more instinctual.
I think that was the beginning of, "Records are records, and live is a different thing." It started right there on that Humbug record, but not to the extent that we've explored this time. Even him just taking us out there, it seemed so far away out there in the desert. There was no one watching, and all of a sudden it was like we could do anything. We were invigorated by that positive energy. I know people always ramble on about the desert, but it's connected to rock'n'roll music. It's more than just mushrooms out there.
Over the last week or two, I went back and listened to all of the Arctic Monkeys records, to the Last Shadow Puppets record, and the Submarine soundtrack. What struck me was how more and more, your songwriting can naturally assume new shapes and still remain distinct.
I think I got somewhere with that craft. I've started to understand that. Sometimes writing songs is like waiting in for deliveries. They give you a window, and your washing machine is going to show up, whether the window is the album or something you're thinking like, "This thing is going to come to me." But on the other hand, you can't just sit around and wait. You have to just do it and get it wrong sometimes in order to advance. I've had a lot of practice with that now. And that's me usually sitting or standing or pacing around or whatever, but it's all an internal tussle.
Did you not feel like a songwriter or a craftsman early on?
Not at all, really. Early on I was kind of embarrassed about that word, because I thought of the wrong thing. It made me think of when we were in school, when bands were pretty shit before the Strokes and all that. The "songwriting thing" just sounded a bit boring. I didn't know about Leonard Cohen or Scott Walker or people I've since absorbed. When we made that first record, there was so much shit I hadn't heard. And that's fine, that's what that record had in spades, you know: naiveté. You're never going to get that back, so there's really no point in trying. I gave up on that a long time ago, and it's more, "What can we do now?" We used to go into the studio with the stage in the back of our mind. Like, "We're this rock'n'roll band, and we've got these certain ceilings and parameters that we impose on ourselves." But this is the first time we've decided, "Let's just make something that we haven't made before." There's some interesting clashes we've put together on this record, between what's happening in the music and what's happening in the melodies. You can't go experimenting with the colors from different rainbows if you haven't got that base there in the first place to support it all.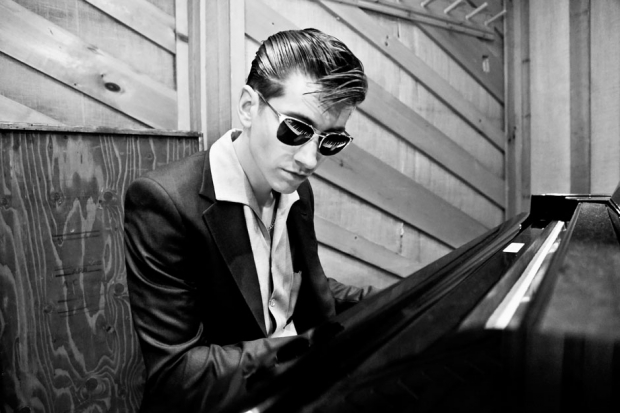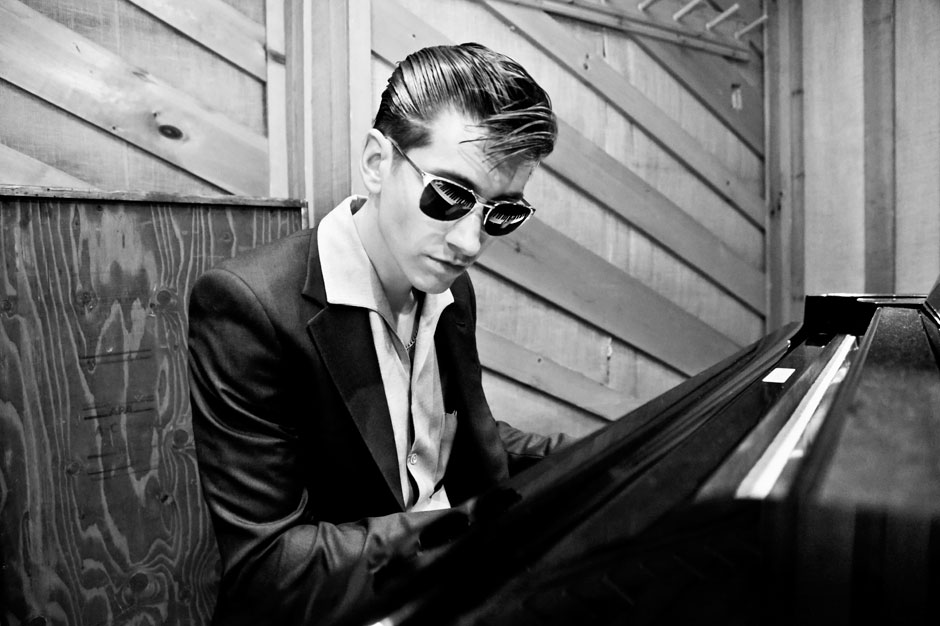 Right. You seem to be interacting with contemporary and '90s R&B right now as a rock band, at a moment when a lot of U.K. bedroom producers are equally excited about Aaliyah.
I had a girlfriend in high school, and we'd sit in her room after school, and that's the music she'd have on when I had Dr. Dre's 2001 playing on my headphones. It's just recently that we've knocked the dust off of them records, or appreciated how well put together them tunes are. I've got fucking playlists of that shit. There's so many little gems.
I missed your cover of Katy B's "On A Mission" the first time around. How much do you connect with the new music being made in Britain right now?
I mean, you get into the question of, "What is rock'n'roll?" I don't know. That Katy B tune is like Gnarls Barkley's "Crazy." Obviously there's some shitty, horrible pop music that gets churned out and has nothing about it, but there's going to be gems that are hits that have something to it as well. That's the sort of music I want to make as well. That's rock'n'roll, in a way. It should be infectious. That tune was this big, massive tune. Wherever it comes from, the melody or whatever, it's what you're looking for.
I'm not one for references, but I don't know that I've ever heard a record that channels Black Sabbath and TLC.
I'm not much for references, either. Because the moment you get specific and say something like Aaliyah or TLC, that's what everyone latches onto. But there's something about those melodies. They're two-way pager melodies. And they're guitar riffs that have a Tombstone feeling about them. The colors from both those rainbows mix together well. We did stumble across it really with that "R U Mine" thing, which kind of does that. You're only borrowing little elements. It's the way the vocals are produced sometimes in contemporary R&B songs, or the way the backgrounds come in and out. They always have this time-delay thing. That's what we took in the beginning with "R U Mine," and then we had this song, we wanted to surround it with songs that took the lead from it. It just began to be like wanting to push, wanting to make 12 songs like "R U Mine", but not wanting to make 12 songs like "R U Mine." So what else is there from that world that you can somehow incorporate?
I really want it to sound good in the car. We've been in L.A. a lot these past few years, so I suppose we've been in the car a lot. When you've got your phone in the car and you're on shuffle, there's all sorts of things hiding in the depths there. If 50 Cent's "In Da Club" comes on in the car, you can't skip it. Just the way the rhythm sounds. I wanted to have a bit of that. It comes on in the car and it has that husky drum sound.
Have you always identified more with hip-hop lyricists?
In the beginning, definitely. But I love John Cale as much as I love Method Man. It's just what mood you're in. I think some people perhaps have a hard time dealing with that, that we're into both of those things, but I think it's just I've spent a lot of time listening to music. And when we're on the road, all day we've got music on. We probably hear the Stooges every day, but sometimes you want to put on R Kelly's new song.
How much grime would you say has been in your creative bloodstream?
I never really connected that much with that to be honest. We were in another room when that party happened.
I heard an early Streets record last night and immediately thought of you.
Totally, yeah, that first Streets record is great. I love that album, but I haven't played that for ages. That's pretty fucking out there.
What about Dizzee Rascal?
Yeah. Boy in Da Corner is great. But again, there's a ton I don't know about. Even those other U.K. rappers before the grime thing, I was quite into that world. You don't meet that many people that you can talk about Roots Manuva with, but that was my favorite in school, this record of his called Run Come Save Me. When I first started writing lyrics, it came from that. Roots Manuva used to tell stories, this everyday shit, but he was a fucking stoner, so it's all got this weird, canted angle. He has this tune called "Evil Rabbit," and that gives you an idea.
A lot of AM reminds me of Drake actually, especially "Why Do You Only Call Me When You're High?" which feels like it could be a sister song to "Marvins Room."
I like that last album. I went to a Drake show in the rain in Hyde Park last summer, it was great. That's the one where he goes [sings], "Cups of the XO." When he calls her late at night, right?
It is, yeah. But hearing that made me realize that a Drake record could be as much of a predecessor to an Artic Monkeys song right now as a Libertines record or a Queens of the Stone Age record could.
I think those galaxies are connected. There's melodic links. Maybe not Drake, but you stare at that dark night sky long enough and it fits together: "I didn't notice that before, but that's alright." You can't just throw anything together, because then it's a bit like orange juice and toothpaste.
Your using John Cooper Clarke's "I Wanna Be Yours" actually unlocked everything for me, the fact that the vocal melody is yours, but for once the lyrical weight doesn't rest on your shoulders.
That's it yeah. When you've got that foundation, you're almost allowed by track 12 to do a John Clarke poem.
What was it about him that perked your ears up when you were young?
I actually saw him live. I used to work in this bar with a lot of friends. It was a small, 500-capacity venue. One night would be the jazz night, and one night it'd be a Thin Lizzy cover band, and one night it'd be the new unsigned bands. And one night it was the Fall playing, and Johnny Clarke was opening. I remember my English teacher had told me about John Cooper Clarke before, but you never really listen to your teachers, do you? But Johnny Clarke just sneaks onstage with a plastic bag full of these scraps of paper. His hair is branching off, and he has these little blue glasses and drainpipe pants. At the start, you were looking at other people because it's the Fall, and the Fall would bring a packed house. But then it was like, "What is that?"
How was he?
Oh, he's talking 100 miles an hour, and he's really funny and reading "Chickentown," that poem of his where he's like, "The fucking train is fucking late." And it just blew my mind, I couldn't stop watching. Guinness was overflowing, all over me hand. Just one of them moments. I hadn't started writing our first tunes yet. We had just put this band together and I didn't know anything. I met him later that night, and we were like, "We work on the bar and we actually have this band, and they're called the Arctic Monkeys." And he's like, "Ah, that's such a great name." He's the first person and only person that's ever liked the name. He said, "I love it. It's like a picture, a drama, this monkey in the snow!"