Janet Weiss and Sam Coomes will return as Quasi on October 1 with Mole City, the Portland duo's ninth album, a.k.a. an "Encyclopedia of Kicking Ass." The indie superstar pair are currently offering fans who pre-order their upcoming LP a special treat: Interprets, an all-covers bonus disc. (For the uninitiated, Weiss' CV includes Sleater-Kinney, Wild Flag, the Jicks, and Drumgasm, while Coomes is a former Elliott Smith affiliate and longtime Built to Spill player.)
The track listing for the complimentary collection hasn't been confirmed yet, but record label Kill Rock Stars has shared a first sample — a respectful rendition of Black Sabbath's Paranoid classic "War Pigs." Quasi maintain the bluesy, psychotropic spirit of the original, meaning it's heavy on the stoner sludge and light on the Ludacris samples. Stream it below, and be sure to check out the first two songs to surface from the 24-track Mole City: "See You on Mars" and "You Can Stay But You Got to Go" (via Stereogum).
Interprets will also be available at the Quasi merch table throughout their fall tour. Review the dates below, after the the covers set's cover art, which features renderings of Black Sabbath, Elvis Costello, Queen, and Marvin Gaye among others, hint hint.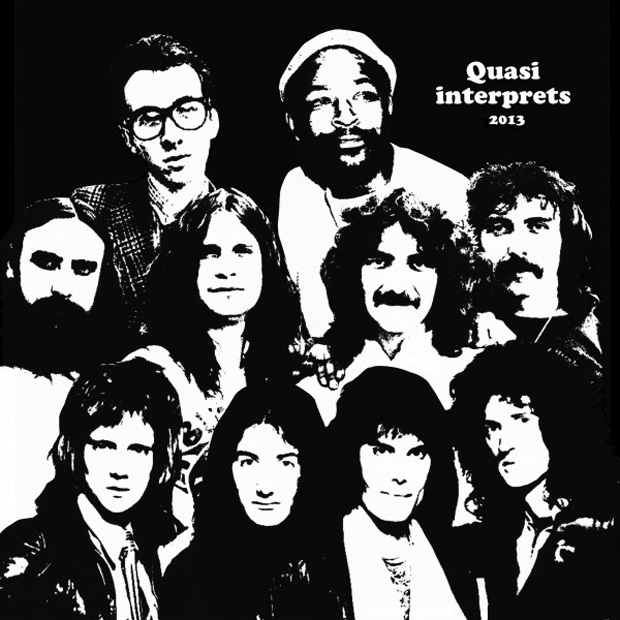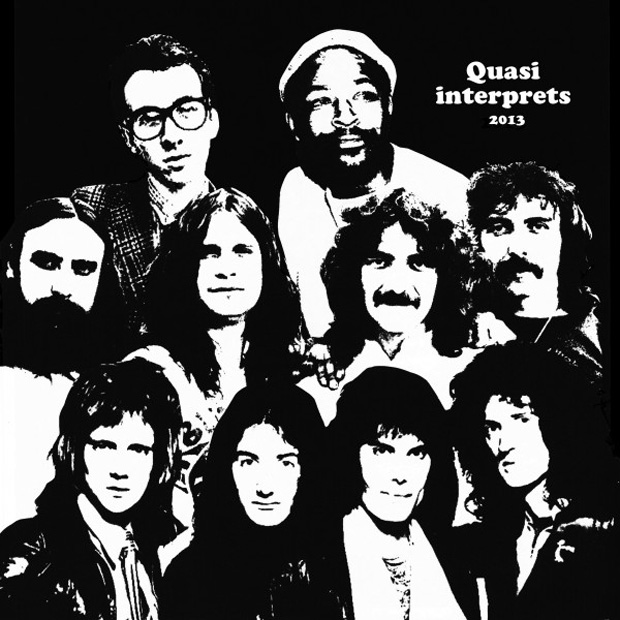 Quasi tour dates:
October 3 – Omaha, NE @ Slowdown
October 4 – Kansas City, MO @ Record Bar
October 5 – St. Louis, MO @ Off Broadway
October 7 – Birmingham, AL @ The Bottletree
October 8 – Atlanta, GA @ Drunken Unicorn
October 9 – Chapel Hill, NC @ Local 506
October 10 – Washington, DC @ Black Cat
October 11 – New Haven, CT @ Cafe Nine
October 12 – Philadelphia, PA @ Boot And Saddle
October 13 – Brooklyn, NY @ Knitting Factory
October 14 – New York, NY @ Mercury Lounge
October 16 – Allston, MA @ Great Scott
October 17 – Buffalo, NY @ Tralf Music Hall
October 18 – Cleveland Heights, OH @ Grog Shop
October 19 – Chicago, IL @ Schubas
October 20 – Minneapolis, MN @ 7th St. Entry
November 3 – Boise, ID @ Neurolux
November 4 – Salt Lake City, UT @Kilby Court
November 5 – Denver, CO @ Hi Dive
November 7 – Denton, TX @ Dan's Silverleaf
November 8-10 – Austin, TX @ Fun Fun Fun Fest
November 11 – Phoenix, AZ @ Rhythm Room
November 12 – San Diego, CA @ Casbah
November 13 – Los Angeles, CA @ The Echo
November 14 – Santa Barbara, CA @ Soho Restaurant and Music Club
November 15 – San Jose, CA @ The Blank Club
November 16 – San Francisco, CA @ Bottom Of The Hill
November 21 – Vancouver, BC @ The Biltmore Caberet
November 22 – Seattle, WA @ Tractor Tavern
November 23 – Portland, OR @ Doug Fir Lounge
December 5 – Bristol, U.K. @ The Fleece
December 6 – London, U.K. @ Brudenell Social Club
December 7 – Glasgow, U.K. @ Broadcast
December 8 – Manchester, U.K. @ The Deaf Institute
December 9 – Birmingham, U.K. @ Hare & Hounds
December 13 – London, U.K. @ Cargo
December 14 – Brighton, U.K. @ The Haunt