Hoboken reverted to a state of rock'n'roll-less wilderness early Thursday morning as the 35-year old club Maxwell's closed its doors for the last time. Completing a cycle that moved its neighborhood from cheap rent to Chipotle, the venue sent itself off with a block party and, of course, one last gig in the 200-capacity back room that served as an epicenter for indie rock from the late '70s until this July 31 last call.
By Hoboken standards this was a mild affair. By the standards of Maxwell's, the crush of revelers queued outside the door and in the now table-free dining room was a level of barbarism infrequently associated with the club's cozy persona. "That Maxwell's, it's kind of a fern bar, isn't it?" joked guitarist Glenn Morrow from the stage. A veteran of multiple New York Times trend pieces and early Hoboken acts it was Morrow who'd first convinced his bandmates in a (one letter, thank you very much) to move to Hoboken and who'd gotten them booked at a newly renovated bar around the corner from their apartment. Shortly after christening the Washington Street venue in July 1978, but before releasing any recordings, they splintered into Morrow's Individuals and Richard Barone's Bongos, the night's ostensible headliners. And while the music that all three bands made was smart and peppy and often associated with some vaguely jangling "Hoboken sound," its creators also served a range of other functions that would ultimately seal their gig as the venue's final acts, including short order cook (Bongos drummer Frank Giannini), early show booker and relentless booster (Morrow), and supplier of the club's first PA (Bongos bassist Rob Norris).
In fact, it was the community they seeded that was the night's main attraction. Outside the venue on 11th Street, a cavalcade of local heroes spun 45s, kicking off with WFMU DJ Gaylord Fields in the mid-afternoon and featuring sets by Yo La Tengo's Georgia Hubley and Ira Kaplan, former Pier Platters owner Bill Ryan, Norton Records co-founder Billy Miller, and others. Maxwell's regulars wandered about, occasionally cornered by errant news crews for commentary, but mostly just communing with one another and trying to act unfazed. Children of first-generation club-goers were plentiful, including at least one named after the venue itself.
The party spilled onto the stage during the Individuals' set, which Morrow dedicated to Robert Palmer, the late Times writer of pro-Maxwell's trend pieces, Hoboken-based member of the Insect Trust, and legendary critic. Joined by Tricia Wygal (sister of bassist Janet) the band reconfigured for one song into the group Splendora. Then came Feelies percussionist Dave Weckerman, opening act Delicate Steve, and Maxwell's founder Steve Fallon (Morrow: "Undelicate Steve") for the Chambers Brothers' "Time Has Come Today." As Weckerman exited the stage the only way possible — through the crowd — an audience member stopped him: "More cowbell!" The cowbellist was unfazed: "I know, right!?" A very Maxwell's moment. Up next was Yo La Tengo's Hubley, on guitar, and Kaplan, fronting the band on a run through the Individuals' 1982 b-side, "Our World."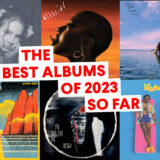 The surprise of the night was a. Partly because few had ever heard them before and partly because, where their successors were needlessly smooth, this band was explosively shambolic. Far more eclectic than the acts they helped spawn, a filled their songs with busy tempo shifts, section changes, punk stumbles, and raw harmonies. It was music brimming with the ambitions and innocence of musicians in their early 20s and constantly on the verge of dissolving into giggles. By contrast, the occasionally-reunited Bongos were positively pro, dusting off a meaty version of "In The Congo" and a few songs from 1985's recently unearthed Phantom Train, about to be released for the first time. Then came more guests and the countdown to the inevitable.
The Feelies' Glenn Mercer leading a guitar-wall ensemble (including Yo La Tengo's Ira Kaplan) through the Velvet Underground's "Rock & Roll"? Yep. Steve Fallon and longtime booker Todd Abramson hollering along to Paul Revere & The Raiders' "Kicks"? Check. A group singalong on Alex Chilton's "Thank You Friends"? Also check. Tears? Hugs? Yes, yes, sure. But there were few goodbyes. Hoboken is perhaps returning to seed — even Yo La Tengo have talked about relocating — but the friend and family networks that Maxwell's nurtured aren't going anywhere, even if they long ago split town. The summer is still young and there many barbecues yet to be thrown.