"This band does not exist without this club," singer-guitarist Ira Kaplan announced during Yo La Tengo's final appearance at the sainted Hoboken, New Jersey locale Maxwell's last Saturday. (The venue is set to close on July 31.) Kaplan's concision was emblematic of the night, during which the trio were tasked with wrapping up a 33-year-long relationship with the room in two 45-minute sets. That they did so with a good deal of real sentiment and a minimum of nostalgia was further testament to the strength of Yo La Tengo's connection to the place — this was just another excellent gig at home.
Among other milestones, the uptown Hoboken bar/restaurant/venue was where eventual husband and wife Kaplan and singer-drummer Georgia Hubley first met at a Feelies show in 1980, where Kaplan soon worked as soundguy and Hubley as a DJ, where they hung out more nights than not and made a slow progression from playing covers at back-room parties to the first Yo La Tengo show in 1984, to, eventually, some 72 guest-studded menorah-lit Hanukkah performances between 2001 and 2012.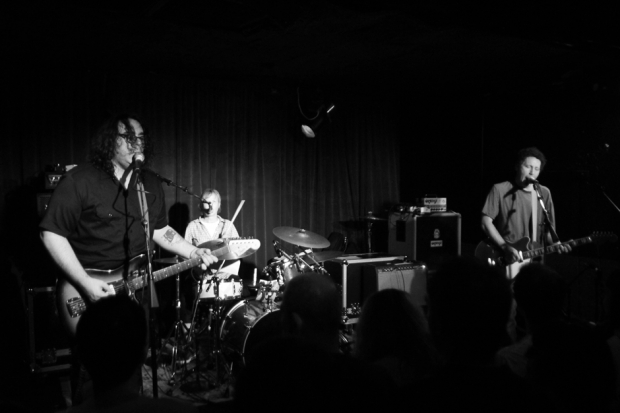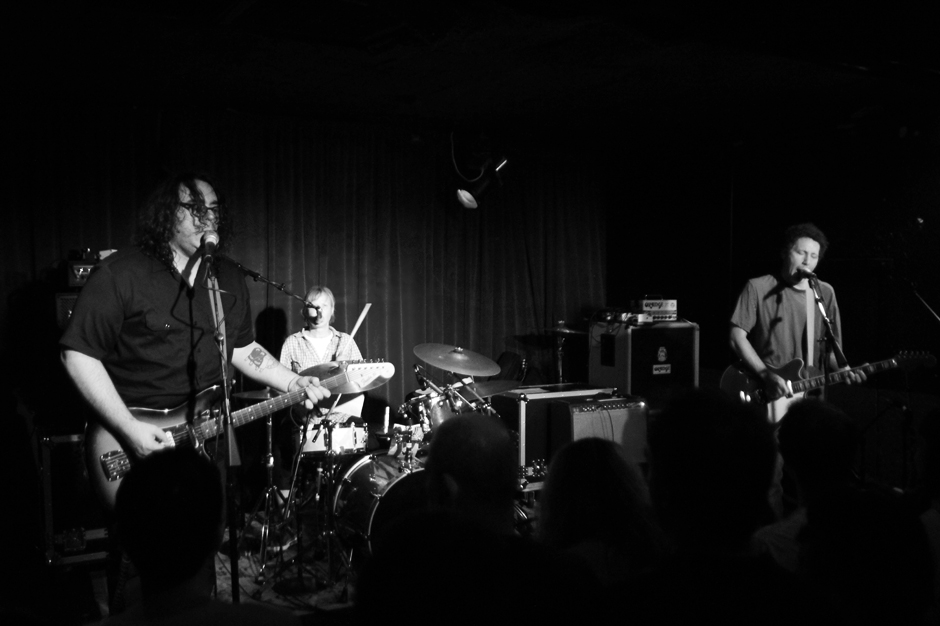 YLT, billed as their garage-rock alter egos the Condo Fucks, was initially booked on this night to open for the reunited Pastels as part of the multi-venue Chickfactor 21 festival. But the latter band's visas got revoked and Maxwell's announced it was closing. So the Condo Fucks got bumped up to the headlining slot and featured a surprise opening set by the evening's only special guests: Yo La Tengo. Semantics? Sure. Fitting? Most definitely.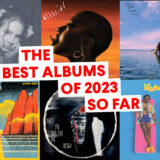 Kaplan, Hubley, and singer-bassist James McNew made a few nods to topicality, including the semi-autobiographical opener "Big Day Coming" and a new arrangement of "Mr. Tough," with a subtle pause to underline the song's lyrical shout-out to Maxwell's booker, co-owner, and one-time YLT roommate Todd Abramson. But that was as teary as things got — there was no "Night Falls on Hoboken," no "Tears Are In Your Eyes," no cameo cavalcade of Feelies and Trypes and Antietamers. Instead, Yo La Tengo used the 200-capacity back-room to get comfy and do their latest music, which during the first set included a trio of songs from their recent Fade, but also the spare semi-acoustic drift-outs they've mastered in recent years, as on "Swing For Life." And equally true to form, the respectful hometown crowd didn't make a peep as the band slid between songs, sometimes with nary a count-off. It was an easy telepathy made even easier by the surroundings.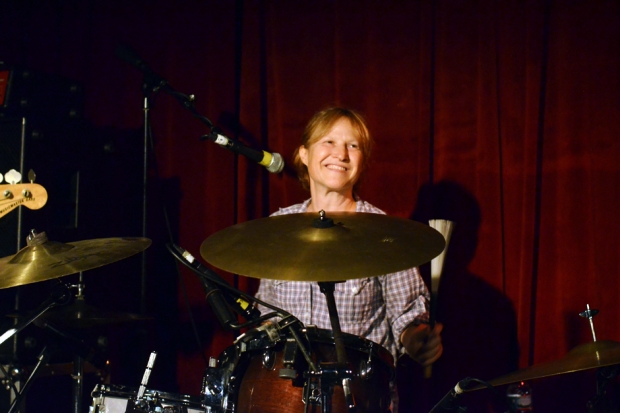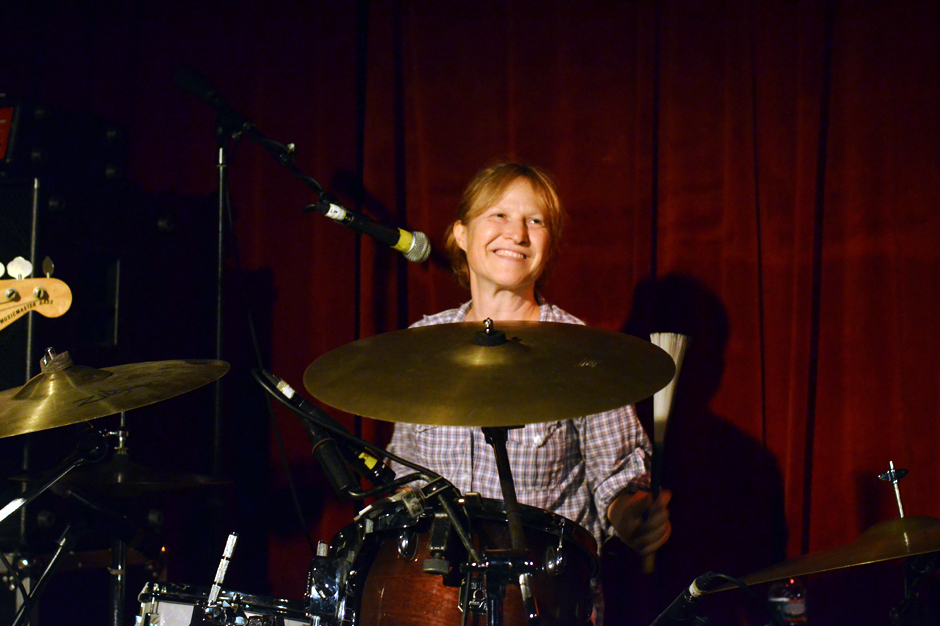 After a short set break, Yo La Tengo exited Maxwell's as they came in so many years ago: playing covers. Stripped of Yo La Tengo's organ loops and delay pedals, the Condo Fucks used rehearsed next-beat segues to transform thematic sequences (The Exciters' "I Want You To Be My Boy," Richard Hell's "I'm Your Man") into song-suites that shifted gears with a Mod precision that recalled The Who's "A Quick One While He's Away." While Georgia Hubley's vulnerable quietness is at the heart of the band's acoustic incarnation, it's McNew's big-hearted belt that sells the Fucks, transforming kiss-offs into tenderness and vice-versa on the Angry Samoans "Right Side Of My Mind" and the Flamin' Groovies' "Dog Meat." He's also arguably the only Tengo who could pull off the mic-smooch required by the Fugs' "Frenzy."
There was no speechifying at the end of the show, either, just a drumless take of "This Is Where I Belong" by Kaplan's beloved Kinks that said all that needed to be said. Time moves on, and the band needed to make way for We Were Promised Jetpacks' 10 P.M. set. But the early show turned out to be a blessing, the trio shlepping their gear back to the basement, and then — with extended family in tow — settling in around the bar for one more Hoboken Saturday night.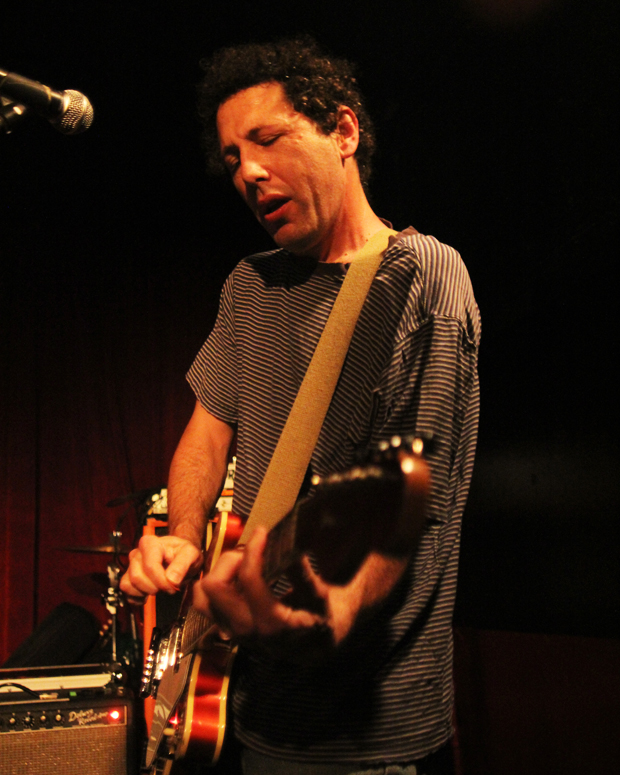 Yo La Tengo at Maxwell's (June 15, 2013) Setlist:
Set 1 (Yo La Tengo, acoustic):
"Big Day Coming"
"The Point Of It"
"Three Blocks From Groove Street"
"Mr. Tough"
"Swing For Life"
"Speeding Motorcycle" (Daniel Johnston cover)
"I'll Be Around"
"Tom Courtenay" (Georgia Hubley on vocals)
"Ohm"
Set 2 (The Condo Fucks, electric):
"Outrage" (Booker T & The MGs)
"The Last Time" (Rolling Stones)
"Last Time Around" (The Del-Vetts)
"Frenzy" (The Fugs)
"Mystery Action" (The Rezillos)
"What'cha Gonna Do About It" (Small Faces)
"Right Side of My Mind" (Angry Samoans)
"I Want You To Be My Boy" (The Exciters)
"I'm Your Man" (Richard Hell)
"Accident" (Electric Eels)
"With A Girl Like You" (The Troggs)
"Tiger In Your Tank" (Muddy Waters)
"Dog Meat" (Flamin' Groovies)
"Get Down" (Half Life)
"Come On Up" (Young Rascals)
"Gudbuy T'Jane (Slade)
Encore:
"This Is Where I Belong" (The Kinks)