Mac Miller never pictured himself in Los Angeles. Born Malcolm McCormick, the 21-year-old rapper grew up in Pittsburgh, Pennsylvania, with New York City looming as hip-hop's holy land. His early music — most notably the 2010 mixtape K.I.D.S., which landed him his record deal — was the decades-long residual runoff of New York's classic boom-bap period as regurgitated by an eager white teen who grew up firmly Anno Eminem. Miller's first viral hits featured him rapping excitedly about middle-class comforts over classic Golden Age instrumentals: "Nikes on My Feet" — currently at more than 36 million YouTube views — swiped the beat from Nas' "The World Is Yours (Remix)," while "Kool Aid & Frozen Pizza" — 25 million views — lifted the production from Lord Finesse's "Hip 2 Da Game." (The latter's homage didn't yield solely positive results: Last year, Finesse sued Miller for copyright infringement; the two settled out of court this past January.)
But Miller makes his home in L.A. now, in a Hollywood Hills mansion. This relocation isn't exactly a bold move — California will lure the young and rich until the day it's engulfed by the Pacific Ocean. What is surprising, though, is that Miller hasn't just escaped into sunshine and clouds of legal pot smoke. He has instead become, improbably, a central figure in the ongoing artistic renaissance of indie-leaning underground rap music on the West Coast. The difference between his new album, June's Watching Movies With the Sound Off, and its predecessor, 2011's Blue Slide Park, can be gleaned from the credits alone. Whereas the former featured no other rappers, WMWTSO has guest verses from an enviable roster of Cali collaborators — members of Kendrick Lamar's T.D.E. crew (represented by Schoolboy Q and Ab-Soul) and Odd Future (Earl Sweatshirt and Tyler, the Creator contribute production), plus beat-music auteur Flying Lotus. Those guys likewise had a hand in Miller's personal evolution; but the second-biggest rapper in Pittsburgh history (following friend and frequent collaborator Wiz Khalifa) was first drawn to California for another quite typical reason: the Zen.
"I just loved being in a new environment," Miller says of Los Angeles, while chatting in the lavish downtown Manhattan offices of his label, Rostrum Records (Ted Danson lives in the space above), a few thousand miles from his new home. He is sitting at a large wooden table, fiddling with a pack of Parliaments and messing with a bucket hat, a wardrobe staple that links him with his newfound L.A. brethren. "I stayed out there and [then] moved out there. Everything really started with me having my own studio. That's when everything really got real. That's when I started to make records, from scratch, by myself."
You can see the aforementioned mansion on Mac Miller and the Most Dope Family, the MTV reality show that aired earlier this year, though in keeping with genre convention, that's not exactly an accurate portrayal of his life. The show, recently renewed for its second season, fits an easy storyline: young rapper blows up, makes millions, moves to L.A. with his friends, and generally picks up where Richie Rich left off. Each episode is loosely structured around a plainly contrived event (planning his Mom's birthday, going deep-sea fishing, visiting Las Vegas) and is padded out by scenes of Miller and his team of hometown friends — including his close friend and business partner, Q, who's also hanging around the Rostrum office — doing everyday things like getting flu shots or playing tennis.
Miller, as one would, enjoys running amok in L.A. But he moved there in June of 2012 because he found that it freed him creatively. He originally flew to California in the spring of that year to film an episode of the rebooted Punk'd, and while he was there started on sessions for his stopgap mixtape Macadelic. He recorded a handful of tracks and took to the new environment, eventually constructing two studios in his house — one a converted pool house, the other an offshoot of his bedroom — which have grown into a hub for famous young L.A. creatives like Earl Sweatshirt, Schoolboy Q, and Thundercat. Miller toured last summer and fall before holing up in his sanctuary in the hills, making music through the winter with his newfound friends, sometimes going days without showering.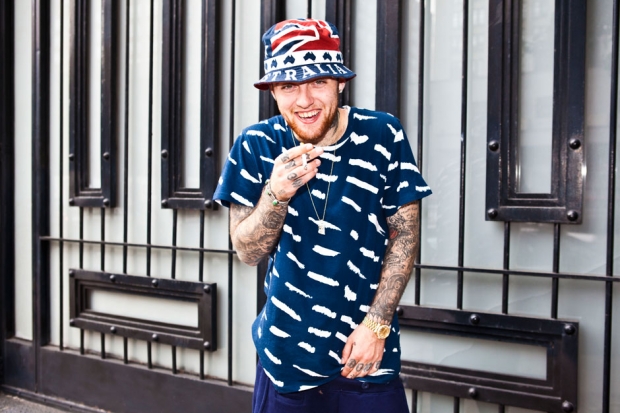 "I work nonstop — this album, I was completely isolated from the world," he says. "If it wasn't for the MTV show, everyone probably would have forgotten about me. I was just in the studio, just wanting to step back from everything."
Miller needed the seclusion. By his count, he had been on the road for almost the entirety of the previous two-and-a-half years. He took three months off to record Blue Slide Park, which was released in the first week of November 2011, while he was touring. The album sold well (buoyed by a surprise No. 1 debut on the Billboard album chart), but it also made Miller a punch line in some circles.
"I was an easy target," he acknowledges now. "If you listen to 'Party on Fifth Ave.'" — the cheery Blue Slide Park single — "you're gonna think that I'm a little, fucking… whatever," he says, cutting himself off mid-sentence.
It was the first time that many mainstream outlets had bothered to cover him, and most panned the album, sometimes viciously. (Here, I am far from blameless: I wrote perhaps the most scathing review, giving the album a 1.0 at Pitchfork.) The negativity chipped away at the armor that Miller had developed as a teenaged white rapper who had risen far above those who had assured him he was crazy to try and make it as an MC. Arthur Pitt, Miller's manager and the vice president of Rostrum (which also launched Wiz Khalifa), told me that Miller called him at 4 a.m. in disbelief at Pitchfork's obscenely low score.
The reviews contributed to (though didn't cause, Miller is careful to note) a delirious period as 2011 bled into the new year. The rapper built and sustained his fanbase on the road, but the road also broke him down. Miller recalls that his mom demanded that management force her son to take a break — she "is still pissed about that to this day," he says about his relentless schedule — but there was money on the table that, he says, he didn't know how to turn down. There were also drugs, and contrary to other media reports, Miller insists that negative reviews didn't send him into a spiral of lean addiction. When I first met Miller, Pitt introduced me to people around the office as "the guy who got Mac addicted to drugs," which was a more joking approach to our shared history than the one Miller eventually took.
"Let me clear this up," Miller says. "Everyone thinks that I read [the Pitchfork review] and then got addicted to drugs. It wasn't like, 'Fuck, what do I do, oh my god, let's do drugs,'" he mocks. "The drugs thing had been a part of my life since I was young as hell. I just didn't talk about it as much."
He also was getting paid to play 8,000-person capacity venues that he then had trouble selling out — something he only feels comfortable disclosing now. He seems more resigned than regretful about this whirlwind time, but nonetheless, the grind had taken its toll. When he got off the "Macadelic" tour at the beginning of last October, he retreated.
"[2013] was me screaming, 'Stop!'" he says in a feigned shout. "I got a spot and huddled into a cave."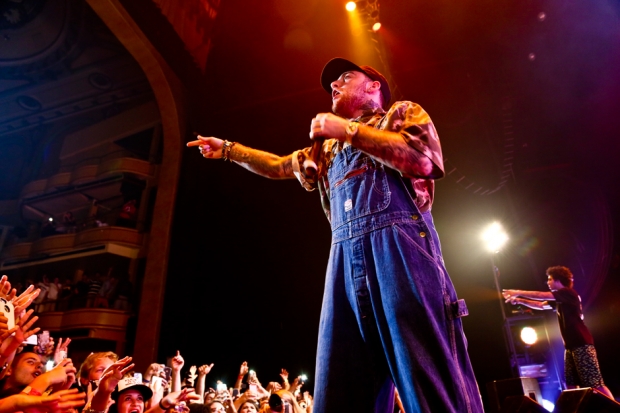 Miller first linked up with T.D.E. when he toured alongside Lamar, Schoolboy, and Wiz for 2012's "Under the Influence of Music" tour. He's also grown close with Odd Future since settling in L.A., in particular with Earl Sweatshirt. Earl has reportedly recorded a sizable portion of his upcoming debut album, Doris, in Miller's downstairs studio, a space where the duo spends hours together just messing around. Ab-Soul, Miller tells me, is also scheduled to track his newest album at Miller's home.
A few years ago, the idea of this constellation of rappers forming around Miller would have seemed like a joke. Compared to Odd Future's first songs — particularly Earl's "Earl" or Tyler's "French" — Miller's early tracks and visuals were not just peachy, but dull. Nor did he have the effortless cool or inherent swagger of Lamar's cohorts. But look closely enough and you can see strands of teenage boyhood stitching these groups together: Miller's and Odd Future's pre-fame videos depict kids getting high and creating their own fun in hometowns that had begun to feel constrictive. Those shared experiences — though pretty standard as far as teenagers go — unite them. Whatever line can exist between "friends" and "collaborators" is mostly nonexistent now.
"We're just homies and support each other," Miller says. "We look out for each other and keep that as number one."
His downstairs studio also appeals to his friends on a functional level, providing a rare halo of comfort. "It's a real tranquil studio, very welcoming," explains Matt Martians, one half of the Odd Future-affiliated group the Internet. "You don't feel like you have to do something."
Similarly seduced is Ab-Soul, who, at 26, has a half-decade on most of this crew. "The studio's so crazy, the vibe in there," he says, speaking on the phone from his home in Carson, California. "There's this kind of red lighting with beanbags, candles burning, and all of these things. But you're still going to find a case of Heinekens there, you know what I mean? We go over there, all of the rappers, and we just gather around and have fun and rap."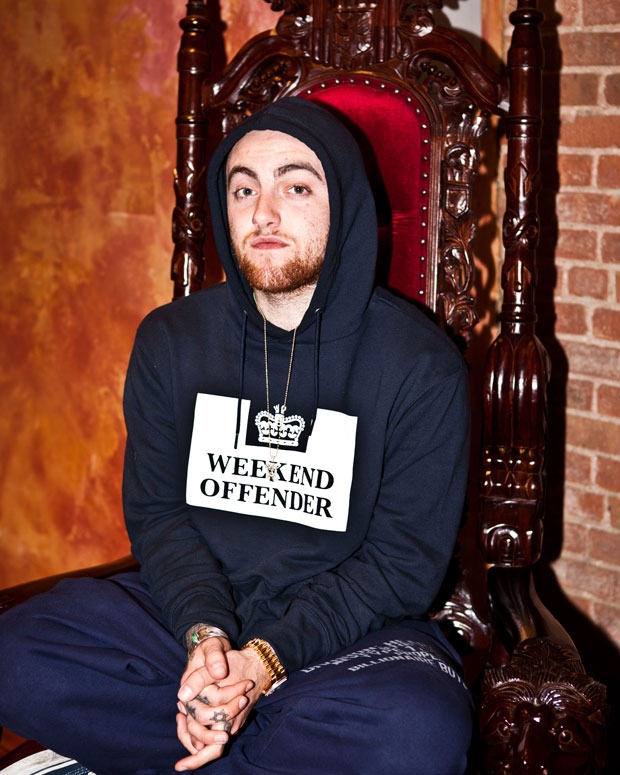 In addition to finding the right peer group, Miller also has simply grown up. Musically and personally, the signs are obvious: His face and neck are now covered by a scraggly orange beard, and his arms, which each sported a single tattoo two years ago, are completely smothered in ink. Earlier this year, he raged quietly against, as he puts it, "The business of Mac Miller," by releasing songs on Soundcloud under the alias Larry Fisherman. Watching Movies With the Sound Off reflects this inevitable maturity, too. Two of Miller's own beats sample the xx and tUnE-yArDs, and the album ends with druggy songs "Youforia" and "Someone Like You," which nod toward aqueous neo-soul. (Miller eased into a solo rendition of "Youforia" on piano at his New York City show by playing the opening notes of D'Angelo's "Untitled [How Does It Feel].") He's improved mightily as a rapper, too, trading rudimentary jokes for twisty assonance ("I do drugs, get more loopy / I'm in tune to ancient Jujitsu spirituals / It's blissful"). That said, he still clings to juvenilia ("I might know some dyke hoes who can fight, though"), and like plenty of 21-year-olds, he has visions of grandeur.
"This isn't to be negative towards anybody else, but I really strongly feel that our circle of people we make music with is all that matters — in the next few years, it's either gonna be that you're a part of this or you're not," he says optimistically in his stoned drawl. "I really envision all of us at the Grammys kicking it: 'Ha ha, bitch, beat you.' No one is looking at music right now the way we are. There are no boundaries, bro."
Objectively, the bravado of that statement is absurd. But it's not hard to understand why it might bounce around the mind of Mac Miller. With Watching Movies With the Sound Off, he emerged from his cave with music he made only to make himself happy. He also knew the sound — more dense and profoundly blunted — would be accepted (if not praised) by the same critics who bashed Blue Slide Park. After all, he is used to doing things that he was told he wouldn't be able to do. Despite being in the midst of an endless string of press in mid-June — as I first walk into the Rostrum office, he's being forced to drone on about shoes for a radio crew — Miller is energetic and warm, blissfully high and eager to talk. I'm just another critic turned convert. Another box ticked. The Grammys, maybe, don't seem so crazy.
When I talk to Miller again, on the phone this time, the first Friday after his album drops, he is driving around L.A. with Earl, enjoying the final few days before he starts his "Space Migration" tour. Vince Staples, another L.A. rapper, has just released a 10-song mixtape produced entirely by Miller, and they're on their way to pick him up.
I ask Miller what he and Earl Sweatshirt do on a day off. He volleys the question to Earl, who says "Sea World." Miller is mostly distracted during the conversation. Who wouldn't be? The kid who once got savaged by critics is basking in the glow of flattering DMs sent by Missy Elliott and Lil B, the latter of whom Miller holds in the highest regard. Aside from the acceptance, he has a group of friends who fulfill him spiritually and creatively. He now has respect, or at least a version of it, and a little bit of perspective, too.
"I would make fun of me now," he says, his voice strengthening as if he's risen from his seat at a Savaged by Critics Anonymous meeting. "The kids that rap now because of me, that are out here, they're funny. And it's okay to make fun of them."