The story of Kendrick Lamar is not the story of a rapper from Compton. It might be the story of the most important rapper since Jay-Z. It might be the story of how hip hop got real in 2012. But the only story that Kendrick Lamar wants to tell is how he got out. Lamar's major-label debut, good kid, m.A.A.d city (Top Dawg/Aftermath/Interscope), is a totemic memoir to mark the distance from where he came. It is, says Lamar, about how "everything in the dark comes to light."
On the cover of the album is a Polaroid dating from 1991. Lamar identifies himself as "baby Kendrick," even though he was pushing five when it was taken. He sits nestled in the lap of an uncle who is throwing a gang sign with the same arm that's wrapped around his nephew. On the table sits a 40-ounce and a baby bottle; baby Kendrick is wide-eyed, staring directly into the camera. "We got photo books full of pictures like that," he says. "I was in that atmosphere every day until my teenage years."
He picked the photo "for the innocence in that kid's eyes, not knowing that a baby bottle and a 40-ouncer…." He trails off. "It's still so vivid to me. This picture shows how far I really come."
The 25-year-old MC is curled up in a corner of the couch at the back of his tour bus, wearing the pajamas he slept in, hoodie drawn and sleeves yanked over his hands. With the air conditioning on full-blast, the bus feels like a meat locker. Hundreds of fans cue up outside Chicago's Congress Theater, hours before doors open. It is Lamar's first headlining tour and tonight's show is sold out.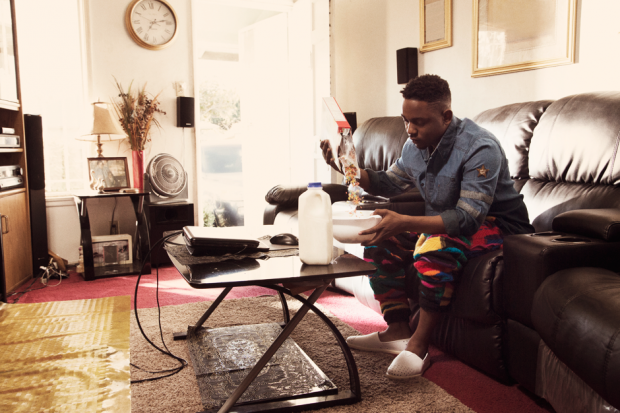 Lamar may be from Compton, but his roots are here. Tonight's entire 200-person guest list is made up of family, including Lamar's grandpa, one of many relatives he helps support. "I ain't even made my first big purchase yet," he says. "I live in Los Angeles and I don't even have a car. My ends go to take care of my family." He used his Aftermath signing bonus to move his parents out of the Compton neighborhood where they raised him.
Lamar's parents met while they were kids working on Chicago's South Side; his mom was one of 13 kids, his dad one of seven. In 1984, while still teenagers, they moved to Compton in order to start a family away from the gang warfare that was tearing up the city, where Lamar's dad was affiliated with the Gangster Disciples. "Compton was just as rough, but they didn't know that," he explains. His parents had him three years later, and his three siblings came seven years after that. Lamar's mother also moved much of her family — siblings, cousins — out to Compton, as well, effectively transferring their Chicago life to California proper. In Kendrick's earliest memories, his parents are 25, the same age he is now. He shakes his head in disbelief.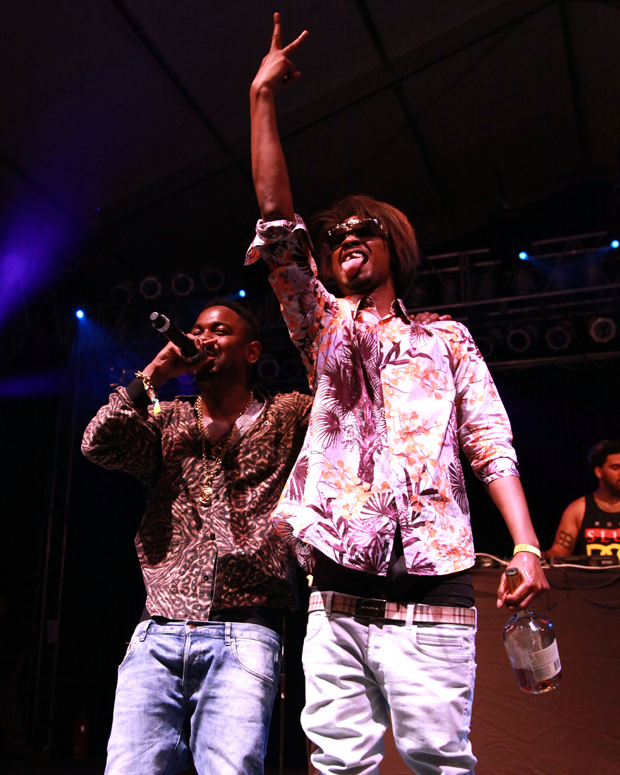 "I always play back these house parties in my memory," he says. "Takin' off my shirt and wilin' out with my cousins, getting in trouble for riding our big wheels inside the house. They'd be playin' oldies and gangsta rap. Just drinkin' and smokin' and laughter. A young crowd enjoying themselves. They were living the lifestyle."
Growing up, his mom worked in fast food, and his dad did too — sometimes. "My pops did whatever he could to get money. He was in the streets. You know the story." There were stints of being on welfare. "I remember always walking to the government building with mom. We got our food stamps fast because we lived across the street," says Lamar, laughing. "I didn't know it was hard times because they always had my Christmas present under the tree and for my birthday."