They've always been together, these two. Best friends. Their hearts beating in unison, quietly making life go. Romy Madley Croft and Oliver Sim understand, cognitively anyway, that they first met when they were two or three years old and living with their respective families in the blandly pleasant London suburb of Putney. They get that. But neither can remember a time when they didn't know the other. And thus, even when parents have passed and confidences breached, neither has truly ever felt alone.
Now, though, when their white-hot band, the xx, which also includes Jamie Smith — a sympathetic soul who entered Madley Croft and Sim's world at the advanced age of 11 — have become the target of prying eyes and curious minds, the solitary space that these shy Brits have built for themselves has been reconfigured. Strangers have encroached. Strangers hungry to know precisely what it is that the xx love, and for whom their shimmering opalescent songs are written. Strangers who gather by the thousands in dark, cavernous clubs to loudly sing the band's conspiratorial melodies back at them. Living with this paradox, trying to protect the powerful intimacy of their music from the alienating scale of the big shows and endless prodding interviews that their success demands, is not easy for Romy, Oliver, and Jamie. Which makes their friendship, for the first two in particular, a keystone. They have never been strangers, nor will they ever be.
"It was quite a fun show," says singer-guitarist Madley Croft, with courteous enthusiasm, speaking of their performance last night before a sold-out crowd of 3,000 at New York's Terminal 5. She has warm, forgiving brown eyes, a coolly severe haircut, and is seated on a leather couch in the plush lobby of the Bowery Hotel in lower Manhattan. It's a sweltering, early August afternoon. "Often times big venues are scary, and we don't like people looking at us," she adds. "We three are very private." The rest of the xx are close by, sitting on different couches, talking to other journalists.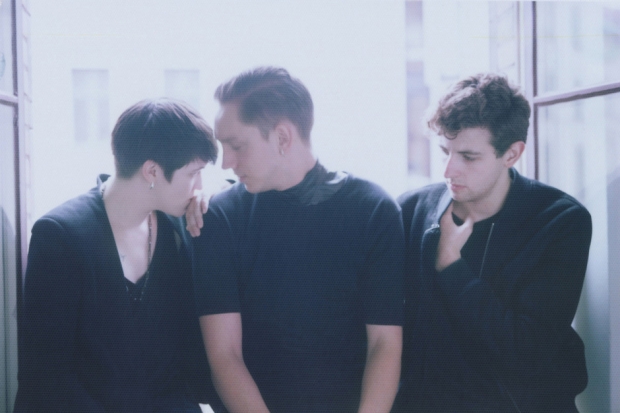 "Even whilst we were playing small shows back in London five years ago, it was quite awkward," Madley Croft continues. "We do hope people like our songs, but selling ourselves is not something we're good at." (Like Sim, Madley Croft is openly gay, and getting more comfortable with revelation. A while back, she posed with her girlfriend for a spread in Tourist magazine.)
Despite any timidity, the band's 2009 debut, xx, has sold 370,000 copies to date. In 2010, it was awarded the U.K.'s prestigious Mercury Prize, beating out albums from the likes of Mumford & Sons and Dizzee Rascal. The wave of adulation for the hushed, moonlit album swept its makers onto the stages of Glastonbury, Bonnaroo, and Coachella (where in a rare moment of sartorial sensibility, the band wore off-white under the burning desert sun). AT&T used "Intro," a wordless beam of eerie guitar light and drum-machine ripple, in its ads for the 2010 Winter Olympics. The xx's whisper has carried a long way.
"Romy and I," says Sim, having swapped spots on the couch with Madley Croft, "we're learning how to share the xx with people who aren't in the xx." His speaking voice is as deep and seductive as the one with which he sings. "We wrote the songs for our first album by sending each other lyrics over IM and e-mail, and then sending our demos to Jamie for beats," he says. "We sang into the speakers of our computers and tried not to wake up our parents. It was just a little project we were doing." Sim clears his throat. He's been talking with reporters for hours now, and will continue to do so for much of the next three days, until the band leaves New York City for the Terraneo Festival in Croatia. He often looks over his shoulder when he speaks, as if someone might be listening in.
"We put the songs on MySpace and didn't think anything would come of it," he says. "Then you see that a record label wants to sign you and that Courtney Love is posting that she loves the band. It seems like a weird dream." Weird? Or bad? "I did worry about the size of our audience when I began writing for Coexist," says Sim. "When you write songs for your best friends and maybe two other people to hear, and then realize that a million other people are going to hear them, it can be a bit worrying. You get concerned about what you might reveal." Sim asks a waiter for some sparkling water. "Jamie has the right idea," he says. "He keeps quiet."