Imprisoned Pussy Riot member Maria Alyokhina has ended her hunger strike after 11 days. The husband of Nadezhda Tolokonnikova, another jailed Pussy Rioter, told the BBC on June 1 that Alyokhina abandoned her protest after her demands regarding security at the prison were met.
As SPIN reported, Alyokhina embarked on a hunger strike in late May after being refused the right to attend her own parole hearing. The artist-activist also claimed that officials at the prison colony were trying to turn other inmates against her by cracking down on security in advance of her parole hearing. She said that prisoners were usually allowed to enter their designated workplaces freely, but recently, inmates have had to wait long periods of time to be escorted by guards.
Tolokonnikova's husband, Pyotr Verzilov, reportedly told a French news agency that padlocks on the buildings where prisoners work have since been removed. "Maria said that the prison administration took her on a special tour of the colony," Verzilov said, "to show her that her demands have been met."
During her hunger strike, Alyokhina was hospitalized for low blood pressure. According to Verzilov, the Riotress' health is currently "satisfactory." This latest development is the first (sort of) victory the feminist punk collective has had in a while. Both Alyokhina and Tolokonnikova were denied parole recently, and last week, the pair lost an appeal against their prison sentences. The imprisoned compatriots are currently serving two years in jail for staging a now-infamous anti-government protest at a Moscow cathedral in February of 2012.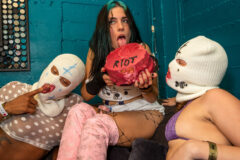 More than a year later, Pussy Riot still enjoy support from artists in the U.S. and U.K. A documentary about the band's human rights ordeal, titled Pussy Riot – A Punk Prayer, will air on HBO on June 10 at 9 p.m. EST. And on June 14, a new book called Let's Start a Pussy Riot will debut at London's Meltdown Festival. The feminist project was created in collaboration with Pussy Riot and features contributions from Kim Gordon, Antony Hegarty, Robyn, Lucky Dragons, and Coco Rosie's Bianca Casady.