The punishment for a "punk prayer," under Russian president Vladimir Putin, has a whiff of the Soviet-era gulag about it.
The two imprisoned members of Russian feminist punk band Pussy Riot were transferred over the weekend from Moscow prison to remote locations, the AP reports. Their lawyer Mark Feygin said Maria Alyokhina had been shipped off to the Perm area in the Ural Mountains and Nadezhda Tolokonnikova had been sent to Mordovia, a province in central Russia. Feygin said his sources were prison officials and he hadn't been able to get confirmation from his clients.
"These are the harshest camps of all the possible choices," the band said via Twitter today, as translated by the Guardian. Several prison camps operate in both Perm and Mordovia, and some of them were reportedly part of the Soviet gulag system of forced labor camps. Prison authorities declined to comment to the Guardian.
Alyokhina and Tolokonnikova had been jailed in Moscow since March after performing a protest against Putin in Moscow's main cathedral. The two were convicted in August for the supposed crime of hooliganism motivated by religious hatred, and they received two-year sentences. A third Pussy Riot member, Yekaterina Samutsevich, got out on appeal earlier this month.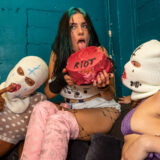 Attorneys for Alyokhina and Tolokonnikova had said they planned to appeal as high as the European Human Rights Court, if needed. The two women had asked the court to let them serve out their sentences in Moscow so they could be close to their children, the Guardian notes. Alyokhina has a five-year-old son, Filipp, and Tolokonnikova has a four-year-old daughter, Gera.