Video footage of Pussy Riot's now infamous protest performance in Moscow's main cathedral has been banned in Russia and must be blocked from the country's Internet, the Associated Press reports.
Pussy Riot member Yekaterina Samutsevich, whose two-year prison sentence was suspended, filed an appeal of a lower court's November 2012 ruling that the clip was "extremist" and should be removed from Russian websites. A Moscow City Court rejected that appeal on Wednesday (January 30), allowing the ban to go into effect.
Samutsevich and two of her bandmates were convicted of "hooliganism motivated by religious hatred" for their February 2012 "punk prayer," which protested the re-election of Russian president Vladimir Putin. The other two Pussy Riot members, Maria Alyokhina and Nadezhda Tolokonnikova, are currently serving out their jail time. As the BBC previously reported, Alyokhina's appeal to delay her sentence was denied earlier this month.
Internet providers face fines of up to $3,000 if they don't comply with the ban against the performance footage. Foreign servers, however, will still be able to feature the video, making this decision more of a symbolic victory for lawmakers who claimed that Pussy Riot's performance offended religious believers.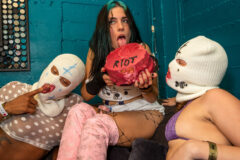 The "extremism" law that made the ban possible is reportedly intended to target Neo-Nazis and terrorist groups, but has been used to censor Scientologists and South Park (which actually gave Pussy Riot a shout-out last November). Samutsevich described the January 30 ruling as "censorship" and said she would "fight on," according to the Associated Press. The controversy made international headlines and drew the support of many artists, including Björk, Madonna, Green Day, and Bikini Kill's Tobi Vail.
Since SPIN.com isn't hosted in Russia, watch the footage of Pussy Riot's February 2012 protest performance here.
https://youtube.com/watch?v=grEBLskpDWQ