With the band's 10-year anniversary still fresh, the past loomed large when the threesome started work on Mosquito. "I had some serious nostalgia for the Yeah Yeah Yeahs in the early 2000s," Karen tells me over a fennel-cucumber salad and lamb meatballs. She's dressed merely casually insane on this mild February night, wearing a green-and-white-diamond sweater over a leopard shirt, strands of her stick-straight blond hair still standing at attention after removing a sizeable fur hat. "I had some nostalgia for why I fell in love with the idea of performing in the first place. Frontmen like Jon Spencer and Lux Interior, and PJ Harvey. Strong, fun people who ignite some sort of fantasy with their charisma and the sexuality."
The group started making demos in a New York studio they dubbed Area 52, then spent almost two weeks in New Orleans, where Chase and Zinner became infatuated with the sissy bounce scene. (The drummer is partial to Big Freedia.) Writing outside of New York has become an integral part of the band's process. As Zinner explains, "There's a lot of comfort and familiarity here, and I feel like we're always trying to go out of our comfort zone in a way." He pauses to laugh for reasons that will soon become apparent. "So we physically do that as well."
The number of times Zinner's bandmates mention that they've made him personally uncomfortable is almost comical, but Sitek seems to have elevated the concept from art form to torture device. "Nick has this one pedal that I can't fucking stand, so this record, I was like, hand me the pedal, because I'm going to go destroy it," the producer deadpans, with a slightly sadistic sense of satisfaction. "I was like, if you don't hand it to me, that means I have to break into your room at night and steal it. So he handed it over and I destroyed it. That's a testament to how far he has come."
Zinner attributes a lot of his increased flexibility to his participation in Damon Albarn's Africa Express project last year, which brought Western and African musicians together in Ethiopia, then united them in Spain for a four-hour concert before a group of acts embarked on a train trek through the U.K. "There were 80 artists and one rehearsal the morning of — it's like, 'What the fuck, how's this going to work?'" Zinner says, with a glimmer of wonder. "Going from [being] a guy who has 35 pedals to just fucking wing it, play in front of people and have a collective trust in what's happening. If you believe in the project, it's going to be fine. And it was fine. It was unbelievable. And I feel like I learned a lot about adaptability and trust and letting go. It was my own band camp."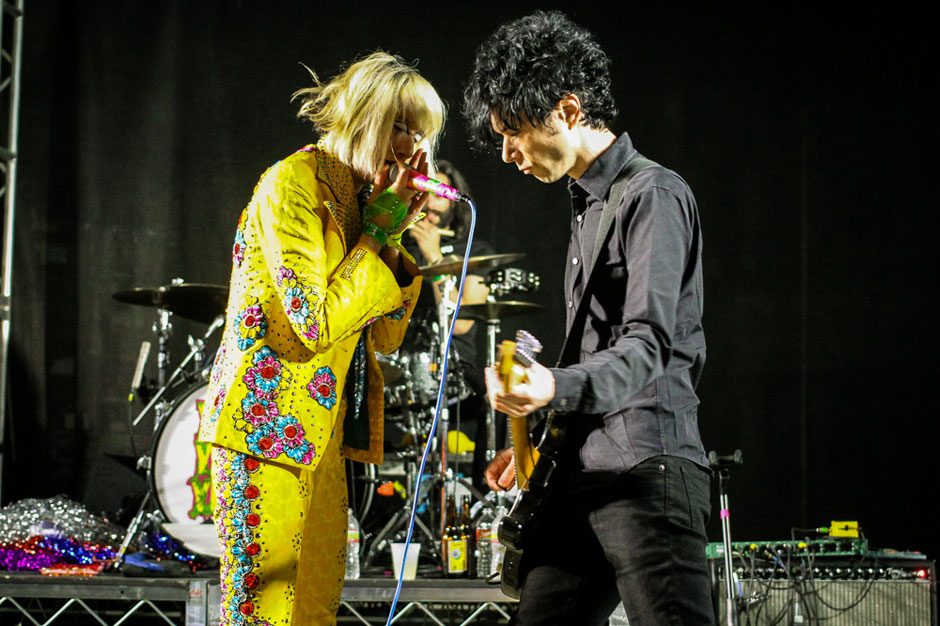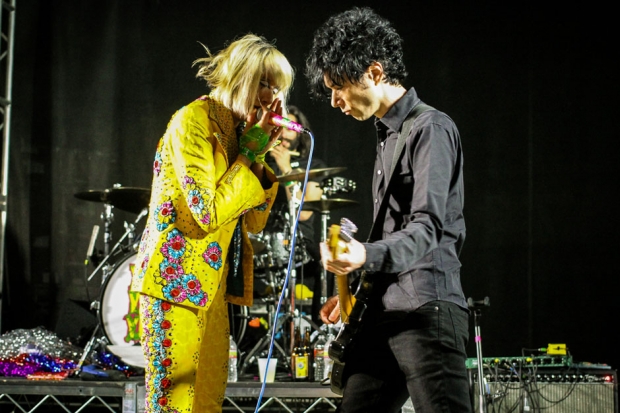 All the Yeah Yeahs Yeahs (and the eloquent Sitek) can tell tales about pushing Zinner's buttons during the recording of Mosquito, but Karen and the guitarist easily agree on which two albums provided them with the most inspiration: Kanye West's My Beautiful Dark Twisted Fantasy and Anika, the eponymous album from the punk-noir singer and Geoff Barrow of Portishead. "Those two spawned this record, and Nick turned me on to both of them," Karen says. "That just goes to show we are on the same page when we start, and we're on the same page when we end, but something really fucked-up happens in between."
Zinner calls the West record "a masterpiece" (he praises Watch the Throne, too) and says Fantasy and the Anika LP "jumped out as being totally fucking outsider, left-of-the-box music. They didn't sound like anything else that I'd heard." Karen admits that she had been a Kanye hater, "Which makes it even more poignant." She pauses and sings the opening bars of the leadoff track, "Dark Fantasy," from West's album: "Can we get much higher?" Her face is overtaken by serene awe. "It's so soulful, and I love soul," she says. "The vibe lifted me out of the mundane and took me somewhere else, man. And it stuck out like a sore thumb. It's a work of art. It's a record. It was a moment of clarity. His signal was crystal clear and we all got it. One of the last records that made me feel that way was Under Construction by Missy Elliott."
Zinner admits that how Kanye made that LP — importing collaborators to work side-by-side in a secluded Hawaiian studio — helped motivate the decision to have Sitek and veteran producer Nick Launay (whose credits include PiL, Nick Cave, and Yeah Yeah Yeahs' 2007 EP Is Is) in the same building this time (they contributed separately to It's Blitz!). The band met up with the duo at the El Paso, Texas studio where they recorded It's Blitz!, armed with the new album's "Sacrilege," "Subway," and "Under the Earth" from the New Orleans writing sessions, and most of the other tracks from their time in New York, and got down to business — which, for Yeah Yeah Yeahs, means following the muse and bumping heads.
Karen played a lot of bass, Sitek had Chase re-record the title track's drum parts through a cassette-tape four-track, and Zinner became "increasingly more and more dangerous with wild ideas," Sitek reports. "Nick did a lot more than guitar, he covered more ground," Chase tells me while munching a beet salad at a Brooklyn restaurant around the corner from his apartment. "He's a very good keyboardist, in a sense of coming up with bass lines or melodies and chords. There's a lot of understated Nick in the soundscape-y elements."
So was Zinner…uncomfortable again during recording? "Absolutely. That's the whole gist of it, essentially. That's the process I have to go through," Zinner says without a hint of annoyance. "Trying things that I know I'm good at, trying to do something completely different that feels fresh and fragile and exciting and that Karen's psyched about. I can come up with 50 ideas an hour to start off stuff, but it has to click. It's like magic."
Mosquito recalls flickers of all Yeah Yeah Yeahs' previous work while hurtling forward into uncharted territory. Opener "Sacrilege" sucks in the drama of Stop the Virgens, concluding with an honest-to-God gospel choir that helps Karen climb, climb, climb high-eerrr. Beautiful, poetic doodle "Subway" features the sounds of the J/M/Z line passing over the Marcy Ave. stop in Brooklyn. Dungeon-disco triumph "Slave" spotlights the tension between Karen's vocals and Zinner's darting guitar. "Under the Earth" dives into a spacey, dubby netherworld and frolics in the moonlight.
"I wanted to bring back the warmth, the fucked-upness of it, but also [keep it] refined," Karen says, growing more animated the more we talk about the intricacies of the LP. "I wanted it to be simple, but 13 years into it, you can't be that simple. So at the very least I wanted it to have character, I wanted it to sound like a record."
She also wanted Mosquito to make listeners feel something — anything. "When we started, we wanted to rock the boat," she says, referring to the band's early days. "It was the end of the '90s, New York was still arms crossed, jungle DJs were just ebbing out, and all of a sudden, it felt like let's wake these people up." She emits a muffled exclamation that's loud enough to rouse the folks at the next three tables. "AHHH! UH! That's what I wanted to happen. And this record is a bit of the same."
Karen gave herself a few shots of adrenaline during the making of the album, too. While the 24-member Broadway Gospel Choir recorded their vocals for "Sacrilege," she stood in the center of the group, absorbing the vibration of their pleading and praying. "I never experienced anything like that, man," Karen says with the look of someone who's been abducted and returned to earth. "It was hair-raising, it was spine-tingling." It took some effort to convince Chase and Zinner the chorus was a good look, but she knew she'd get one on an album someday. "There are things on this record that are bucket-list things — that's not saying that I'm planning on kicking the fucking bucket — but things where I'm just, like, we've been around this long, let's just start doing shit." (As far as wardrobe design goes, Karen is indulging her longtime desire to rock full-body suits in the vein of Elvis or Bowie. Christian Joy gushes, "This is the most exciting group of costumes I've worked on.")
A similar seize-the-day whimsy led to Kool Keith's appearance as Dr. Octagon on "Buried Alive," the LP's sole track produced by James Murphy. The group scored a few days with the "workaholic" LCD Soundsystem leader in 2011, then had to shelve the song until he was available again, about a year later. Spiegel was responsible for bringing Keith into the mix. "When I heard 'Blue Flowers,' I was so blown away by it," Karen says of the rapper's beloved 1996 single produced by Dan the Automator. Later, during a discussion about liner notes (the band is including all the lyrics this time around because Karen's sick of seeing them wrong on websites), she gleefully starts rapping Keith's contribution.
Mosquito doesn't seem like a very immediate album at first — the remote, hazy production and a general mistiness seem to be holding you at arm's length — but it creeps up the back of your spine after a few listens, like the warm ooze of an opiate as it worms its way into your bloodstream. When I make this observation over our dessert of brownies and cookies, Karen O is giddy.
"Yes, yes!" she exclaims, offering me a high-five over our glasses of white wine. "I don't want to come across as some really bad spokesperson, but when I was 14 and I was getting high in a basement with my friends, this is the record that I'd have listened to. I want the kids in the basements with their bong to listen to this."
Lyrically, however, Mosquito is still an enigma. There are obvious love songs, and more opaque references to shackles and forgetting the past. When asked if anything was nagging at her thematically, Karen is adamant: "No, there wasn't. And there never has been. And there never will be. It's just like, one thing leads to another, man. It's cheesy, and that's what it's meant to be." Zinner doesn't hazard any guesses when asked the same question. "I feel like it's a subject you shouldn't prod too much at," he says like a man who knows better than to prod too much.
Chase and Sitek both admit Mosquito's aching anthem "Despair" has spoken to them loudest at moments in the past year, and the usually quiet drummer seizes a moment to open up. "This time around, I feel like there's a wise and peaceful sense of love," he says of the new album, taking a pause that lasts as long as five leisurely bites of my risotto to gather his thoughts: "Love has always been there in different forms. In the form it takes on Fever to Tell, it's very wild and passionate. This one seems to be not quite omniscient, but can see situations from the other side, so there's a peaceful sense to it, but at the same time, encouraging whatever it is to go through its process."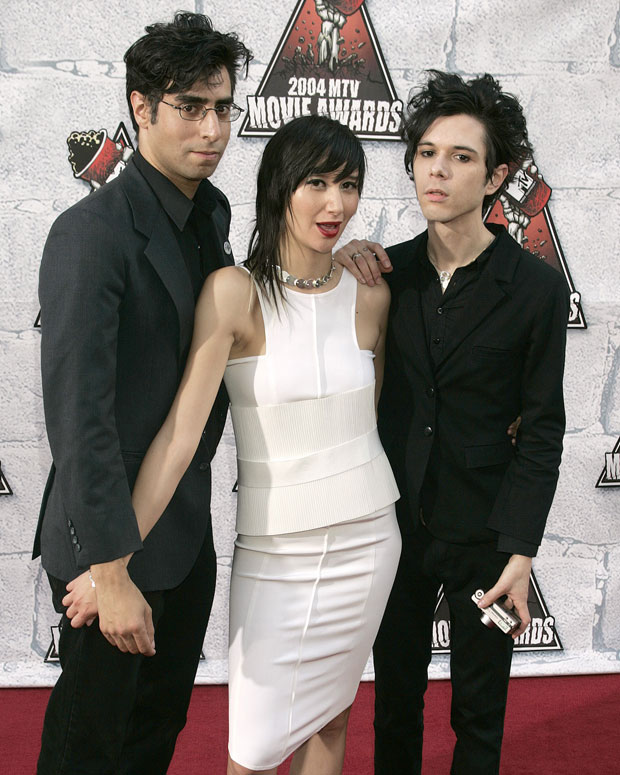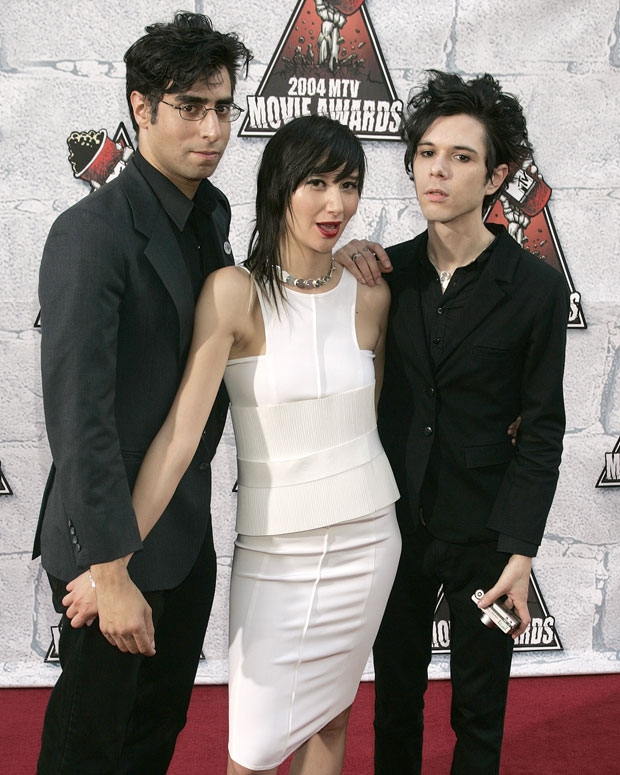 Sitek likens the making of the record to how he expects listeners will experience it in the real world. "As with life, there's some high-fiving in the sun, there's some getting stuck in the mud, there's little bits of everything. That's what's really fun about recording the Yeah Yeah Yeahs," he says. "They're trying to get the whole life experience into each record. They're not trying to make a party record or a somber record. They're trying to make a party-somber record. You can listen to a Yeah Yeah Yeahs record and one song will connect with you when you get fired, another one will catch you when you're in love, other one will catch you when you want to break something, another will catch you when you want to fix something."
For Karen, there was one more important element at stake, something that'd been wedged in her mind like a splinter since 2004, when the Liars released They Were Wrong, So We Drowned, the unexpected follow-up to their 2001 debut. "They basically totally turned their back on everything that was working in their favor and went in this extreme, crazy direction — but a true, genuine artistic direction, and it was such a lesson for me," she says, speaking with a renewed intensity. "And yeah, a lot of people turned their backs on them, but I was like, they're free, man! They're fucking free! They're free motherfuckers! And Kanye felt free. And Geoff Barrow felt free. That's what inspired me the most: How do I get free on this shit, man? If you see any glimpse of getting free on Mosquito, that's where I wanted to be. I wanted to get free."