"It's not the strongest, nor the most intelligent species that survive, but the one most adaptable to change."
Those words are printed in white block lettering over a grey scale portrait of the man who first suggested that hypothesis: the bearded and bald naturalist Charles Darwin. Karen O brandishes this image, which arrived via email from her husband, on her iPhone while sitting in a quaint NoHo restaurant. He sent the photo because it helps explain why her band named their fourth album Mosquito — and why she, drummer Brian Chase, and guitarist Nick Zinner decided to make a fourth album in the first place.
"So maybe Yeah Yeah Yeahs are not the smartest or the strongest band, but we fucking adapt, man," Karen says, marveling at how the nearly 80-million-year-old insects gradually become immune to the pesticides that are designed to kill them. (She uses "fucking" as a verbal garnish the way the British use "brilliant" — frequently and deliciously.) "If I count my blessings, one of the gifts I have is being in tune with knowing I need to change before everyone else does. To survive."
This is not the first meal I've shared with the woman born Karen Orzolek where the topic of conversation was life and death. The first time we met, 10 years and six iconic hairstyles ago, five blocks north and two avenues east, we discussed the severe accident she'd suffered onstage in Australia, when she drunkenly flipped over a railing while singing "Rich." (SPIN glibly dubbed it "Coolest Rock Injury" for a year-end Readers Poll, in which she also won "Sex Goddess.") The magazine's 2006 cover story questioned whether the band would even endure to make a follow-up to sophomore LP Show Your Bones; the 2009 cover tackled the topic with a disco-pop twist in a story titled "Stayin' Alive."
Metamorphosis is an appealing concept, but as far as Kafka and Jeff Goldblum go, things don't work out so great for the bug in the end. Yet Mosquito is a stubbornly visceral listen, improbably featuring a gospel choir, a Kool Keith cameo, a few breathtaking ballads, and a handful of noisy plunges into the deep. And the newly blond 34-year-old Karen O sitting across from me is alive. Actually, she's more than alive. She's fucking free.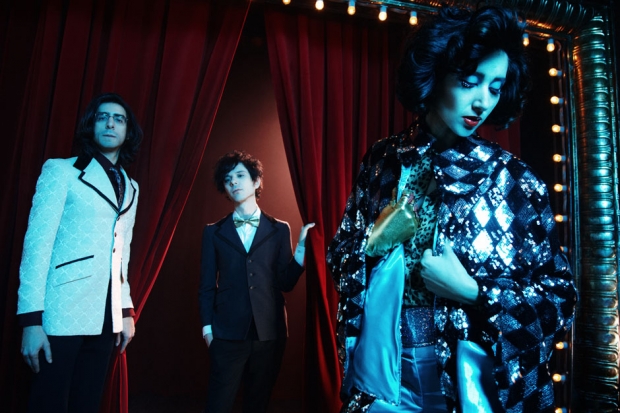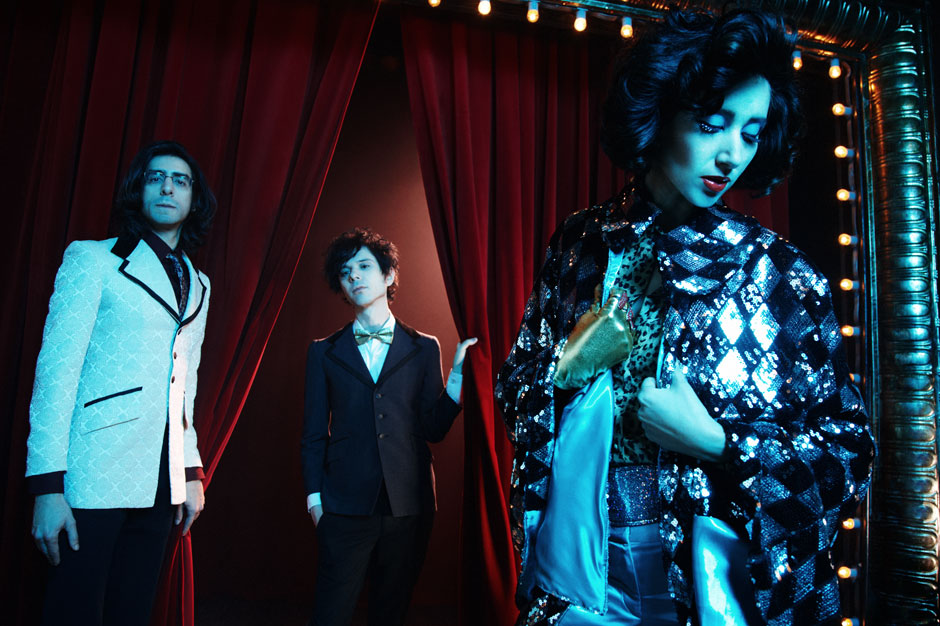 Karen O is onstage at New York's 250-capacity Mercury Lounge, wearing a dress with a red-white-and-blue zig-zag pattern adorned with party streamers, screaming, "It's our time, sweet baby / To BREAK…ON…THROUGH!" with some brunette named Vanessa. TV on the Radio's Kyp Malone is moshing me into a pulp alongside the singer's brother and the floor is so drenched with beer that there isn't a dry shoe in the house. It's September 24, 2010 — exactly 10 years to the day that Yeah Yeah Yeahs played their first-ever gig here, opening for the White Stripes. A few key differences at this special anniversary show: a) Everyone knows the songs; b) There's an after-hang at a West Side strip club; and c) Mary-Kate Olsen attends the party.
"That was a huge deal," Nick Zinner says of the now two-and-a-half-year-old milestone over vodka sodas in Brooklyn, before catching a show at Union Pool. He remains the most plugged-in member of Yeah Yeah Yeahs, in terms of late nights out and access to social media. "Massive deal. I feel bad for bands starting out now. They're like Twitter; they blow up for five minutes, and then people move on to the next thing. I feel like if the Yeah Yeah Yeahs started today, it would not have happened. It's just funny that a bunch of us who have made it past the 10-year mark all lived together."
In 1998, Zinner moved into a Williamsburg, Brooklyn loft-studio with Metric's Emily Haines and Jimmy Shaw, Stars' Chris Seligman, and director Paul Verhoeven's daughter Helen. (They all had randomly answered an ad for the raw space in what was then an undeveloped, undesirable part of the neighborhood, but Shaw still had to chauffeur the landlord to a doctors' appointment in Queens to secure the lease.) Nearly everyone in the warehouse was obsessively making music, including Zinner, who'd come to New York with his ultimately unsuccessful college band, Challenge of the Future. "In 2000, Emily and I went to England, and when we came back, things had pretty drastically changed," recalls Shaw. "Different people had moved in and the Yeah Yeah Yeahs had just started."
Every band has a creation myth, but Yeah Yeah Yeahs have their own Big Bang. Karen and Chase, kids from the Jersey and Long Island 'burbs, became acquainted during freshman orientation at Oberlin College in Ohio. Karen transferred to NYU to pursue film and met Bard grad Zinner at Mars Bar, a notoriously grubby 2nd Avenue dive (like so many East Village landmarks, it closed, in June 2011; the band included a dedication to the hole on Mosquito). The latter pair made folky music under the moniker Unitard until they half-jokingly birthed "Bang" — the shuffly punk stunner that led to their self-titled 2001 EP under the name Yeah Yeah Yeahs.
Unbeknownst to anyone in the Williamsburg compound, a mere two blocks away, James Murphy's DFA crew, !!!, and a slew of other bands were shacking up in a massive graffiti-covered building. The sound that would come to define cutting-edge rock music for the first decade of the 21st century was bubbling up under their noses. "The Strokes, Interpol, Yeah Yeah Yeahs, TV on the Radio — they all started a fucking scene," Shaw says. "And it was powerful. It wasn't about Brooklyn, it was about them."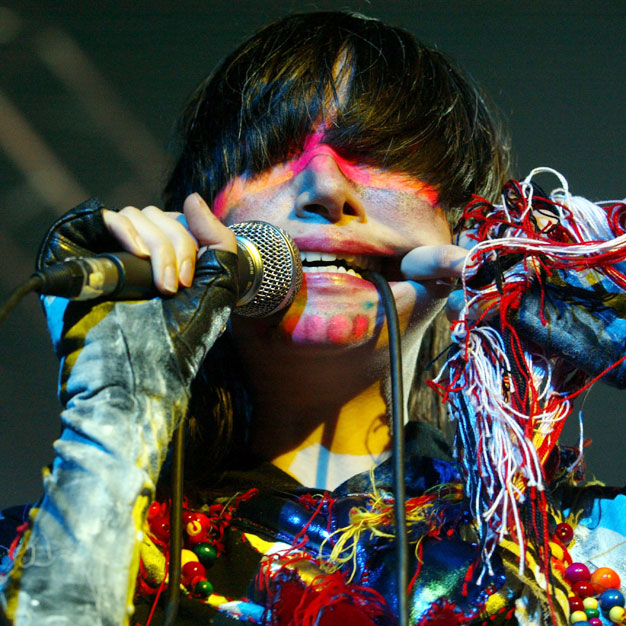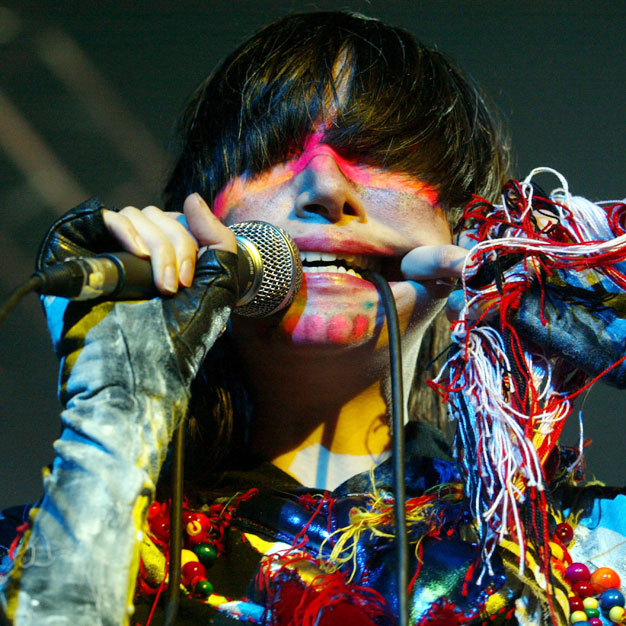 There was clearly something extra volcanic about Yeah Yeah Yeahs, whose live show quickly became the stuff of breathless recounting in the scummy bars where young New Yorkers did their carcinogenic living before the Bloomberg smoking ban. Their unique superpower was creating an explosive, larger-than-life experience in a small space — with Zinner and Chase's jagged punk (and generous amounts of champagne and tequila) propelling her, Karen O snarled, spat, trembled, leapt, and screeched her way into audience's faces and hearts, dressed up in deconstructed creations by her designer pal Christian Joy that could be described best as street-rat chic at an alien prom. Every cranked-up kick and fine mist of beer she sprayed in the air would send shivers through your sternum.
Consummate showman Jon Spencer caught an early gig and was "knocked out," he says. "It wasn't just that they were a great band, but it was such an incredible scene with the crowd. They seem to reach back to that kind of New York City freak-art rock'n'roll scene. You can hear and see echoes, but they are their own creature." He was so impressed, he invited the band to join the Blues Explosion on a tour of the West Coast, then to Europe. "We were essentially a local band, and Jon Spencer wanted to take us on the road," Chase marvels now. "The Blues Explosion were pivotal for us." It was the spark that ignited the Molotov cocktail.
"In 2001, Nick called to say they were going to England with Jon Spencer," Shaw recalls. "It was over the minute they stepped into Brixton Academy."