Radiohead will begin work on their ninth album at the end of the summer, according to bassist Colin Greenwood.
The NME points out that in a recent interview with BBC Radio, Greenwood said, "We're taking some time out whilst people are doing some other stuff, doing their own things, and the plan is to get back together again [at the] end of the summer." The elder Greenwood first broke the news to Africa's Mail & Guardian on February 1, saying that Radiohead's current nine-month hiatus will end in September, when they'll begin crafting the follow-up to 2011's King of Limbs.
Okay, it's not much to go off of, but, you guys — new Radiohead!
If the Oxford five-piece won't hit the studio until late summer 2013, that means their next full-length probably won't be out this year, but the art-rock icons have surprised us with sudden releases in the past. Anyway, we've got Thom Yorke's Atoms For Peace project with Radiohead producer Nigel Godrich to hold us over till then. The duo recently announced a trio of live DJ sets and have already shared two singles (and teased a couple of other tracks) from their forthcoming LP, Amok (out February 26 via XL), which SPIN dubbed one of 50 Albums You Gotta Hear this year.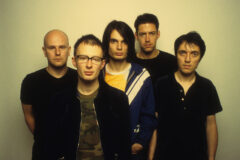 If that's not enough of the paranoid androids for you, check out Radiohead's recent fan-made concert film, download their 2006 Bonnaroo set, watch Frank Ocean cover "Fake Plastic Trees," and listen to Willow Smith's "Codex"-cribbing "Sugar and Spice."