After announcing its release just days ago, Radiohead have dropped their new album, The King of Limbs, as a digital download, and posted a video for a new song, "Lotus Flower."Watch it below!
The album, which was supposed to arrive Saturday (Feb. 19), is now available for purchase here — click here to access the download if you pre-ordered the set.
The clip for Limbs track "Lotus Flower" shows singer Thom Yorke dancing alone, in the dark, and just… spazzing out like a five-year-old child after eating 5,254 Pixy Stix.
Read SPIN music editor Charles Aaron's breakdown of the album here.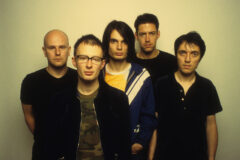 As previously reported, The King of Limbswill see a proper physical release — CD and 12″ vinyl — in North America on March 29 via TBD Records.
What are your initial thoughts on The King of Limbs? Tell us in the comment section.
WATCH: Radiohead, "Lotus Flower"
https://www.youtube.com/embed/cfOa1a8hYP8?fs=1