The cover art for Kurt Vile's next album, as revealed late last year, is a freaking mural right there in his hometown of Philadelphia. Titled Wakin on a Pretty Daze, the album is on its way sometime in 2013 via Matador Records, and the label's newly released making-of video demonstrates the wall-sized artwork has some serious thought behind it.
Street artist Steve Powers, a.k.a. ESPO, explains that the mural is in the style of other beautiful, simple signs painted in the building's industrial Philly neighborhood. "We're in that tradition where Kurt Vile is another object on the industrial landscape," Powers says in the video. "For all intents and purposes, that's our industry now. Music and art [are] two of the most powerful industries that we have here."
It turns out the objects beneath the title in the mural refer to lyrics from the album. So we now know Wakin on a Pretty Daze contains the lyrics "there's a place in my heart for all my friends" and "living the fantasy in infinity," among others. Powers has a great way of visualizing these lines, too, such as a couch with a beer next to it painted within a heart, or a mailbox with an "Infinity Drive" address. (These might make more sense when you actually watch the clip.)
Vile, who previously told SPIN's David Bevan the album still "sounds like me" but with better guitar and new ideas, opens up a bit more about Wakin on a Pretty Daze here. "I did know that these certain songs had real epic vibes and I just wanted to take it further than I ever did before," he says. "It's about trying to do what nobody else has done exactly, yet, but making it listenable and pop-sensible. I started to joke and say the music was like 'prog-pop,' like this new genre."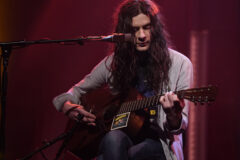 No details yet on when this particular industrial product will be available to purchase. But while you're in the market for goods and services, Vile and his band the Violators' 2009 EP The Hunchback recently earned a reissue.