Trent Reznor's long-hinted-at "dream project" with sound quality specialists Beats By Dre has been revealed: the How to Destroy Angels leader will serve as Chief Creative Officer for Daisy, a new music streaming service that will be brought to your ears by Beats Electronics. Jimmy Iovine, Beats co-founder and chairman for Interscope-Geffen-A&M, was light on details about the upcoming project during a conference call announcing the service earlier today (January 10), but said that Reznor will play a large role in Daisy's look and feel and will focus on the "connection between the artist and the consumer." Which is to say, words like "curation" and "emotion" were tossed around an awful lot.
"What's missing from the digital music landscape is a cultural context," Iovine said in a statement. "We need to bring an emotional connection back to the act of music discovery. With Trent [Reznor] and now [Daisy CEO Ian Rogers] we have the right team in place to do it."
Rogers — who will simultaneously serve a leadership role with Mog, the streaming service Beats bought last year (via Billboard) — went further, saying, "After years of fighting and uncertainty, it's now undeniable all the world's music will be available on every device by just clicking play. However, the current streaming experiences aren't good enough." He continued, "They aren't good enough for fans, who need it to be easier to find music they love. And they aren't good enough for artists, who want to grow their audiences and make money."
Also announced today was a partnership between Beats and Topspin Media, the direct-to-fan marketing company Rogers previously presided over as CEO. According to Topspin's website, Daisy has made a "substantial strategic investment" in Topspin, making it the primary way that Daisy will get photos, videos, and products (including tickets and merchandise) from artists. This way, if Nine Inch Nails do end up touring again, Daisy will update with dates and ticketing information.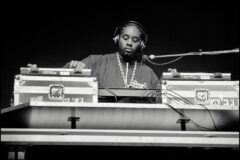 Daisy is tentatively scheduled to launch sometime in the second half of 2013, but an exact start date has yet to be determined. There was also no mention of exclusive contracts with artists or pricing plans, but the Beats braintrust said that Daisy's rates will be "competitive with existing services." Where they're hoping to set Daisy apart from Spotify, Rdio, Rhapsody, and other streamers is the interaction between the user and the program. As Iovine put it, the competition simply offers "a math solution to an emotional problem."
In a recent New Yorker profile, Reznor explained that Daisy won't just rely on algorithms to suggest new music to users — it will also employ recommendations from music experts, or, as Reznor said, "people who have thought about what a good playlist is for driving through Memphis, for example." When discussing Spotify in particular, Reznor commented, "'Here's sixteen million licensed pieces of music,' they've said, but you're not stumbling into anything… What's missing is a service that adds a layer of intelligent curation." (Well, at least at the time of press. Two months after Reznor's interview was published, Spotify announced plans to roll out more robust music-recommendation features to its platform. Frank Ocean was there covering Radiohead. It was a big deal.)
He continued, "As great as it is to have all this information bombarding you, there's a real value in trusted filters. It's like having your own guy when you go into the record store, who knows what you like but can also point you down some paths you wouldn't necessarily have encountered."
Trent Reznor wants to give you that guy, which is sweet, considering how busy he is, what with new Nine Inch Nails material on the way, his appearance on the new Queens of the Stone Age album, and the How to Destroy Angels debut album coming in March.