Trent Reznor isn't just working with major labels again, he's also working with major brands. The How To Destroy Angels collaborator confirmed a partnership with Dr. Dre's headphones purveyor Beats By Dre via a post on his Facebook page Tuesday (October 16).
"For the past year I have indeed been involved with Dre, Jimmy Iovine, Luke Wood, and the rest of the team on a number of very interesting projects that will start to emerge next year," Reznor wrote. "I have been wanting to experiment and focus my energy and creativity in some different directions, and Beats has afforded me that very opportunity."
Reznor divulged little else beyond the partnership itself. "The process has been challenging and fascinating and as much as I'd like to tell you about the things we've dreamed up… I just can't. Not yet…," he said. He did cap the announcement off with a paranthetical: "(I can tell you it's probably not what you're expecting!)" So, no headphones, you guys.
At a press conference Tuesday, a spokesperson for Beats by Dre confirmed that Reznor has signed on for a consulting role with the company, Billboard reports. Also discussed at the event was Mog, the streaming service Beats purchased earlier this year and for which president Luke Wood has "very big plans." Jimmy Iovine clarified that statement, saying that consumers can't be expected to program their streaming services themselves. Does that mean Mog will go the way of flop iTunes music recommendation service Genius? Perhaps that's where Reznor, an actual musical genius, will play a role.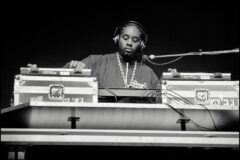 How To Destroy Angels' new EP, An Omen, is out November 13 via Columbia Records in digital and vinyl formats. Listen to the opening track, "Keep It Together," and check out Reznor explaining why he chose to work with Columbia Records — filmed at a Los Angeles speaking event that also featured David Byrne — in the video below.