This is what it's come to. When a man isn't listed in the phone book, when he doesn't respond to emails or letters, when nobody seems to know how to find him, sometimes you just have to roll up to his last known address and holler at him. Literally.
"Mr. Gibson! Mr. Gibson!"
It's 11 o'clock on a Thursday morning and Ken Shipley is standing on the sidewalk outside a tidy, one-story brick house in the Carrollton section of New Orleans. Hands cupped around the sides of his mouth, he's trying to summon Joe Gibson from what may or may not be his home. Shipley surely would've preferred knocking on the door or ringing the bell, but the small home is separated from the street by not one, but two, locking wrought-iron gates.
"Mr. Gibson! Anyone home?"
In the early 1970s, Gibson wrote and produced two 45s by a group called the Soul Emotions, which featured his three young daughters. Not many copies of either record were pressed, not many of those were sold, and by the time Gibson's eldest daughter was a junior in high school, the Soul Emotions had quit performing. The records quickly went out of print and just about disappeared from the Earth entirely.
But one made it into the hands of Rob Sevier, a partner of Shipley's at the Chicago-based reissue label, the Numero Group. Sevier thought one song — a charming pop-soul nugget called "It's Time for Love" — would fit perfectly on a compilation called The ABCs of Kid Soul, which documented the post-Jackson 5 explosion of such groups. So he tried to find Gibson. That was more than five years ago. The ABCs came out in 2007, but now Numero has decided to do a second album, The 123s of Kid Soul. Which is what has brought them here to the doorstep of this mini-Fort Knox in Carrollton.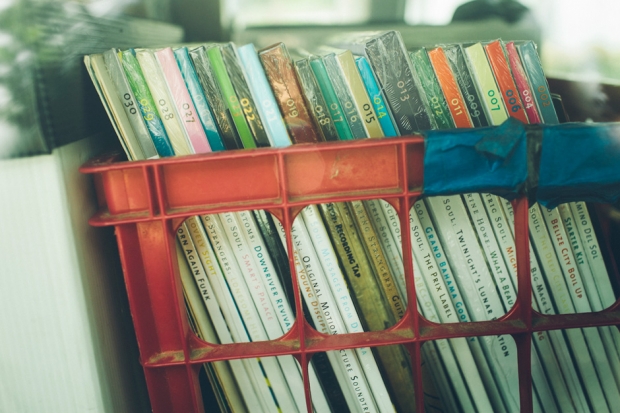 At the moment, Sevier is behind the wheel of the car that he, Shipley, and Numero's sales director Dustin Drase drove down from Chicago. As Shipley makes his unholy racket, Sevier instinctively inches the car forward along the street away from him. The neighborhood, a well-kept, working-class area, seems reasonably safe, especially on a weekday morning (though I will later be told about two recent shootings within a few blocks). But if the spectacle of a skinny white guy standing on the curb shouting isn't enough to draw the suspicion of local residents, surely a car with out-of-state plates (specifically one that reads "DR DRASE"), filled with strangers staring out the window and pointing, probably will do the trick.
After a minute or so, the front door to the house opens and a small, older woman emerges. It's Gibson's wife, Barbara. Shipley is invited onto the porch, where he explains the reason for his unannounced visit. Barbara tells him her husband is at his dialysis appointment. She gives Shipley a phone number and says to come back the following day.
"That went pretty great," Shipley says, upon returning to the car. "He's at dialysis!"
Remaking history: Photos of the Numero Group reissues team searching for lost gems.