Lollapalooza 2012 — with its Black Sabbath sorta-reunion, puke-filled Perry's Stage, and massive storm evacuation — has come to an end. It wasn't going to be easy to top the spectacle of watching 60,000 flee Grant Park with bleak clouds approaching, but Jack White and the Sunday lineup did what they could to bring the drama.
See what you missed: our best live photos from Lollapalooza '12. And if you're feeling nostalgic, peek back at our oral history of the very first Lollapalooza.
Best Sign-Off: Jack White
A faux-modest trend at festivals lately is the polite and perfunctory, ego-less "goodbye" to the crowd. One particularly sweet one came from the ridiculously adorable Chaz Bundick: "We're Toro Y Moi and we're from South Carolina, thanks everybody." That modesty was not becoming for Jack White who ended his headlining set — a dirty, noisy, stadium garage rock trudge through his entire career, with nods to electric bluegrass, surf rock, some damn near proggy Rick Wakeman-like keyboard wanking — with "Seven Nation Army," and then told the crowd, "God bless you, be careful. Now go home and hug your mothers and fathers — whatever you have." After that, he blew a few kisses to the crowd. It was gentlemanly and curmudgeonly at the same time — very Jack White — and it also felt like a considered injection of old-fashioned ethos into a festival that could, if you were in a defeated state of mind (or if you're an all-analog old fashioned type as White is) like a living, breathing example of the decline of Western civilization. BRANDON SODERBERG
Best Cutting Through All The Big Festival B.S.: At The Drive-In
They came onto the stage with Danzig's "Mother" blasting and after he sang a few lines from the song, At the Drive-In vocalist Cedric Bixler-Zavala introduced the group as "Latin Danzig." And when they left the stage after an atomic take on "One-Armed Scissor," the even more ridiculous "You're The Best Around" from the soundtrack to The Karate Kid pumped through the monitors. Bixler-Zavala also joked that he had changed his name to "Cedric Lion" and then sang a little bit of Shaggy's "Boombastic," and referred to the group's glasses-wearing guitarist Omar Rodriquez Lopez — who didn't seem excited to be there at all — as the "Puerto Rican Woody Allen," which makes the big-haired Bixler-Zavala the Chicano Donnie Osmond, right? When they weren't screwing around between songs, the post-hardcore icons (save for a stagnant Rodriquez-Lopez) recaptured the energy they created on club stages during the late '90s and flung it all over the massive, impersonal Red Bull stage, delivering the most immediate and satisfying set of the entire weekend. B.S.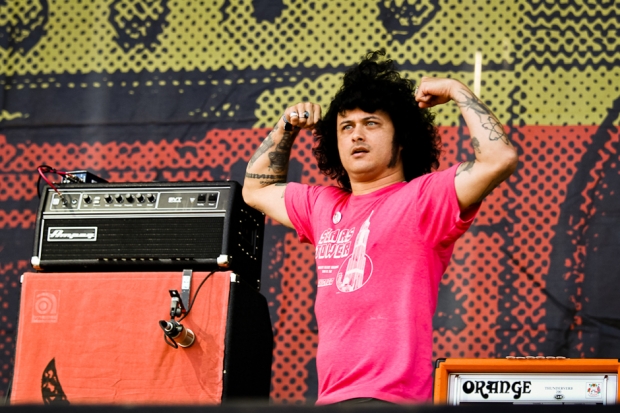 Best Set For Showing How The Pros Do It: The Walkmen
Though frontman Hamilton Leithauser was sweating so hard it looked like he had run through a sprinkler before getting on stage he was as cool as can be. The band, inveterate Lollapalooza performers and summer festival favorites, know how to work a crowd that is hot, bored and unfamiliar with any song of their that hasn't been used in a commercial. They frontloaded and enticed with the hits, doing a bit of furious dazzle and then soothed out all the frayed, sunburnt edges by taking it down a notch with acoustic guitars and Leithauser crooning like "Moon River" was just up around the bend. For a second they almost made you forget the noxious pig-shitesque waft of fertilizer and mud that was inescapable after the previous day's storm. JESSICA HOPPER
Best Attempt to Get The Audience To Try Something New: Nadastrom
The day three line-up on the EDM-dominated Perry's Stage was the most diverse, with Moombahton main-dudes Nadastrom on early as folks were just filing in for the day. The duo dropped all manner of equatorial funking, mixing fast and furious between songs, and only getting response when they they would hit on a dubstep remix of something. The audience would throw their hands up for the 45 seconds or minute that the two would let the track ride, and then as soon as it returned to the slowed up martial Reggaeton beat, it was almost like no one was onstage. The Perry's Stage field reeked from the previous nights party; the stench of vomit was unreal and between the unfamiliar sounds, thickening mud and the smell — it was an unfortunate uphill battle for the festival's most original dance booking. J.H.
Best Reason to Just Keep On Walking: Big Gigantic
Hey, what's that curious rumbling coming from the Perry Stage area? OH, A SUPER SMOOTHED OUT SAX SOLO AND LIVE DRUMMING? You don't say. Spending the afternoon down wind from the porta-potty shit-vacuuming truck would have been a more enticing prospect than catching a full song from Big Gigantic. J.H.
Best Schlockmeisters: Justice
Look, we're pretty sympathetic to the whole EDM craze. But let's get real, this neo-rave dance stuff is also a hustle. These guys are pressing "play" and letting a light show and a swirling screensaver do all the work. And Justice was doing an over-the-top parody of these stimulus-attacking, DJ-as-savior light shows before they were even a thing. They were also half-assing their live shows before everybody else, as an infamous 2008 photo from one of their shows with an MIDI controller unplugged can attest. But their "performance" at the Bud Light stage, both awe-inspiring spectacle and an exercise in what John Waters would call "good-bad taste," topped the dubstep DJs over at Perry's. It was as if Leni Riefenstahl designed a rave — monolith-like speakers surrounded a lit-up cross and melodramatic lighting gave everything a glow of importance. When the hiccuping gulps from Yello's "Oh Yeah" stuttered through "Waters Of Nazareth," and then abruptly shifted into pious church organ, the barriers between high and low, smart and dumb, sincere and satirical, were obliterated. B.S.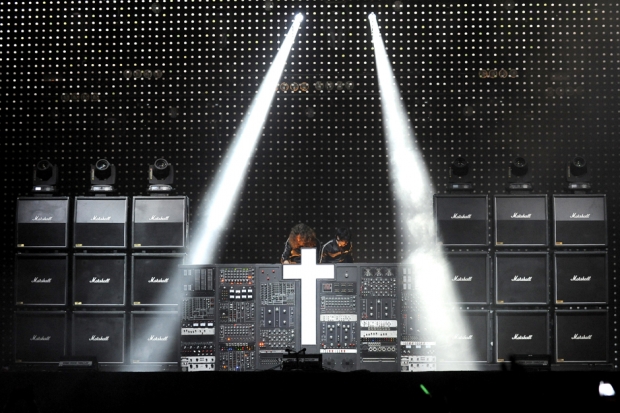 Worst Thing Ever: Macklemore
Irish-American rapper Macklemore is fueled by the type of naive cynicism that comes about when you decide it is noble to just give a crowd "what they want." Cheap attempts at crowd participation — asking everyone to shout "Whoomp there it is," apropos of nothing, sticking an RHCP hook into one of his songs — worked. And so did his beats, all of which build and build and stomp like post-painkillers Eminem. He also freestyled over Rick Ross' "Hustlin'," doing the sort of fast-rap that impresses the rap-phobic, and then a moment later, went into the pseudo-poetic "Wings." "This song is about America and consumerism and owning the greatest pair of shoes in the world," he told the crowd. But "Wings" is more like Kanye's "Diamonds From Sierra Leone (Remix)" without any of the insight, as if simply being white and solemn about conspicuous consumption makes one profound. Not that much later, Macklemore performed his Flo-Rida fascimile "And We Dance," delivered via his terribly unfunny EDM persona, complete with a hair metal highlander outfits and a slight British accent. B.S.
Best Girl-on-Girl Action: Florence + the Machine
Sure, the gorgeous silken kimono-style gown that Flo was rocking only aids in the comparison, but her Sunday sundown set was proof that ol' girl is the Stevie Nicks of now. The crowd turn out for her was decidedly the biggest of the weekend — perhaps aided by the fact that she was up against the marginal draw of At The Drive-In and some "who's that?" booking on all 29 and a half other stages. In between shots of Welch enchanting the crowd with her clarion voice, the Jumbotron would cut to shots of rows of weeping young women screaming along with every word. Though Welch commanded the whole crowd, her gaze stayed on this legion of front-row girls, beaming. J.H.
Worst Placement of A Nighttime Band in the Day: Sigur Ros
It's been a solid decade since Sigur Ros seemed like a really big deal, so Lollapalooza could be forgiven for throwing them on in the middle of the day, but the group drew a surprisingly huge, headliner-size crowd. Tracks from their 1999 breakthrough, Ágætis byrjun, drew the biggest response. The crowd was oddly reverent — even at the back of the crowd people were paying hushed attention. The band's ethereal twinklings would have been a perfect mellow closer, take things down to chiller levels come twilight; seeing them in the swelter of mid-day was just plain weird. J.H.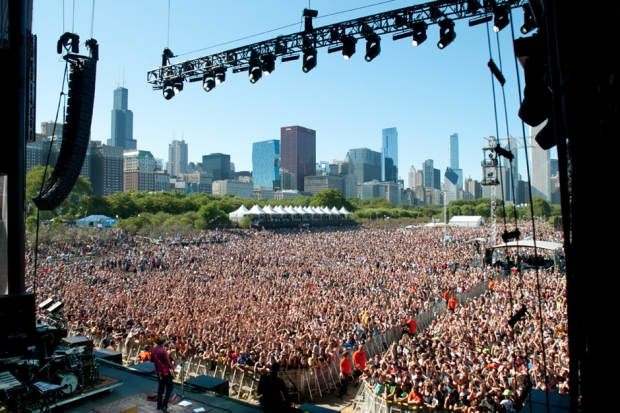 Best Hype(wo)man: Toro Y Moi
Just two years ago, Chaz Bundick was grooving around with just a microphone and a backing track like a hypnagogic goof — a prime example of all that was ridiculous about this stuff then called "chillwave." Now, Toro Y Moi is a formidable force of funk-punk with a serious George Duke fetish, and for Sunday's show at least, a sign language translator. Just a little out of the way of the band, a young woman stood signing the lyrics to hazy "hits" like "Talamak," "New Beat," and "Low Shoulder." And when the band would delve into a murky disco diversion that was all instrumental, she jumped up and down, boogied, and did air guitar (and bass and drums), and what often looked like interpretive dance. B.S.