Green Day have given fans many blink-and-you'll-miss'em YouTube album teasers over the past few months, but they've been busy filming far meatier pieces, too. The band will release two documentaries to coincide with their forthcoming trilogy of albums.
Billboard reports that filmmakers Tim Lynch and Tim Wheeler (the former of whom helped produce the band's 2005 concert video Bullet in a Bible and the latter of whom co-produced and edited the White Stripes' 2009 documentary Under the Great White Northern Lights) will produce both films, the first of which will focus on the making of ¡Uno!, ¡Dos!, and ¡Tre! (which drop on September 25, November 13, and January 15 respectively, via Reprise), while the second will consist of "vintage footage from their pre-Dookie days" — a punk-rock response to Katy Perry: Part of Me 3D, if you will.
"It's not going to be the sitting down, head shot of me going 'we started out blah blah blah,'" recently confessed One Percenter Billie Joe Armstrong told Billboard. "We wanted to get into lifestyles of rock'n'roll and playing rock'n'roll and letting the story kind of tell itself rather than create revisionist [history]."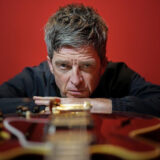 Longtime Green Day video director Sam Bayer, according to the report, will be "reuniting" with the band, which indicates he may be directing the docs in addition to future music videos from the trilogy.
There's no release date announced for either of the two docs, but "Oh Love," the first single off ¡Uno!, is set to drop on Monday (July 16); in the meantime, they've also just announced a performance at Las Vegas' second annual iHeartRadio festival, which comes almost exactly a month ahead of their October headlining appearance at New Orleans' Voodoo Fest.