During Radiohead's set earlier this month at Bonnaroo, Thom Yorke hinted at a potential collaboration with Jack White, thanking the Third Man Records boss for something we'll all see "very soon." In an interview posted this morning on the podcast WTF With Marc Maron, White acknowledged getting together with the British rockers, though he was tantalizingly mum about further details. The comment came as part of a refreshingly candid discussion that also spanned the former White Stripes frontman's distaste for music festivals, his religious upbringing, and the enduring appeal of analogue tape.
After Maron mentioned seeing Radiohead the other night, complimenting their adventurous set lists and adding that "they said they were over here," White replied, "Yeah, yeah." Then the interviewer said, "I don't know what's up with that," and White just laughed cryptically, before the conversation took a sudden turn to the reasons White left Detroit for Nashville. So we'll have to wait to find out exactly what Radiohead and White did when they met up at Third Man, but we now have it from both sides that the meeting did indeed take place. Beck's Third Man visit resulted in a hectic, eclectic collaborative track, so you never know!
The freewheeling, hour-plus exchange between Maron and White covered a multi-faceted array of topics, beginning with music festivals, which it turns out White doesn't like all that much. "Festivals have never been my favorite place to play," he said near the outset of the podcast. "It's not a good environment for any kind of performance." Before you call the upcoming Lollapalooza performer a hypocrite, however, it's worth noting that he's only making a relative comparison, saying he prefers hearing music in a club, because it's an environment that's more about the music and less about a party. He makes the comparison between a live club and a movie theater, where it's less easy to walk out than if you're drifting between festival stages.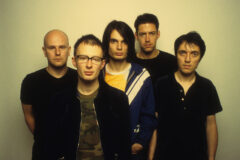 White also talked about growing up as one of nine brothers and children in urban Detroit, about Catholic guilt, and Al Pacino's performance in The Devil's Advocate, and about being, as Maron put it, "haunted by the spirit of American music." White explained: "They're not my chords, they're not my feelings … It's all the blues to me." Name-checking Greg Milner's fantastic 2009 book Perfecting Sound Forever, White also talked about how much better a song recorded on tape sounds compared with something recorded on ProTools: "You really have to get down into it to know the difference."