Most festivals have two or three stages featuring artists playing at the same time, but this year's Lollapalooza has an overwhelming eight. Since announcing its full lineup in April, Jane's Addiction frontman Perry Farrell's mega fest has had us biting our nails, waiting to see who will be playing against whom. The moment of truth arrived yesterday, when the fest posted its schedule. And with tiny little boxes bearing names like Red Hot Chili Peppers, the Black Keys, Black Sabbath, Jack White, and many more stacked on top of and next to each other, it looks like a mercifully teetering game of Jenga.
To help make the tough calls, we've listed the five toughest decisions the Lollapalooza producers have foisted on us, and we've included our recommendation for what we think will be the right decision. Sabbath or the Keys? Metric or the Afghan Whigs? And what if you're just curious about another band you've read about? We weigh in here. After all, it's better than sitting at one stage, imagining seven alternate universes were you could be just a little bit happier.
5. Metric vs. the Afghan Whigs, 4:00/4:15-5:15/5:00, Friday
Indie darlings, young and old, face off. This week, the Emily Haines-fronted quartet released their fifth record, Synthetica (still streamable here), which boasts a duet with Lou Reed, as well as a surrealistic video for lead single "Youth Without Youth," making them one of the most buzzed-about bands right now. But at Lollapalooza, they're going up against recently reunited alt-rock icons the Afghan Whigs, whom, we were pleased to hear, still sound great, as evidenced on their recording of Mary "Queenie" Lyons' "See and Don't Tell."
Recommendation: The Afghan Whigs. Since Metric just released their album, there will most likely be another chance to see them. And while the Whigs are currently touring and even curating a day at this year's All Tomorrow's Parties Festival in New Jersey this September… they did break up once already.
4. The Walkmen vs. Gary Clark Jr. vs. Dum Dum Girls vs. Sigur Rós, 3:00/3:15/3:15/3:30-4:15/4:15/4:15/4:00, Sunday
Three different flavors of indie rock and one phenomenal young blues musician. The Walkmen released new album Heaven, which includes a shimmering title track, earlier this year, while the Dum Dum Girls are still coming up with interesting things to do with the songs on last year's Only in Dreams, such as this video for "Coming Down." Meanwhile, Icelandic post-rockers Sigur Rós put out a great, expansive new album called Valtari last month, and blues belter and guitarist Gary Clark Jr. sounds nothing like any of them, but for good reason has already found his way onto two of SPIN's top festival acts to catch lists this year.
Recommendation: This is a difficult one, since it's right in the middle of the day and with the heat, who knows what will suit your mood. The most sublime experience will be Sigur Rós (plus you can imagine Icelandic glaciers melting over you while they play), so plan to see a little bit of one of the others — whatever the heat dictates — before staking some square-footage you won't want to move from.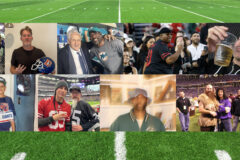 3. Jack White vs. Justice vs. Kaskade, 8:15/8:30/8:45/8:45-9:45/10:00/10:00, Sunday night
The Sunday night closing slots make for one of Lollapalooza's biggest battles of genre. To start with, Jack White is freakin' Jack White, the White Stripes frontman who this year released his first solo album, Blunderbuss, garnering the No. 1 spot on the Billboard chart and a quite positive review from SPIN. But at the same time, French electro group Justice, who will be headlining the dance-music cruise Holy Ship!! next year, are known for putting on transcendent live shows. And deep house DJ Kaskade, who has garnered attention for doing remixes for artists as diverse as Usher and Rufus Wainwright, has been getting fine reviews for working crowds "into a froth," as he did at last month's Hangout Fest.
Recommendation: It's gotta be White. Dude is playing at the top of his game these days, with both his all-lady and all-gent bands. You'll likely be giving up a killer laser show, but Jack's guitar theatrics can light up Lolla on their own.
2. Red Hot Chili Peppers vs. Santigold vs. Frank Ocean, 8:00/8:45/8:45-9:45/10:00/10:00, Saturday night
For another tough call, genre-wise, funk punks Red Hot Chili Peppers, who will release 18 new singles by the end of the year, will be facing off with pop-music fusionist Santigold, the artist behind Master of My Make-Believe, an album that got a 9/10 review from us. To further complicate things, buzzed-about Odd Future R&B singer Frank Ocean, who will be releasing his debut, Channel Orange, on July 17 (which you can get a taste of here), will be going on a little later than both of them.
Recommendation: It's a tough call, especially because all three artists will spent much of 2012 on the road, anyway. You might catch a glimpse of one of those new RHCPs tracks if you check out the flying Flea show, but Santigold is performing with an unparalleled energy and creativity right now and gets the edge.
1. Black Sabbath vs. the Black Keys, 8:05/8:30-10:00/10:00, Friday night
For the battle of the Blacks, the bluesy band that basically invented heavy metal is in one corner while the other contains the garage-rock duo still reaping success from last year's critically acclaimed El Camino, thanks to adventurous videos like their recent one for "Gold on the Ceiling."
Recommendation: Black Sabbath, hands down. Sure, the excitement of having a full reunion disappeared when original drummer Bill Ward declined to participate, but even with a scab skinsman, the triumvirate of frontmadman Ozzy Osbourne, guitarist Tony Iommi, and bassist Geezer Butler is healthy. With a new album written and Iommi's battle with cancer in a place where they've already played two concerts in England, it's an exciting time for the metal trailblazers.
Honorable mention: At the Drive-In vs. Florence + the Machine, 6:00/6:15-7:30/7:15, Sunday
This one will likely solve itself for most people. The recently reunited Texas post-hardcore crew, whose members have gone on to form bands like the Mars Volta and Sparta, most likely won't share much crossover with Lady Flo's soulful indie-pop fanbase, but you never know.
Recommendation: At the Drive-In, simply because the band members have made it clear that the reunion is admittedly a "nostalgia thing," as guitarist Omar Rodriguez-Lopez told the British press. Plus, considering how suddenly they broke up the first time, there really isn't a good time to play chicken when it comes to seeing them live.