SPIN's Manchester journey continues as Thom Yorke teases a collaboration with Jack White and Major Lazer send the crowd on an interstellar journey, but a handful of fierce ladies with guitars truly own the day.
Don't miss our most amazing live photos from Bonnaroo '12!
Radiohead
The crowd was so thick in all places that, to really catch a glimpse of Radiohead in the flesh, you'd have to be patient. Because once it became clear that Friday night's headliners had settled on a set list rife with chorus-less, mid-tempo selections from recent years (2011's unsung King of Limbs a major contributor), only lifers or those too zonked out to move, seemed to stick around. It was a decidedly moody affair even by their standards, one in which the World's Biggest Band forged little relationship with the several thousand weirdos in front of them. Though "Karma Police" would incite requisite sing-along and new song "Identikit" a flash of interest before it really got going, the set's most curious moment came in the encore, when frontman Thom Yorke dedicated "Supercollider" to Jack White, thanking him for something we'll all see "very soon." "Where are you all sleeping tonight?" Yorke asked us between ripples of transcendent bass 45 minutes in, so many kids already fast asleep on the grass. DAVID BEVAN
Feist
If you're checking in with Ms. Leslie Feist for the first time since she began touring behind the beautiful Metals late last year, prepare to be pleasantly surprised: Her current touring band, an outfit that includes back-up vocal work from Mountain Man as well as contributions from former Broken Social Scene multi-intstrumentalist Charles Spearin, is a gift. Also of note? Feist's way with her guitar. From top to bottom, the now brawny live iterations of what you to expect to hear (which, on their own, aren't particularly well-suited to overheated, drugged-up festival critters) have taken on shades of Neil Young, Feist's guitar tones as satisfying as her singing voice always has and continues to be. Every time it seemed like a Metals cut might drift off with the audience, Feist and crew lassoed them back in with loud, layered aplomb. D.B.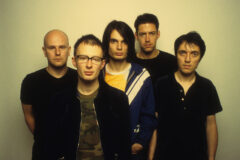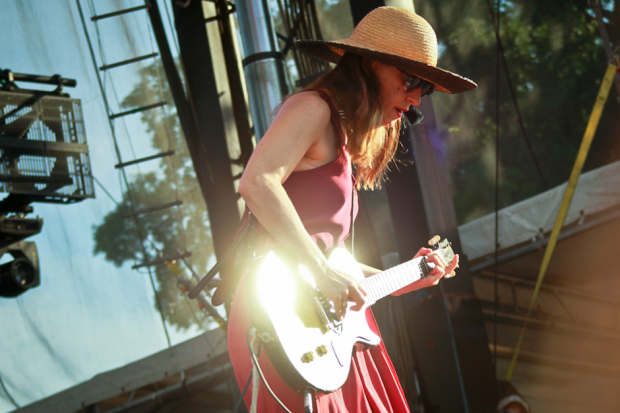 St. Vincent
St. Vincent's Annie Clark nearly started a riot when she ended her sundown set writhing on top of the crowd to new song "Krokodil." She spent the entire tune up there, kneeling for a minute as others supported her, then writhing and convulsing like she'd been inhabited by demons. At last, Evil Annie won the pitched battle that'd been playing out onstage for the past hour-fifteen. While on the mic, Clark was doe-eyed, hair perfectly framing that porcelain face as she sang like a songbird, wooing us. But as soon as she stepped back to take a solo, she was a pint-sized fury, curls everywhere, beating her guitar with her little fists or swinging the instrument around as if trying to permanently separate it from her body. The duality added a creeping darkness and danger to her set — apt considering her songs are chock full of dystopic suburban visions. CHRIS MARTINS
Major Lazer
Major Lazer's Diplo and Switch are two demanding dudes. During their raucous midnight set of hard dancehall, lascivious drum and bass, and sweaty baile funk, the DJ-producers urged the huge swarm of people assembled in, around, and on This Tent (one guy tried to climb the structure's support pillars), to jump, scream, put a girl on their shoulders, take their shirts off, take all their clothes off, and shake their "bubble butts." That's a lot to ask. But the pounding, frenetic, perpetually crescendoing music made saying no seem silly. (The transition from Flux Pavilion's "I Can't Stop" to Waka Flocka Flame's "Hard in Da Paint" was especially persuasive.) On this night, if Major Lazer had asked the crowd to fly to the moon, we would've laid money on someone with a glowstick waking up on Saturday morning in outer space. DAVID MARCHESE
Black Star
Reunited underground hip-hop luminaries Black Star are indisputably one of rap music's most important groups of the past 15 years, but they were also responsible for the absolute worst crowd dancing we've seen so far at Bonnaroo. Co-frontmen Talib Kweli and Yasiin Bey (formerly Mos Def) traded hyper-intelligent raps back and forth over the boom-bap soundtrack provided by DJ J Rocc of the World Famous Beat Junkies. It sounded amazing — and made for lots of jittery waist-bending and awkward raised-hands shaking. Presumably, Black Star didn't notice the off-beat gyrations because they were too busy ripping through their too-short catalog, hopping around the stage and tossing lines back and forth like it was 1998 all over again. The biggest reactions came towards the end of the set when the MCs delivered their respective biggest solo singles. (Talib dropped "Get By" and Yasiin-Mos fired off "Umi Says.") The duo earned bonus points for tearing shit up even while the bass assault from Major Lazer across the grounds was leaking into their territory at That Tent. LUKE McCORMICK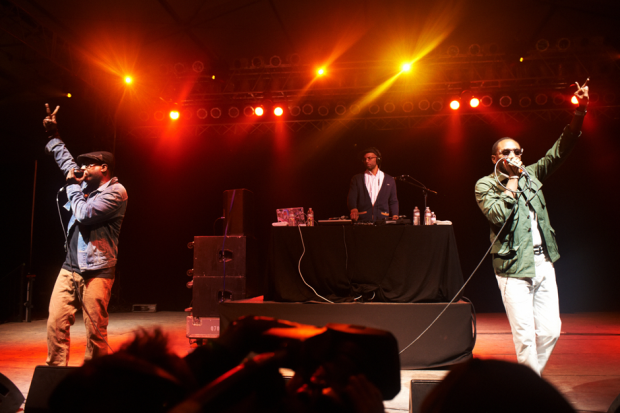 Flying Lotus
The Los Angeles bass guru was five minutes into his set, building off of a massively orchestral intro, when the stagehands realized they'd forgotten to change the sign above his head. It still said "Black Star," but as the words "Flying Lotus" were hurriedly yanked into view, the audience went wild. In another five minutes, during a sped-up, gloriously glitched live remix of Lil Wayne's "I Feel Like Dying," the crowd-surfing began and it hardly ever let up for the next hour. "Los Angeles is in the building!" the grinning producer shouted before correcting himself: "In this tent!" He later returned to Weezy via "A Milli," looped Lissie's voice from Schoolboy Q's "Hands on the Wheel" and, best of all, flipped an instrumental of "Niggas in Paris." Each track was borrowed for its pop stickiness, but sped up and spliced with all kinds of weird and ultimately turned into a hallucinatory sound experiment. Naturally he also gave his own already left-field songs — "PieFace," "Zodiac Shit," "Melt!" and more — the same treatment, blasting, smashing and rattling them with laser beams, break beats, and grimy low end. C.M.
Laura Marling
What may have been the thinnest crowd we've seen so far this week also happened to be the most attentive by miles. Everyone looked deeply concerned, every opening chord progression the (outrageously gifted) British folk ingenue unfurled brought forth clipped bursts of screaming. Because there was little sound bleed from elsewhere on the farm, Marling's set provided a throb-less respite from the rest of the mix — many of her songs have this chilled quality to them, as though they've been placed on ice the minute she's started sharing them. And with some help from a cellist and stand-up bassist, Marling shuffled through her songbook beautifully. "Are you okay?" she asked everyone before "No Hope in the Air." "I'm about to play a very depressing song." She was met with hot applause, one yahoo off to the side screaming, "I love you, Laura! I love you!" D.B.
Ludacris
A festival appearance from Ludacris is a rarity, so it was surprising that the Atlanta rap megastar mastered ceremonies from a tent (instead of a stage) while the sun was still high. Nevertheless, Luda didn't seem held back in the least as he played a steady stream of hits from his 12-year-old catalog. The live band and dancers he brought were a fitting analog to his outlandish style of rhyme, and the dude was clearly in a chatty mood. "This is my first time at this festival, so y'all gonna have to be louder!" he goaded. Of course, he gave plenty of incentive. "How many real Ludacris fans we got in here? I've gotta test you out. I'm gonna take you way way way back." From there, he and the band launched into "Act a Fool," which rolled seamlessly into "Southern Hospitality," then "Area Codes" and, of course, "Hoes." Later on, "What's Your Fantasy" captured some of that same fire, but all else (namely his Top 40 fare) failed to move the crowd to the same intensely ecstatic degree. C.M.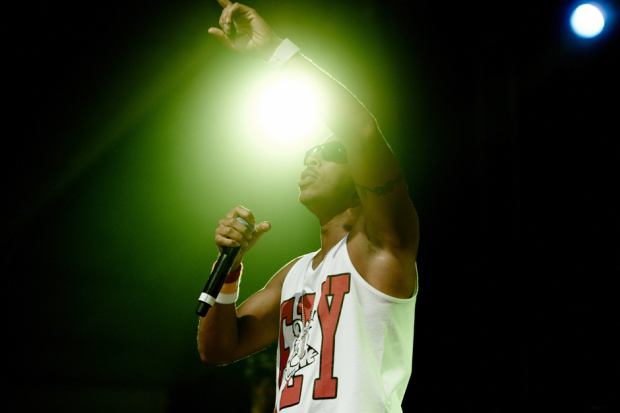 tUnE-yArDs
In the early afternoon, particularly on the festival's first full day, you're likely to run into more naked people than you would at any other time in the weekend. The math is interesting but not all that important. But no matter where you fall along the Great tUnE-yArDs Debate (i.e. is she a genius, is this stuff too nutty for its own good), to hear Merrill Garbus sing is to hear someone who's completely free. That was on wonderful display yesterday, her outfit's ultra-buoyant set all but bulletproof during as tough a time slot as you can draw. "Is it too early to dance?" Garbus asked early on. Not anymore. D.B.
Little Dragon
Little Dragon describe their music as "dreamy, rhythmical, moody, shifting rainbow sounds," which is fair enough for the Swedish quartet's on-album material, but they rack up a whole other set of adjectives live. In person, their pop becomes motorik, their electro gets more experimental, and stunning singer Yukimi Nagano becomes the tambourine-toting commander of a dangerously locked-in dance band teetering on the precipice of complete wildness. They didn't miss a single opportunity to turn their afternoon set into a delirious disco, with drummer Eric Bodin often driving the beat into punked-up excess. The fat bass synth of "Test" eventually dissolved into uptempo bliss while "My Turn" was throbbing hypnosis à la Kraftwerk. As Nagano bounced from foot to foot or seemingly wafted in the wind, one fan in particular seemed to exemplify the animalistic spirit of the audience: it was Flea, practically doing jumping jacks from the side of the stage. C.M.
The Avett Brothers
The Avett Brothers aren't fancy. The North Carolina Carolina quintet takes traditional folk instruments (banjo, acoustic guitar, stand-up bass) and then juices their plainspoken, deeply earnest songs with rock dynamics and a more than a touch of emo-scream vocalizing. Simple. But as far as the crowd at the What Stage, Bonnaroo's largest, was concerned, simple was hugely satisfying. Burning through boyish charming hoe-downs like "January Wedding" and "Distraction #74," the always smiling, usually bouncing Avetts, who acknowledged the advent of electricity for a few songs by plugging in and going slightly power pop for a few songs, showed that earthy melodies and a field full of heart are all they need to move the festival masses. D.M.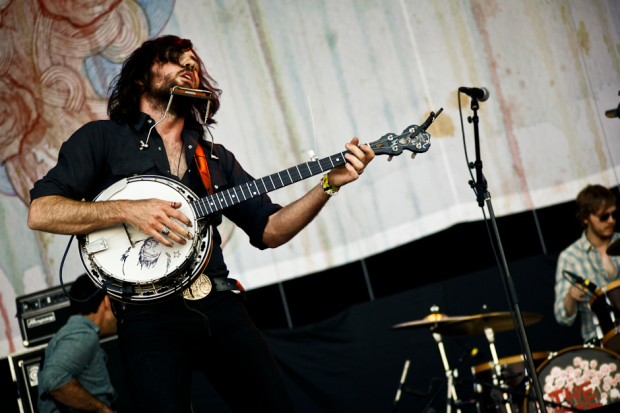 Dawes
Midway through their early evening set at the Other Tent, Los Angeles roots-rockers Dawes seemed like a particularly engaging variety of that perpetually underappreciated, yet crucial, festival band: the kind not quite distinctive enough to make you remember many of their songs, but with enough passion and talent to leave you feeling like you couldn't be seeing something better. Then they played "When My Time Comes." Singer-guitarist Taylor Goldsmith banged out a top-down highway riff. The rhythm section set off sparks. The organ swelled and swayed. The giddy Goldsmith yelped with passion. Each second, the energy kept rising and rising. Then, on maybe the third chorus, the frontman swung the microphone stand around so it faced the audience, who roared the lyrics right back at him. It was exactly the kind of spine-tingling moment that make festivals matter, and turns bands into beautiful memories. D.M.