It's been a long time since we last heard from Ladyhawke. The New Zealand synth-popper soared onto our radar back in 2009 with her supremely catchy self-titled debut, which was strong enough for us to peg her as one to watch. But two years of touring kept Ladyhawke (real name: Philippa Brown) out of the studio. When she finally was ready to record, she had to deal with sophomore-effort expectations. "In the recuperation time after finishing touring I started to overthink everything," she says. "People would say to me, "Oh, you're working the tough second album, eh?' And I'd say, 'It's supposed to be tough?' It became tough because I was building it up in my head. That's where the new album's name came from. I was getting lost in my own head."
She needn't worry. Anxiety, due out May 29, is just as punchy and fun as its predecessor, with plenty of sumptuous choruses and a lot more crunchy guitar. In advance of the album's release, we spoke with Ladyhawke about her influences.
Hear Big Pink's remix of the Anxiety single "Black White & Blue" here.
Stress
Definitely all the stress of being on tour and then having to write and record new music helped me with Anxiety. If I'd been happy I don't think I would've written the same record, you know? I would've come out with something completely different. I may not have even been inspired enough to write. I love having a fire in my belly. That was something that I had because I was really scared about disappointing people, and I knew I was going to go in a different direction. I wasn't going to stick with the same vibe that I had on the first album. I was really, really excited and keen to try something new but at the same time as taking that on I knew I might be disappointing some people. Trying to do my best under those circumstances was motivating.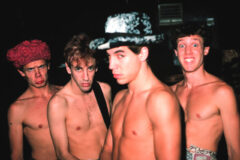 The Guitar
Even though there were a lot of synths on my first album, my passion for the guitar never went away. I've always loved Led Zeppelin and Jimi Hendrix and Black Sabbath. And when I was a teenager I listened to a lot of Nirvana and Britpop. I love playing solos and heavy stuff. You can hear a lot more of that on the new album. It's a cross between '60s and '90s guitar music.
David Bowie
David Bowie was a huge influence for me. He always has been. The song on the album where I was mostly influenced by his writing is "Sunday Drive." I mean, I'm taking stuff from him all the time and it may or may not sound like him, but that's one where it may be more obvious.
Smashing Pumpkins
I was such a big Smashing Pumpkins fan when I was a teenager. I used to play drums in a band when I was in high school and I remember sitting at the drums obsessively trying to learn "Cherub Rock." I can still play it, too! Siamese Dream is my favorite album of theirs. I use them more as inspiration than direct influence. They were like an awesome starting point for me and Anxiety and then I went on my own. I like the randomness of their guitar solos. It's just random notes with no structure at all. I don't know if it's James Iha or Billy Corgan but it doesn't even sound like they're playing any scale in particular. I always wished I could do something like that.
Sarah Larnach
Sarah is an artist. She did all the artwork for Anxiety and for my first album, too. We've been friends for years and years and years. She knows me really well. And I always said to her, "I don't want anyone else to do my art, just you." We got together to talk about the second album and the style of it and I really wanted to do something darker that was more line-drawing based and was really inspired by the Beatles' Revolver artwork. That's my favorite album cover. So Sarah brainstormed and she came up with all this amazing stuff. She just nailed it. She's so talented.