John Lydon is making it abundantly clear of late that he's ready to start making gobs of money off the never-ending reunion trend. The former Johnny Rotten and the Sex Pistols announced that the seminal band has signed a catalog deal with the U.K.'s branch of Universal to reissue their old material. According to Billboard, all that's slated for release so far are a repackaged, expanded edition of 1977's Never Mind the Bollocks, Here's the Sex Pistols and their 1980 mockumentary soundtrack The Great Rock 'n' Roll Swindle. (For what it's worth, the Sex Pistols were signed to Virgin/EMI when they released Never Mind the Bollocks the first time around.) Nothing like squeezing every last penny out of the legacy you share with your dead bandmate (we speak of the late Sid Vicious) and your dead manager to prove how punk you are!
In the deal announcement, Lydon proclaimed, in semi-verse form, that not only are "Sex Pistols … the greatest" when it comes to great music, but they're also sort of insane these days: "Universal now has a trophy room / Music is the imitation of nature / The Sex Pistols are nature, So please give generously. Thank You." By the sound of it, Lydon is fully aware of how abjectly sell-outy he's become.
The news comes on the heels of Lydon's announcement that his post-Pistols post-punk act Public Image Ltd. would be releasing new material for the first time in two decades; that record, tentatively titled This Is PiL and if we trust Lydon, consisting of "folk music," drops May 28 via their own PiL Official label imprint.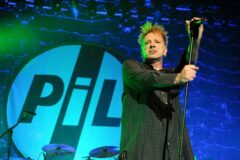 The new signing and PiL material are hardly the first in Lydon and the gang's post-career capitalization, considering the Sex Pistols' rerecording for "Guitar Hero" and their brief reunion in 2007 and 2008. We're going to be waiting on that new material forever, though, probably.
If you're really jonesing for more Lydon trivia, PiL re-emerged onstage for the first time in 18 years in 2010, and we were there to capture the magic.