One thing, among many, that separates Das Racist from comedy-rap outfits like the Lonely Island: The Brooklyn trio understands that humor is already one of the many things that hip-hop can do. You don't parody rappers from Snoop Dogg and Ludacris to Lil Wayne and Nicki Minaj; you compete with them. DR has offered up the first video from their new album Relax, out Tuesday, and it's in a similar joking-but-not spirit.
"I'm fuckin' great at rapping," Himanshu Suri declares on the song, the previously leaked "Michael Jackson." While DR's Suri, Victor Vazquez, and Ashok Kondabolu spout references to old TV shows, other rappers, and even their own novelty breakthrough "Combination Pizza Hut and Taco Bell" ("Whaaaat?"), the visuals — by Weird Days, who've helmed clips by Delorean and the Black Lips — allude to the Last Supper, a Harold and Kumar-style terrorism interrogation, The Simpsons, Saturday Night Live, and even Animal Collective's Panda Bear.
As Stereogum points out, the closing face-morph sequence — itself a nod to Jackson's 1991 "Black or White" video — also features a whole host of guests, including El-P, Vampire Weekend's Rostam Batmanglij, and many others.
Das Racist haven't only been working on their own tracks. The hip-hop act recently remixed TV on the Radio's "Caffeinated Consciousness," adding their own Power Rangers-invoking rhymes.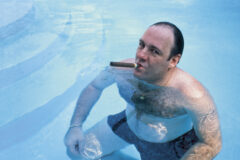 WATCH: Das Racist, "Michael Jackson"