Taylor Swift might have nabbed the year's biggest prize, but it was all about Beyonce Sunday night at the 52nd annual Grammy Awards.
When the three-and-a-half-hour ceremony at the Staples Center was over, the pop diva led the pack with six statues. She won Song of the Year with "Single Ladies," Best Vocal Performance for "Halo," and Best Contemporary R&B Album with I Am…Sasha Fierce, setting a new record for the most Grammys won in a single year by a solo female performer.
Beyonce also owned the night's most powerful performance, singing "If I Were A Boy" and a cover of Alanis Morrisette's "You Ought to Know" along with 50 backup dancers decked out in riot gear.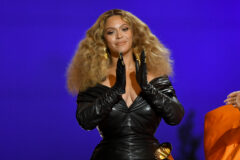 She even took the opportunity to acknowledge her marriage to rapper Jay-Z for the first time publicly.
"I'd like to thank my family including my husband," she said. "I love you."
20-year-old Swift was the second-most honored artist, nabbing four statues and setting a new record as the youngest musician to ever to receive the coveted Album of the Year award.
SPIN cover boys Kings of Leon nabbed three awards, including Record of the Year and Best Rock Vocal Group Performance for their Only by the Night single "Use Somebody."
"I'm not going to lie, we're all a little drunk," said lead singer Caleb Followill. "But we're happy drunks!"
Other big winners included Black Eyed Peas and Jay-Z with three awards each; Hova won Best Rap Song for his collaboration with Rihanna and Kanye West on "Run This Town," and beat Drake, Eminem, Kid Cudi, and Mos Def for Best Rap Solo Performance for "D.O.A. (Death of Auto-Tune).
Lady Gaga scored two, winning for Best Dance Recording ("Poker Face") and Best Electronic/Dance Album (The Fame), while Eminem also won a pair, including Best Rap Album Relapse.
Other notable winners include Green Day, who scored Rock Album of the Year with 21st Century Breakdown; French popsters Phoenix, who won for Best Alternative Music Album for Wolfgang Amadeus Phoenix; and Best New Artist victor the Zac Brown Band.
The three-hour show opened with Lady Gaga — dressed in a sparkly leotard laced with teal sequins — who performed "Poker Face," was dumped into a furnace by her dancers, then emerged, soot-covered, to perform on dueling pianos with Elton John. The duo melded Gaga's "Speechless" with Sir Elton's 1970 ballad "Your Song" in one of the night's most unique performances.
Stephen Colbert — who won for Best Comedy Album — dropped a little humor as the awards presentations began: "We're here to celebrate our most precious right: the right for celebrities to congratulate each other," he quipped, and then encouraged his teenage daughter to stay away from Katy Perry.
Next, Jennifer Lopez introduced Green Day, who performed their 21st Century Breakdown single "21 Guns" alongside the cast of American Idiot, a new musical modeled after the band's multi-platinum 2004 album.
Pink — in a revealing, strappy white get-up — sang "Glitter in the Air," flying above the crowd in a Cirque du Soleil-style swing.
Black Eyed Peas played a medley of "Imma Be" and "I've Got a Feeling"; Jamie Foxx, T-Pain, and Slash collaborated on "Blame It on the Alcohol," complete with a "November Rain"-aping solo; Taylor Swift performed new single "Today Was a Fairytale" and was joined by Stevie Nicks on a medley of Fleetwood Mac's "Rhiannon" and Swift's own "You Belong With Me"; and Leon Russell sat in with the Zac Brown Band for "America the Beautiful," "Dixie Lullaby," and "Chicken Fried."
Usher, Celine Dion, Carrie Underwood, Smokey Robinson, and Jennifer Hudson joined in a tribute to Michael Jackson, performing "Earth Song" as 3-D video of the King of Pop rolled onscreen. To a standing ovation, Jackson's two eldest children — Prince and Paris Jackson — then appeared onstage to accept their father's posthumous Lifetime Achievement Award.
Later, Bon Jovi played "We Weren't Born to Follow," "Who Says You Can't Go Home," and "Livin' on a Prayer," the latter of which was selected by viewers at home. Dave Matthews Band performed "You & Me," from their 2009 album Big Whiskey and the GrooGrux King.
The show's final performance was a fiery hip-hop collaboration starring Lil Wayne, Eminem, and newcomer Drake on a remixed version of Weezy's "Forever" with Blink-182's Travis Barker on drums. The performance was likely New Orleans-bred rapper Wayne's final public appearance before beginning a jail sentence for gun possession in February.
So, SPIN readers, what did you think of the 52nd Grammys Awards? Tell us in the comment section below.