We've been advised that Jay-Z's new album is officially on its way. And we've been told (by Kanye, no less) that it's "anti-Auto-Tune".
But Friday night, New York radio station Hot 97 had the honor of offering proof when it premiered Jay's new song "D.O.A." or "The Death of Auto-Tune."
"This is anti-Auto-Tune, death of the ringtone," Jay begins, rapping over a track produced by No I.D. with jazz horns wailing in the background.
"My raps don't have melodies," he continues. "This ain't a No. 1 record, this is practically assault with a deadly weapon."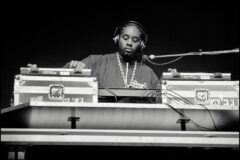 Later Friday night, the man himself called into Hot 97 to explain his lyrical assault on Auto-Tune.
"The guys who did it, did it great," he said, going on to list T-Pain, Kanye West, and Lil Wayne as examples before suggesting that perhaps they too should steer clear of the voice-enhancement technology. "Let's move on," he said. "That's just my opinion. I don't know if everybody feels the same way."
He may divide popular opinion, but there is sure to be a couple of Coldplay fans the rapper can count on to back up their "Uncle Jay" .
LISTEN: Jay-Z, "D.O.A."