It's been five years since Eminem's last record, Encore, and on occasion, the world has felt somewhat empty without him. But that's nothing compared to the emptiness he feels. The death of his bro Proof, pill addiction, weight gain, rehab, three whole seasons of Rock of Love — it's enough to make a 36-year-old pop star want to write a couple zillion rhymes about slicing up women. And so he has. Relapse is undiluted world-hate, a comeback record that screams: Don't you wish I was still gone?!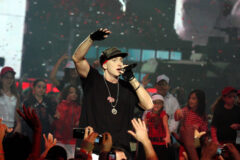 The 20-song, Dre-doctored disc is a poison popsicle — Em opens an umbrella in a girl's hoo-ha, drops gross-outs like "I smell the scent of a placenta," drugs/murders Britney, kidnaps/murders Lindsay, and rapes and rapes and rapes. Those group sessions at Brighton Hospital must've been a hoot.
Somehow, years of Percodan/Doritos highballs haven't blunted his lyrical dexterity — "Swallowin' the Klonopin while I'm noddin' in and out on the ottoman at the Ramada Inn," he rhymes on "3 A.M." But there's little of his early music's gonzo bounce, his joy in tweaking us. Relapse transforms the famous-guy self-pity of 2003's The Eminem Show into a standard gothic comic-book plot: stepdad sexually abuses him ("Insane"), mom does drugs ("My Mom"), and our hero is left to wander the permanent midnight, gobbling tranquilizers, avoiding eye-contact at record-industry functions, and mauling (more) celebrities with power tools. Dre's horror-show funk attempts to give the nihilistic grind some operatic pomp.
But once you're acclimated to the carnage, tedium sets in. Relapse is really just another overlong summer blockbuster. We sit through it, then go look at pictures of kittens on the Internet, and wait until our souls snap back into place. Eminem has made the world that crushed him a little less fun for us too.
WATCH: Eminem, "3 A.M."
BUY: