What do you get when you take an electro-rock sextet from Edmonton, Alberta, and add a twenty-four-year-old rapper who has been called Canada's Dizzee Rascal? Flames!
"Coming Home," the seven-minute track from the Shout Out Out Out Out's second album, Reintegration Time, showcases Cadence Weapon(aka Rollie Pemberton) rapping about facing one's demons.
As the band's synthesized dance beats roll on, Mr. Weapon comes "face to face with original sin." Then all the instruments burst into flames, which eventually start swaying to the beat. Kinda….cool.
Check out the video below. Then tell us if it's worthy of Dizzee or just plain dizzy.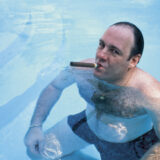 WATCH: Shout Out Out Out Out, "Coming Home" Ft. Cadence Weapon