Over the next thirty years he established himself as one of the greatest, most sought after portrait photographers in America. His work appeared in Vogue, Vanity Fair, The Face and, of course, SPIN, because we knew a good eye when we saw one. (And still do — he's shot several of our recent covers, including UPSAHL and Ice T.
In 2018 he moved to Los Angeles — apparently the light's better? — and continues to bedazzle with extraordinary photo shoots and videos. Here, you should just check out his website and see for yourself, rather than me droning on like I have some sort of crush on the guy.
Currently he is writing and directing his first film, Bad Donna, which he calls "a psychological thriller and character analysis of a disturbingly beautiful middle aged woman living in Los Angeles." Ex-girlfriend, Chris? You can tell us…
Rap has always been about the image, hasn't it? Much more so than most rock or pop (I mean, look at some hair metal band pictures for a while if you doubt that — I've seen more emotive passport photos).
Rap had a point to make. You came to rap, rap did not come to you. So there was a fierceness inherent in rap photographs — not exactly a menace (and not exactly not a menace), more an uncompromisingness. There were no apologies. Ever.
The best photographers captured that in the wholeness intended (the average ones simply gave us weak snapshots and, at worse, caricatures). And Witkin, being among the best of the best, gave us the truth.
Starting in 1994, when he was asked to photograph the Gravediggaz for their album cover, Christian has photographed more than two dozen rappers. These presented here are some of his best pictures.
But he missed some. "There are several hip-hop artists I wanted to photograph but haven't," he says, "or not yet anyway [and he won't be able to the first two] — Biggie Smalls, Tupac, PE'S Chuck D and Flavor Flav, Dr.Dre, Jay-Z, Ice Cube, Eminem, Kendrick Lamar and Kanye West."
I asked him if he thought women rappers had it tougher than men in the business, and added that my instinct was that they didn't, because, other than the feuds we all know about, hip-hop seems actually very inclusive and supportive.
"I feel fortunate to have shot all these extraordinary rappers. But I don't pretend to be the hip-hop encyclopedia. So as to if women rappers had it tougher than male rappers, I could only assume that they did. Of the 25 artists or groups that I photographed, just 6 were female," he told me.
What, I asked, were some strong memories of the shoots?
"Foxy Brown was difficult, we didn't gel 100%. I showed her a polaroid and she freaked out that her purple streaks in her hair weren't showing up enough. I explained that the Polaroid film tends to muddy-up darker colors, but she wasn't having it! I asked her to trust me, then she warmed up. Missy Elliott was freakin' adorable and fun! Lil' Kim was a bit mechanical, but professional. Nas barely spoke. Rakim was a bit intimidating but a class act. Sisqo was willing to do anything! Snoop Dogg was so blitzed it amazed me how focused and professional he was to my direction. But Tricky was the most intoxicated of 'em all!"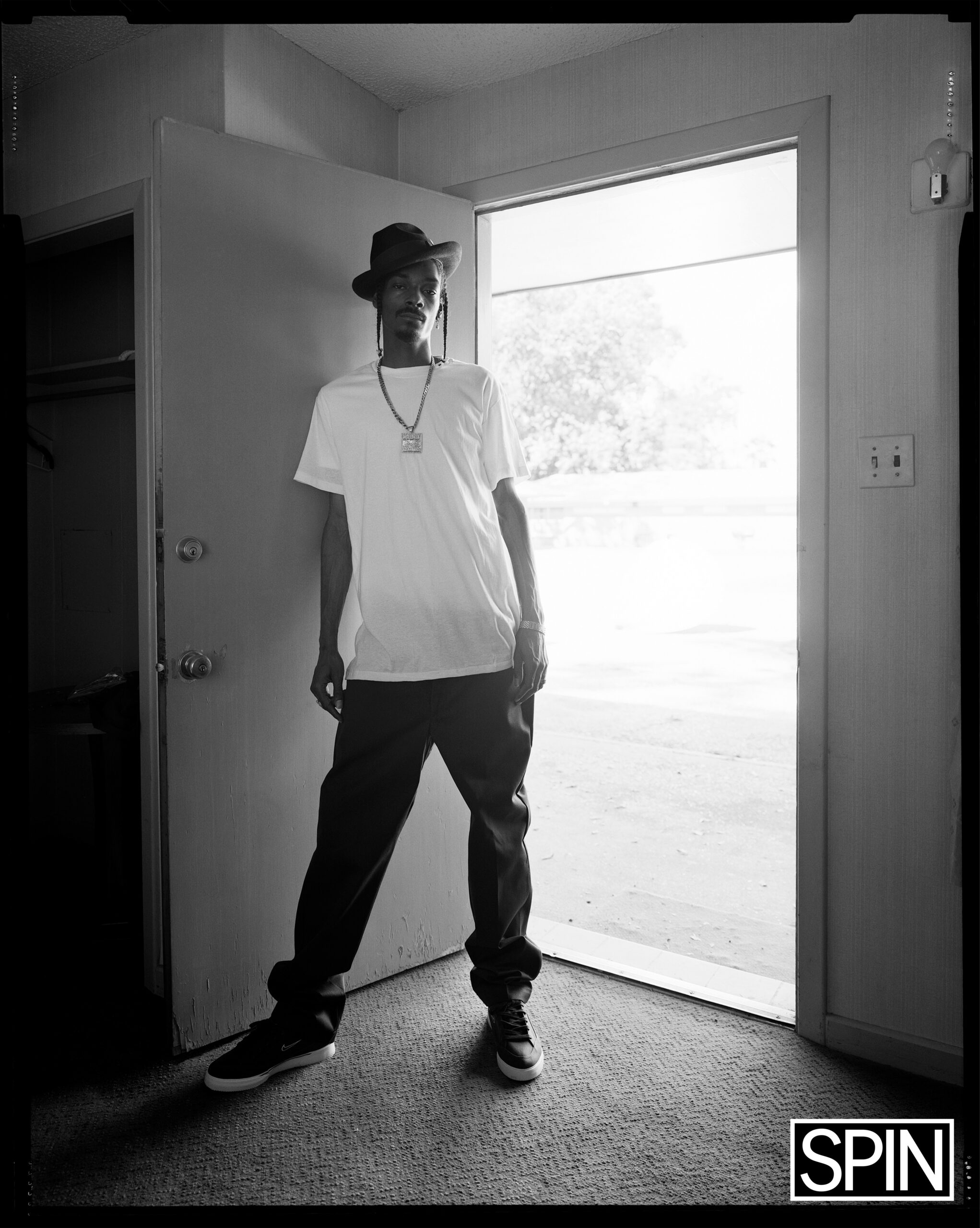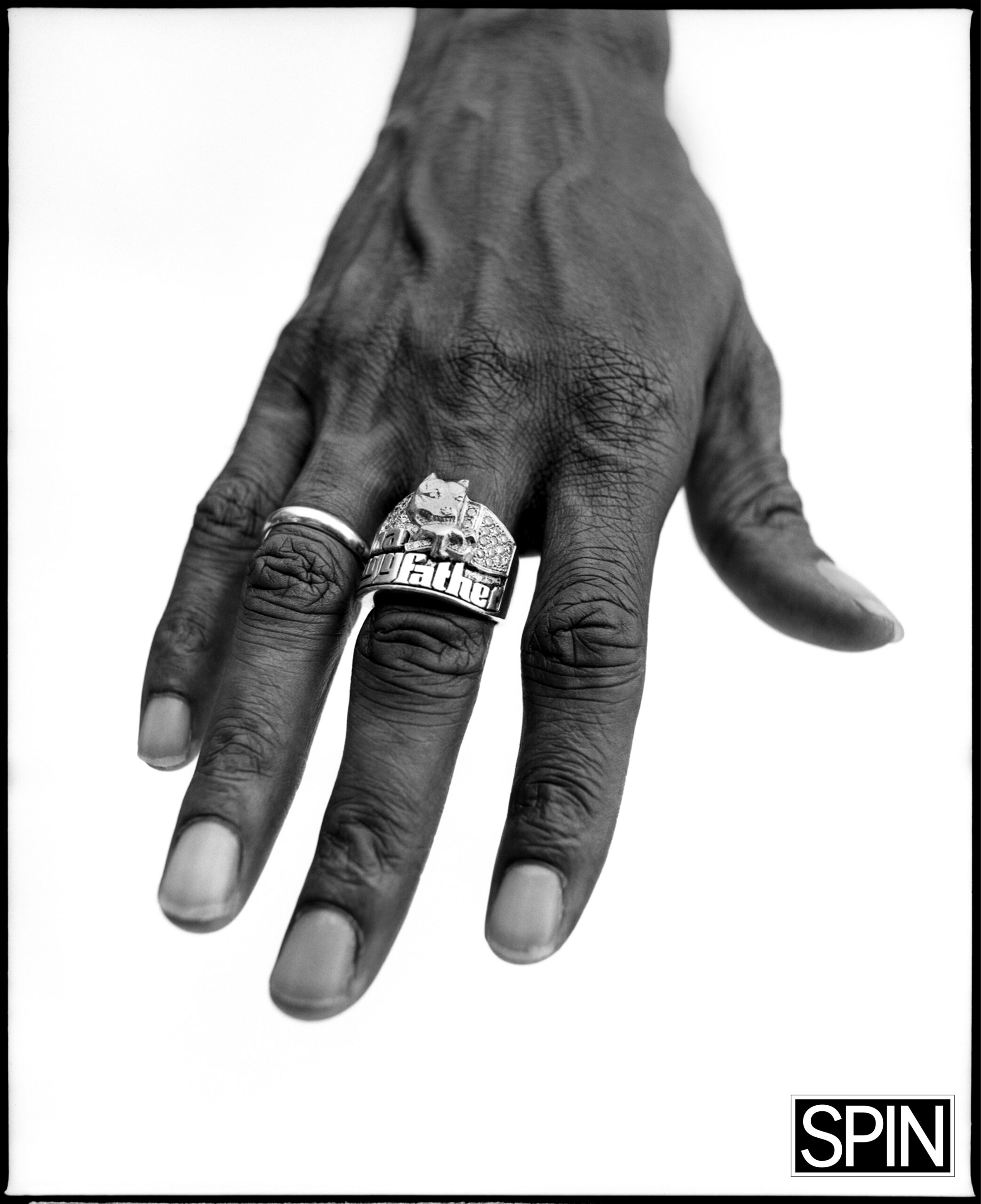 SNOOP DOGG, BATON ROUGE, 1998
Snoop and his posse were great. They arrived at the motel where the shoot was to take place, in Baton Rouge, Louisiana, in 1998. They parked their vehicles and busted out the weed, the gin and juice and bottles of Old English malt liquor. Snoop was the ringleader and all his homies came along for the ride.
Snoop liked my ideas for the shoot. I noticed how he was taken by the large format camera I frequently use. It is a classical photographic approach where you focus on the subject under a black cloth, then close the lens, then you put in the film holder, pull the slide and make the exposure.
It's a slow process, but some of my subjects like it because it gives them something to focus on. It becomes a bit of a timing game. Any case, as stoned and buzzed as he was, he was entertained by this and super focused. He hardly spoke to his posse. This guy was on another wavelength. I was impressed. My favorite is the picture of his hand. We see so much of his likeness that his hand becomes this new, separate entity.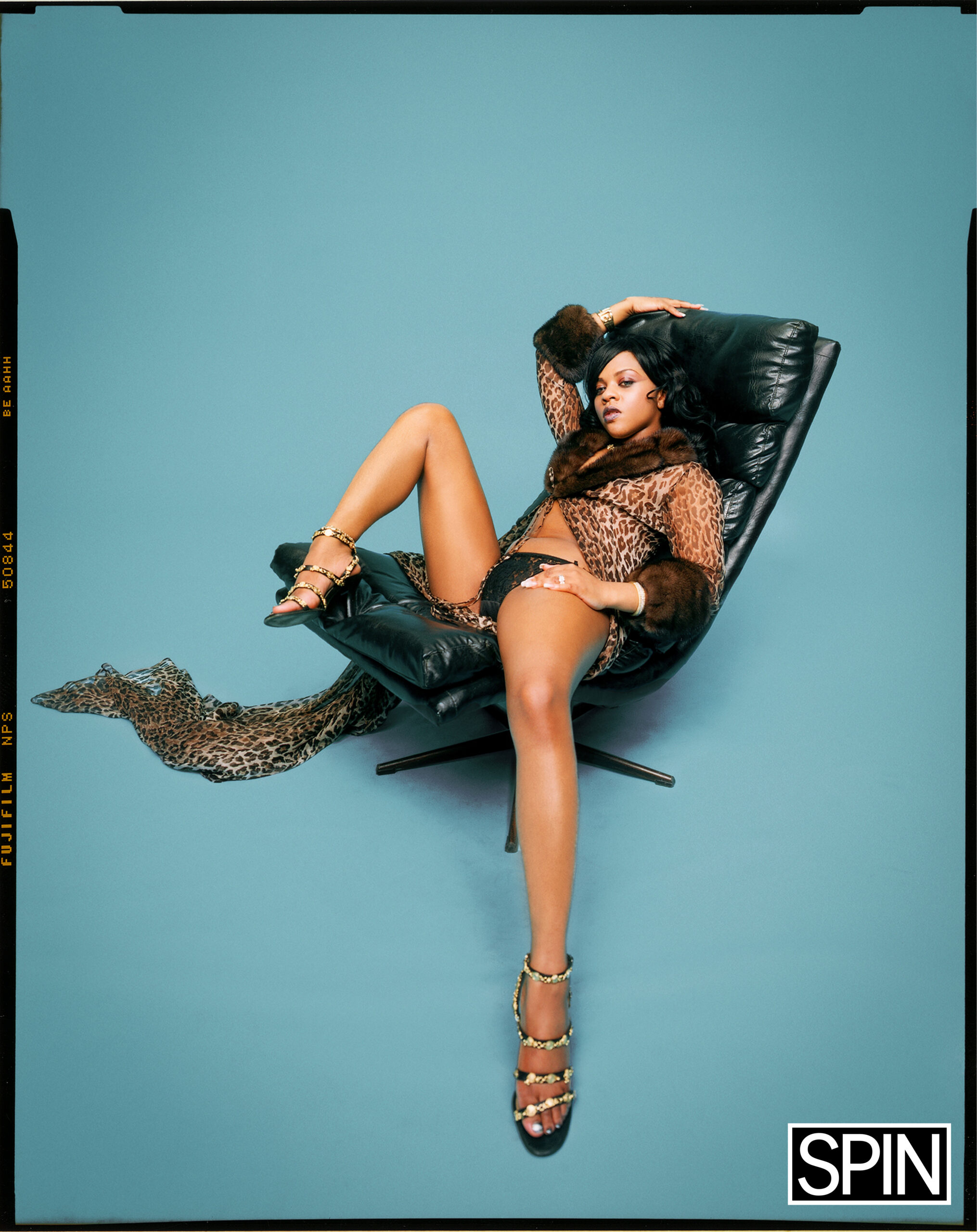 LIL KIM, NYC, 1997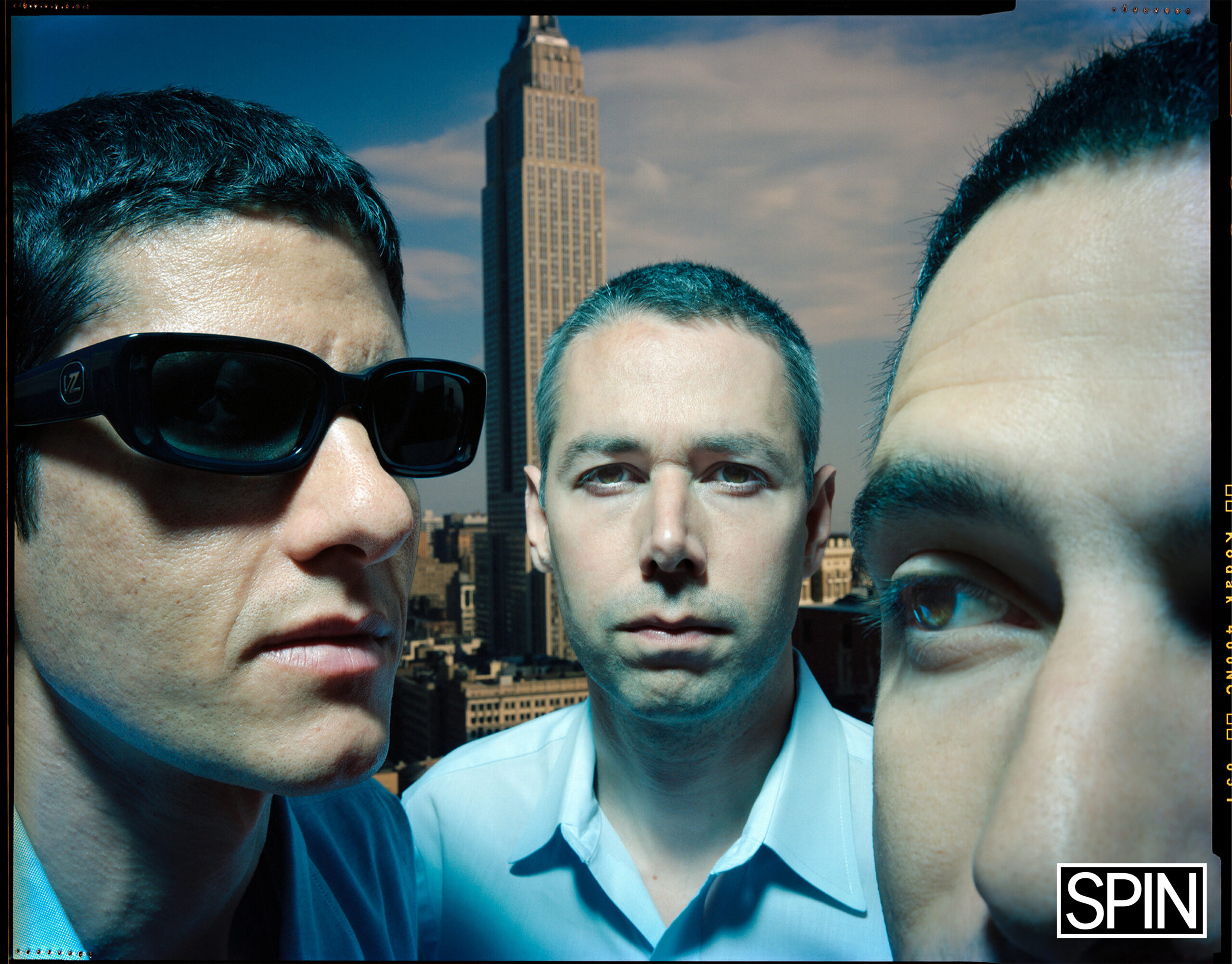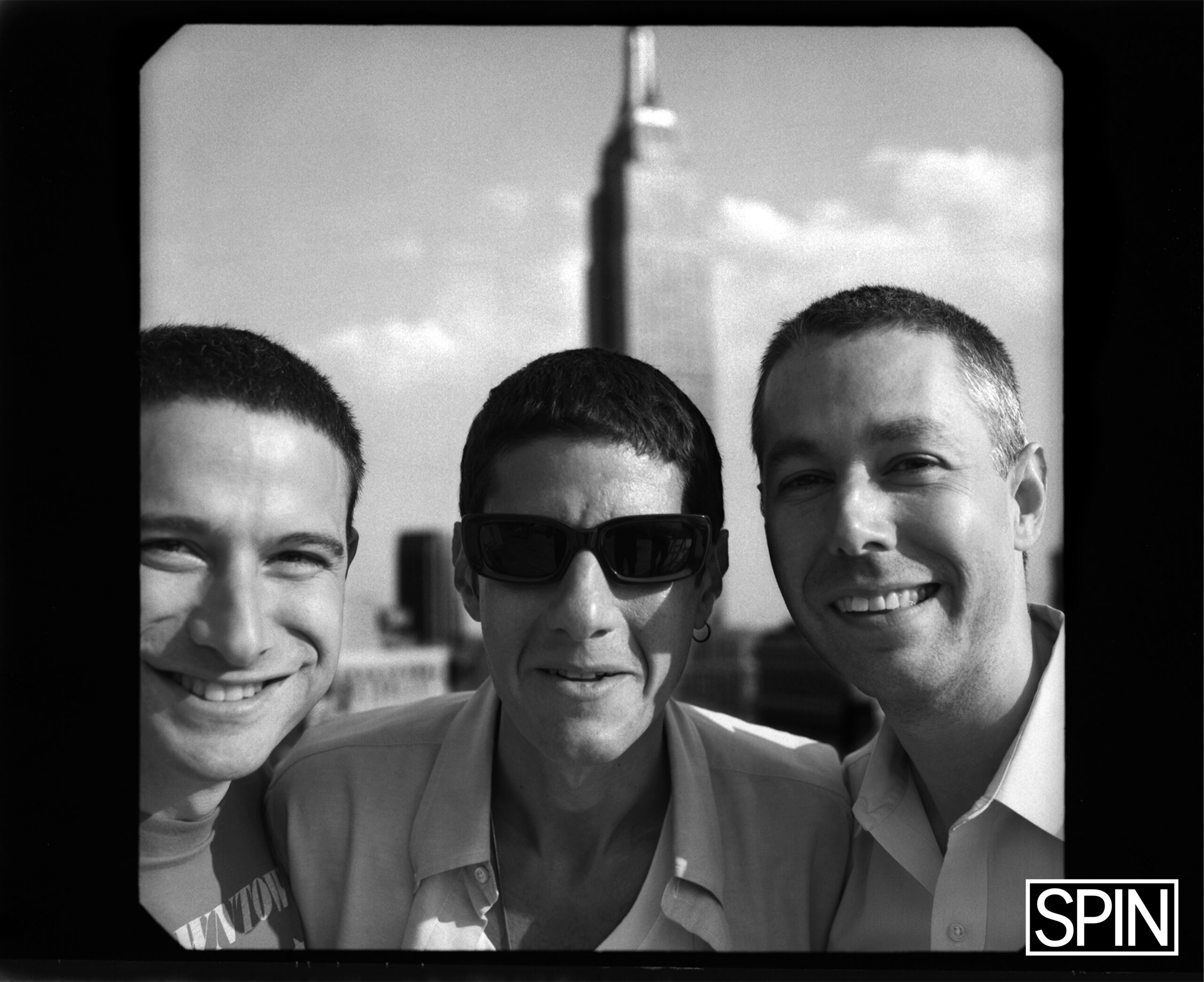 BEASTIE BOYS, NYC, 2000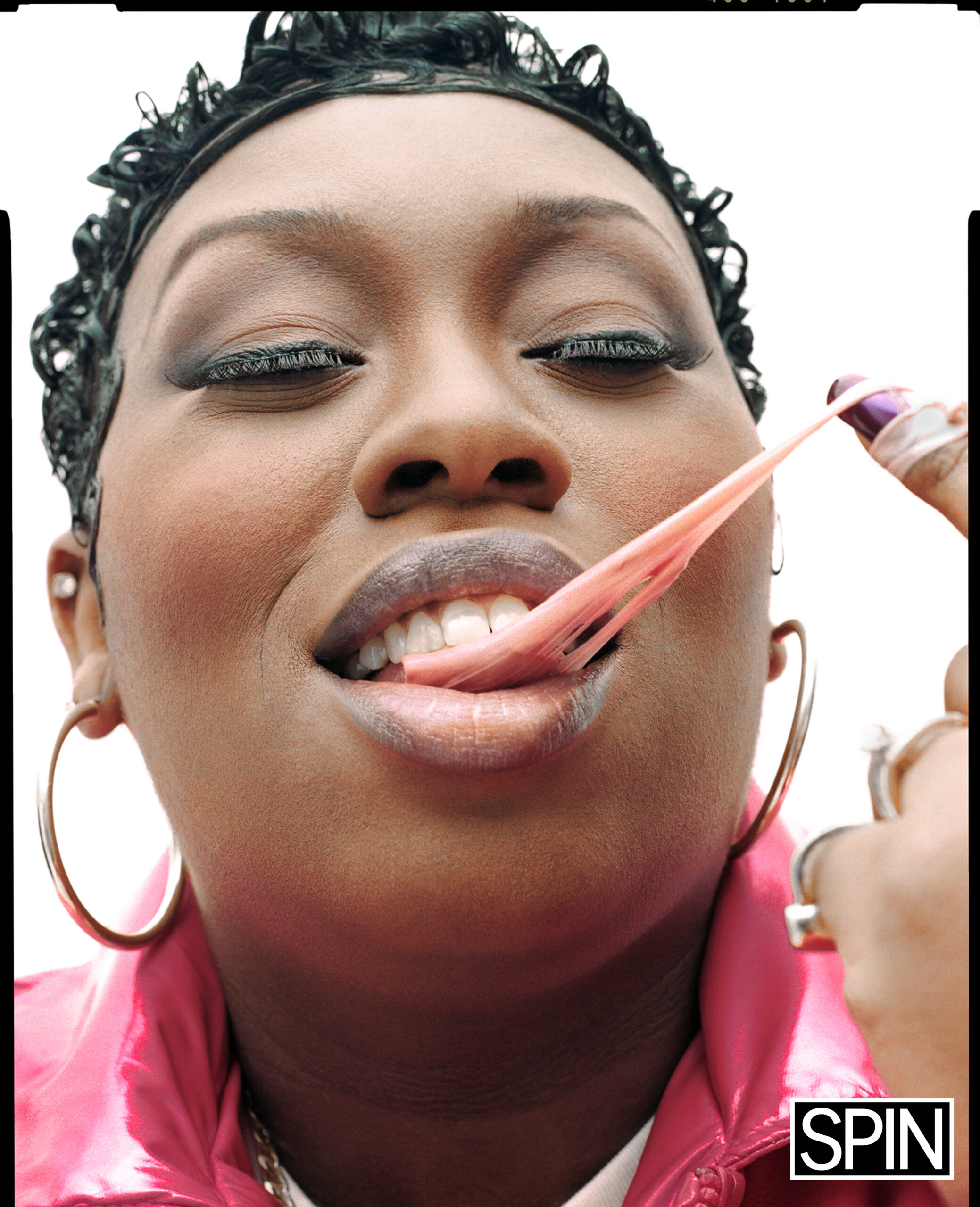 MISSY ELLIOTT, NYC, 1998
Missy Elliott entered my studio in a jolly fashion with a bunch of her girls. They were a loud and colorful group. They were all chewing pink Bazooka gum. When she got in front of the camera, she asked me if she should toss her gum, but I already planned on doing a close up portrait with her blowing bubbles. I said not yet, first I want you to grab some fresh gum and have some fun with it! Definitely one of my favorite shoots.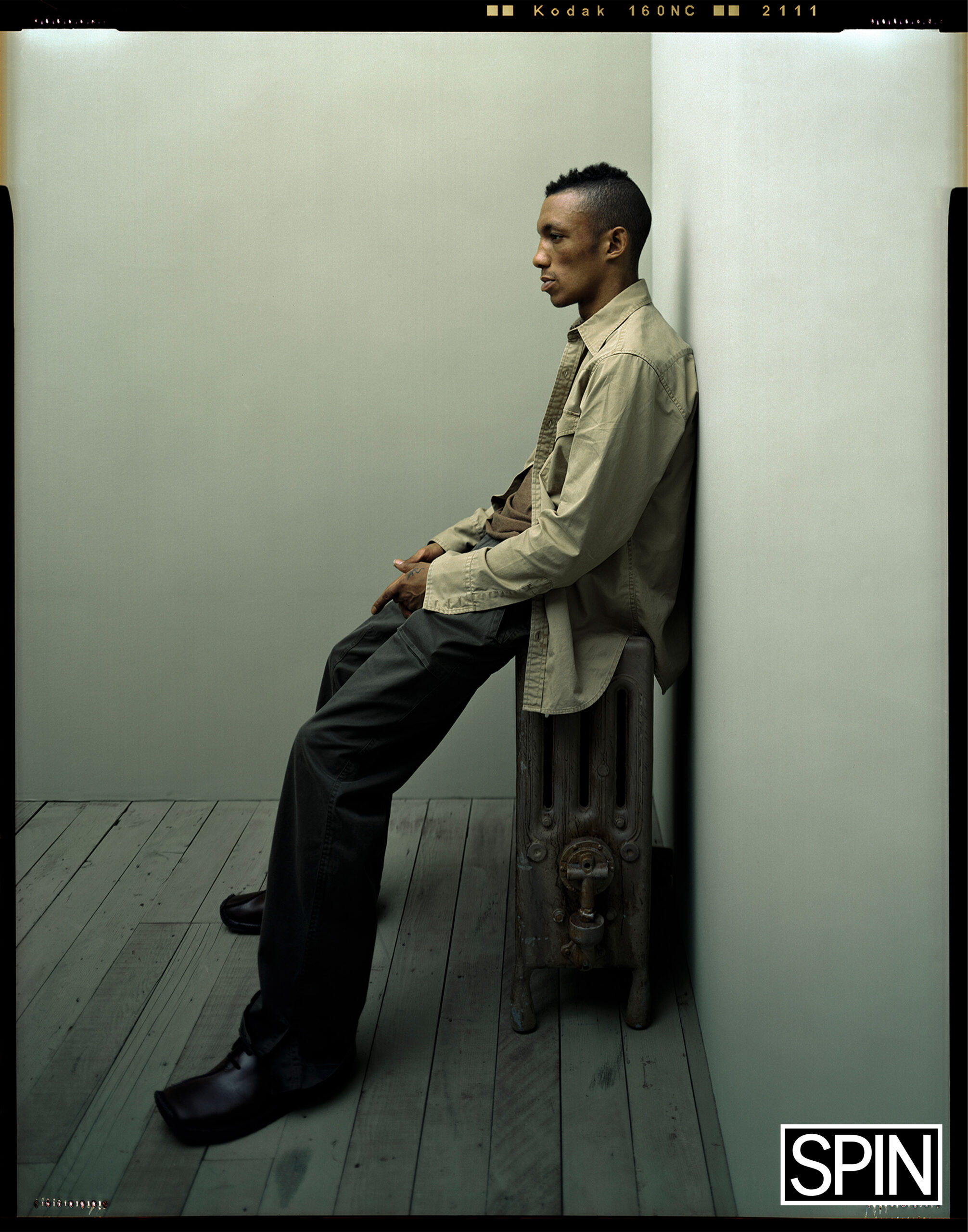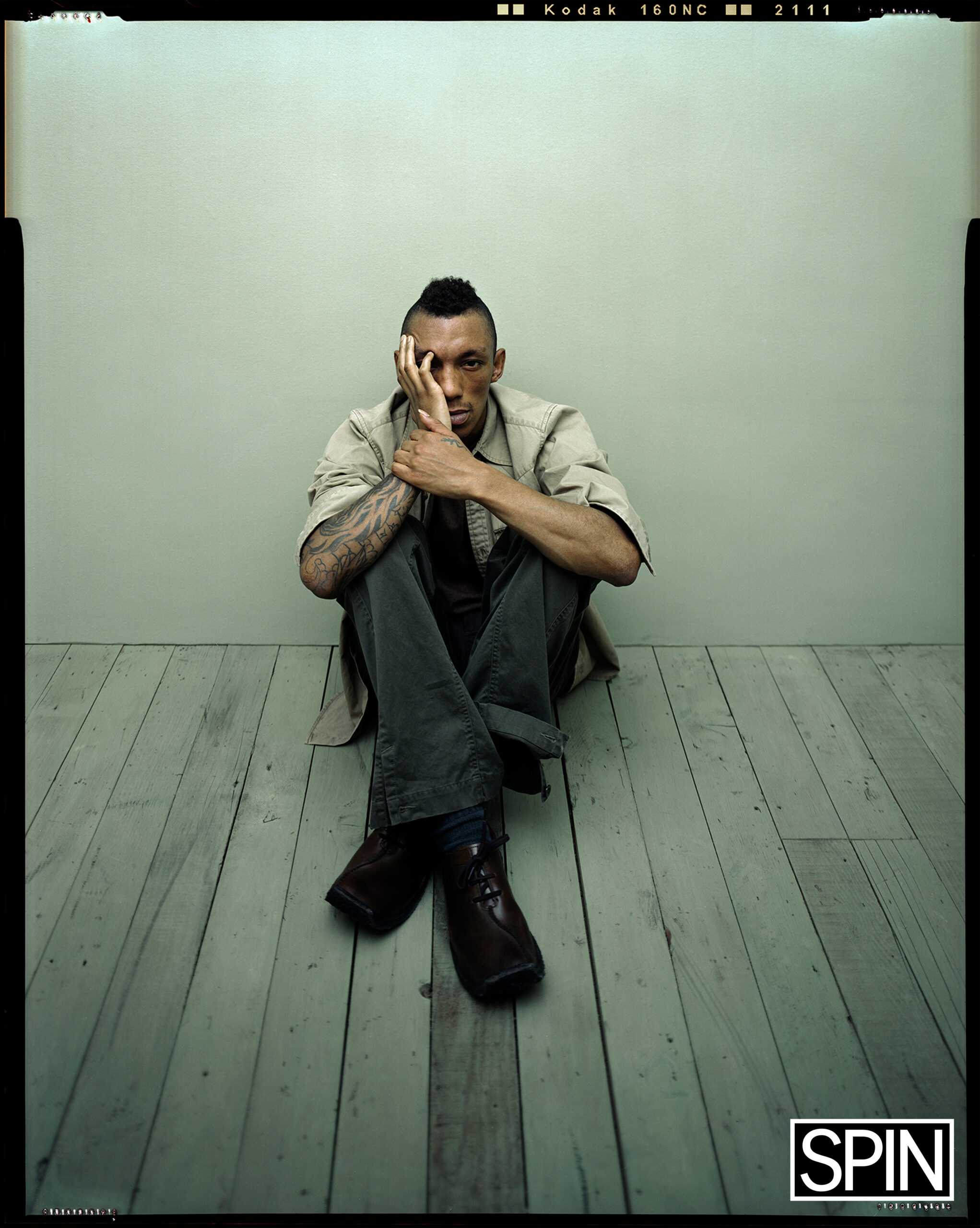 TRICKY, LA, 2001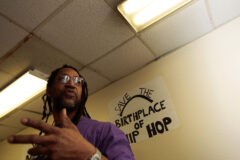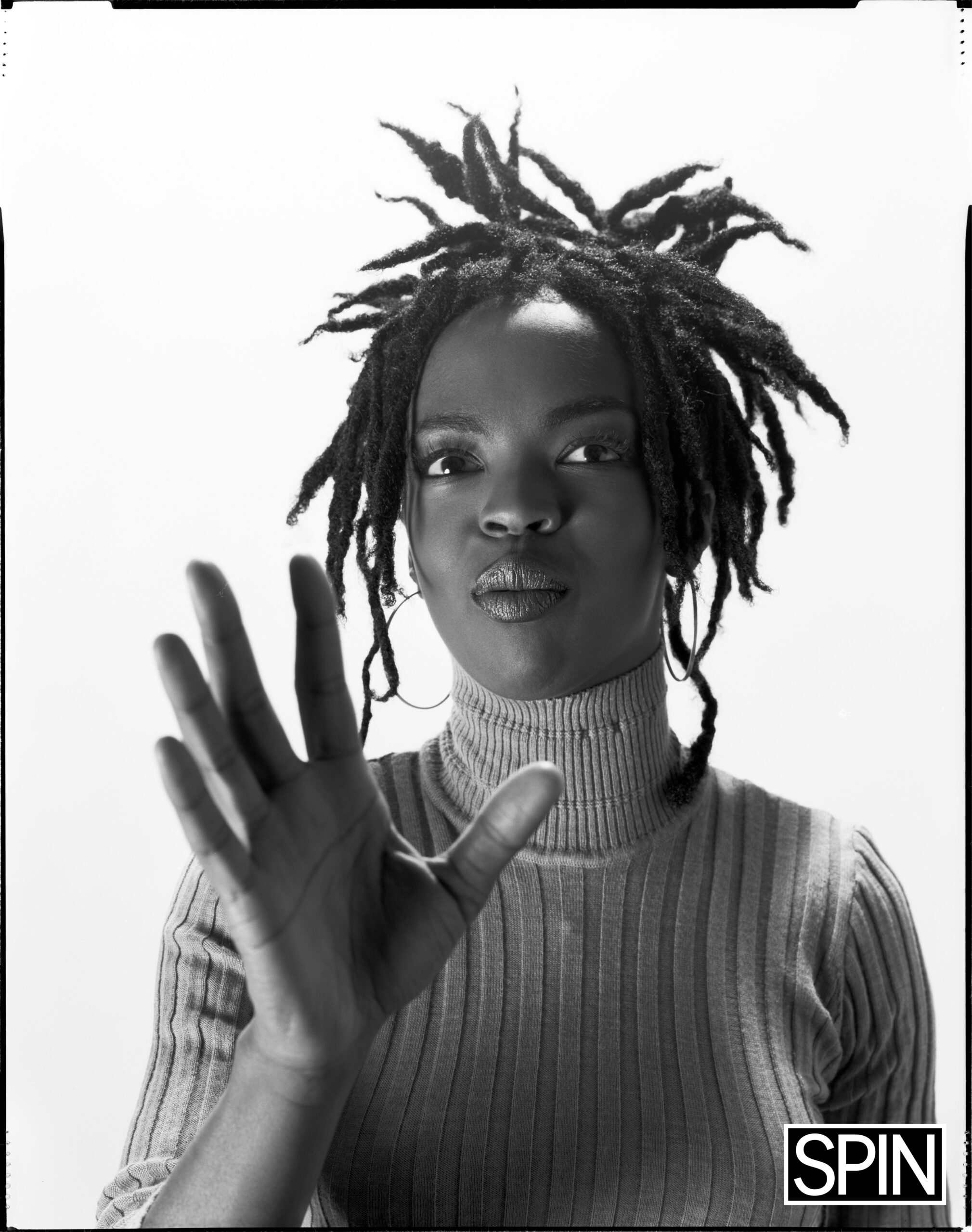 LAURYN HILL, NYC, 1998
I photographed Lauryn Hill for New York magazine in the Rainbow Room at the top of the World Trade Center. We had to go through security clearance with all our equipment, and had to come up the freight elevator to, like, the 146th floor or something crazy. When we finally arrived and got the lights and cameras up, she made this really elegant entrance. She was humble, smiled a lot and was oh so gorgeous. I remember how her skin glowed and how she moved effortlessly. I was definitely smitten!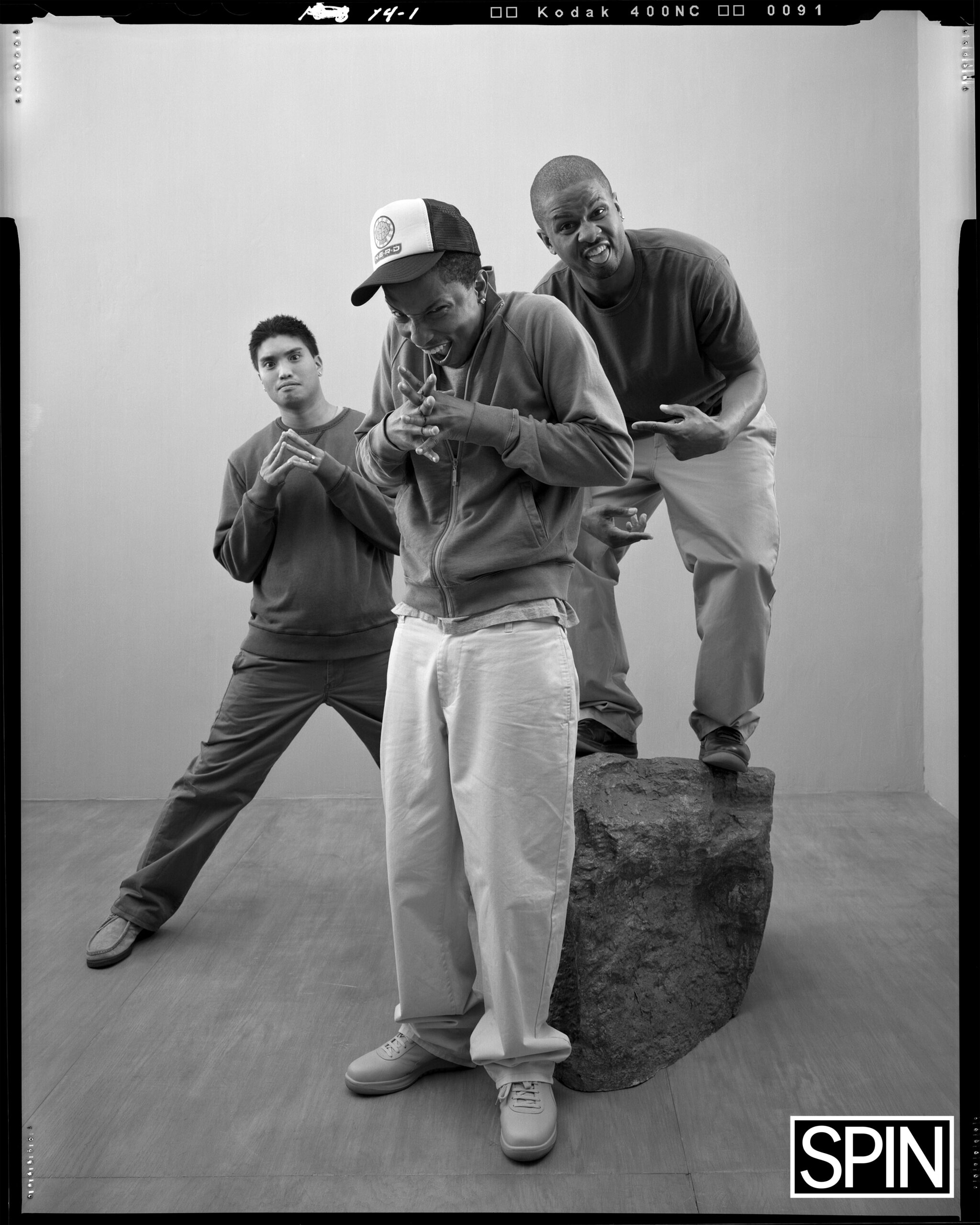 N.E.R.D, LA, 2001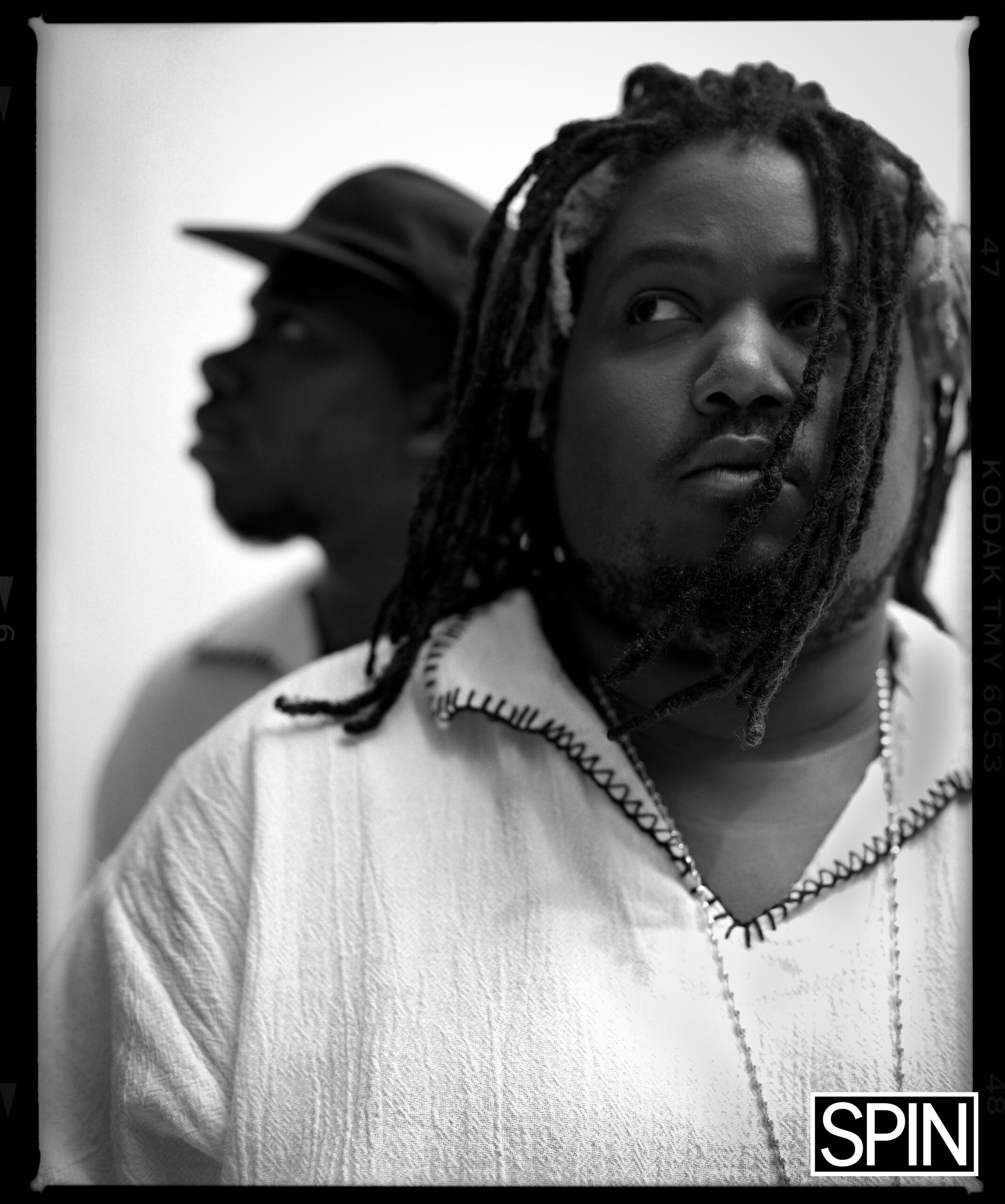 PM DAWN, NYC, 1994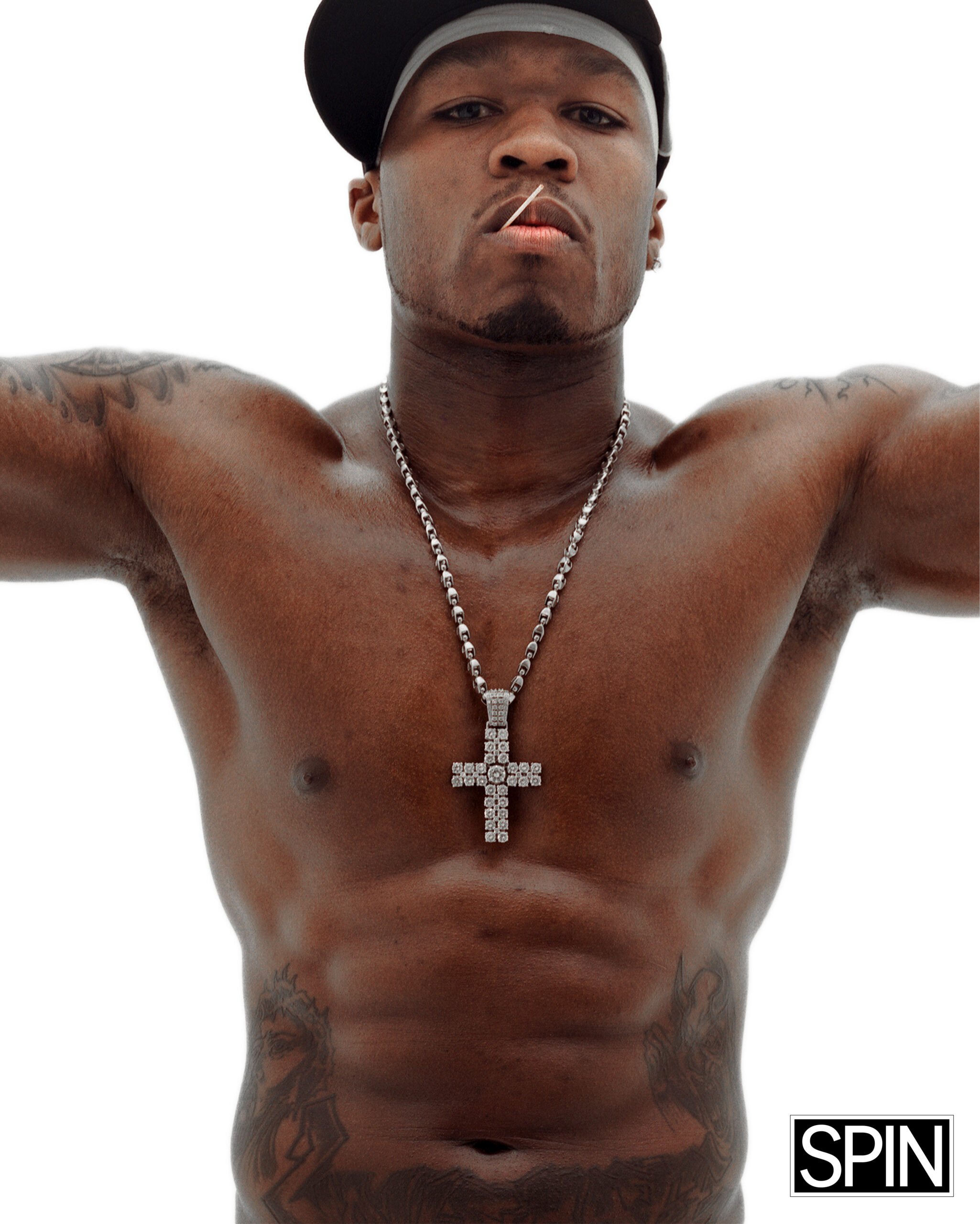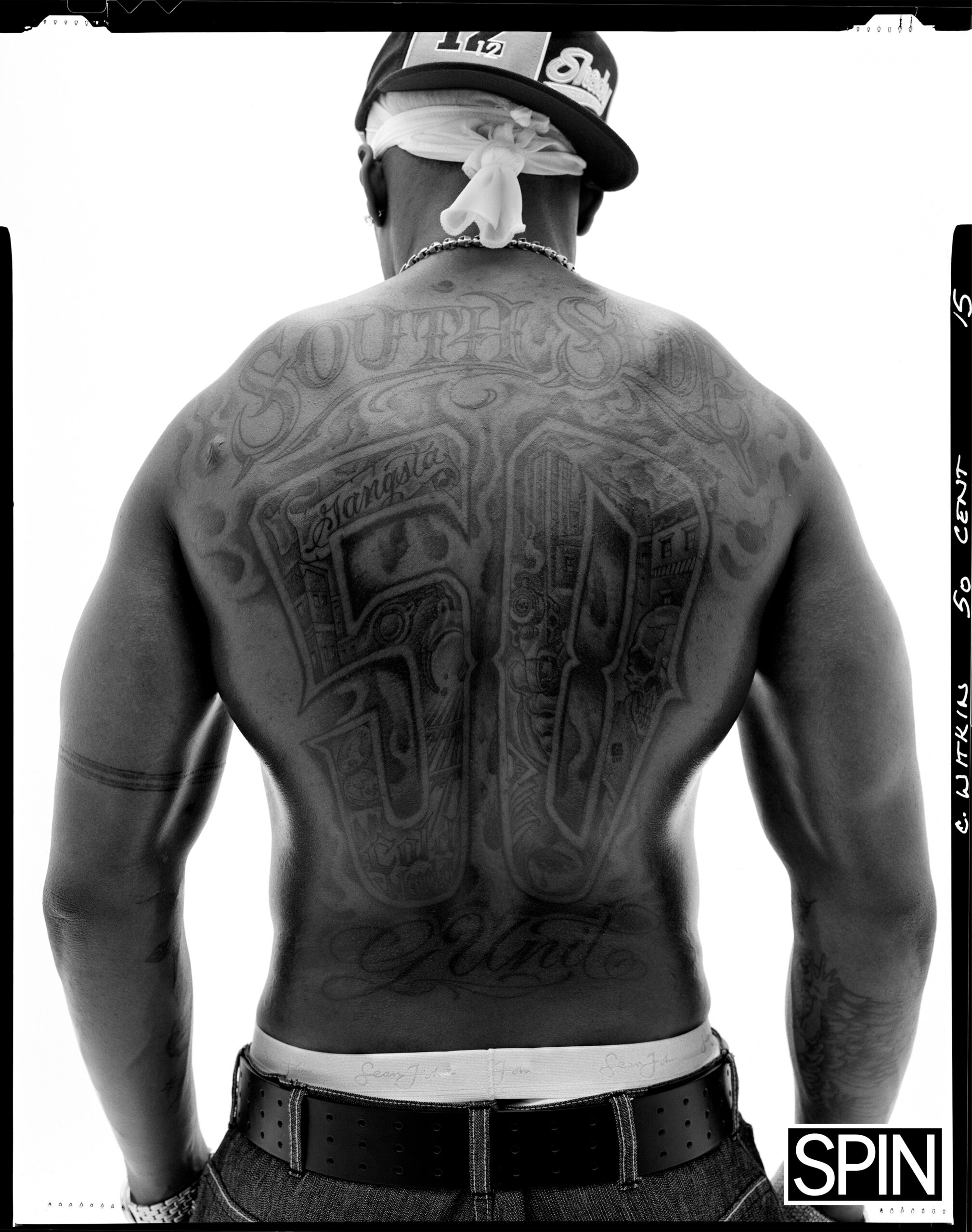 50 CENT, NYC, 2003
One memory that sticks out was my 50 Cent Vibe cover shoot.
We were having a great shoot, good vibes, Curtis behaving and his posse in check. I go up to 50 and propose an idea. I have this large, diffuse glass panel where I want him to create shapes with his body, which is diffused by the glass texture so it plays into this enigmatic abstract visual.
He cocks his head, squints his eyes and slowly turns to me and says: "Nah man, that's too fruity…" I stood silent for a second but then we all started dying of laughter. Sometimes you have to see how far you can push it with your subject.
50 Cent brought a large posse with him, and they all headed straight for the catering! The bodyguard was 6'8" and around 400 lbs. He grabbed a wooden chair from my personal prop collection and sat down and 30 seconds later the chair literally imploded! The guy didn't even apologize. Me and that chair were close.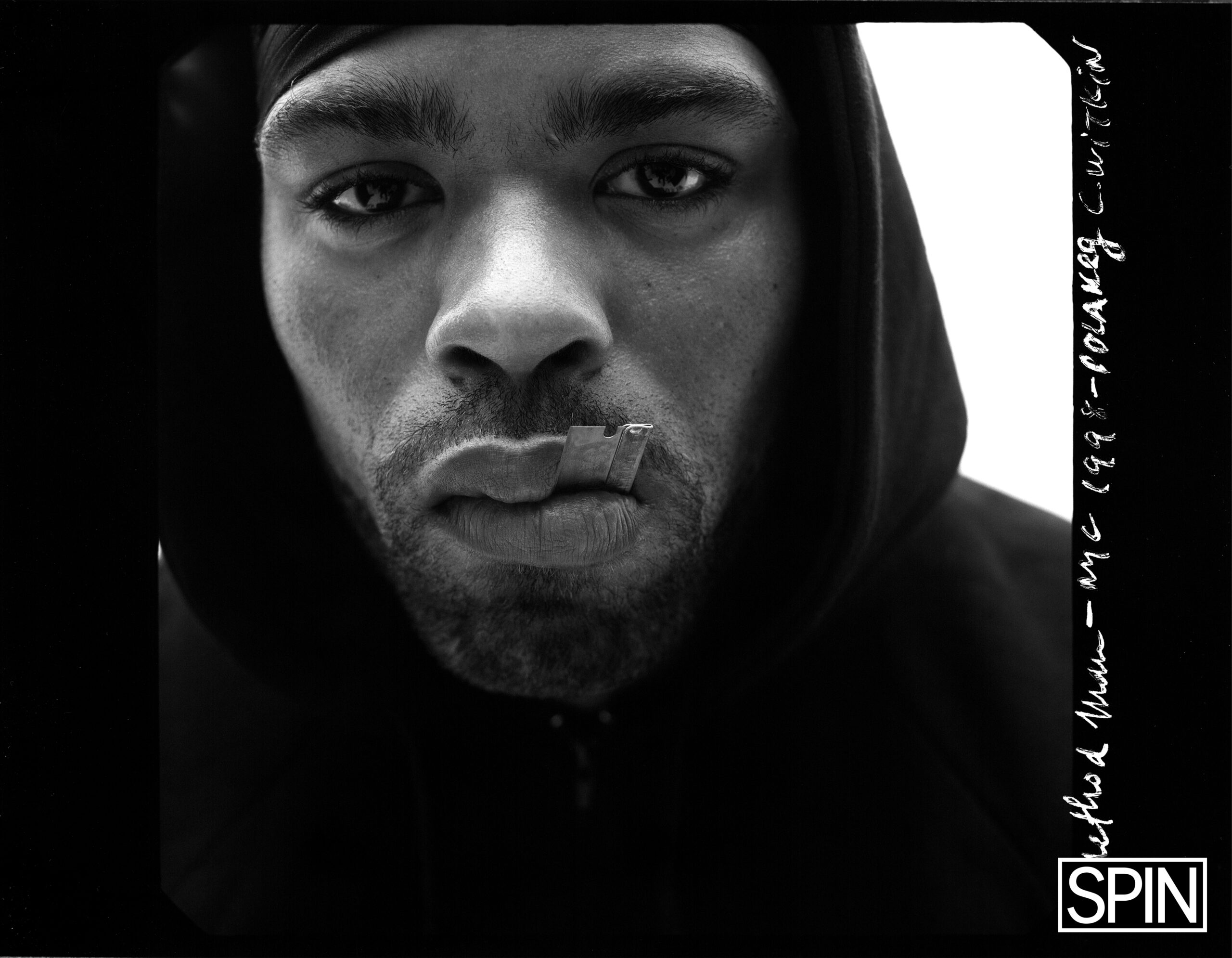 METHOD MAN, NYC, 1998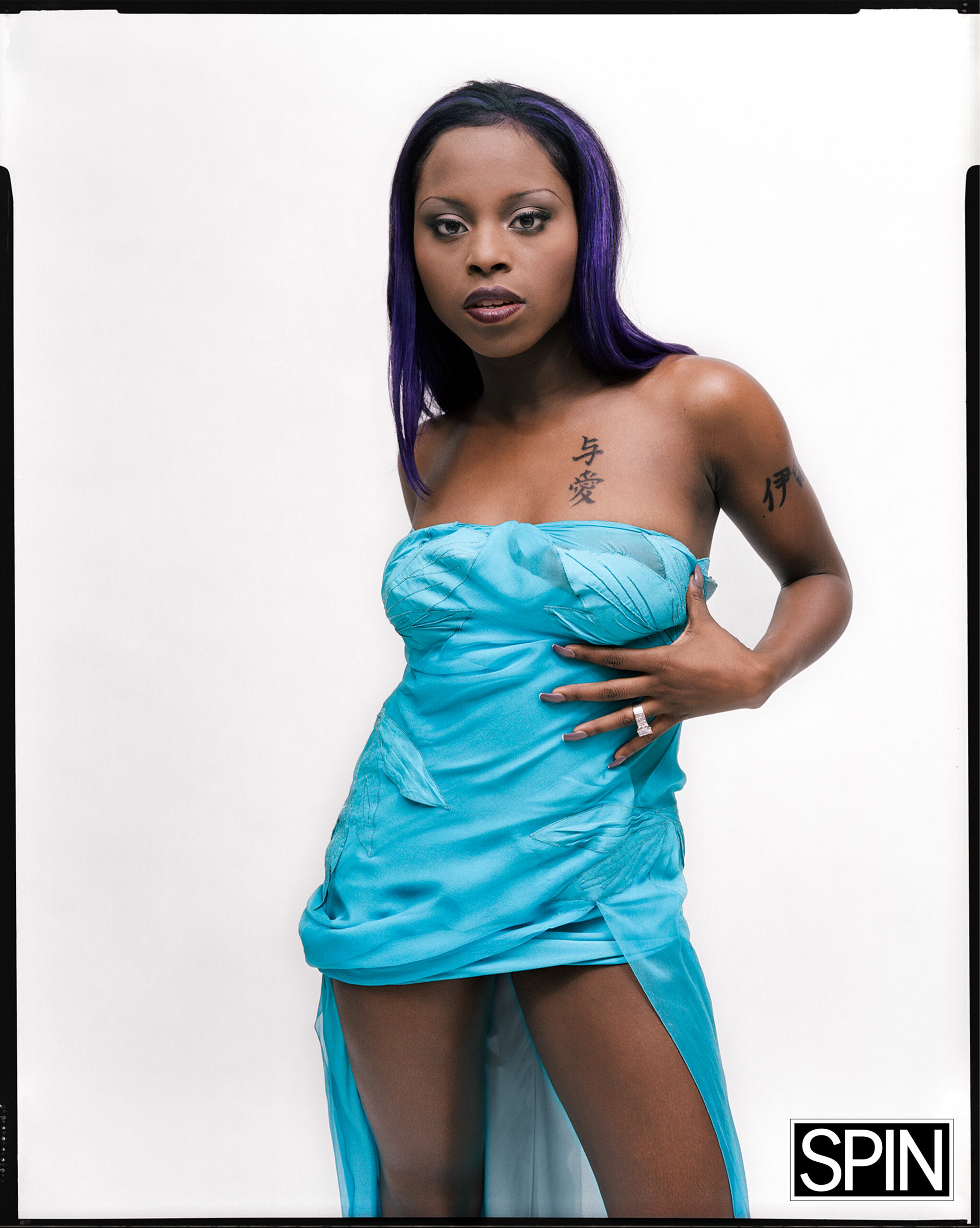 FOXY BROWN, NYC, 1999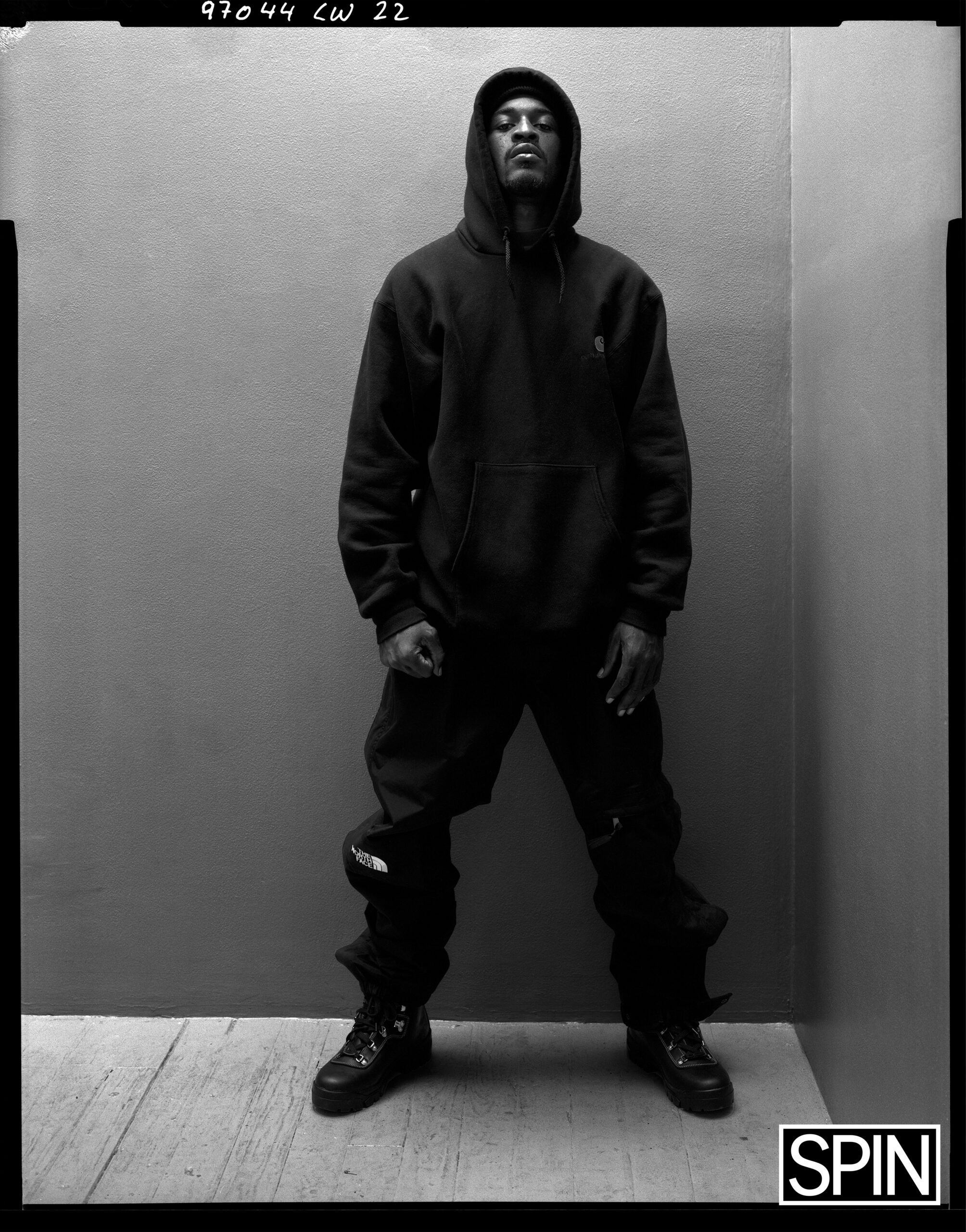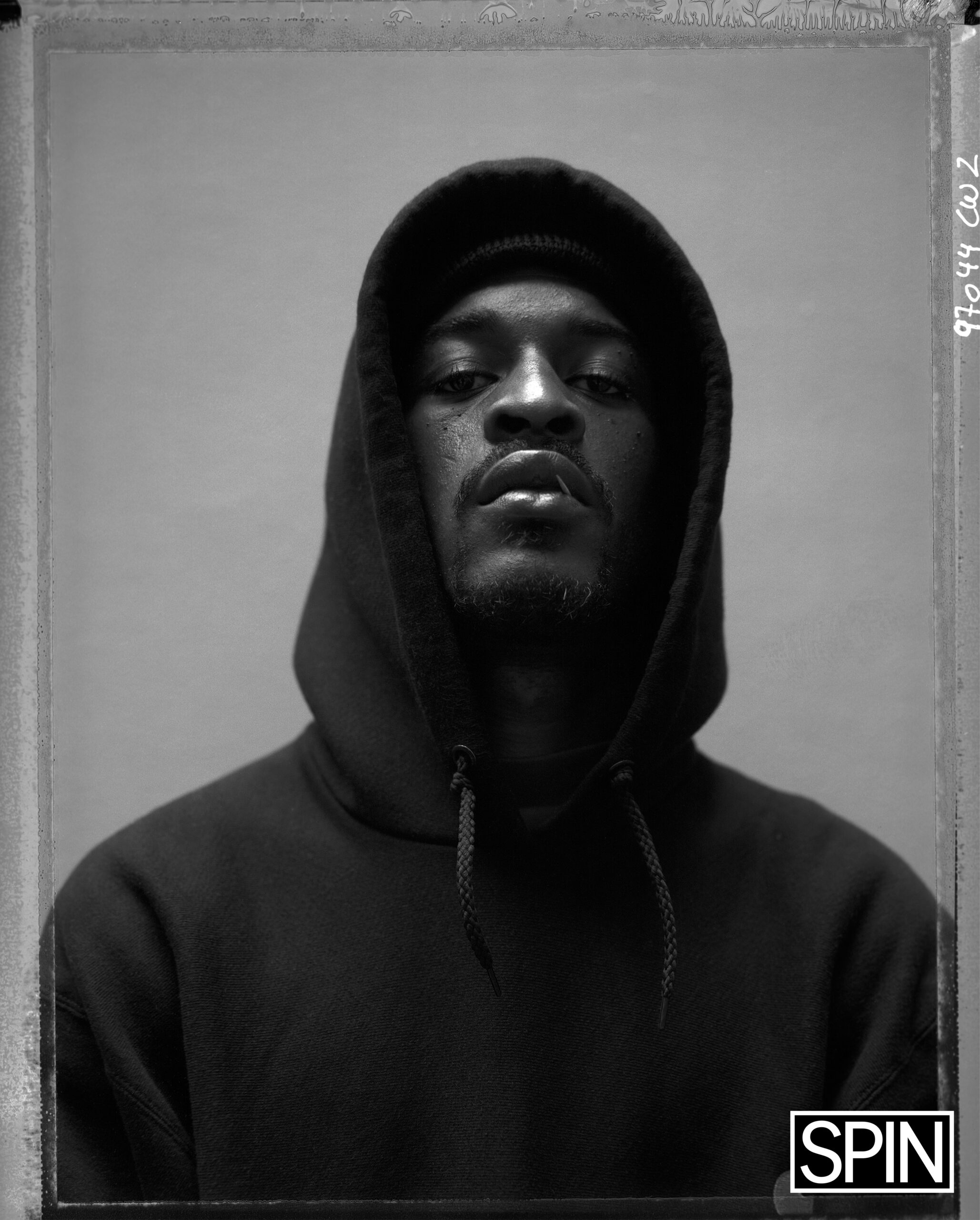 RAKIM, NYC, 1997
Rakim came to my meatpacking district studio with one friend and he was very observant and quiet. He has one really good pose. He stands straight up, tilts his head straight back and looks you straight in the lens. It's almost as if he's saying "I'm ready for you, bring it", and it just works really well. It's all about the tension and the direct eye contact with him and he owns it!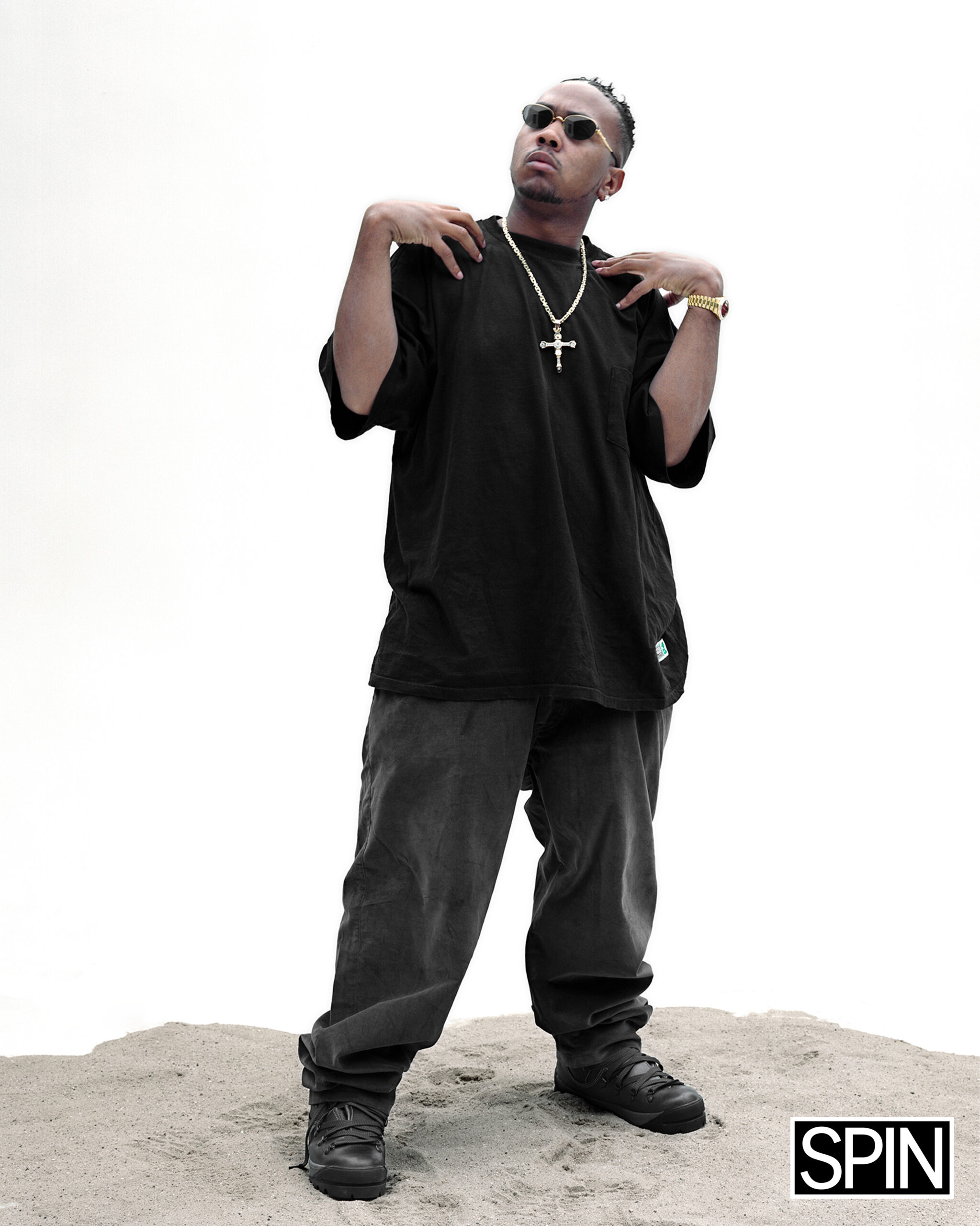 TIMBALAND, NYC, 1997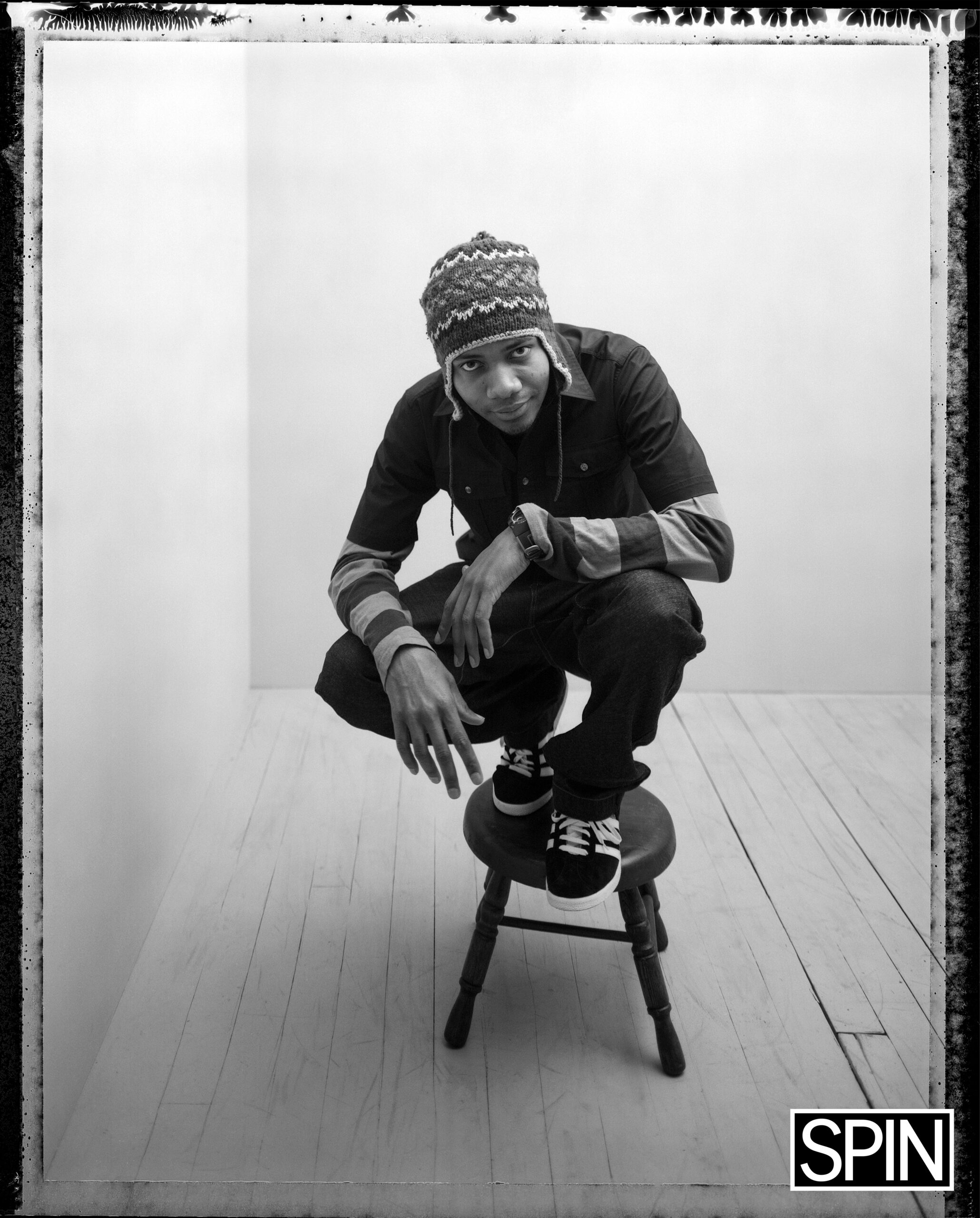 DJ SPOOKY, NYC, 2001
DJ Spooky loves to talk! He's also highly intelligent and well informed on many topics. He spoke a lot about influences on his music. He was, in fact, something of a musical encyclopedia.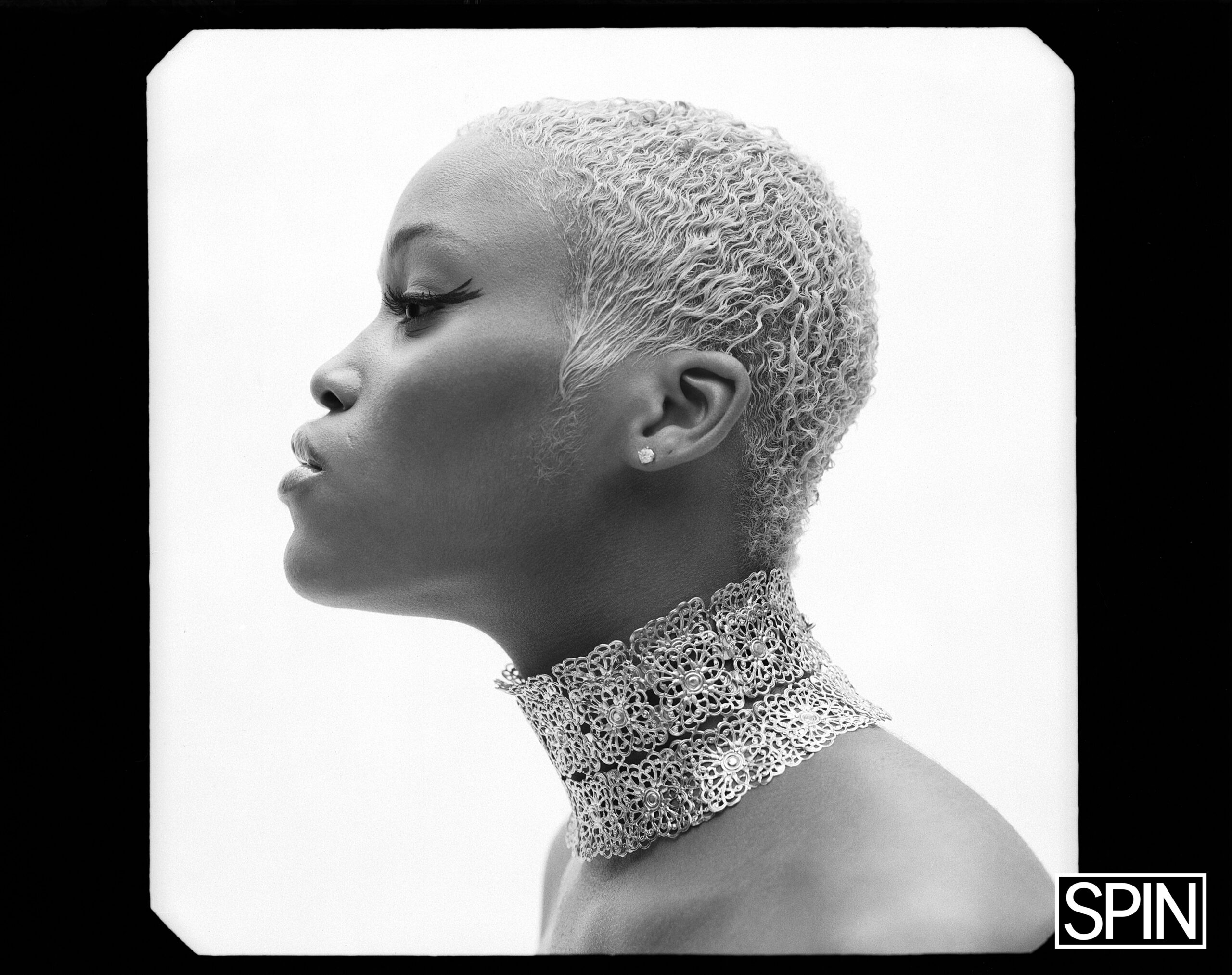 EVE, NYC, 1999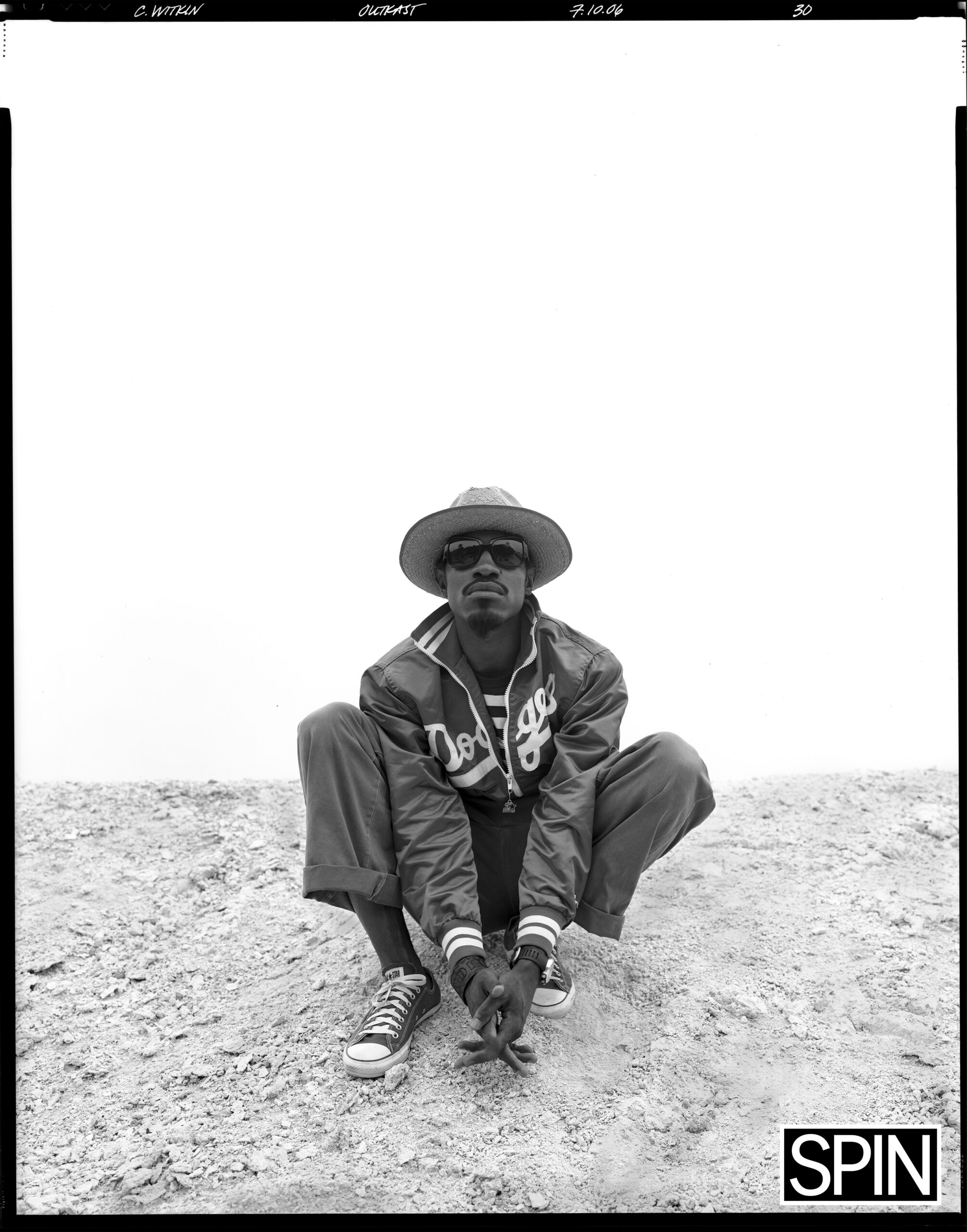 ANDRÉ 300, ATLANTA, 2006
I believe André 3000 was the most charismatic rapper I photographed. He was interesting and interested. I felt like he was one of my bros. We talked light and heavy… women, politics, vacations, everything.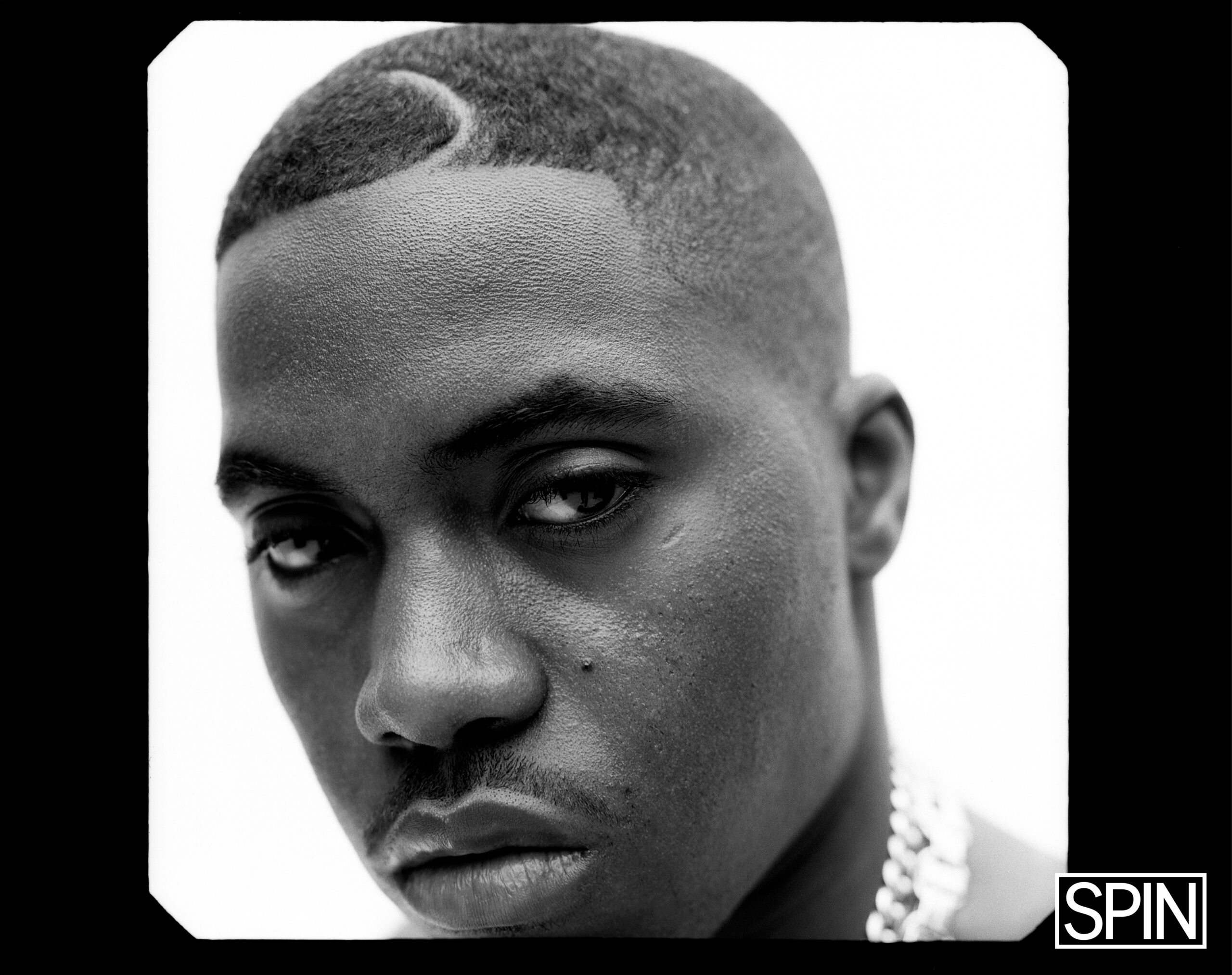 NAS, NYC, 1999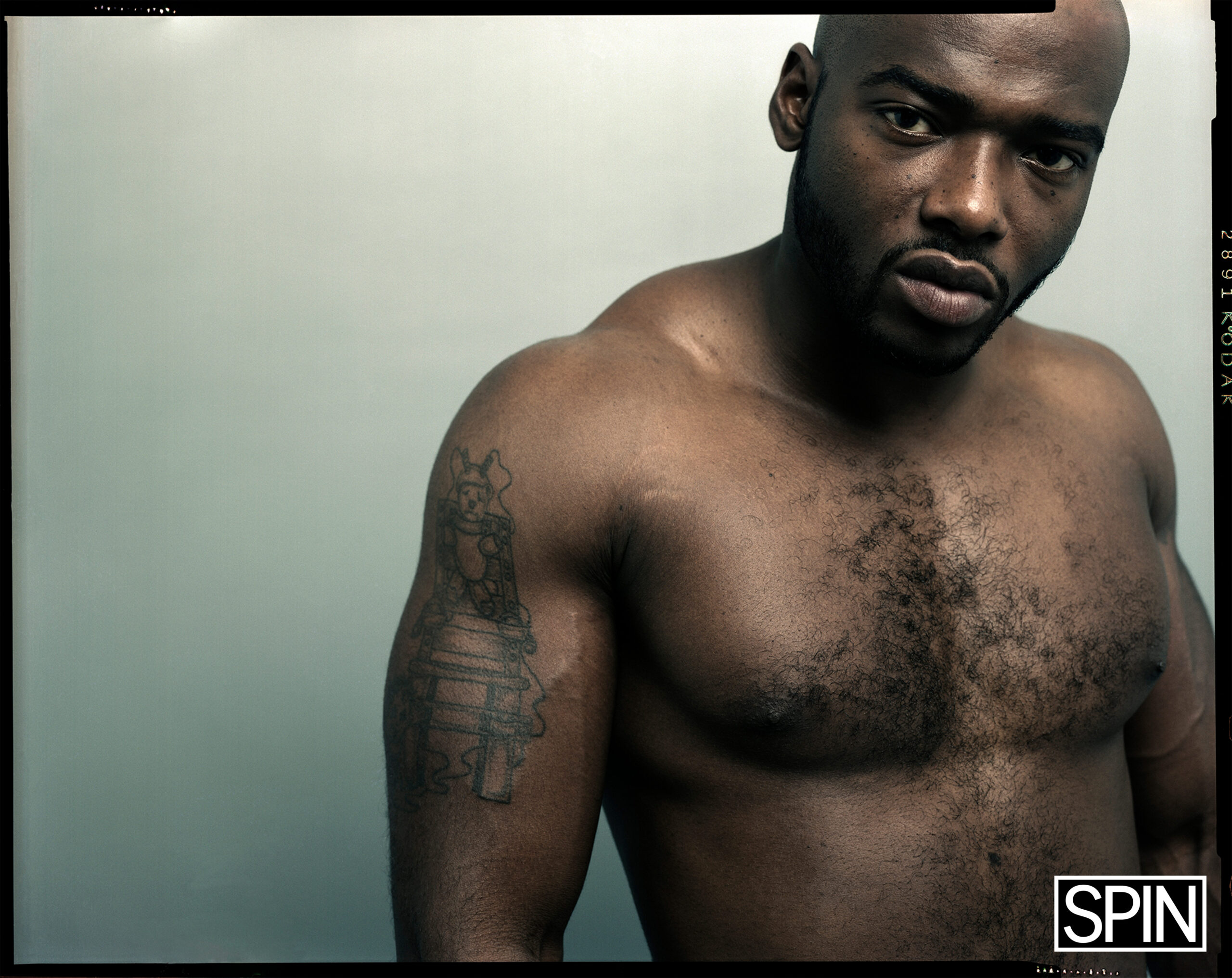 TREACH OF NAUGHTY BY NATURE, NYC, 1995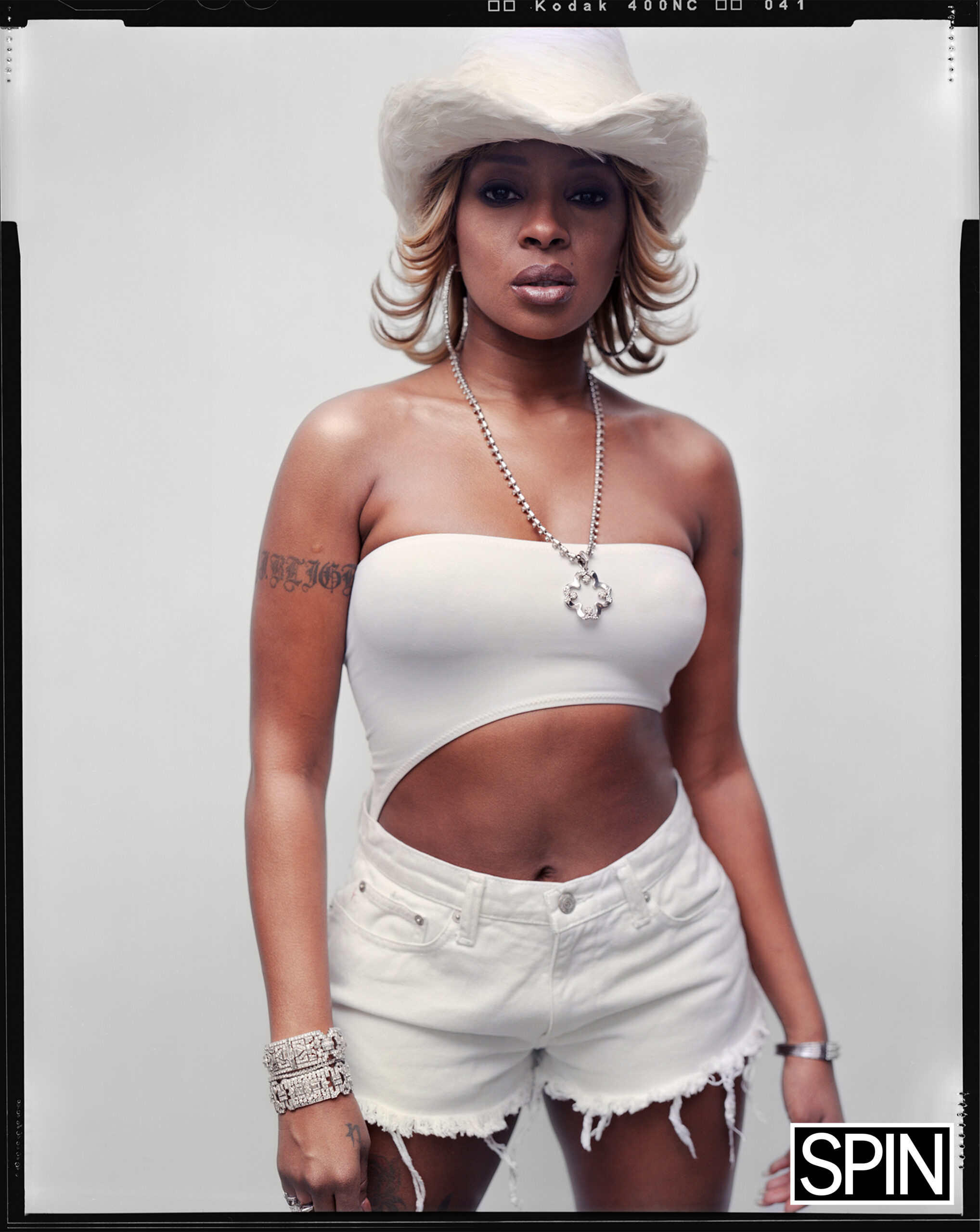 MARY J BLIGE, NYC, 2000
I've only been a bit intimidated on a few occasions. Mary J.Blige stood out most because I loved her album What's the 411?(1992), and so felt an emotional connection to her but she seemed in a foul mood.
I wasn't sure if it was me or she was having a bad day. The shoot was over in 10 minutes and she seemed happy to leave! I never cared much for the results until recently, when after 23 years, I revisited the shoot for this. I decided to forget about the sour encounter and instead look at the shoot objectively. I found that image and I am blown away by it. Judging by her eyes, her mood, her stance she seems unsure of herself or is preoccupied by something personal.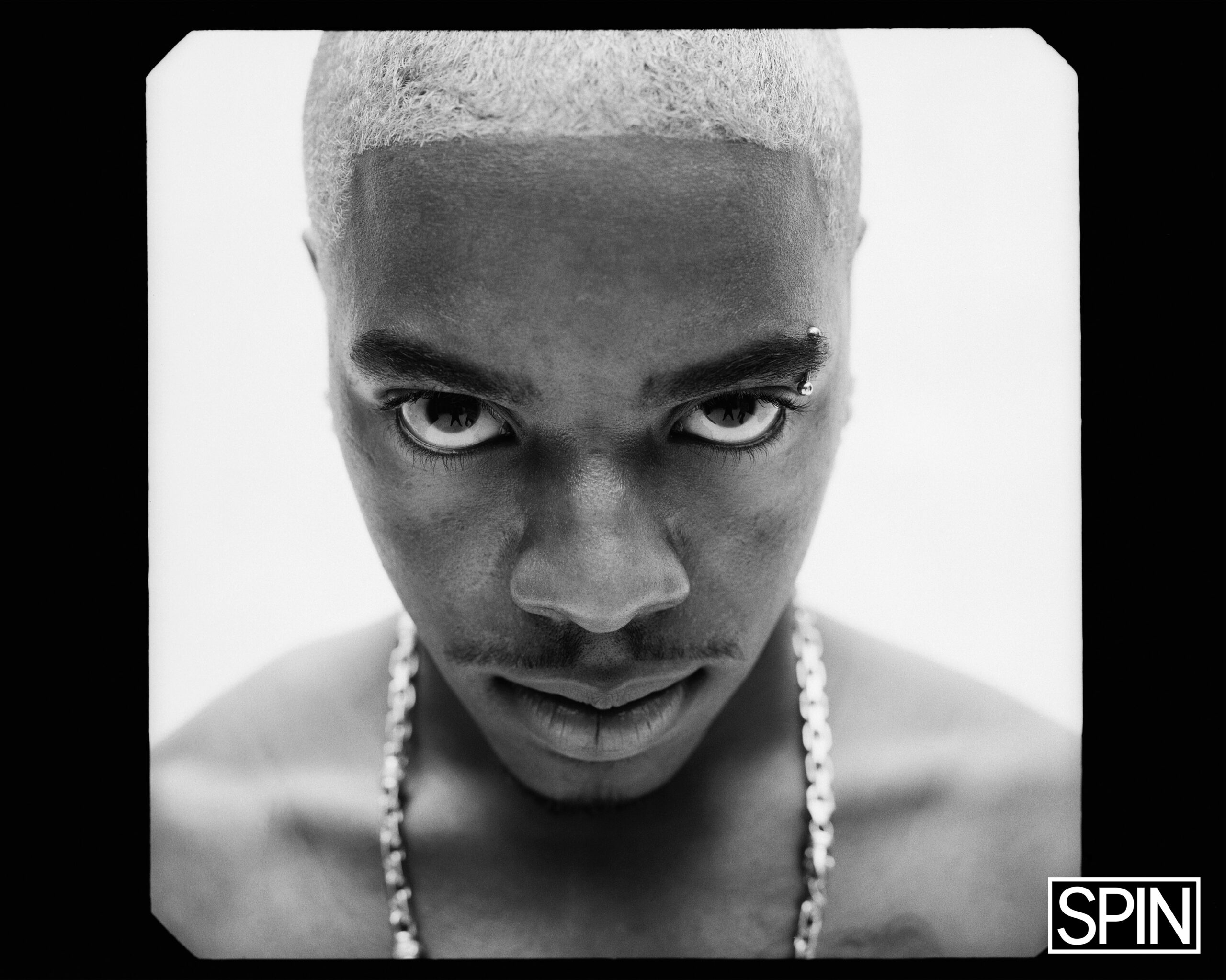 SISQO, NYC, 1999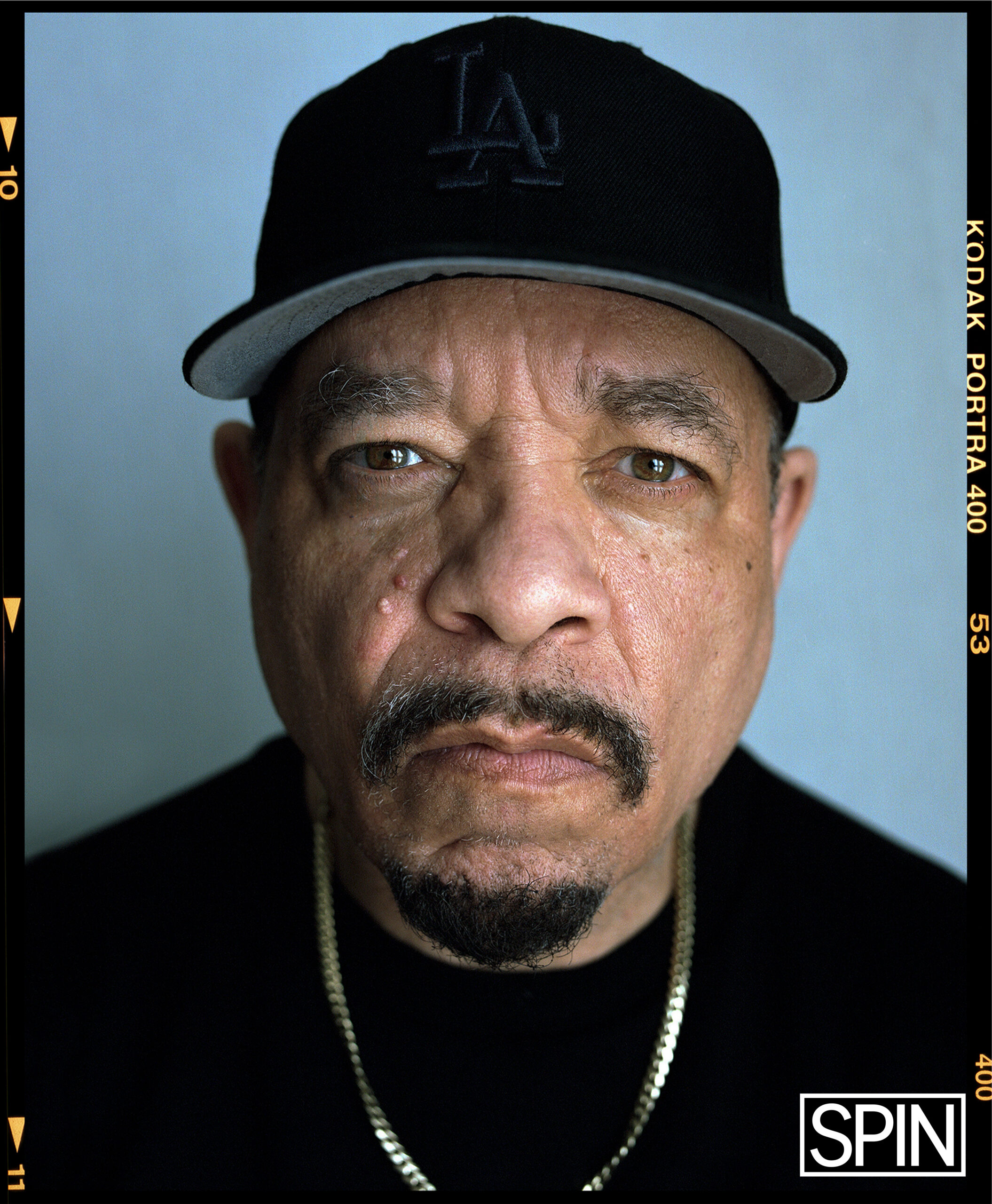 ICE-T, LA, FEB 2023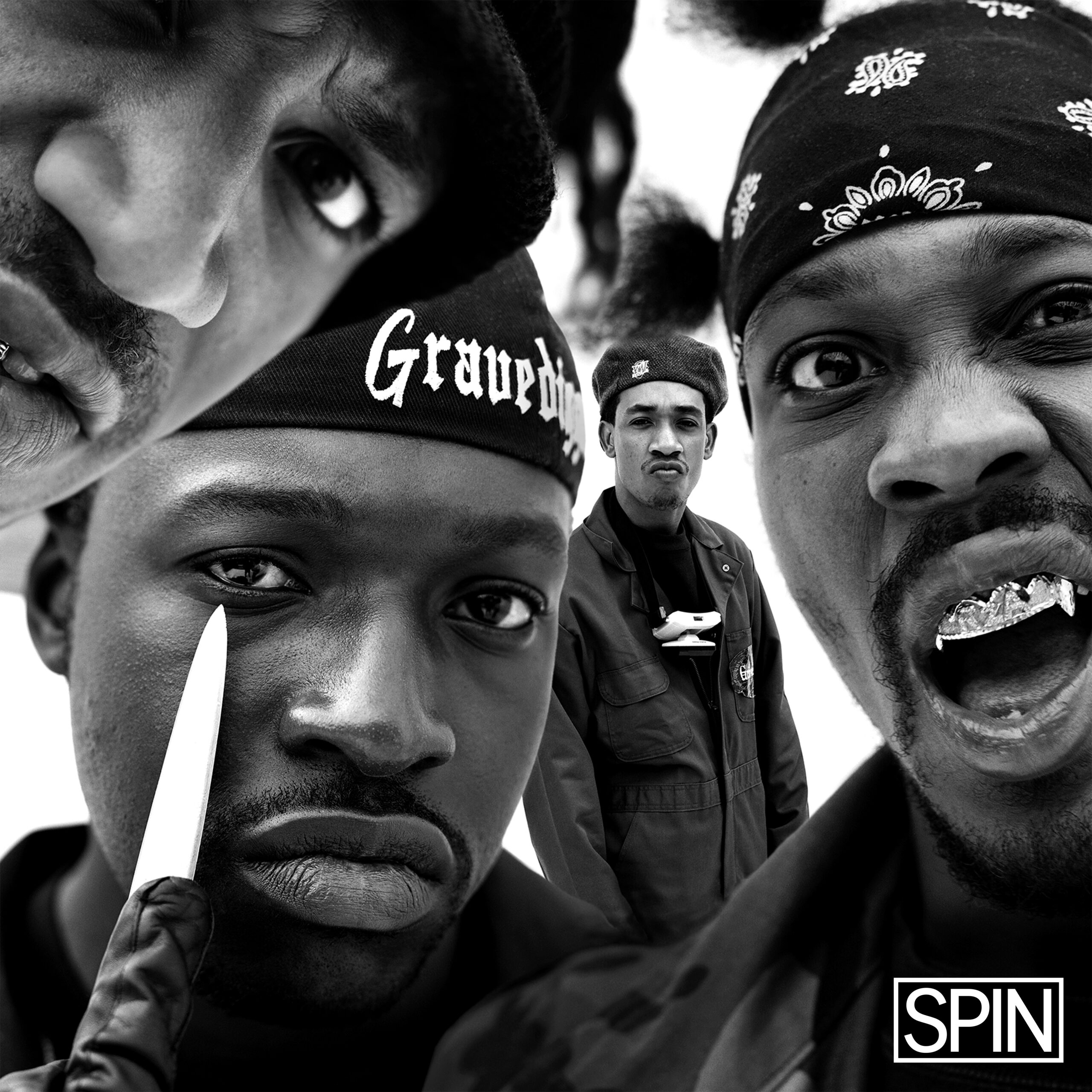 GRAVEDIGGAZ, NYC, 1994
I believe the most iconic shot of my hip-hop portfolio is this, the Gravediggaz album cover 6 Feet Deep.
My first shoot in the genre was this commission, in the spring of 1994, from Gee Street Records. This was the Gravediggaz's first album and it has since become legendary as the first rap group to introduce HorrorCore.
This is one of my favorite art pieces. It was included in the super popular Mass Appeal/Fotograviska traveling exhibition titled "Hip-Hop 50; Conscious Unconscious 1973-2023", along with my images of Missy Elliott, Method Man and KRS-One.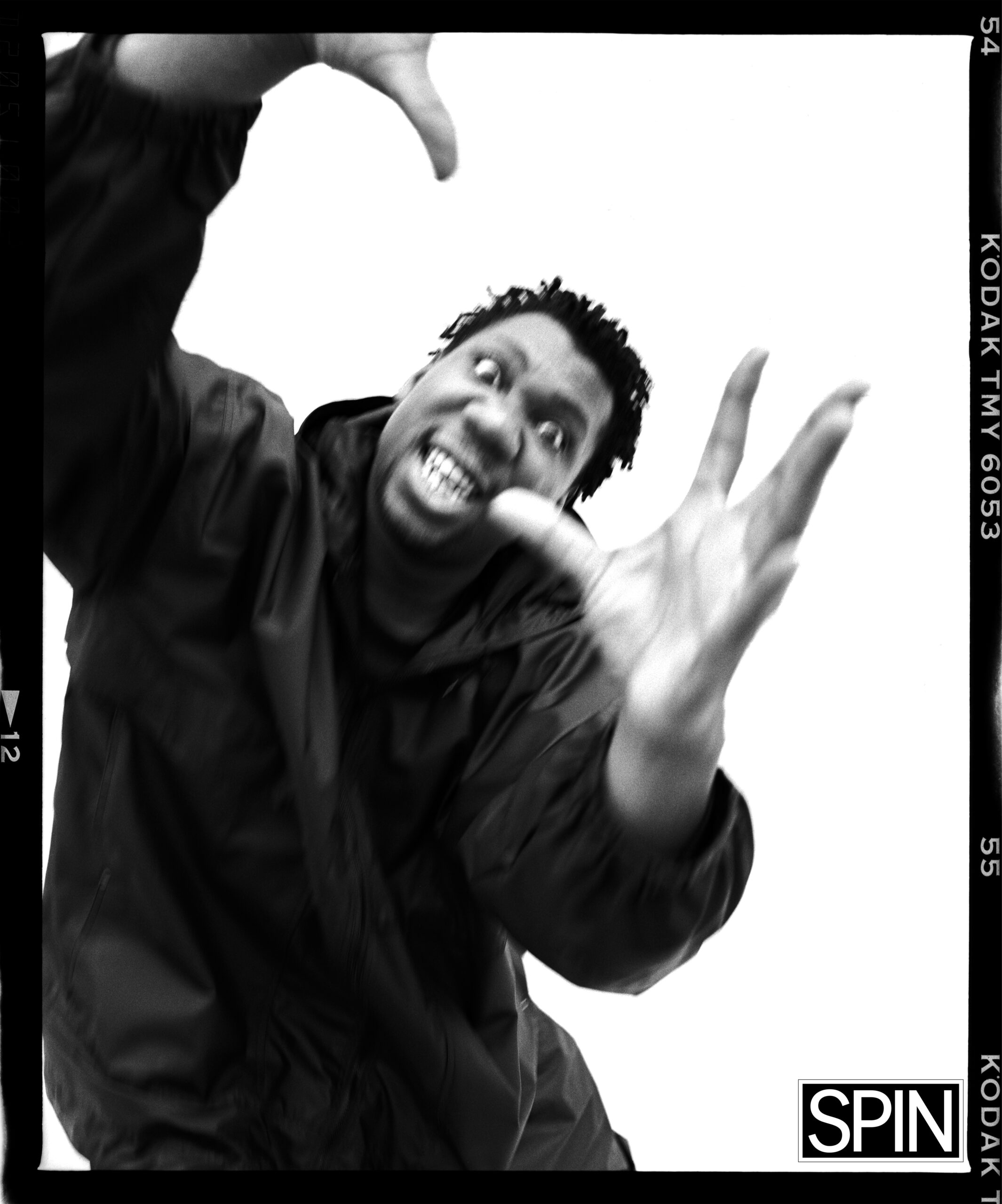 KRS ONE, NYC, 1995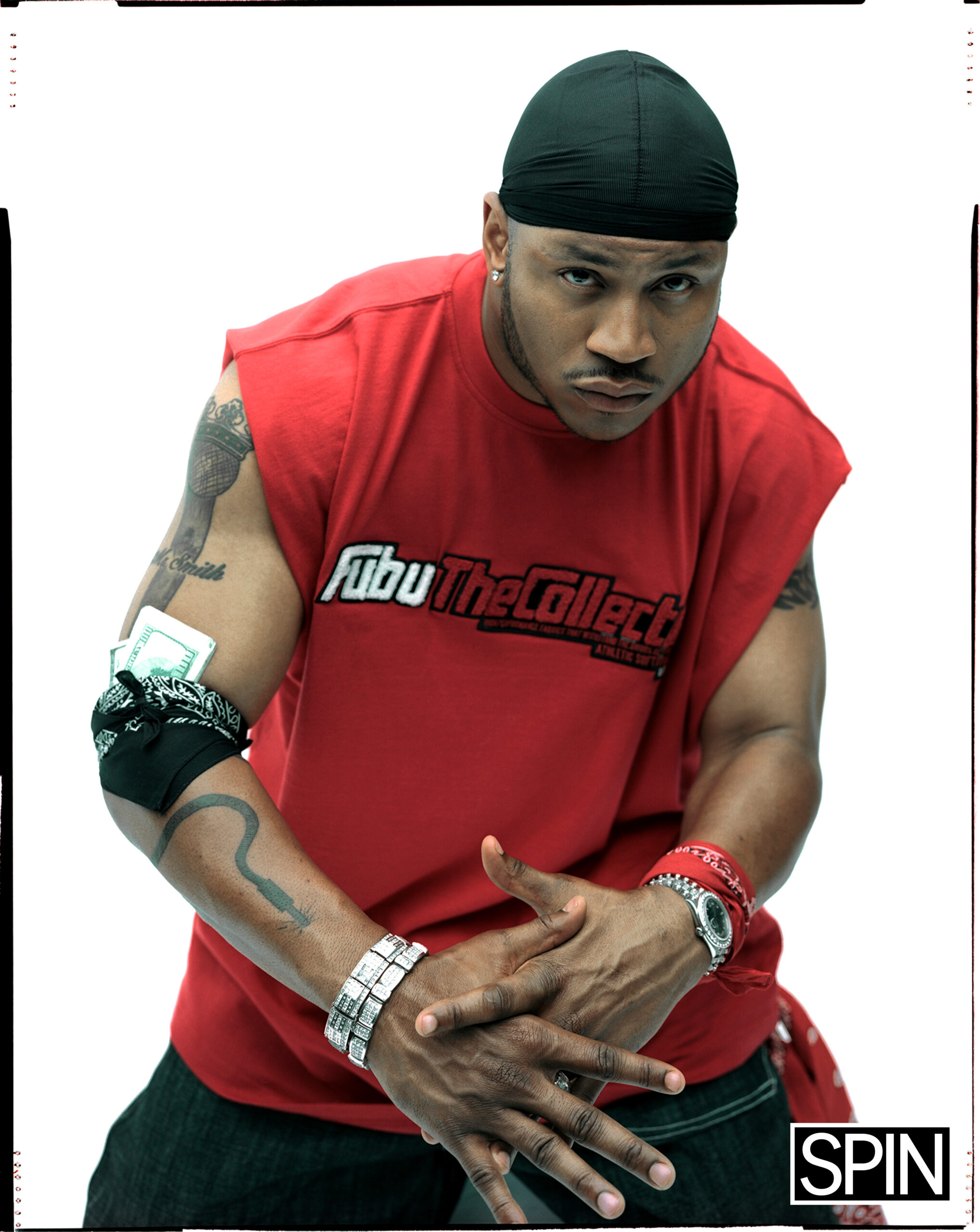 LL COOL J, NYC, 2000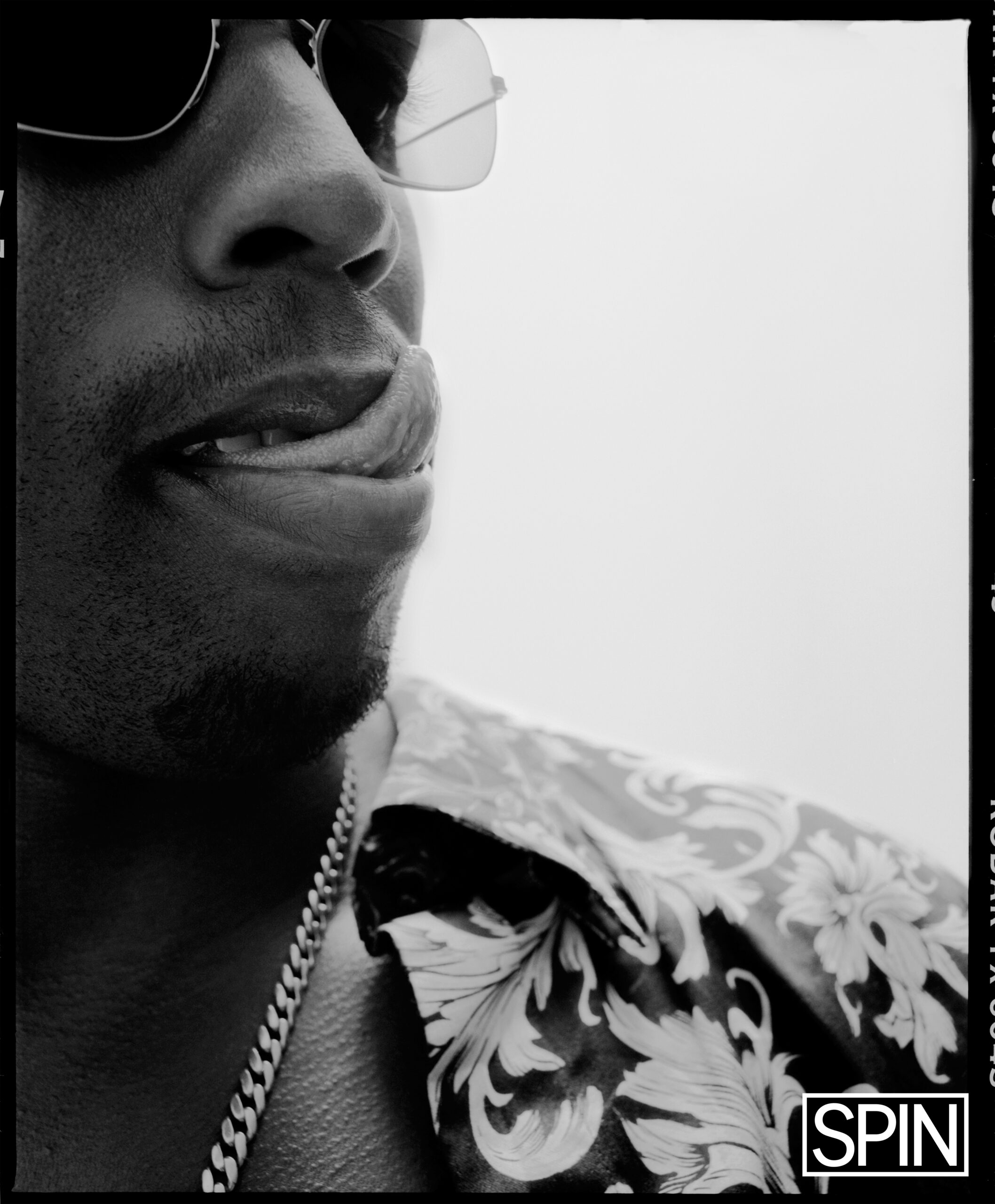 P-DIDDY, NYC, 1997
Some say P. Diddy, of the many changing names, can be an asshole. What was he like with you?
I had a fun, loving experience with the man, though in 1997 he was more of a boy.
I have respect for the hard work that goes into becoming a successful person and this applies to him, certainly. People who attain a certain level of success may not be very conscientious of others, since success requires complete focus. Kindness or patience may be a missing trait for them.
I went to photograph P Diddy for Arena, a British magazine in 1997. I was asked to take some shots of him while he was being interviewed by the journalist, and then in front of a backdrop. He seemed quite bored and his body language was very slack. So when the interview was finally over, he jumped in front of my camera and started to clown around for me. I think sometimes an artist just needs to "freak out" under the pressures they go through.
When I photograph someone, famous or not, I try to look for something essential. A look, a stare, a move. What they do with their hands. If they are good listeners. For a few moments I'm so close and focused on this person that I forget about everything else. I forget that my subject is controversial, difficult, beautiful or perhaps even an asshole. I become non-judgmental, waiting for a connection to happen. I may change the camera if my subject is not responding well.
I check my ego at the door, hope to gain my subjects' trust, shine the light on them and operate like a psychoanalyst in how I build an important and enduring photograph.