Capping a dizzying, five-year period that has seen it rise from 1,000-seat clubs to historic amphitheaters, King Gizzard and the Lizard Wizard wrapped its summer U.S. tour last night (June 21) with its biggest stateside concert to date at the nearly full 17,500-capacity Hollywood Bowl in Los Angeles.
The 24-song, three-plus-hour marathon set came five days after the release of the Australian sextet's new thrash metal/prog extravaganza, PetroDragonic Apocalypse or Dawn of Eternal Night: An Annihilation of Planet Earth and the Beginning of Merciless Damnation. It began on an emotional note with four rare songs from the 2013 album Eyes Like the Sky narrated by group member Ambrose Kenny-Smith's recently deceased father Broderick, who intended to perform in person with Gizzard last night. Group members Stu Mackenzie and Joey Walker both gave Kenny-Smith long hugs after this sequence.
Despite the massive setting and its emotional overtones, Gizzard kept its focus and delivered a dazzling show touching on nearly every aspect of its genre-agnostic, 24-album discography, from the funky white-boy hip-hop of the Kenny-Smith-rapped "The Grim Reaper" ("that's what you get when you smoke bongs at eight years old," he laughed following its conclusion) to the Walker-led soul ballad "Ambergris" and intense, joyous jams such as "Rattlesnake," "Hypertension," "Iron Lung," the 13-minute "Magma," and the 17-minute closer "The Dripping Tap."
"This song goes out to my music teacher, who said my voice sounded weird. Look at me now, fuckhead," Kenny-Smith announced before the finale. Indeed, the mood was celebratory throughout, with Walker warning the audience early on, "We're gonna play for a very long time, so you may need to pee yourself." Band members traded off bathroom breaks on several occasions, with everyone but drummer Michael "Cavs" Cavanagh leaving the stage following "Astroturf" and shots being served in red plastic cups after the Cook "Cookie" Craig-sung "The Garden Goblin."
"This is insanely crazy!" Mackenzie exclaimed at one point, marveling at the throngs of fans who have begun following King Gizzard from show to show since the COVID-19 pandemic. The Hollywood Bowl appearance capped a three-week U.S. residency tour, which is being streamed by Nugs.net and featured multiple no-repeat shows at the Caverns in Pelham, Tenn., Red Rocks outside Denver, the Salt Shed in Chicago, and Remlinger Farms on a farm near Seattle. The group even performed in dresses and skirts on June 3 at the Caverns, in solidarity with a federal judge striking down Tennessee's widely criticized anti-drag law.
"If I stop to take it in and think about it, it's fucking incredible and humbling and amazing and freaky and scary and beautiful and cool that people let us play places like that. It's just bizarre," Mackenzie told SPIN earlier this month of concluding the tour at Hollywood Bowl. "The other side of that is, if we started to approach certain bigger moments differently to others, we'd definitely lose something. So, heaps of gratitude. I can't believe that many people are all coming to watch us play our songs."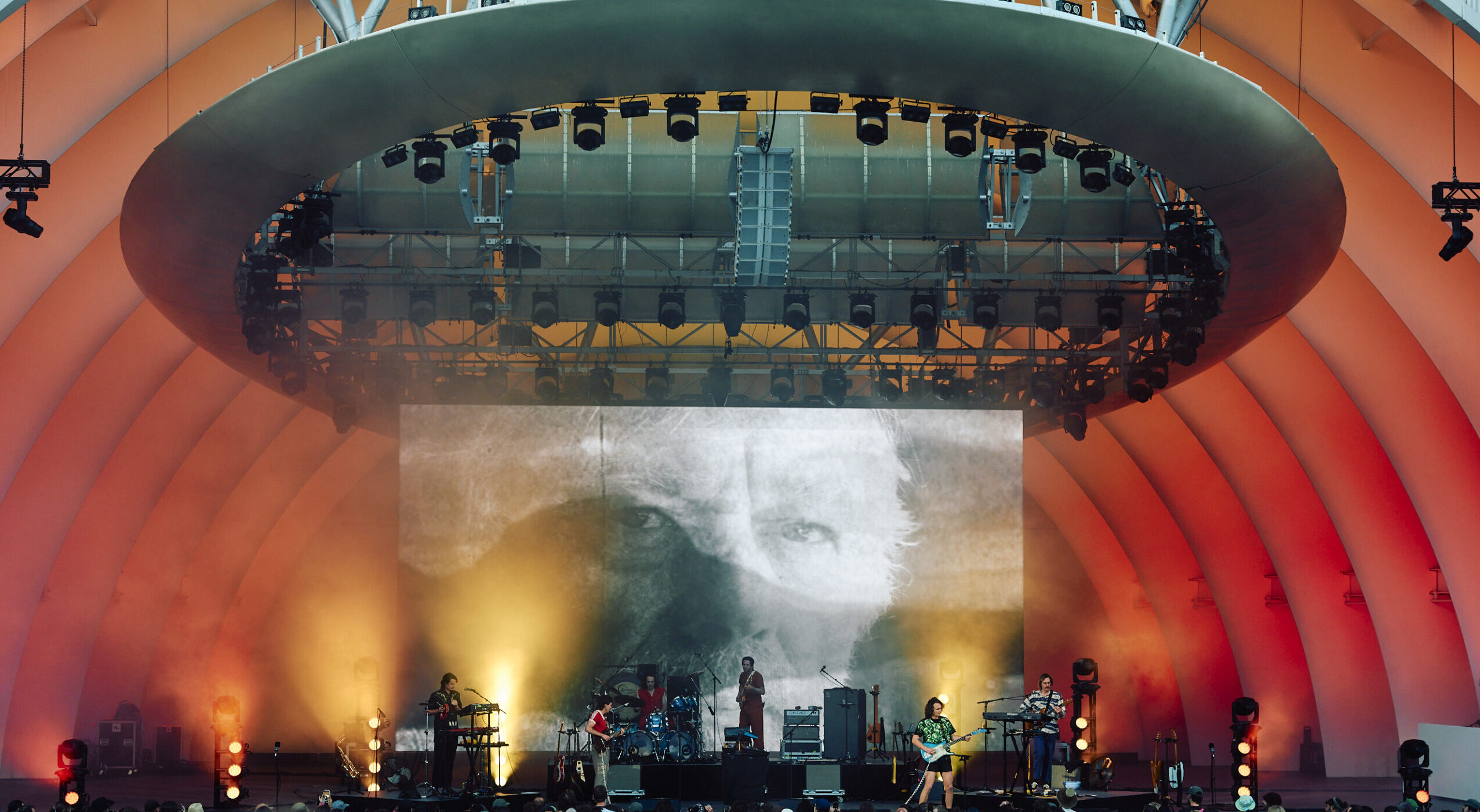 Gizzard will take a month-long break from the road before playing Australia's Splendour in the Grass festival on July 22 and then returning to Europe for a three-week trek on Aug. 10 in Gothenburg, Sweden. The group is also finishing its second album of the year, an as-yet-untitled electronic-leaning effort that "lyrically and thematically [has] some links to Petro, but it's kind of not about that," Mackenzie said. "It's more of a musical thing. I probably wouldn't use the term 'companion piece' myself because I'm thinking of it like they are two records with completely different DNA and completely different personalities."
Meanwhile, Walker and bassist Lucas Harwood are sitting for an in-person interview with comedian Tim Heidecker today on his Office Hours podcast.
Here is King Gizzard and the Lizard Wizard's Hollywood Bowl setlist:
"Eyes Like the Sky" (first time since 2018)
"Year of Our Lord" (first time since 2018)
"The Raid" (first time since 2018)
"Evil Man" (first time since 2016)
"Rattlesnake"
"Pleura"
"Gaia" (>)
"Gila Monster" (with "Gaia" reprise)
"Super Cell"
"Witchcraft"
"Organ Farmer"
"Crumbling Castle" (>)
"The Fourth Colour"
"The Grim Reaper"
"Magenta Mountain"
"Down the Sink"
"Astroturf" / drum solo
"Shanghai"
"The Garden Goblin"
"Ambergris"
"Iron Lung" (>)
"Hypertension"
"Magma"
"The Dripping Tap"