The horizon is as black as coal. Cars crash and explode as stunned motorists drive straight into howling, hurricane-force winds. The storm intensifies to unimaginable proportions, engulfing the planet. With survival an increasingly unlikely proposition, humans resort to witchcraft to reverse the destruction, but instead wind up transforming a harmless gila monster into an all-powerful, fire-breathing dragon. The huge winged beast finishes off what's left of the living both on the ground and in the air, cursed to roam the now-barren landscape with god-like, heightened senses and insatiable hunger as its only guide.
Thankfully, this bleak turn of events chronicled on King Gizzard and the Lizard Wizard's new album, PetroDragonic Apocalypse or Dawn of Eternal Night: An Annihilation of Planet Earth and the Beginning of Merciless Damnation, is just a fantasy (for now). But as some kind of metaphor for how humanity has ravaged its only home to the point of no return and is actively contributing to its own demise, it feels frighteningly, powerfully real.
Seven songs and 48 minutes of crushing thrash metal and prog rock riffs, impossible-to-calculate time signatures and polyrhythms, disorienting narrative leaps, Latin chanting, and blazing hot propulsion, this is Gizzard like you've never heard it before — and that's saying something for a band about to unveil its 24th stylistically diverse full-length in just shy of 12 years.
Turbo-charging the initial thrash experiments of 2019's Infest the Rats' Nest to astonishing levels, Petro is without a doubt the heaviest, brain-twistiest, and most in-your-face album of the Australian sextet's career, and like at its increasingly sold-out, never-the-same live shows, it finds Gizzard once again excelling at being whatever band it wants to be on any given day. The fact that it will be released five days before the group plays its biggest American concert to date, on June 21 at Los Angeles' 17,500-capacity Hollywood Bowl, is another one of those delightfully happy accidents — and one which speaks volumes about Gizzard's uniquely charmed rock'n'roll life at this particular moment.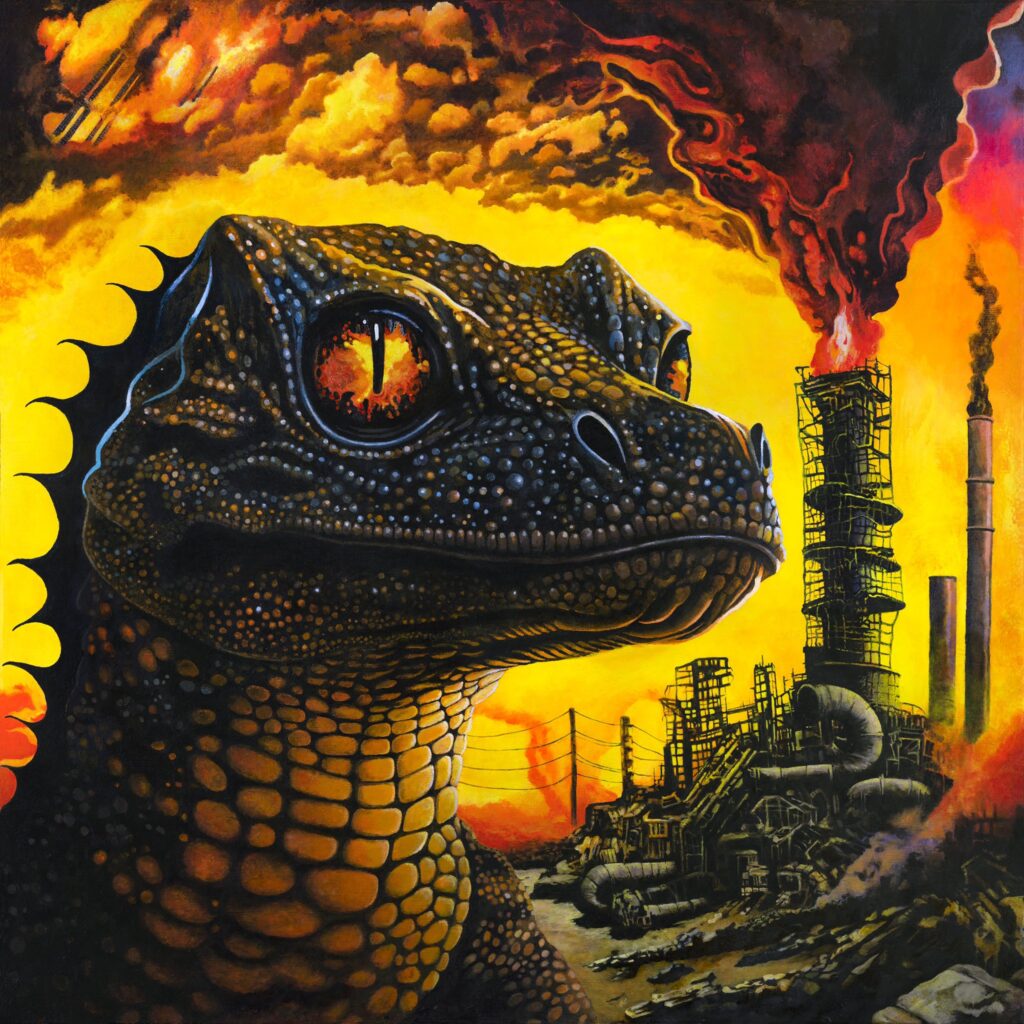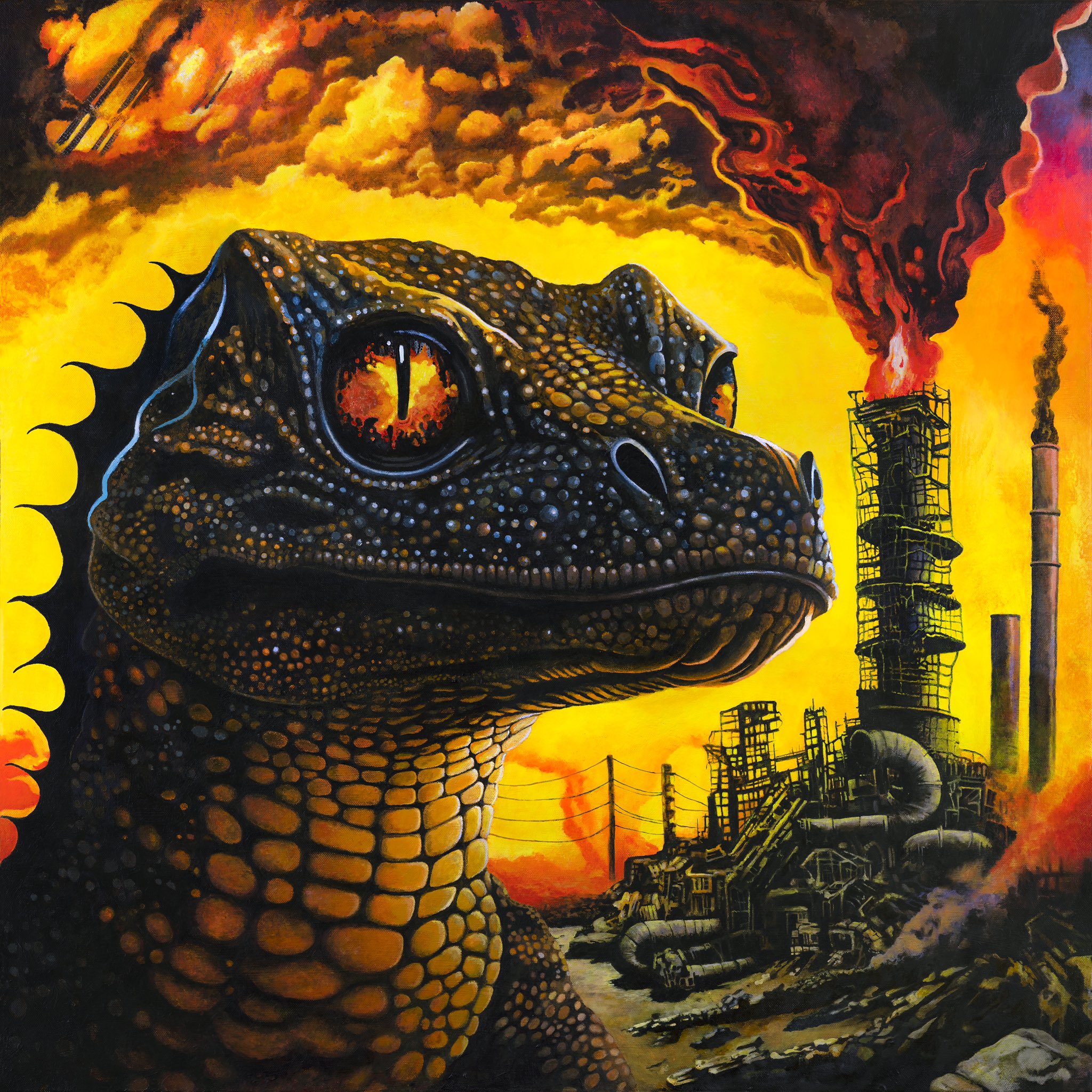 And although the group's fanbase has grown exponentially since the the pandemic, Gizzard continues to thrive mostly outside the purview of the mainstream music industry. The group rarely does interviews so as to spend more time in the studio, has never had a hit song on the radio, is staunchly independent and self-sustaining (all albums are released on its own KGLW label), and allows fans to freely bootleg its music and merchandise.
Questioned about this "we're getting huge while making incredibly weird music" dichotomy in late May over WhatsApp from his backyard in southeastern Australia, Gizzard frontman Stu Mackenzie can't help but laugh. "It's completely unintentional, but most things in the Gizzard world are completely unintentional," he says, as birds chirp audibly in the background. "It's just about trying to do cool stuff as much as possible, and sometimes things fall into place in a nice way."
Adds drummer Michael "Cavs" Cavanagh, who is perhaps the instrumental MVP of the double kick drum-stuffed Petro, "it's interesting when you put it into perspective like that, but we're just doing our thing, man. I don't know that many metal bands that play the Hollywood Bowl, and we're not really a metal band, but it will be both fun and funny to play some thrash there."
Band members admit they didn't realize it at the time, but the itch to do exactly that was first scratched with the headbanger's delights "Gaia" and "Predator X" from Omnium Gatherum, one of five distinct studio albums released in 2022. With a fresh, heavy-sounding idea brewing last summer while on tour in Europe, the group began passing around a Google document to rough out the narrative and lyrics for what would become Petro, and it was so inspired by that collaborative process that it will follow it up later this year with a separate seven-song companion of sorts (more about that shortly).
"We had characters and character names and place settings and all this backstory, which made it a lot easier to see and describe the world," says Mackenzie, who purposefully structured the track list to ensure the listener has no real idea if what they're experiencing is happening right now or in ancient days of yore — or maybe both. "We wanted to make it feel like it could have been written 2,000 years ago or 2,000 years in the future — almost like a Shakespearean or biblical thing. I think that's the way that a lot of Gizzard conceptual world-building has been. There's dinosaurs in [the 2017 album] Polygondwanaland, right? It just feels evocative to place it not then, not now, not in the future, but everywhere all at once."
When it came time to write music to match the Petro story, Gizzard started almost completely from scratch and downsized to the same core trio that recorded Rats' Nest: Mackenzie, Cavanagh, and multi-instrumentalist Joey Walker. As with sessions for last year's jam-tastic Ice, Death, Planets, Lungs, Mushrooms, and Lava, they spent a full day on each of the seven songs, working through the same spontaneous ideas for hours at a time and only joining the tastiest bits together in the Walker-led editing process after the fact.
"I feel like, in a lot of ways, this has been the record that Joey's always wanted to make in Gizzard — even more so than Rats' Nest," Mackenzie says, and Walker quickly agrees. "Before we started recording, the only thing we talked about was which time signatures to use," he says. "We'd each spend an hour trying to work within those parameters and make the most turnt version of whatever we could do within them. That's why the energy is so elevated. We were just trying to max out at all times." Adds Cavanagh with a chuckle, "You can't hold back on a song that's called 'Flamethrower.'"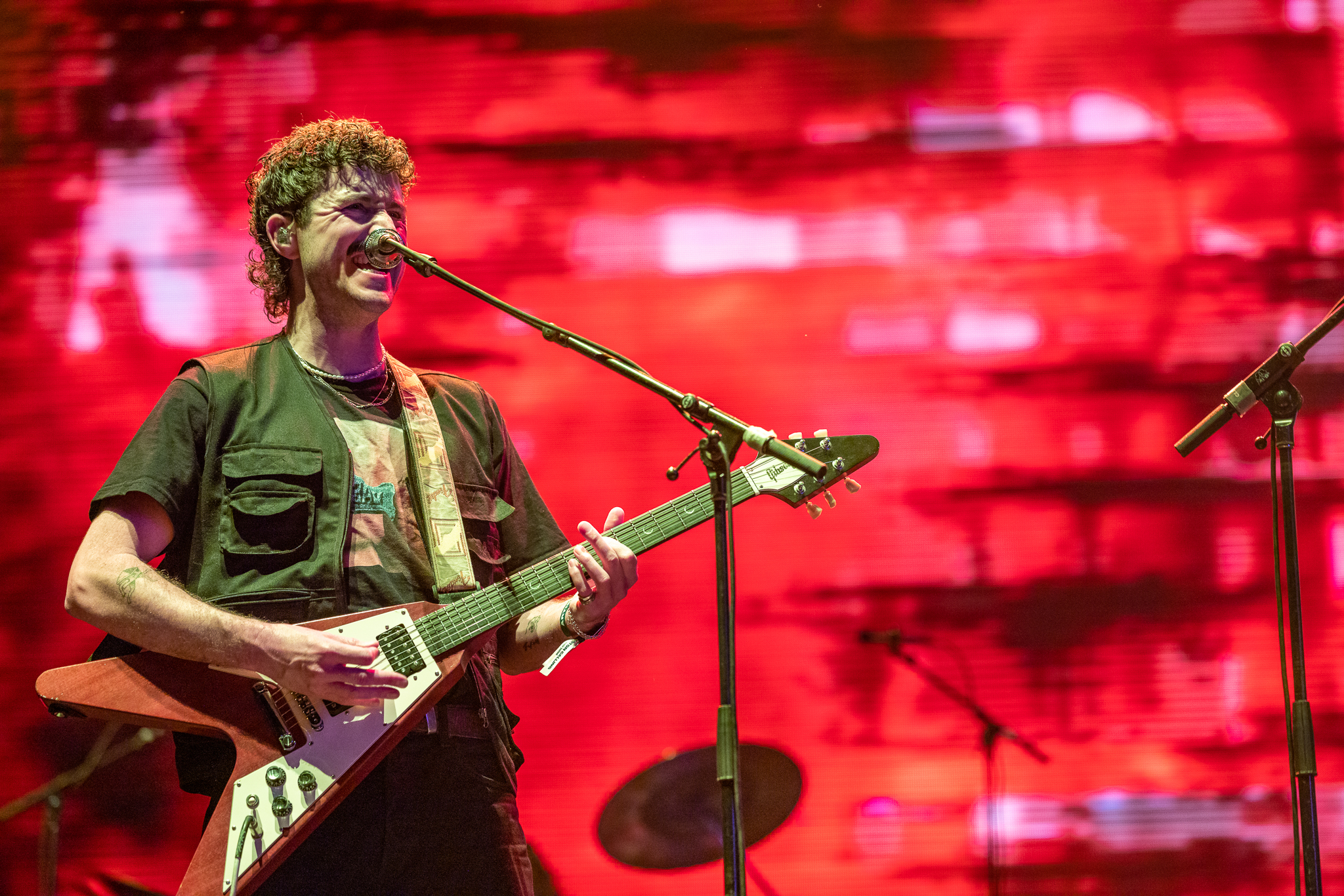 The results will thrill fans who pledge allegiance to Gizzard's louder and more experimental side, with tracks such as the nine-minute "Dragon," confrontational opener "Motor Spirit," and the sonic drag race "Super Cell" owing their no-bullshit bravado to metal, prog, and thrash forefathers such as Motörhead, Metallica, Megadeth, Slayer, Judas Priest, Kreator, and even King Crimson. Many songs have purposeful transitions into tension-building, Tool-style drum breakdowns, a move inspired by Cavanagh's drum solos in live versions of "Gaia" last year.
"There's this synesthetic feel I get from the song titles and what we were trying to manifest in the music," says Walker, who credits black metal acts such as Meshuggah and Blood Incantation with helping further color the Petro sonic palette. "In 'Super Cell,' I feel like I'm inside a tornado or something. When 'Witchcraft' comes, there's that eastern-y lead sound, which feels like an incantation or the occult. Going into it, we were like, let's just make the most satisfying, relentless metal album, and I think we've succeeded in doing that."
Now they just have to learn how to play the songs straight through, and what better time to do so than right before they return to the road in America for the first time in seven months. The group's expanding audience keeps driving Gizzard into bigger and bigger venues: its fall 2022 U.S. run featured three three-hour shows at Red Rocks outside Denver plus its largest New York-area gig in front of 8,500 Gizzheads at Forest Hills Tennis Stadium. Its in-progress summer jaunt ups the ante with multi-show residencies in four cities, during which no songs will repeat in a given location (Nugs.net is offering delayed video streams for completists).
"In many ways, the Petro songs are very structured, but there are moments within them that will eventually change show-to-show," Walker says. "It will be enough of an undertaking to even play them as they are on the record."
* * *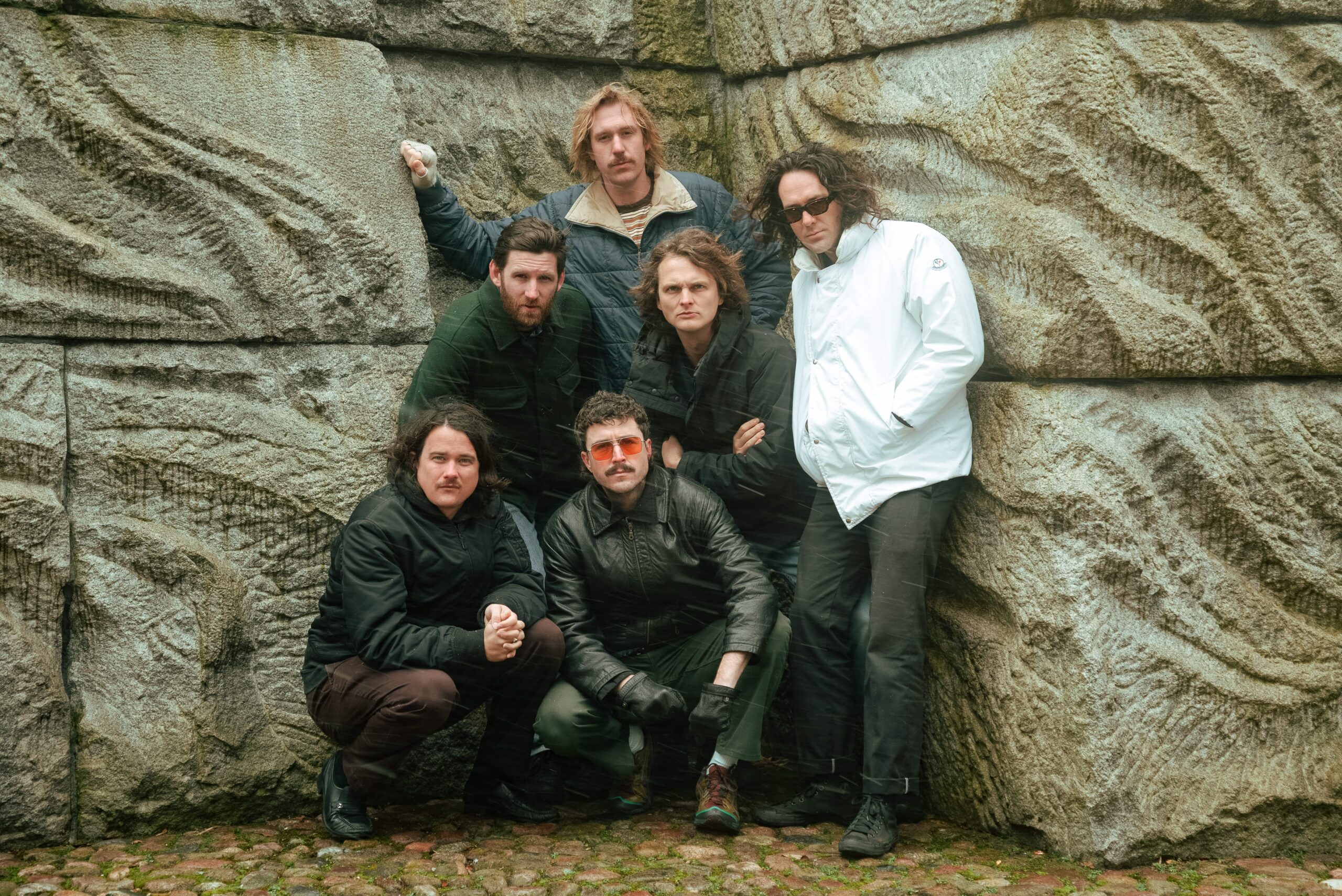 The late May vibes around Harvard University are just right for the opening gig of King Gizzard's summer U.S. tour at the Boston Calling festival. They're also a reminder of the oft-unreal existence that is life on the road for Mackenzie, Cavanagh, Walker, and multi-instrumentalists Lucas Harwood, Ambrose Kenny-Smith, and Cook "Cookie" Craig, many of whom met in middle school and have been making music together ever since.
With the Massachusetts sun fading, Gizzard nonchalantly comes onstage right before its set for a quick soundcheck. The crowd is restless and starts chanting "3 .. 2 .. 1 .." in an attempt to get the band to start playing for real. Once it does, Gizzard spends the first 20-plus minutes happily shredding and jamming on "The Dripping Tap" and "Ice V," and when it swerves into hard trash/prog territory on "Evil Death Roll" and "Self-Immolate," the entire field is shouting right along.
The neck-loosening, riff-packed "Converge" is given its live debut, prompting Walker to politely ask, "so, what'd you think?" Despite little time to practice beforehand, the six musicians are in complete lockstep, and the audience can't help but grab hold for the heavens and go for the ride.
It can be just as wild for Gizzard's members to wrap their heads around Mackenzie's ideas and concepts such as Petro. Although Craig, Kenny-Smith, and Harwood didn't record on the basic tracks, they all contributed significant overdubs after having already put their own touches on the Petro mythology in the writing process. "I feel kind of sorry for Ambrose sometimes, especially when we make an album that's this heavy," Walker says of Kenny-Smith, who has also released seven albums with Cook in their side band the Murlocs. "He doesn't play guitar on that stuff, but he does some very, very key vocal contributions that really lift the record."
Later, the entire group tracked gang vocals while all huddled around one microphone, and artist/filmmaker Jason Galea, who is the band's unofficial seventh member and oversees its creative and visual worlds, conjured a closeup rendering of Petro's unstoppable dragon for the album cover. For a finishing touch, longtime collaborator Leah Senior, who narrated Gizzard's prior blood- and vomit-encrusted tales of armageddon on 2017's Murder of the Universe, was drafted at the last minute to read a gory, 14-minute spoken word, vinyl-only track to conclude the hellacious Petro narrative.
"It's honestly the thing about the band I may be most proud of," Mackenzie says. "It has gotten more collaborative over the years, which is really cool. It's hard to pull off, but it has been an important element of the band we're trying to preserve."
As Gizzard has continued to follow its artistic whims, its audience has ballooned in size. With that has come must-see live shows, and, for the band, the desire to really stretch out while playing them. Hence this summer's residency experiment, which will also afford the group time to rock out while relaxing with family and friends in one place without all the constant travel.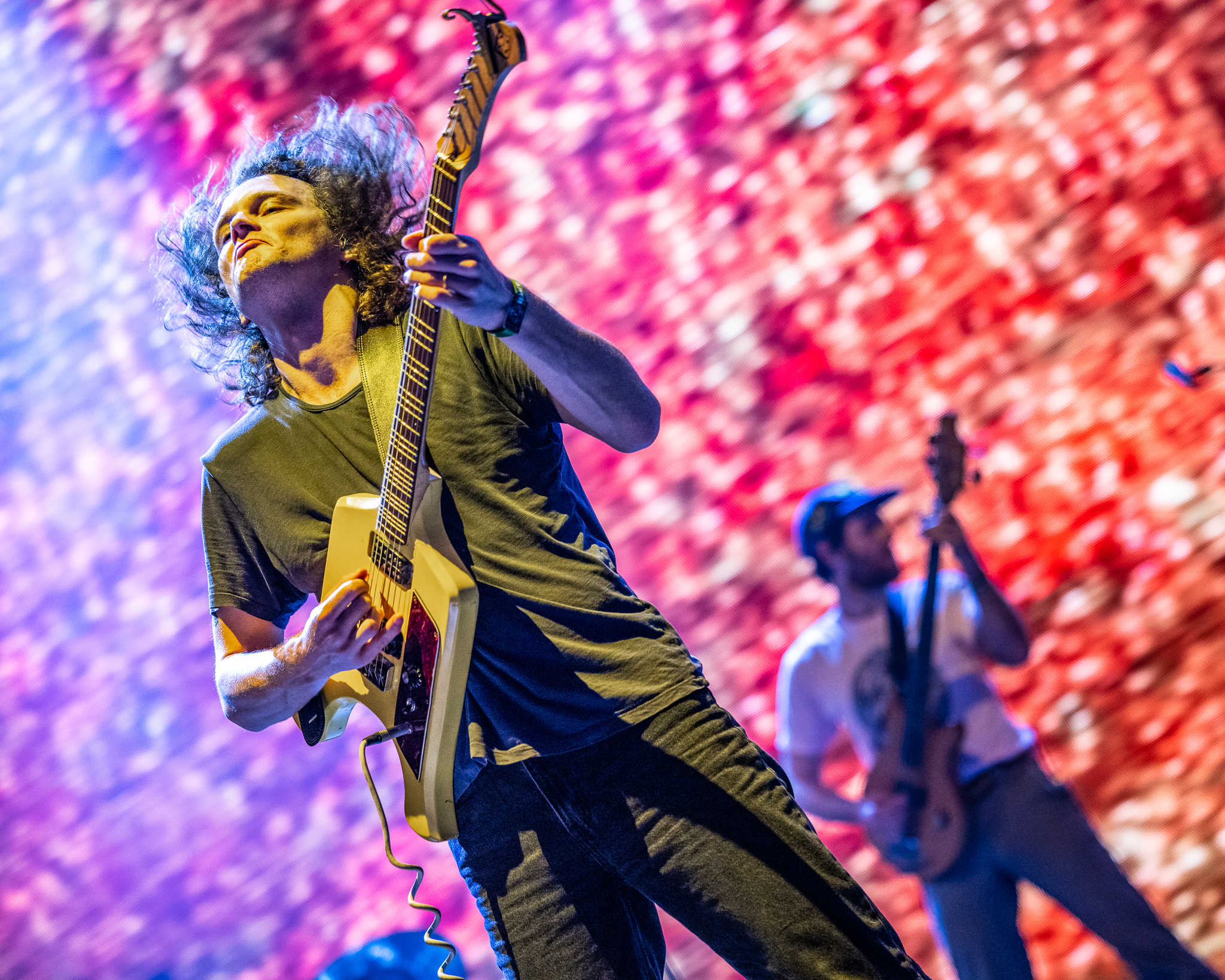 Such conditions are certainly conducive to concepts like no repeating songs, which Mackenzie believes ultimately benefit everyone involved. "That has become a thing that the fans are up for, and that's awesome," he says of the distinct nightly set lists, which only began happening with regularity in the past four years. "I want to reiterate that, honestly, mostly that's for us. That's for our own sanity and mental exercise. We're not the kind of people who have the personality to go out and just do a show in the normal way, and then do the same thing the next night."
Indeed, after Boston, Gizzard is heading to rural Tennessee to play inside and above a literal cave, back to Red Rocks for three performances in two days, then Chicago and Seattle, with the Hollywood Bowl crowning the tour five years to the day the band visited the 1,000-capacity Republic in New Orleans. "I'm kind of attracted to having more canvas to paint on," Mackenzie says. "I'm there to make music and create. I feel the impulse to do that. If I don't feel like I'm being very creative, I don't really feel like I've got much of a will to live."
* * *
For more than 25,000 years, humans have been utilizing the Big Mouth Cave in Pelham, Tn., for shelter and socializing. Normally, the surrounding unincorporated community has a minuscule population of about 400, but when King Gizzard rolls through the Caverns, thousands of smiley-faced people descend on the area and its campgrounds to swap bootlegs, bracelets, t-shirts, and stickers, all while experiencing live music in a truly breathtaking setting.
The band is playing four shows here over the first weekend in June: two in the cave itself and two more in an above-ground amphitheater built into a grassy hill. The last of the series is a surprise acoustic set, further highlighting the incongruity of Petro's impending arrival, and there are rumblings of a show of solidarity against Tennessee's widely opposed anti-drag law as part of a fan-organized Pride Night on June 3.
Inside the cave the evening before, security guards in cowboy hats lead the band through the audience and onto the stage. Gizzard picks up right where it left off in Boston a few days prior with Rats' Nest's righteous "Planet B," "Predator X," another taste of "Converge," and Omnium's "Magenta Mountain," which builds to an even more ominous finish than was employed on tour last year. Kenny-Smith steps out front to rap "The Grim Reaper" (because what's more metal than a hip-hop song with a flute solo?) and even gets his own guitar-wielding frontman moment on "Billabong Valley." Walker and Craig are sipping Bud Light cans between songs.
As has come to be expected at Gizzard concerts in 2023, many fans have traveled from around the globe to this picturesque, middle-of-nowhere locale. Outside the mouth of the cave, a woman is overheard informing another fan wearing a psychedelic Gizzard t-shirt and holding several other just-purchased souvenirs, "this band actually helped me see the invisible face of God. They're prophets — they just don't know it."
Late on June 2, a federal judge strikes down the aforementioned Tennessee law, and the following afternoon, the group drives to a nearby Goodwill store in a strip mall and purchases dresses, sun hats, and leggings from the "Bonnaroo" section so as to perform that night fully in drag. The outdoor crowd roars with instantaneous approval when they see the band's attire, and Walker sets the tone early in the show: "this ain't no protest, baby. This is a celebration!" "This is the first and last time you'll ever see me onstage in shorts," promises Kenny-Smith, who is wearing a red lingerie top underneath a purple suit jacket and skirt. "Take some mental notes."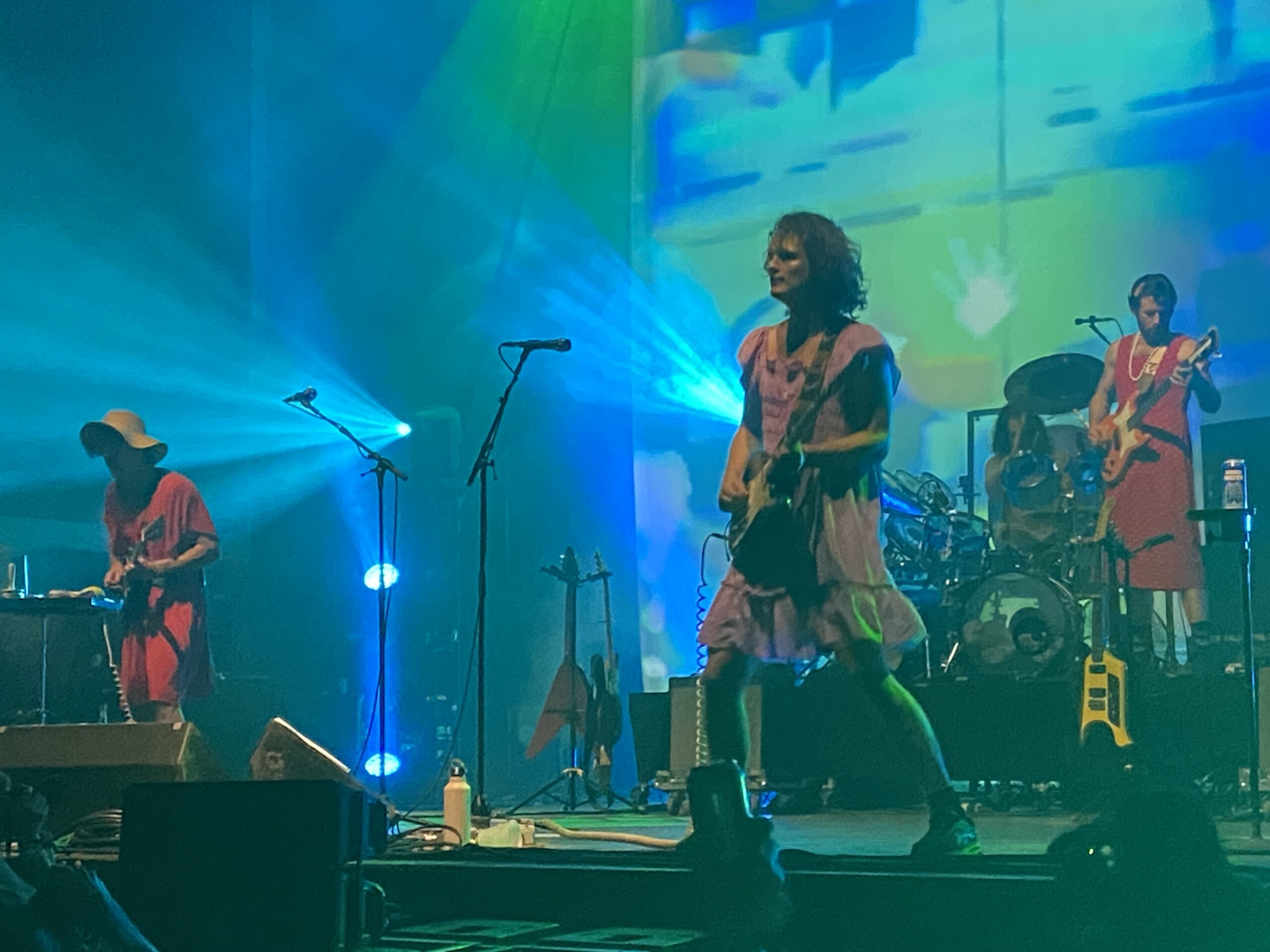 This "all are welcome" scene feels very much of a piece with the halcyon days of parking lot meetups before Grateful Dead and Phish shows, even though Gizzard's members have only just begun to familiarize themselves with the key personalities of the larger jam band world and the music they make. That's why the acoustic finale here feels even more apropos, and why Mackenzie is apprehensive about how it will come off.
"It's so fun having a piano on stage, but I'm more nervous for this show than any other show on this trip," he says. "You feel more naked and exposed, but I love that. I love being freaked out." With a full moon rising to stage left, it's still light outside as Gizzard strolls onstage, picks up acoustic guitars, and takes a seat. "I love each and every last one of y'all," the normally banter-averse Mackenzie says. "Thanks for letting us do weird shit." Adds Walker, "OK, cool. We're just gonna do some John Mayer covers."
Even with the holy racket of Petro looming, Gizzard effortlessly subsumes folk, bluegrass, and country throughout the show. Kenny-Smith bangs out chords on a rented upright piano during "Sleepwalker" and inhabits the backwoods groove "The Bitter Boogie" as if he'd been holed up in a nearby log cabin for decades. After rattling off some fancy acoustic guitar licks between songs and a snippet of a vintage banger from Australian homies Jet, Walker jokes, "You see? It's fuckin' not that hard, what we do up here. Country album confirmed!"
As the set winds down, Mackenzie disappears and returns with a giant bottle of champagne, which he sprays on the crowd and then pours into the mouths of each other band member during "Presumptuous." During the long, slow walk back to civilization, a pre-teen quizzes his father about the intricacies of Gizzard album artwork. Watching this exchange a few feet away, a guy in a Jerry Garcia t-shirt mutters, "I wish my dad took me to a Gizzard show."
The Venn diagram of Gizzard and other jam band titans shrinks even further three nights later at Red Rocks, when avowed fan and Phish guitarist Trey Anastasio drops by to say howdy. Then, before the first of the three-night residency at Chicago's Salt Shed, Gizzard attends Dead & Company's show at Wrigley Field, and dedicates "Gaia" to Mayer at its own gig the next evening (there may have also been a musical nod to "Drums / Space" during "The River"). It's all building to an intermission-free, three-hour set at Hollywood Bowl, which Mackenzie concedes is a challenge to put into proper perspective.
"If I stop to take it in and think about it, it's fucking incredible and humbling and amazing and freaky and scary and beautiful and cool that people let us play places like that. It's just bizarre," he says. "The other side of that is, if we started to approach certain bigger moments differently to others, we'd definitely lose something. So, heaps of gratitude. I can't believe that many people are all coming to watch us play our songs."
Before the calendar flips to 2024, there will be another new Gizzard album that shares some inspiration with Petro but is being recorded in a completely different musical style (hint: it's dominated by synthesizers). "We're trying, and have tried, a bunch of stuff we've never done before," Walker says. "It has really strong momentum, and in many ways you could dance to it." Cavanagh is stoked to be playing a 1980s Simmons electronic drum kit on the project, which he describes as having "disco and Kraftwerk vibes."
Mackenzie says the as-yet-untitled affair was "recorded with the same philosophy of, just track everything and piece it together later. Lyrically and thematically, there are some links to Petro, but it's kind of not about that. It's more of a musical thing. I probably wouldn't use the term 'companion piece' myself because I'm thinking of it like they are two records with completely different DNA and completely different personalities."
For a change, the band will take several months off from touring starting in early September, giving it space to wrangle any number of its next big creative experiments, bring forth another Bandcamp-only release of demos and rarities plus solo efforts from Walker's EDM project Bullant and Harwood's Heavy Moss, and finalize plans to visit additional historic venues for the first time in 2024.
"Pending another pandemic or some form of global catastrophe, I don't think we'll be hitting the road as hard as we did last year," Walker says of Gizzard's future plans. "This is a more healthy way to go about it for us, and sometimes we have to say no to offers that could be enticing. We also don't want to feel like we're not capitalizing on opportunities we've worked really, really hard for, but it's a very fortunate spot to be in. It's a good problem to have."
"Doing things like these residences makes you feel good — almost like going for a run if you're really fit," Mackenzie concludes. "We started sketching this out 18 months ago, and we're sketching out shows 18 months in advance now. It's a weird way to work, creatively. You have to think, OK, in 18 months, this is what I'm gonna be into (laughs). This time, it feels really right. Really awesome. Really perfect."