Peter Gabriel continues to dribble out one song on each monthly full moon from i/o, his first album since 2002, and today's release for the month of May, the nearly seven-minute "Four Kinds of Horses," features none other than ambient music legend Brian Eno. The first version out is producer Mark "Spike" Stent's Bright-Side Mix, which will be followed at a later date by Tchad Blake's Dark-Side Mix and Hans-Martin Buff's Atmos/In-Side Mix.
According to Gabriel, the basic track for "Four Kinds of Horses" was conceived during sessions for XL Records founder/producer Richard Russell's 2018 project Everything Is Recorded. "I came up with some chords, melodies, and words on top of a groove he was working on. We tried a few things that didn't altogether work and so it lay dormant for quite a while," Gabriel says. "Then I started playing around with it again and changed the mood and the groove and something else began to emerge with a better chorus."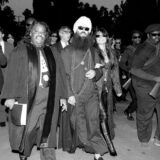 As for Eno, who has already appeared on the i/o track "Panopticom," his synth parts initially "sounded like electric worms" to Gabriel. "As soon as I heard one, I thought they would make a great three-dimensional wallpaper of sound and asked Brian to create 11 more." Gabriel's daughter Melanie also contributes backing vocals, which he calls "another lovely moment for a dad."
Thematically, Gabriel says the song focuses on "the interesting overlap of religion and peace on the one hand and violence and terrorism on the other. There was also a wonderful film by Hany Abu-Assad called Paradise Now which shows two young men who end up being trained to become terrorists, and it's a real insight into where the head goes."
There's no release date yet for i/o, which is Gabriel's first album since 2002's Up. However, he will support it with an extensive world tour this summer and fall, beginning May 18 in Krakow and touching down in North America on Sept. 8 in Quebec City, Quebec.
Meanwhile, the emergence of "Four Kinds of Horses" caps a busy week for Eno, who today also released a surprise collaboration with Fred Again.., Secret Life, on Four Tet's label Text Records.